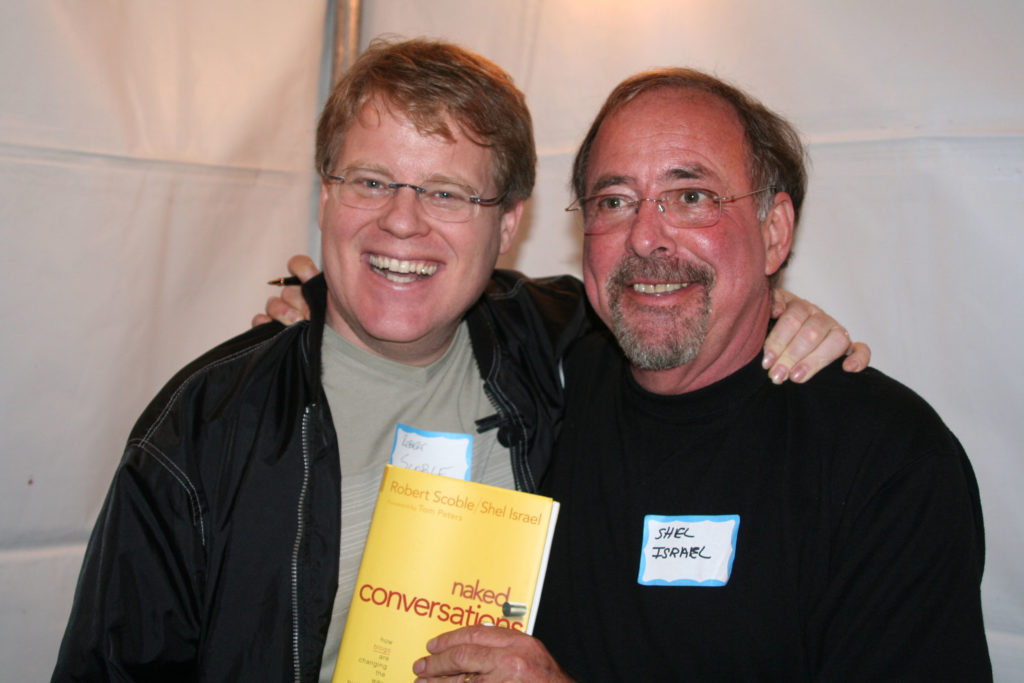 Robert Scoble and Shel Israel (courtesy of JD Lasica)
Want to know how blogging is impacting the world of business? Keen to find know all about the secrets of blogging success while learning about its possible drawbacks?
Well, do check out Naked Conversations by Robert Scoble and Shel Israel.
Few in the blogging world are unfamiliar with Robert Scoble, author of the highly popular Scobleizer blog and one of the doyens responsible for giving fame to Microsoft's Channel 9 News. His incredible number of connections with the "Who's Who" in the blogging world helped to make this an interesting read.
Fellow co-author Shel Israel, is a long-time publicist specialising in the technology PR circuit. Some of his clients include Microsoft (launch of Powerpoint) and Sun Microsystems.
Oh yes, Israel has been to Singapore before and met our rambling librarian Ivan Chew.
Manifesto for Corporate Blogging
So how does the book fare?
In terms of coverage, I would say that it was fairly comprehensive though slightly skewed towards technology companies. The book provided a useful introduction to the world of business blogging and covered most of the blogerati.
There were also some useful hints thrown in on how to do it right and this included a manifesto for corporate blogs. Other sections covered blogging trends in Europe and Asia, consultants who blog, publicists who savvy with blogs, blogging head honchos as well as the brickbats of becoming a blogger.
Entrepreneurial Bloggers
My favourite chapter had to be the one on entrepreneurs who used blogs to build communities and further their businesses. Some of the interesting cases covered include a church, tailor, restaurant and dairy produce farm. These organisations strengthened their online influence and reach primarily through telling stories on their blogs.
It also recommends some useful tips for successful blogging like posting often, talking and not selling, and showing passion and authority.
Blogging Technology
The section on emerging technologies was also interesting. It covered some of the developments related to blogs like podcasting, RSS (Really Simple Syndication) technology, tagging and news readers.
I felt that it was a pity that they did not go into greater detail on successful Web 2.0 applications like YouTube (which was omitted from the book altogether), Flickr and Wikipedia. Perhaps some of these social technologies were still in beta stages at the time the book was authored.
Not Everything is Blog-tiful
Having read the book, I felt that you have to take some of the book's recommendations with pinches of salt.
For example, I don't think that Google and Apple Computer's lack of blogging employees are going to be major issues that would haunt them.
Nor would having a vice chairman that blogged at General Motors was going to save the Detroit giant against much speedier and nifty competitors like Toyota.
Avoiding Blogging Mishaps
The chapter on "How Not To Get Dooced", which talked about avoiding lawsuits and being fired for blogging, might also be more relevant to American companies than to Asian ones.
Generally speaking, Asian companies are less litigious although their corporate cultures are usually less freewheeling too. Asian workers also tend to be more discreet about work related matters when it comes to what they share online.
(Frankly, I am not sure if corporations in Singapore are ready to embrace a more liberal approach towards employee blogging.)
Conclusion
Naked Conversations provides readers with a good introduction to the world of blogging.
In terms of writing style, the business tome was surprisingly free of guru speak and other tired management cliches. This made it much easier to breeze through than most other management or technology related books.