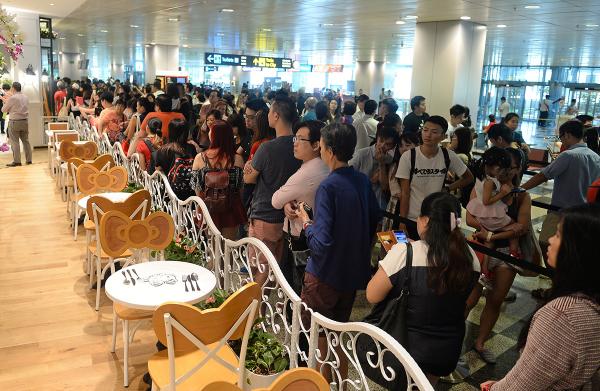 Courtesy of The Straits Times
Hello Kitty strikes again!
This time around, the opening of the Hello Kitty Cafe at Changi Airport generated huge and serpentine queues. According to a story in The Straits Times, this is the world's first 24 hour Hello Kitty Cafe, offering a modest 84 seats in total.

Apparently, many of these patrons also wanted to purchase a limited edition plush toy. With only 500 of these mouthless meows available, the kawaii cat sport two bows – one pink and the other with red and white stripes – mimicking the colours of our national flag.
Costing $49.90 and limited to two per customer, some of them are now being resold in online markets for as much as 5 times of the buying price!
What made Hello Kitty such an endearing and enduring icon for kitty lovers everywhere?
Over a Billion Dollar Business
In trying to discover the secrets of this back in 2009, I read Ken Belson and Brian Bremner's book Hello Kitty: The Remarkable Story of Sanrio and the Billion Dollar Feline Phenomenon.
Authored by two hardcore business journalists, the slim volume attempted to weave in the economics of the world's kawaii craze with the development of the Japanese cultural phenomenon, bringing in insights gleaned from the founder of Sanrio himself Shintaro Tsuji.
Shintaro Tsuji and Hello Kitty (courtesy of Sukebe Chan)
Generating more than US$1 billion in sales back in 2002, Sanrio is one of the world's major character goods company. Much of the success of this global purveyor of all things cute and cuddly can be summarised by two words: Hello Kitty.
With her moon-shaped visage slapped on more than 22,000 consumer products – from pencil cases, notebooks, toys, to even credit cards, cartoons, refrigerators and cars – Hello Kitty has become one of the most coveted brand images in the world.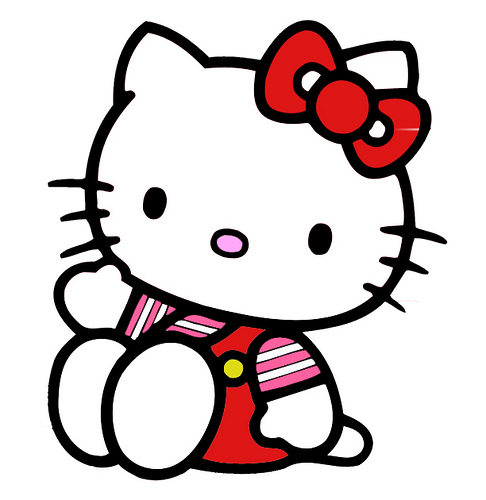 Courtesy of *Hello Kitty*
In 2002, Hello Kitty was rated as the third most recognisable Asian brand behind Sony and Cathay Pacific. The global icon of cute quirkyness continues to amass a huge legion of fans and communities around the world.
The Hello Kitty juggernaut was so huge that in 2002, she was appointed as Japan's official tourism ambassador to China and Hong Kong. Certainly nothing to meow at!
How did this furry feminine feline attain such international stardom, especially among young girls of all ages?
Design + Japan's Soft Power + Understanding Females
According to the authors, Hello Kitty's success was concocted over a brew of clever design, the growth of Japan's soft power (particularly its behemoth anime and manga industries), the understanding of what makes girls and their mothers tick, and perhaps just lots of plain old luck.
The creation of the kitschy kitty herself appeared to be more an outcome of accident than design. Tsuji himself played an instrumental role in developing the design of Hello Kitty, together with a string of designers like Yuko Shimizu and Yuko Yamaguchi.
The storyline of Hello Kitty appeared more farcical that factual.
According to her creators at Sanrio, Kitty was born on 1 November 1974 (without a mouth) to English parents George and Mary White. She lives in a brick house a half-hour outside London. Kitty has a sister called Mimmy who looks like her save for a yellow ribbon. Yes, believe it or not, Hello Kitty is supposed to be English, and she is "locked in a kind of kindergarten fantasy" where the "deepest debate might be about whether to eat ice cream or cookies as a snack".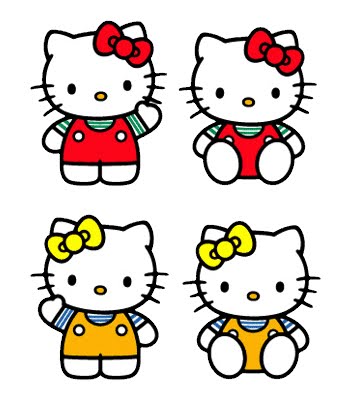 Hello Kitty and Mimmy (courtesy of Hello Kitty)
Social Phenomenon of Shojo Manga
Lasting more than three decades, the moon-faced cat's enduring power was partially attributed to the growth of manga, a US$6 billion business originating way back to 12th century graphical representations, and its associated cousin anime.
The social phenomenon of shojo manga (少女漫画 ) which examined consumption "as pleasure, as play, and as a creative act" resulted in the accompanying boom in fancy and frivolous goods in Japan. Targeted at young girls and teenage females, it was led by numerous manga magazines like Ciao, Nakayoshi, Ribon, and Jump.
(The name romanizes the Japanese 少女 (shōjo), literally "young woman".)
The ubiquity of Sailor Moon, Power Rangers, Pokemon and Super Mario further revealed how Japan's pop machinery centred on the appreciation of aesthetics had evolved and grown over the years.
Cat Fights and Feral Felines
Unfortunately, not everything purrs smoothly in Kitty land.
The huge merchandising success of the Hello Kitty-McDonald's tie-up still lingers in people's minds together with its more ugly aspect here in Singapore. Older generations here would remember how people literally fought in the queue, leading to the shattering of a glass door back in  2000.
There were also quite a few anti Hello Kitty purveyors who protested against its sexist depiction of women. They included this group called Hello Kitty Hell.
Some of the company's forays into movie making and a theme park (Sanrio Puroland) also performed poorly initially, although the Hello Kitty Town in Johor Bahru appeared to be going well.
Celebrity Cats and Glamour Pusses
To fend off its arch nemeses like the Disney characters and Snoopy, the authors have suggested that Sanrio should capitalise on Hello Kitty's popularity with stars and celebrities like Christina Aguilera, Jessica Alba and Paris Hilton.
These role models could be used to inject a contemporary and fashionable flair to the brand, while widening its appeal to youths and young women.

Paris Hilton obviously loves Hello Kitty (courtesy of The Superficial)
A Brief History of the World's Cutest Cat
Spanning the fields of economics, pop sociology and psychology, Hello Kitty: The Remarkable Story of Sanrio and the Billion Dollar Feline Phenomenon was written in a breezy and entertaining manner by two veteran journalists.
It wove a tantalising tale of how character-based branding can take place without a detailed back story (unlike foes like Snoopy or Mickey for instance), and narrated how the comforting presence of the mouthless cat helps consumers to escape from the drudgeries of life. Some dimensions of the unique history and development of Japan's pop cultural phenomena were also covered.
Unfortunately, the book doesn't quite address the key management or business strategies adopted by Sanrio. It also fell short in informing readers about the "Dos" and "Don'ts" of making hits happen. Certain parts also appeared to be haphazardly strung together, and the central coherent argument seemed to be missing.
Despite these shortcomings, however, Hellow Kitty was still a useful read for anybody keen to understand what went behind the creation of an image-based consumer brand.
To end this blog post off, here's a video showing the Hello Kitty 40th Anniversary Celebration at Comic Con. Enjoy!
[youtube id="G3gCxes9-WQ"]