Do you have a story to tell? I'm sure you do. In fact, all of us are storytellers at every stage of life.
An ancient art form beloved by all, storytelling has brought stories to life since the dawn of time. Through their vivid and dramatic sharing, storytellers help to unlock our humanity and allow us to connect deeply with the rich personal narratives that rule our lives.
A good storyteller – be it at work or at play – can enchant and excite a crowd. The most memorable icons of human history are great oral storytellers. By employing the right mix of words, tone of voice, and dramatic gestures, these leaders have triggered political revolutions, started religions, led massive organisations, or created global movements that shape our lives in countless ways.
Thanks to an invitation from Carolyn Oei, I experienced the magic of storytelling at the recent Singapore International Storytelling Festival event Transitions: Storytelling from the Word to the Voice held at The Arts House. Organised by the National Book Development Council with the support of the Storytelling Association, the fortnight long event features performances, workshops, masterclasses, as well as the Asian Congress of Storytellers.
Let me share some of the highlights from the Congress.
Artistic Director Kamini Ramachandran was the host of the event. Her performance of "The Tiger" taken from The Short Stories and Radio Plays of S. Rajaratnam was riveting. I could feel the tenseness of the pregnant protagonist in the story as she looked at the fearsome glare of a tiger.
Bet many of you didn't know that our founding father S. Rajaratnam was a literary giant too!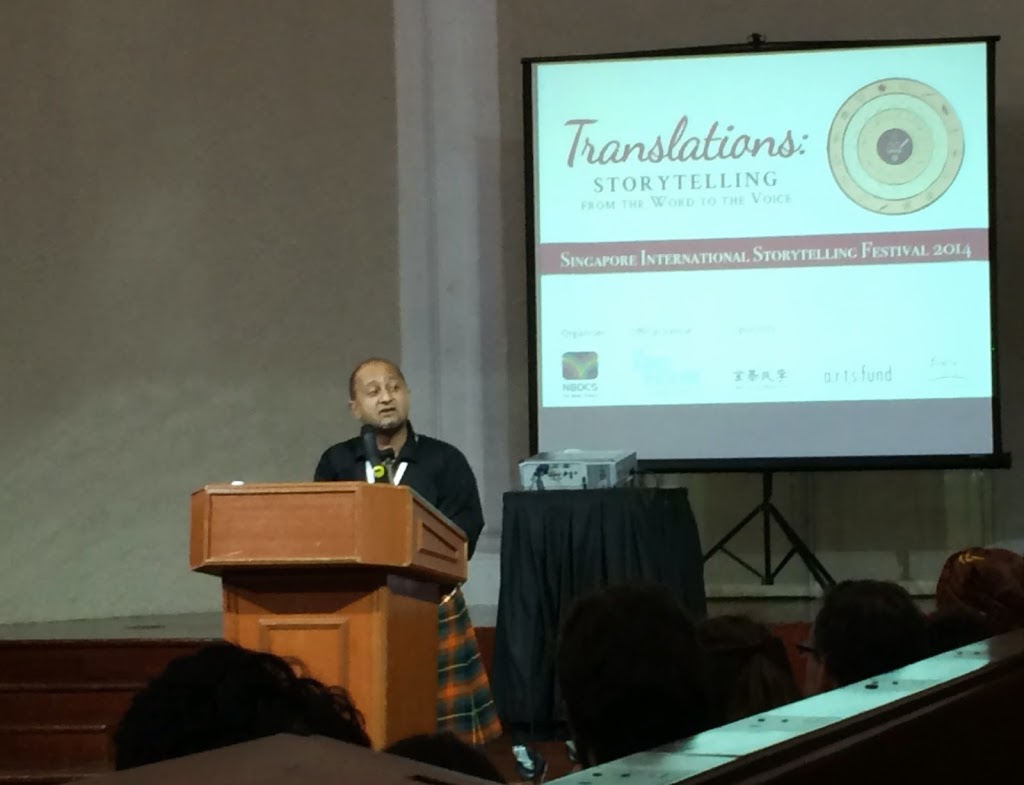 Keynote speaker Kiran Singh Sirah gave a rollicking rhetoric on how storytelling can be a formidable force for social change. I love how he defines storytelling as a "part of our DNA" which allows us to transcend time and space, allowing us to connect with different indigenous people and cultures. In his own words: "Storytellers are dreamers. Dreamers who think big."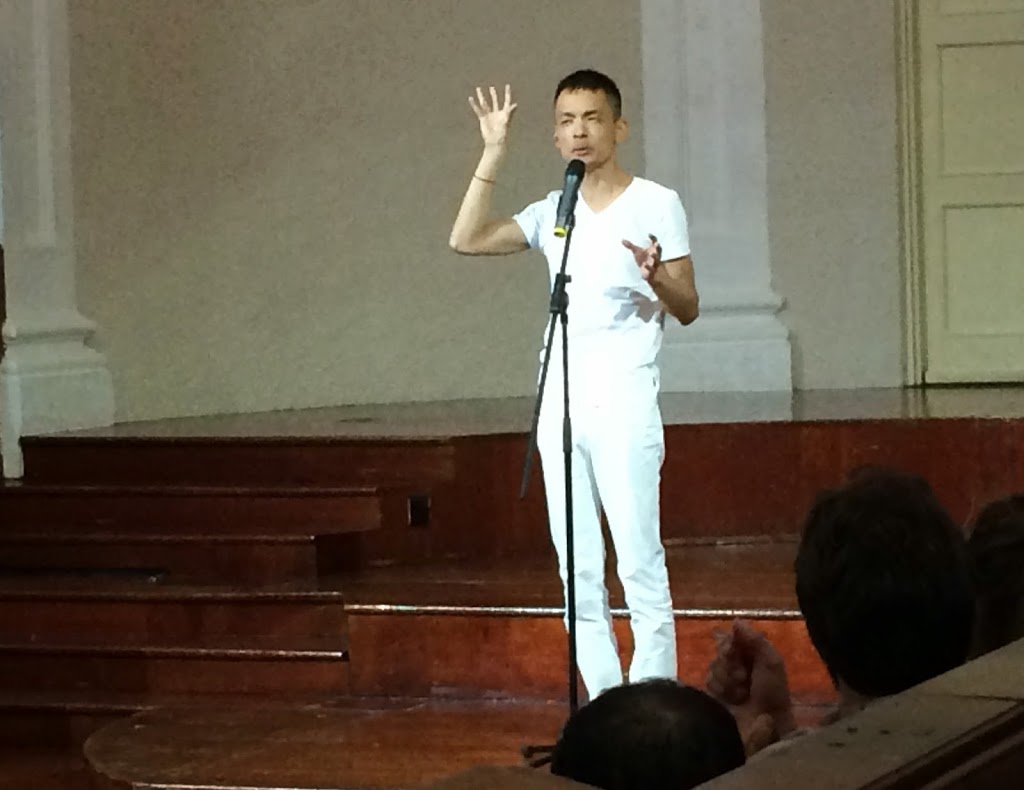 Describing himself as a "queer confessional poet who is a counter-tenor", Cyril Wong enchanted us with his dramatic performance of "The Old Man with the Golden Voice" taken from his own work Let Me Tell You Something About That Night. This polymath can not only write and tell, he can also sing with a beautiful voice!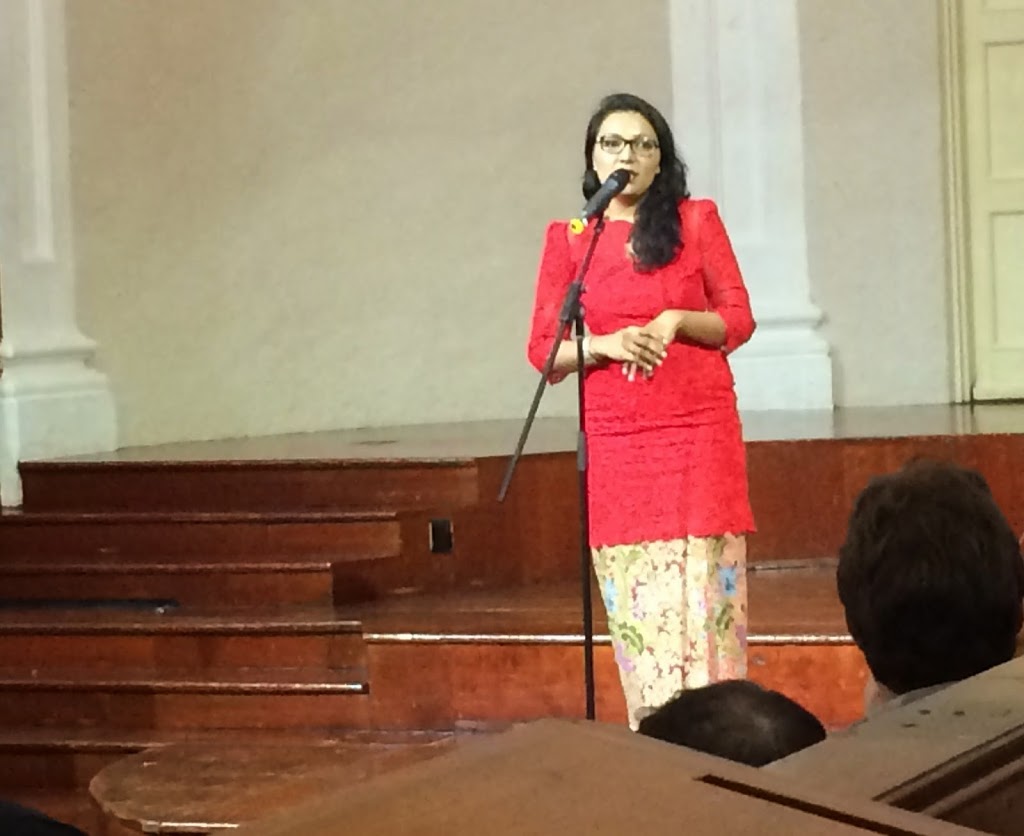 Annaliza Bakri's telling of literary giant Mohamed Latiff Mohamed's Batas Langit (Confrontation in English) was especially eye-opening. I loved how the story compelled us to reflect upon how Singapore's separation from Malaysia could possibly be felt in the eyes of our Malay friends many decades ago.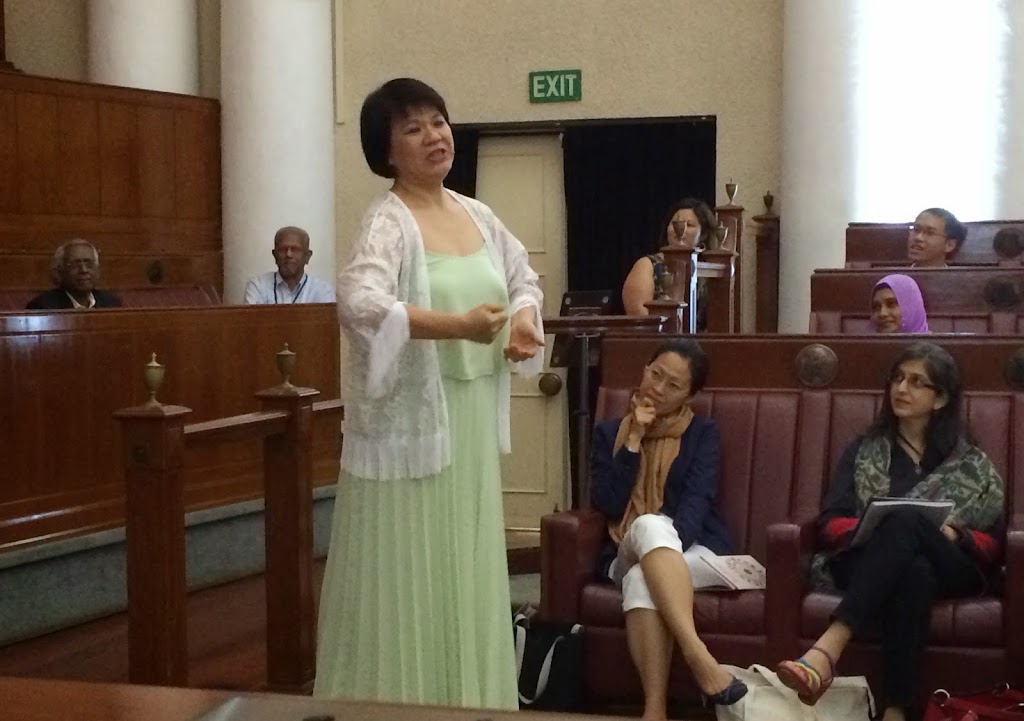 Operatic and dramatic, playwright Verena Tay's performance of her own work "Exile from Heaven: Zhang E's Story" (taken from In the Company of Heroes) was highly charged. Twirling and pirouetting in the chamber, she enraptured her audiences while portraying a very human side to the mythical fairy goddess 嫦娥 who was forced to reside in the barren Moon.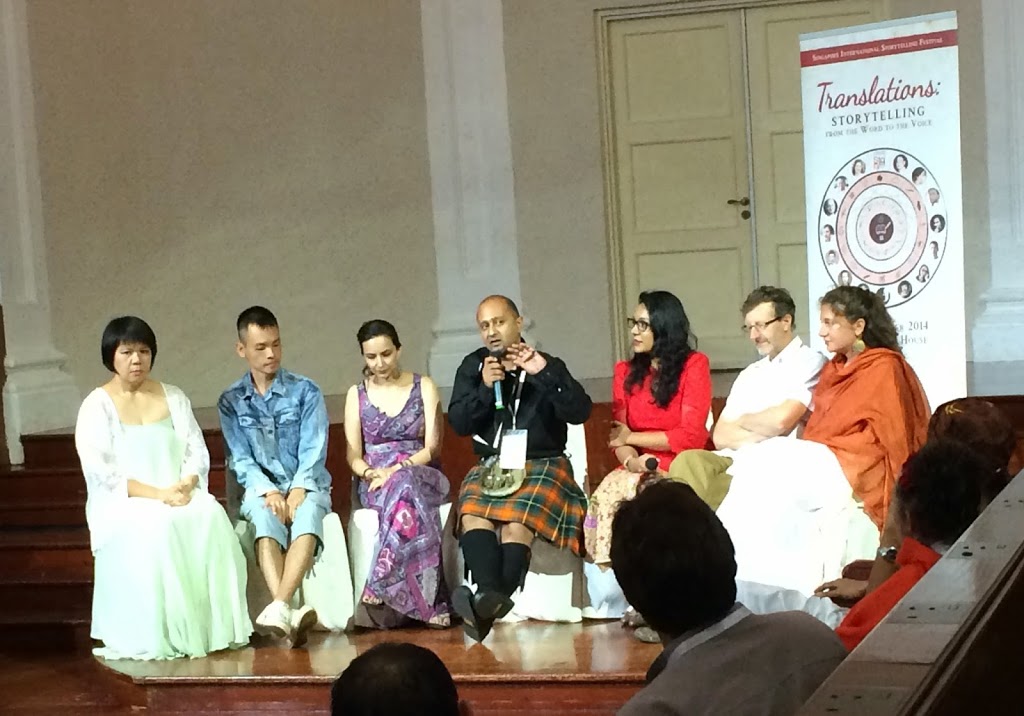 Michael Harvey and Paola Balbi joined Kiran, Kamini, Cyril, Annaliza and Verena at a panel discussion. These sterling storytellers shared the following gems:
Storytellers form an important bridge between books and audiences, in a society that is reading less these days.
Each and every telling brings out a different flavour in a written story.
Myths, legends and folktales can be made relevant through the adoption of a contemporary context.
Storytelling can be used to introduce an "anomaly to the overwhelming wall of hegemony in Singapore".
Storytelling provides a platform for our vernacular voices to better express themselves.
Successful storytelling involves active listening more than memorisation.
Storytelling should be equivalent to an artistic version of "slow food". It should allow its audiences to slowly internalise the elements of a story while nourishing their soul.
The printed page is like a membrane, while the words of a story is physically felt in storytelling.
Often the stories we create is a metaphor of our own lives.
You need to balance between what you want to say and what the audience can accept.
We need to embrace digital media and use them as a way to promote the "live" experience of storytelling, rather than shun them altogether.
Storytelling is a form of activism. It empowers you to make a difference that is personally connected to your community.
The use of props for storytelling varies according to the format of the performance. It is more important, however, to note that the prop should be an extension of your story and not a crutch or a distraction.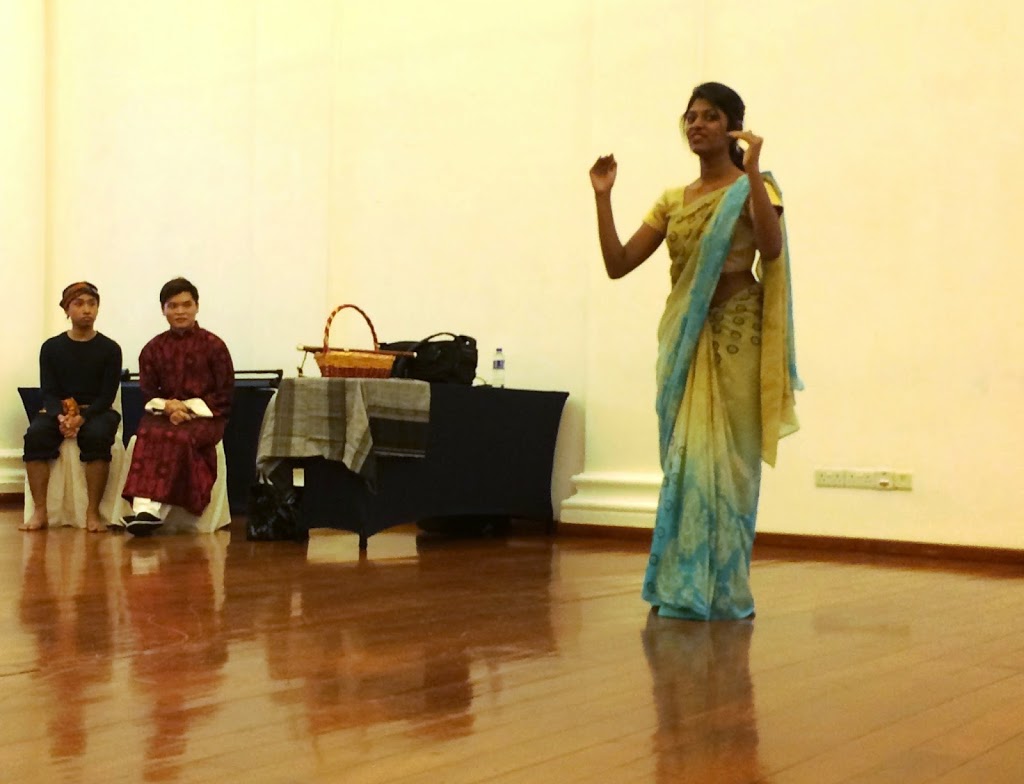 During lunch, we were treated to "Mother Tongue Tales" – a multilingual storytelling performance by young storytellers from LASALLE College of the Arts. Storyteller Praveena Kobu's animated performance of Raajaathi Raja in Tamil enchanted the audience, even though most of us probably didn't understand the language.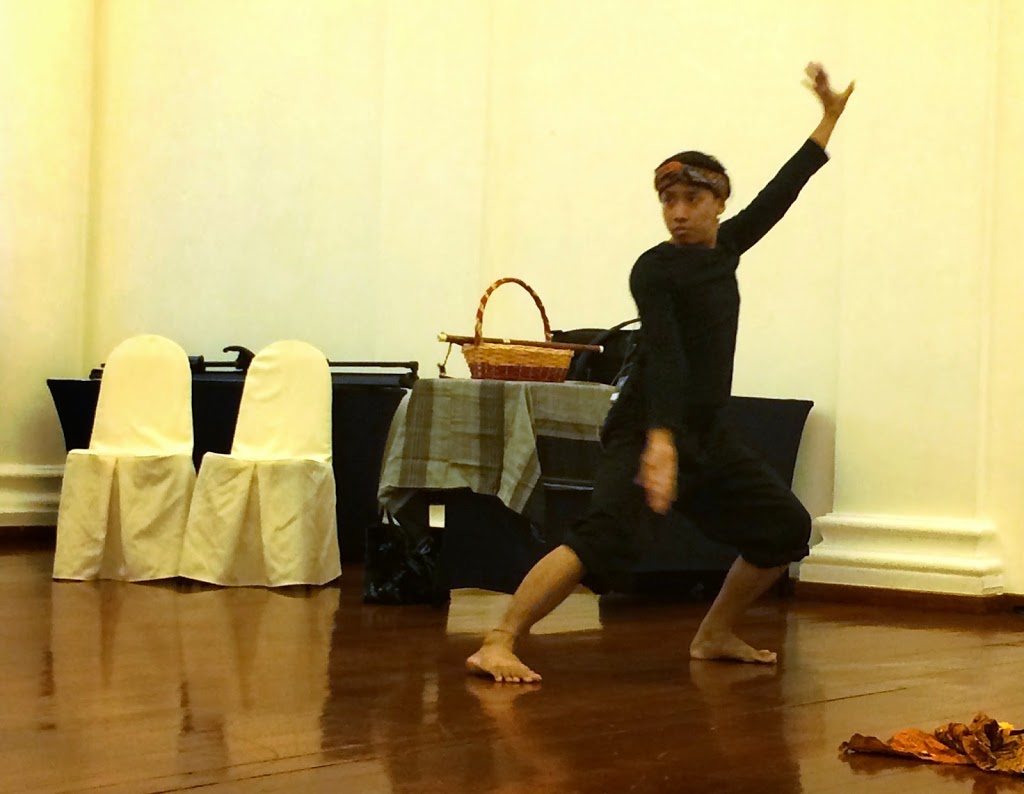 Next was Rifdee Raziman, who incorporated some deft silat strokes to enliven his telling of The Legend of Puteri Santubong and Puteri Sanjinjang in Malay.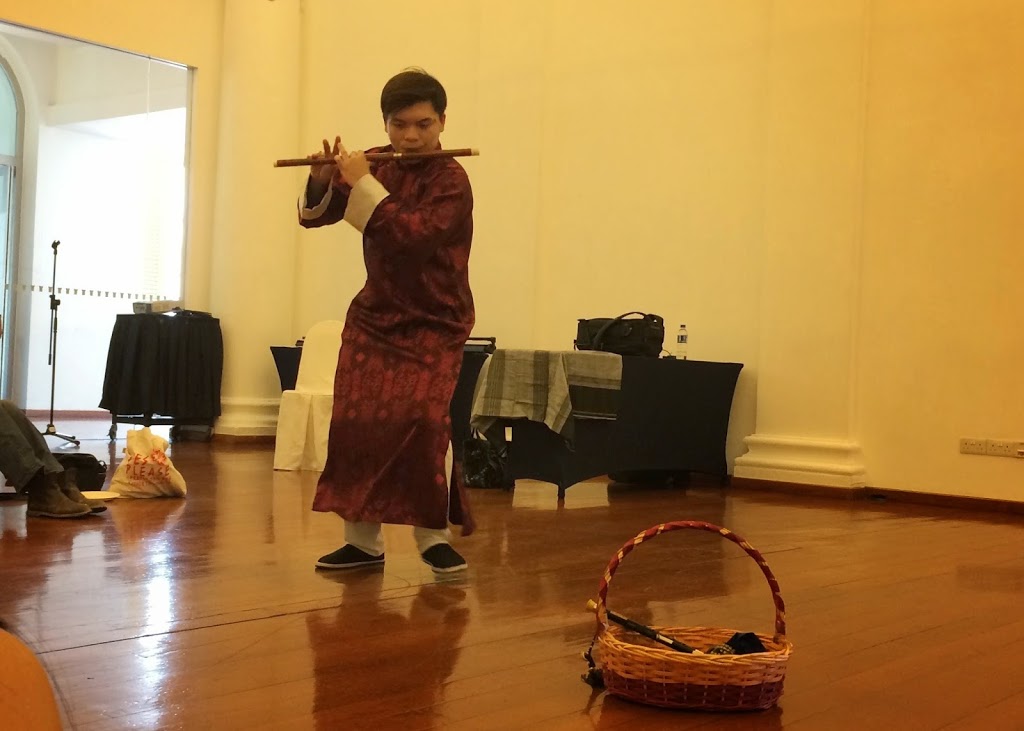 Finally, Tay Chou Peng played a few lively tunes as he shared a folktale The Enchanted Bow and the Silver Flute in Mandarin.
For more information on the festival, do check out the official website here. If you love listening to or telling stories as much as I do, you may also wish to participate in the Storytelling Association of Singapore. Who knows, your life may end up "happily ever after" once you unearth the magic of storytelling.
To be continued….