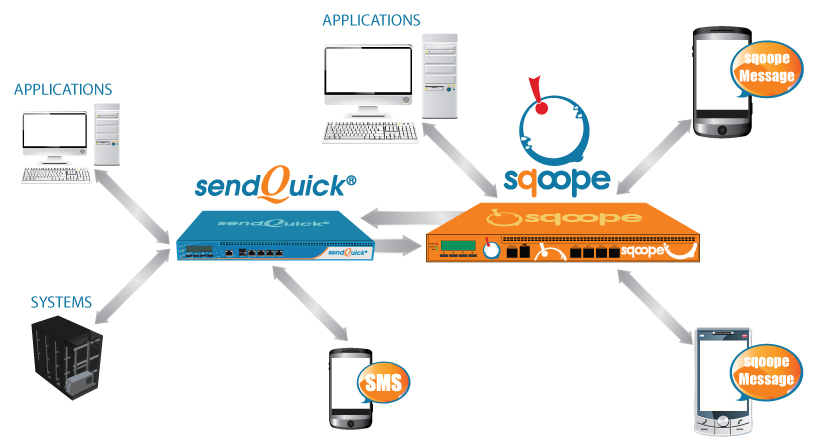 Easy enterprise messaging with sendQuick (SMS) and sqoope (data messaging)
Everybody's on an instant messaging app these days.
Fast, convenient and almost idiot-proof, they allow us to communicate quickly with each other via text, photos, videos and more. Tapping on our data connections – be it 4G or WiFi – data-based messaging is just as instantaneous as SMSes without incurring higher mobile charges.
However, messaging on a consumer platform becomes a little dicey when it comes to work. For a start, what happens if an employee leaves the organisation? Would the organisation still be able to access his or her message files and records?
Consumer instant messaging platforms may also be subject to various security risks like phishing attempts or "poison URLs". In addition, archiving key decisions made via messaging may be virtually impossible due to personal privacy issues.
What then should companies do?
Enter enterprise mobile messaging
Thanks to TalariaX, a home-grown Singapore IT solutions company, large to medium enterprises now have access to an "enterprise-class" mobile messaging tool specially catered to their needs.
Named sqoope™ (a creative play on the word "scoop"), the system provides a secure and reliable mobile messaging tool to improve internal company communication, enhance collaboration, and raise overall efficiency and productivity. Such a messaging platform also allows firms to avoid the drawbacks of relying on consumer instant messaging platforms.
Key features of sqoope™ include the following:
Ability to chat one-to-one, one-to-many (group) and one to multiple parties (ie broadcast);
Four stage delivery notification: Sent, Delivered, Read, Acknowledged (yes, there are no 2 blue ticks here);
Authentication of user identity through various protocols like AD, LDAP, Radius and DB;
Limitless messaging possible via mobile data and Wifi;
Applicable across all iOS and Android devices, as well as a web browser on any device (including laptops);
Encryption of messages for added confidentiality and security;
Ability to archive messages and to audit them via storing the messages on one's servers (or cloud storage solution); and
Ability to attach and send multi-media files (image, audio, video, PDF, text files and more).
Speaking at a launch event, Mr Wong Jeat Shyan, CEO of TalariaX shared that with sqoope, customers "do not have to worry about security breaches or data leakage as servers sit within their own premises". He further highlighted that sqoope allows businesses to enjoy greater operational efficiency and productivity while improving governance and the communication audit trail.
Consumer Friendly User Interface
With its familiar and user-friendly interface, sqoope is fairly easy to use with virtually little user training needed. I had the chance to play around with the iOS-based version of the app, and it looked like a slightly souped-up version of Whatsapp.
Here are some screen shots to give you a flavour of how the app looks like. The first shows one person sending a message in a group chat, with responses from two different individuals.
The next screenshot shows the voice message recording and transmitting capability of the app. Apparently, it works like a walkie talkie system allowing you to record and send voice recordings almost instantaneously.
This next screenshot shows the different statuses of a message: Delivered, Read and Acknowledged.
Finally, sqoope can allow messages to be typed in various languages. I suppose this is necessary given the global and cross-cultural nature of work these days.
Currently available on the Android and iOS platforms, future versions of sqoope for Blackberry and Windows are planned throughout 2015.
TalariaX – specialists in enterprise messaging
sqoope is created by TalariaX Pte Ltd, a Singapore incorporated company founded by IT professionals specialising in the convergence of mobile, messaging and the Internet. TalariaX's previous product sendQuick, an SMS-based platform for enterprise messaging, serves over 1,500 companies worldwide.
Winner of the 2014 Red Herring Top 100 Asia award, TalariaX seeks to be a world class product company specialising the convergence of mobile media.
sqoope comes in the form of a server (see below) which can be plugged into and configured with a company's existing computer hardware. User licenses cost about $8,500 for about 50 employees, with a an annual maintenance fee of about 20% of the sales price.
All images above courtesy of TalariaX.