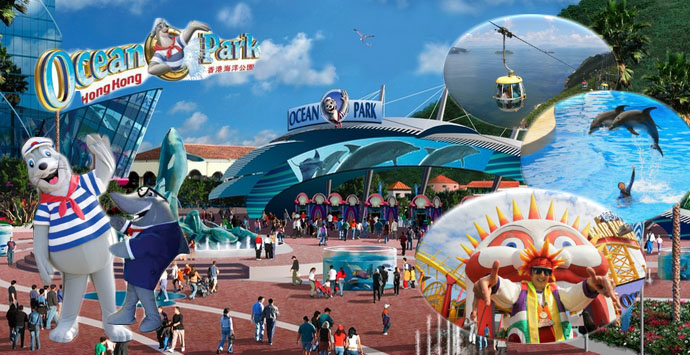 Can Whiskers (Wai Wai) take the mickey out of Mickey Mouse? (source of image)

What do you do when an 800 pound gorilla arrives at your door step?
Well, you differentiate, innovate and fight back with all you've got. Especially if you are an incumbent home-grown player in your local market.
At a recent marketing conference, I had the pleasure of learning all about how Ocean Park in Hong Kong managed to stand its ground against the upcoming Hong Kong Disneyland.
Told by the energetic and charming Paul Pei (Executive Director of Sales and Marketing at Ocean Park), the lessons learned are useful for anybody in the leisure attractions, hospitality or retail business.
David versus Goliath
When the news first came in 1999 that Disneyland was coming to Hong Kong, the spectre of doom hung heavily over the staff of Ocean Park.
Many felt that the coming of the entertainment behemoth would spell the death knell for tourist attractions on the island.
What's more, Ocean Park was already 29 years of age, with many of its facilities worst for the wear. Surely, they were no match for Disney's sheer might.
Studies have in fact shown that whenever a Disneyland park opens anywhere, incumbent players could lose up to 20% of their businesses.
However, Ocean Park did not sink into the shadows. They decided to ride the wave and fought back in a classic David versus Goliath story.
So, what did Hong Kong's iconic attraction do to stave off their competition?
Ocean Park's Competitive Strategy
Ocean Park employed a comprehensive 7-pronged strategy which covered a wide variety of areas as follows:
1) Redefine
Rather than fight head on with Disney, Ocean Park chose to differentiate itself and to complement rather than compete against the newcomer.
It created a new vision statement: "The world's BEST marine themed attraction – the PRIDE of Hong Kong and a LANDMARK destination for tourists."
Ocean Park also focused on its strengths. These were the real animals in its park, nature, its "Made in Hong Kong" status, its terrific/terrifying cable car rides, as well as edutainment.
This differed from Disney's emphasis on cartoons, movies, the castle, America fantasy and fun.
2) Rebuild
Then, an ambitious HK$5.5 billion master redevelopment plan was undertaken by Ocean Park to revive its product.
This would be carried out over 8 different phases and was targeted to be completed by 2012.
Key to the success of this goal was the mustering of support from different stakeholder groups – government, employees, media, business partners, the public and environmental interest groups. Collectively, these stakeholders wielded considerable clout in the success of the park.
3) Reconnect
The idea behind this was to win back the hearts of its various stakeholders. Ocean Park did it by focusing on their competitive strengths, namely:
Being home grown
Having many marine and land animals
Providing interactive edutainment
New products which provided interaction with animals like a sea jelly aquarium, dolphin encounters and panda keeping were rolled out.
A dining with the animals programmes (akin to our "Breakfast with Ah Meng" at the Singapore Zoo) were initiated together with summer school activities for kids and unique wedding packages.
Interactive quizzes and promotions linked to its heritage were also conducted to help Ocean Park reconnect with the public.
4) Re-excite
As I shared earlier, events are the lifeblood of the attractions business.
Ocean Park recognised this early and continued its 5 big annual events – Chinese New Year, Easter, Summer, Halloween and Christmas.
Its award winning "Halloween Bash" in particular was highly sought after year-after-year as an iconic must-do event in October.
5) Reinforce as Must-Visit
This is where advertising came in as a marketing tool to remind and refresh consumer perceptions and attitudes.
Ocean Park embarked on aggressive tourist advertising to position itself as a must visit attraction. It created locally-flavoured advertorials and TV trailers to re-engage its audiences.
It also worked closely with tour operators – an important partner in tourism marketing – to enlist their help in channel marketing.
6) Expand Distribution Network
In the tourism business, channel distributors are vital to success. These travel operators have the power to decide if your attraction should be bundled together with their packages and offered as part of a sightseeing tour.
Here, Ocean Park forged new partnerships with distribution channels like land, sea and rail transport operators as well as hotels.
Value-added ticket combos and packages were also developed to attract their guests to the park.
7) Compassionate Pricing
3 key principles were applied in Ocean Park's pricing and ticketing strategy:
Principle of Value – Offering visitors more value for money with bundled combo tickets to multiple attractions.
Principle of Loyalty – Awarding loyal visitors with better pricing. I was stunned to hear that they have 100,000 guests on their annual membership programme.
Principle of Compassion – Free admission or special offers to underprivileged groups, plus free admission to seniors and discounts for students.
Collectively, these different packages helped Ocean Park to reach out to a wider and more differentiated customer base.
Stunning Results
The outcomes of the above? Very impressive.
From an average of about 2.8 million visitors a year (1999), Ocean Park rose to hit close to 5 million visitors in FY 2006/2007.
Earnings have also swung from the red (-HK$80.5 million in 2000/01) to very positively in the black (HK$156.5 million).
That's not all.
Today, Ocean Park has something like close to HK$1 billion in the bank!
After Paul Pei's presentation, I had a short chat with him. From my informal chat with Paul, I gathered that the key lessons for any marketer from Ocean Park's experience in reinvention were as follows:
Focus on your strengths. Don't fight tooth for tooth with bigger boys.
Give the customers what they want.
Go back to the fundamentals. Yep, we are talking about the 4 Ps (or 7 Ps).
Were you impressed with how Ocean Park reinvented itself and transformed into a one of Asia's leading attractions? What lessons could you bring back for your own company or brand?