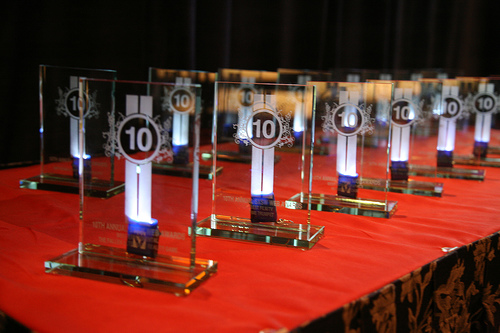 Courtesy of Laughing Squid
Love them or loathe them, award ceremonies are here to stay.
After all, everybody just loves to receive an award (or 10). Award ceremonies are also great occasions for you to dress up and look your resplendent best (plus put that $900 suit or $1,000 dress to good use).
However, award ceremonies can also be a huge pain. In fact, one of the most challenging things in events management is to keep an awards ceremony entertaining and fun for both the awardees and the audiences.
In my lifetime, I have witnessed far too many ill-conceived and executed dinners with award presentations to name. All kinds of atrocities can occur when organisers neglect to pay sufficient attention to the details.
So what should you do to prevent a major slip up? More importantly, how do you make your award ceremonies feel fun, glamorous and glitzy for everybody involved?
Limit Your Speeches
Limit the number of speeches and keep them short and sweet.
As a general rule, I find that two speeches (one by the host and another by the Guest Of Honour aka GOH) is about as much as anyone can take. After all, the reason for any awards ceremony is to honour the recipients and not the hosts.
Rehearse, Rehearse, REHEARSE!
Preparation is the key to success in any event. This is especially critical in an awards ceremony.
Don't make your stiletto wearing ladies in their slinky black dresses fall flat on their faces while walking up the stage. Or look as lost as a fish out of water.
Go through all the steps involved in the award presentation and train your awardees to follow the exact sequences as much as possible.
Location, Location, LOCATION!
No, I'm not saying that you should book the Ritz Carlton or Raffles Hotel (although I've had events at the Ritz, and it was fabulous).
In this case, I'm talking about marking the EXACT spots where the GOH is supposed to stand, where the recipient is supposed to stand, and where the exchange of trophies/medals/certificates are supposed to take place.
Don't assume that everybody knows where to stand. They don't – not without practice and somebody telling them where to go.
Lights, Camera, and… Lights Again
Pay attention to the lights. This may sound deceptively simple but can be quite devilishly difficult to execute well.
Closely supervise your lighting crew. Make sure that your spot lights are shining on the right person – not that gorgeous hunk in the tight tee or the babe in the micro-skirt!
Don't use disco lighting when nobody is dancing on the stage, or leave the lights on when the opening video is screening. Yes, I've cringed my teeth through all of these snafus happening before and more.
Music Soothes the Savage Beast – not Inflame It
This is one of my pet peeves with events.
Time and time again, you come across an over-enthusiastic sound engineer who wishes to play nothing but Top 40 music even when the occasion is a sombre black tie affair.
Let music soothe the savage beast, not irritate it!
In a prize presentation ceremony, the music, sound effects and other audio tricks should be orchestrated to synchronise with stage proceedings. As much as possible, blend your soundtrack with the nature of the event.
Say Cheese, not Cheesy
Beware of the Kodak Moments. Your photo sessions during or after an award presentation can be a tricky thing to manage.
Don't catch people unaware – a sleepy or startled look isn't exactly flattering for most. Do also be efficient when lining people up with the Guest Of Honour for the group photo and make sure that everybody knows where to stand. Get people to help you out if the group is large or unwieldy.
Keep Tight Watch Over Time
The night may be young but please don't go on forever. Most people who attend a prize or award ceremony are usually there for only one of four reasons:
They are a prize or award winner.
They are a sponsor.
They came to support the award winner.
They are an organiser.
People rarely go to award ceremonies just for pure entertainment so keep all your proceedings to a reasonable length.
If there are 200 recipients that night, find a way to make it move quickly without having to recite each and every single solicitation ad nauseum.
Systems and Processes in Place, Yo
Be systematic and process oriented. This includes ensuring that all contingencies are taken care of.
Make sure that you have a way of accounting for last minute "no shows" or absentees when updating the list of names to be called.
Also check, double check and triple check as much as possible that the right award goes to the right person. In the event that it doesn't, do your best to rectify it at the earliest convenient slot, and do it with a graceful smile.
Don't Forget the Food and Drink
A hungry man – and woman – is an angry person.
To lubricate the gears of social interaction and reduce any possible friction, it always pays to have some light food served before the event starts. This could be anything from cocktail sausages, sandwich wedges, to other forms of hors d'oeuvres.
Oh, and alcohol. If you do want to splash on an awards ceremony in a lavish hotel, don't be too stingy with your drinks. Of course, you may not want to go free-flow from the word "Go!" (that may bring about its own problems), but a glass or two per guest wouldn't hurt.
Most Importantly, Don't Let the Strain Show
Yes, you've just made the GOH walk up and down the stage unnecessarily. Or ushered an award winner to the wrong seat.
Things inevitably do go wrong regardless of how much time and effort you've spent preparing for the big night.
When screw ups occur, do try to rectify it as soon as possible. Do it as professionally as you could with a smile, and don't ever let the cracks show. You can settle your scores with your emcee, sound crew, lighting crew, floor manager, or caterer AFTER the event is over.
Remember that you are on stage during an awards ceremony even if you're the organiser. While not all eyes are on you, your actions could be noticed by guests. Hence, it pays to put attention to your conduct and demeanour.
Are there other factors which we should consider during an awards event? I'd love to read your encounters – terrifying or terrific!