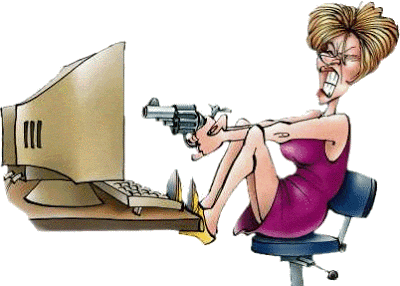 Hell Hath No Fury… (courtesy of Dinghy Blonde)
If you think being a personal blogger is difficult, wait till you try corporate blogging. It isn't just a walk in the park. Just ask Coleman (a fellow media socialist), who wrote this excellent post on making your corporate blogs succeed.
But then, isn't blogging just about shooting your mouth/fingers off and saying whatever you want to say. After all, it is the age of conversations, and everybody is a citizen journalist. Besides, people don't want to just hear the filtered, fluffed up, fantastic stuff from the gatekeepers (like yours truly).
Well, consider the following.
First, you have to show your boss that whatever you do is producing real tangible results. In a shareholder value oriented world, organisations are living quarter by quarter. Can your blogging endeavours bring in customers? Can you track the number of readers to your blog?
Next is the question of ability versus attitude. Sure, you are all raring to go in unveiling the lighter and personal side of your company. But can you write/produce/film/photograph to save your life? Will people be drawn to your content? With close to a gazillion blogs out there, the competition is tough as nails. And yes, sex does sell.
Third is the issue of attracting a crowd of believers/followers/lurkers. Would people be interested to read about the latest technology involved in precision manufacturing of part number 423A01 in a car? Or would they rather read about who you partied with last night?
Fourth is the challenge of being creative in your posts. When you are relaxed at home and doing your own personal blog, you can put up anything which your right brain so desires. However, if you are blogging on behalf of your company, it may suddenly be a lot less stimulating – mentally or otherwise.
There is also the problem with accountability in a corporate blog. Are you writing in your own personal voice or just being yet another mouthpiece for the corporate spiel? If what you do write just sounds like a mash-up of the press release, it may appear to be old wine in new 2.0 wineskins.
Finally, and this probably takes the cake for some, blogging isn't a 9 to 5 job. If you are the online representative for your company, people may want to comment on your post and expect a response 24 by 7. I don't think "Sorry, its 5.30 pm and time for me to knock off." is going to be perceived very favourably by your followers.
Does that mean that organisations shouldn't even consider corporate blogging? Certainly not. In my opinion, the higher the barriers to blogging entry, the more you should do it. The time is just right here in Singapore as there are hardly any company who is blogging here (save for a few odd start-ups here and there).