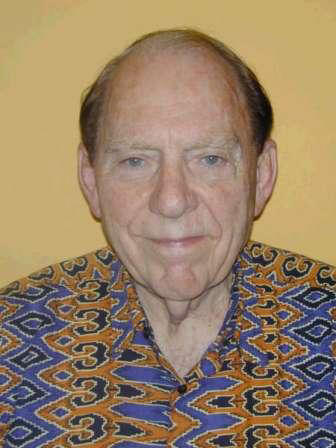 Leon Comber – polymath and overall great guy. (Courtesy of Chinatownology)
Yesterday afternoon, I had an enjoyable time meeting Dr Leon Comber, an honorary research fellow at the Monash Asia Institute of Monash University.
A charming man with a wry sense of humour and a twinkle in his eye, Leon is a polymath of diverse interests and talents.
Oh, and did I mention that he was 85 years of age but looked at least two decades younger?
Leon had multiple degrees, spoke multiple languages, and possessed multi-disciplinary interests in subjects as wide ranging as history, political science, intelligence, terrorism, book publishing and business.
Formerly a major in the British Army during World War II who played a role in routing Singapore's Japanese occupiers, Leon was also previously an Assistant Commissioner in the special branch of the Malayan Police. The elderly gentleman also spent 25 years in publishing (heading Heinemann Educational Books in Asia), and was even appointed as a publishing consultant for the People's Republic of China for UNESCO!
Last year, Leon was a visiting fellow at the Institute of South East Asian Studies (ISEAS) in Singapore for about four and a half months. During that time, he managed to publish (or get accepted for publication) three academic articles in leading journals.
That's probably better than most academics half his age!
But wait, there is more.
Leon published a total of 22 books in total. Some of his volumes have sold so well that they have gone into multiple reprints! They include the well referenced Chinese Temples in Singapore. He also claimed a total of 17 referenced academic articles and journals under his name (probably closer to 20 now).
It was certainly inspirational speaking to this sprightly and energetic octogenarian who doesn't look or act like he would be retiring anytime soon. In fact, Leon planned to make a trip to Singapore in two-weeks then, and would be attending the launch of a book (he wrote the forward for that title).
Having spent so many decades in Asia, Leon probably knew the sub-continent better than most of us Asians.
How did he do so many things and accomplish so much? Was there a secret to leading such a long and fulfilled life?
The key thing which I learned from Leon was to be focused in what you do and to stay the straight and narrow path. That was the main takeaway I had during my morning with him – whether intentional or inadvertent.
After all, you only have this amount of time and energy on your hands in the course of your lifetime, and you should choose to concentrate on the things which you are most passionate about.
In other words, don't lose the plot.
Life can be full of distractions. Along the way, you may face the temptation to veer away from your original path or to be distracted by something else which captures your fancy.
This is especially true in the writing of books or academic articles, when a thousand and one different ideas and thoughts beckon seductively.
However, you need to be prepared to throw out most of the stuff that you have read or come across. Interesting as they may be, they could be irrelevant to your life's main narrative.
You could revisit them later if time and energy permits, but only do it after you have completed the task at hand.
I found this nugget of wisdom ringing especially true in the age of social media. We now have so many different ways to distract us that it is hard for us to produce anything of enduring value.
With emails, blogs, Facebook, Youtube, Twitter, Flickr, Plurk, MSN Messenger, and a whole host of other social media channels open to us – 24 by 7 – you can choose to just stay perpetually in a social media limbo. Forever receiving little bits of information, digesting occasional bytes of trivia, resynthesizing them, or disseminating them to our hapless followers.
Heck, even putting up a single well-articulated blog post is so difficult that many have given up. After all, tapping 140 characters in a social media update is far easier than a 500 word essay. Let alone a *gasp* full-volumed and indexed book!
The hard question to ask though is whether this will all lead towards something tangible and memorable at the end of the day.
Will it be something that you will look back in your golden years and say, "Yes, it was something I have achieved which I can be proud of!"
Like Leon, I want to publish books (at least one or two, if not three) in the course of my lifetime.
I also want to start something that will be indelibly marked as my own – a new school of thought, an original management insight, or maybe even an enterprise. Something unique, special and meaningful that I could can add to my own personal legacy.
I wish to do so not so much to gain public pride or personal glory (those possess very little value to me) but to whoop with joy at that sense of satisfaction, accomplishment and self-actualisation.
To do that, the first lesson that I need to learn – and I would encourage the rest of you to do so – is to stay focused and not lose the plot.
Zoom in on what you need to do to succeed. Nothing more. Nothing less.
I certainly look forward to our next meeting (if life does not get in the way) and would see if I could suss out more life lessons from this most extraordinary officer and gentleman.