If you haven't already heard Rebecca Black's "Friday" (more than 100 million views on Youtube and rising), you must have been hiding under a rock. The huge Internet sensation has been making waves while racking up an incredible number of 2 million dislikes on Youtube.
Here's that music video produced by Ark Music Factory for those of you fortunate/unfortunate enough to miss it.
By now of course, much of the online and mainstream media world has been talking incessantly about the Rebecca Black phenomenon. There has been a huge number of parodies, and now GLEE is keen to do a cover of her infectiously unforgettable ditty.
I believe that this is symptomatic of a bigger socio-cultural change associated with the rise of the antihero.
According to Wikipedia,
"an antihero is generally considered to be a protagonist whose character is at least in some regards conspicuously contrary to that of the archetypal hero, and is in some instances its antithesis"
There has been many antiheroes throughout history, particularly in films as seen from this list. Embellished with human flaws, antiheroes resonate with many of us because of their sheer humanity. What's interesting though is that most fictional antiheroes are still somewhat "cool", oozing with machismo and charisma despite their scarred pasts.
What I find fascinating about Rebecca Black as the new generation anti-hero – one created by Youtube and other social sharing sites – is this:
1) She is not as slick or polished as a pre-packaged pop star. Instead, she exudes an awkward and gawky post-pubescent demeanour (compared to say Justin Bieber).
2) Her song is so bad that its considered "good", creating a negative buzz that somehow seemed to work in her favour. Other than Youtube, her song "Friday' was no. 19 on iTunes top 100 downloads and her Twitter account has almost 160,000 followers.
3) She isn't backed by a huge commercial corporation but a rather niche company specialising in amateur acts. This can be seen in the production qualities of the music video on Youtube.
4) Unlike some other YouTube stars, her meteoric rise to fame (or infamy) seemed purely a product of accidental happenstance rather than pre-meditated design.
Of course, the Rebecca Black phenomenon isn't totally new. There were others like William Hung, an erstwhile contestant on American Idol, who catapulted to "stardom" with an acting and recording contract only to fade quickly away.
It'll be interesting to see if the huge spike in her popularity/notoriety will sustain her beyond just a momentary flicker of fame in the fickle world of online popularity. It seems apparent that in this day and age, being awkward, gawky and geeky may actually win one more fans rather than being an ultra-cool, chic, stylish and plastic personality. I suppose the "unique selling points" at play here are originality, interestingness, and counter-intuitiveness.
Let's hope that Rebecca will bask in her moment of glory while it lasts, and not let the negative detractors affect her too much.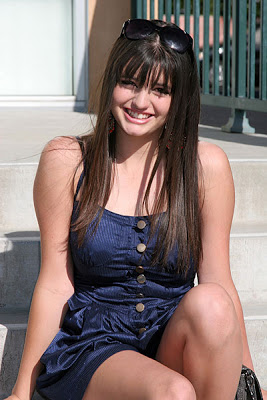 Courtesy of Rebecca Black YouTube Channel