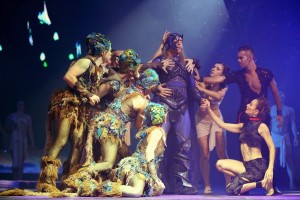 Courtesy of Resorts World Sentosa (RWS)
Billed as a "multi-million dollar fantasy musical", LightSeeker is Resorts World Sentosa's third original production and a first time collaboration with famed local songwriter Dick Lee. Produced by Andrea Teo (formerly of Under One Roof and Phua Chu Kang fame), the 90-minute musical boasts of spectacular visuals, acrobatic action sequences, stunning sets, and eye catching theatrical effects.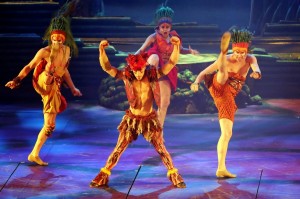 >
Courtesy of Resorts World Sentosa (RWS)
Featuring an international cast with names like Stuart Boother (The General/ Light Seeker), Vivienne Carlyle (Usha), and Sarah Brown (Nova), LightSeeker is directed by Michael La Fleur, an internationally renowned director-writer responsible for Broadway shows by Disney, Universal Studios and others. All its original songs were composed by Dick Lee, while its musical arrangement and orchestrations were put together by Jonathan Lim and Bang Wenfu.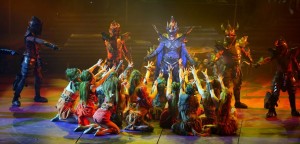 Courtesy of Resorts World Sentosa
Inspired by Avatar and Final Fantasy with a Broadway flourish, LightSeeker is set in a futuristic fantasy world where a wondrous power known as "The Light" nourishes life. A long-haired blonde punk-rocker looking guy called "The General" seeks to draw the energy from this precious source to give his godlike and supremely evil Emperor omnipotent power. His quest brings him face to face with a forest goddess like nymph called Nova who is the keeper of The Light.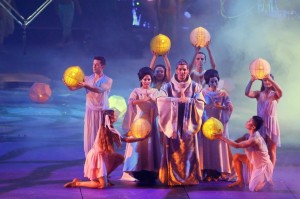 Courtesy of Resorts World Sentosa
To complicate matters, an "ugly" witch named Usha double-crosses The General and pledges to capture The Light so that she can win over the heart of the all powerful Emperor. Steeped in the dark magical arts, the witch possesses the knowledge and ability to draw power from The Light vested with Nova. She unleashes two serpents turned humans to capture her while defying The General's orders.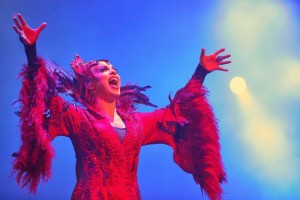 Courtesy of Resorts World Sentosa
As you'd imagine, this results in an epic battle of sorts. Along the way, various forest denizens including elves, men and women in flowing diaphanous robes, religious druids, and others join in the journey. Oh, and do watch out for some nasty creepy crawlies too.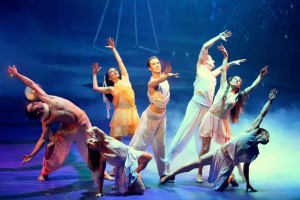 Courtesy of Resorts World Sentosa
Amidst the melee, our male protagonist (who is also known as the LightSeeker) experiences a gut-wrenching "moment of truth". His tormented self has to decide if he'll continue to embrace evil or step into the light.
Having watched all three original productions (previously Voyage de la Vie and Incanto ), I felt that LightSeeker was musically more accomplished than the prior two efforts. While it isn't in the same league as Fried Rice Paradise or Forbidden City, its songs are nonetheless fairly pleasing. Its Broadway and West End trained actors and actresses are certainly more polished in their performance, particularly the leads playing The General, Nova, and Usha.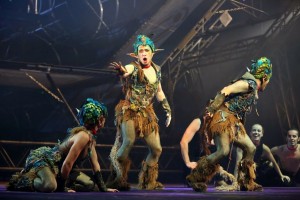 Courtesy of Resorts World Sentosa
Much care has also gone into designing and fabricating the different stage set-ups. I was especially impressed with the way movie sequences (featuring a disembodied Lim Kay Siu as the Emperor/ Cloud Spirit) were skillfully interwoven with stage props and "live" actors and actresses. This technical wizardry was a first of its kind for RWS.
Noteworthy too are the musical's acrobatic stunts. Members of the audience "ooh"-ed, "aah"-ed and applauded when performers twirled on ropes, somersaulted, balanced on beams or contorted their bodies.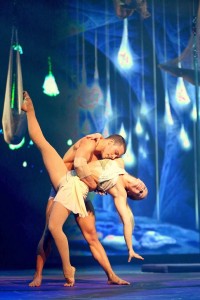 Courtesy of Resorts World Sentosa
While LightSeeker's sets and special effects are visually arresting, I found the costumes a little too over-wrought and garish. For example, The General's outfit appear more suited for a Cosplayer at an Anime festival than a serious fantasy musical, while Usha's all red ensemble was hardly better than Miss Universe's ensemble.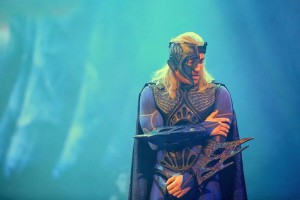 Courtesy of Resorts World Sentosa
I also felt that the narrative could have placed more emphasis on character development. While the main roles were professionally acted by competent Broadway trained performers, they somehow lacked depth and fail to connect emotionally with the audience. Certain segments of the musical were also rather draggy and could have been more tightly pieced together.
Despite its shortcomings, I must commend the team at Resorts World Sentosa for daring to experiment with different styles and genres in production. It certainly isn't easy to create and produce an original musical from scratch, and kudos must be given to Andrea and her team for their efforts.
Check out the preview below for a glimpse of the drama and action.
For show timings and ticketing information, do check out RWS' website here. Tickets are available from $48 to $148. To sweeten the deal, RWS also offers special packages which includes dinner at Osia or Palio restaurant.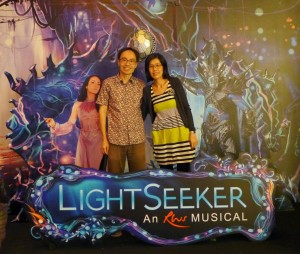 A photo opportunity for Tina and I (courtesy of Ethan Lim)
Special thanks to Resort World Sentosa for the complimentary tickets to LightSeeker and the pre-show dinner at Osia (I'll blog about the meal in a separate post).