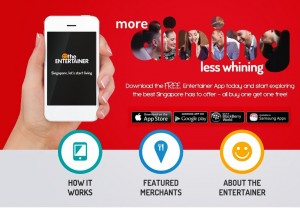 Recently, my family (two adults and one 10 year old) "broke" our record when we paid $91 for breakfast of egg benedicts, pancakes, and fine coffee at a popular cafe. While we were mentally (and financially) prepared for that enjoyable meal, it seemed quite clear that dining out and entertaining can be costly. Especially when we are only free on peak periods – Friday evenings, Saturdays and Sundays.
Fortunately, there is a way for us to have our cake and eat it – without breaking the bank. Introducing The Entertainer Singapore.

More than 1,000 Offers to Choose From
Launched in October last year, The Entertainer offers over 1,065 'Buy One Get One Free' lifestyle offers in either a book or a mobile app. Each will contain identical incentives. You can buy the book at Kinokuniya book stores, while the easy to use app version can be downloaded for iPhones, Androids and Blackberry smartphones.
The offers cover popular dining, leisure, wellness and entertainment venues like Au Petit Salut, Kinki, Carnivore, Hard Rock Café, Brewerkz, Marmalade Pantry, Ben & Jerry's, Spa Symphony, Gmax Reverse Bungy and Impakt Gym.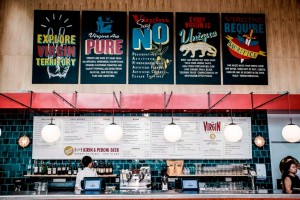 Enjoy one-for-one all year deals at Extra Virgin Pizza (United Square)
Need to go for a chillaxing holiday but worried about hotel room rates? Not to worry. On The Entertainer app, you can also find 'buy one get one free' offers for leading hotels and resorts throughout the region. They include branded properties like Dusit, Sofitel, Angsana, Oberoi, and Banyan Tree in holiday destinations like Thailand, Bali, the Maldives and more.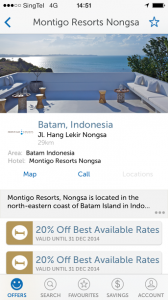 Yes, Montigo Resorts Nongsa are also listed!
Priced at only S$95, the offers from The Entertainer Singapore (either app or book) can be redeemed from now till 30 December 2014.
Over $150,000 in Annual Savings via One-for-One Deals
According to the company, you can claim over S$150,000 in savings. I haven't personally counted the savings myself, but I reckon that if you eat, drink, enjoy massages, or go for holidays as much as we do, you'll probably be able to get your money back (and more) in a week or two.
Other than the 1-for-1 deals, what else is so special about The Entertainer?
1) The offers have very few restrictions on when they can be used. Aside from a couple of public holidays, the offers are valid 24/7, anytime, until December 30th, 2014!
2) The Entertainer was established way back in 2001 in Dubai (the place with the fancy hotels and resorts) and has long-standing relationships with over 10,000 merchants around the world. The company has 27 publications across 23 different destinations. You can visit their website for more information.
3) If you encounter any issues, you can contact their customer service folks at [email protected] and they will resolve the issue as soon as possible, directly with the outlet in question.
4) You can redeem up to 3 different offers for each participating merchant. They may include discounts of 20% or more if you do not wish to take up a one-for-one deal.
5) You can decide to use up to a total of 4 offers for 8 people. In other words, you can treat a significant other for a candlelight dinner, or bring along a family of 8 using 4 offers.
6) Finally, The Entertainer is not a 'daily deal' product. Rather, it is a membership programme requiring a one-time payment providing genuine offers that are valid till the end of the year.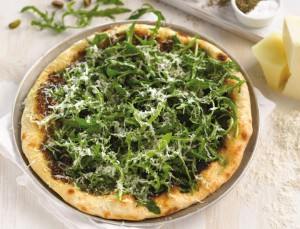 Pistachio Pesto Pizza from Extra Virgin Pizza
Introduced at a recent bloggers' gathering hosted by Extra Virgin Pizza (EVP), we had the chance to play with the app while enjoying its "one-for-one" deal of a main course meal. Known for its chewy yet crispy crust, EVP's pizzas, chicken wings and desserts were pretty delicious and filling. With the deals offered via The Entertainer, you can enjoy two fairly large oven-baked pizzas for only $24!
How Does The Entertainer Work?
First you have to download it from iTunes, Google Play Store or Blackberry World. Just search for it using "The Entertainer". Once you have installed it, you will be prompted to register the app and to key in information such as your name, email address, and mobile number. You will also need to register a four digit PIN.
If you enable its geo-location feature, you will be able to view offers around your location. There is also a nifty "Google maps" feature embedded in the app. For example, the following outlets could be found around the Novena area:
Once you've decided on the place you'd like to visit, you can choose the establishment to view its offers. In this case, we have decided on Extra Virgin Pizza at United Square.
To activate the offers, you have to key in the four digit PIN. Once you're done, you should pass your phone to the waiter or retail staff of the outlet to key in their staff PIN.
OK, you have successfully activated the deal! This is shown in the screen shot as seen below. You can then redeem the "one-for-one" deal accordingly – in this case, it is a main course at EVP.
After you have ordered and redeemed your item, you will be informed how much you have saved. If you wish, you can also brag about it on social media or email. Go on, don't be shy (unless you're supposed to be on a low carb diet)!
If you are still lost, do check out this handy video below. In any case, frontline staff at the Entertainer outlets ought to be able to walk you through the process.

Enjoy 20% off Your Download (till 30 April)
To sweeten the deal for readers of Cooler Insights, enjoy a 20% discount off your download of The Entertainer app! Just key in this unique discount code: @coolinsights at the "Voucher Code" box of the app download page, followed by "Apply Coupon".
This discount code (@coolinsights) is only valid from now until end April 2014, so do hurry. Do also share this special promo with all your friends.
Well, what are you waiting for? Download the app, key in the discount code, and enjoy the one-for-one deals already! 🙂