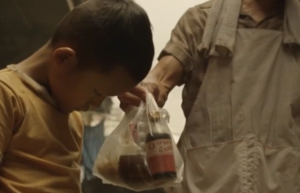 "Giving" by TrueMove generated more than 3 million views in 5 days!
By now, many would have noticed that our genteel northern neighbour has been creating a mini "social revolution" on YouTube. Its videos have generated such virality that they are being talked about all over the world.
Yes, I am talking about those tearsome Thai advertisements.
In case you don't already know, social media is huge in Thailand. According to Hoot Suite, about 1/3rd of Thais are on social media, out of which 24 million are Facebook users. Bangkok is the 2nd most Instagrammed city in the world, and Thai celebrities have huge followings on Instagram – the most popular of whom is Aum Patchrapa with over 2 million followers.
On YouTube, Tech In Asia reported last year that over 5.3 million videos are uploaded, with an average of 2,500 videos uploaded per day. The Siamese kingdom has over 630,000 YouTube channels – quite a significant number considering the population size of 70 million people.
For marketers, the most interesting thing to emerge from the Land of Smiles are its commercials. Endowed with stirring scripts, vivid cinematography, lovable characters, and "knock 'em dead" climactic endings, these videos exemplify storytelling at its best. Powered by YouTube and other video sharing channels, they have become global viral sensations while triggering the sales of Kleenex tissues everywhere!
What makes Thai commercials such emotional powerhouses?
1) Every Underdog has His/Her Day
Most of us are naturally predisposed to root for the oppressed, the poor, and the downtrodden. Tapping this common wisdom, Thai videos often feature main characters who seem to have run out of luck in life and in love. Often, they are also portrayed as ordinary men and women who are born without a silver spoon in their mouths.
2) Facing Major Obstacles
As masters of storytelling, the Thais know that good stories normally have a major problem or issue which needs to be solved. Common conflicts portrayed here include the struggle between poverty and wealth, filial piety versus personal ambition, or sickness versus health. The triumph of the underdog over a particularly difficult situation makes for good drama.
3) Grit and Resilience
Qualities like determination and perseverance are what carries us through difficult situations. Once again, Thai commercials offer these admirable virtues by the truckload. Come hell or highwater, the main character will eventually emerge as the winner.
4) Emotional Roller Coasters
The best Thai commercials have an "Aha!" moment – a tipping point or twist in the plot where the fates of the protagonists start to change. Often, these twists and turns have a roller-coaster quality, bringing us along for the emotional ride. While these often have a benevolent outcome, they can sometimes be surprising or unexpected.
5) Faith in Humanity
Ultimately, the stories which resonate most deeply with us restore our faith in the goodness of man. While not being overly preachy, Thai commercials are able to being their stories to a satisfying and climactic finish while conveying a universal belief that most can resonate with.
6) Minimal or No Selling
What's most remarkable, however, is how virtually no selling or marketing is seen in any of them, beyond the appearance of the company's logo in the end credits. Despite the absence of promotional messages, it is clear that the companies which produce these ads would win favour from their customers by virtue of their strong and positive brand associations.
Let us look at four stirring examples of Thai cinematic commercials, bankrolled (surprisingly) by huge sprawling companies.
The first "Unsung Hero" is a moving ad by Thai Life Insurance where our protagonist takes a small amount of time each day to help those around him. A neglected plant gets a little extra water, a woman gets a helping hand, and a needy child gets some money. In return for his good deeds, he doesn't get any "tangible" rewards in the traditional sense but receives emotional richness in his life. The question and tagline at the end certainly made me sit up and think.
This second tear jerking commercial "Giving" by Thai mobile company TrueMove has got you covered with this story of a noodle seller whose generous act toward a young boy with a sick mother brings unexpected rewards 30 years later. With almost 6 million hits in just a few days, the ad is getting lots of press. The tagline is, "Giving is the best communication." It's not entirely clear (at least in the ad) how that relates to a mobile company, but frankly, it doesn't need to. The buzz (and the vague hope that it will encourage random acts of kindness among viewers) is all that really matters.
"My Beautiful Woman" is a series of three short films brought to you by Wacoal Thailand. There isn't anything saucy about these "lingerie ads". Inspired by the true stories of women who went beyond the call of duty of parenthood, love and community, they are emotionally heart-wrenching yet vivid in their ability to impart strong moral messages to viewers.
Last but certainly not least is this true story made into a short commercial by TMB (a Thai bank). It regales us with the tale of a fledgling youth football team hailing from a fishing village perched on stilts on the Thai island of Koh Panyee. Inspired by the 1986 FIFA World Cup, kids on the village used old scraps of wood and fishing rafts to build their own football pitches. They persevered through their limitations and rose beyond their humble circumstances. Eventually, Panyee FC became one of the most successful soccer clubs in Southern Thailand.
What other Thai commercials have you watched lately? Do they touch you as much as the ones here?