Is there a crowdfunding market in Asia? How does it differ from the West?
According to a Business Times article late last year, the crowdfunding market potential for South East Asia is projected to grow to some US$8.9 billion come 2025. In Singapore, total venture capital funds in start-ups were only about S$25.2 million in 2012 – a proverbial drop in the vast ocean considering our status as a financial hub. Against such a backdrop, it is evident that there is much potential for crowd-sourced funds to grow.
Thanks to a presentation by Nicola Castelnuovo of Crowdonomic at the recent Crowdsourcing Week Global 2014, I picked up a thing or two about the crowdfunding eco-system in our neck of the woods.
Let me highlight some of the salient points from his talk.
The Asian Model
Unlike traditional linear funding models from donation to rewards to equity, crowdfunding in Asia tends to be more disruptive. Here, the sequence may be more simultaneous and free-flowing, where fund seekers, donors and resource providers interact and engage. Business model wise, the crowdfunding action in Asia takes place via B2C or B2B "crowd companies" as intermediaries rather than a more free-flowing direct marketplace.
Similarly, the growth of crowdfunding in Asia is unlikely to be through discrete vertical portals that offer distinct crowdsourced offerings. Rather, it is one where crowd powered solutions that integrate across the value chain or business eco-system is provided. This more collaborative model may suit communal Asian cultures better than the more individualistic Western system where independent entrepreneurs abound.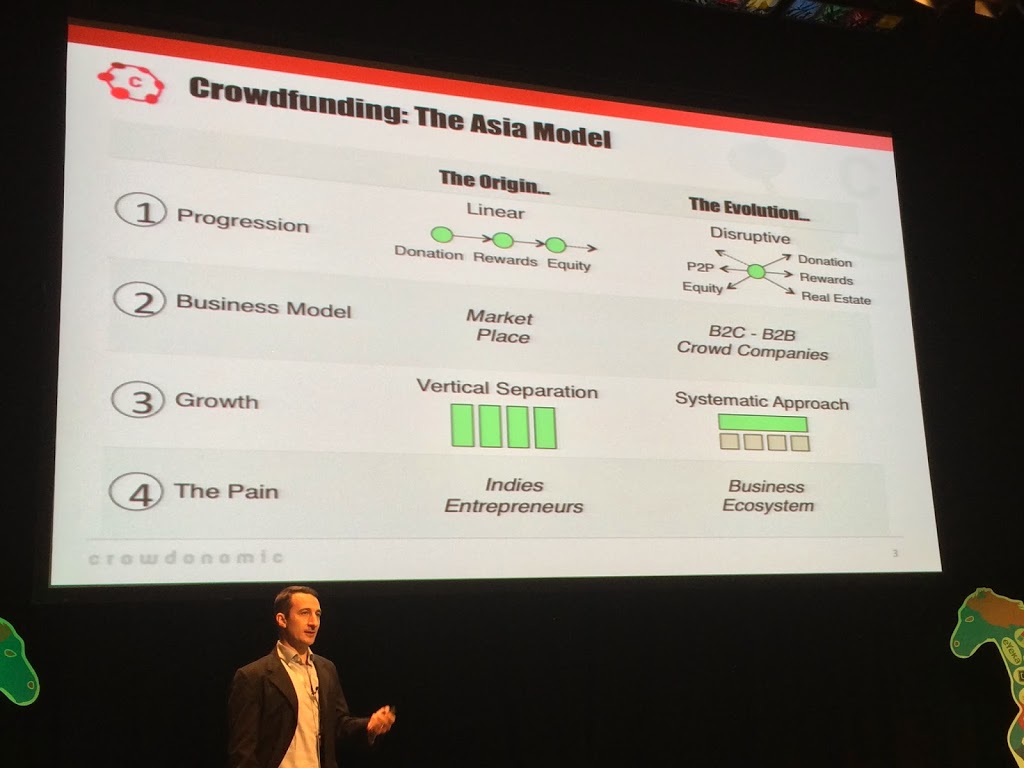 Virtual Incubators
Crowdfunding is no longer an individual offering, but part of a large "end-to-end" system which supports an organisation's innovation process covering multiple industries. Through "virtual incubators", the various needs of a company from the stages of ideation, conceptualisation, seed financing, resourcing, prototyping, commercialisation to growth are provided.
These different phases can be crowdsourced through intermediaries that assist in the four stages of incubation: 1) Open Innovation (ideas and solutions); 2) Reward Crowdfunding (early stage funds and feedback); 3) Cloud Needs (crowdsourcing of talents and resources); and 4) Venture Financing (equity and debt).
This can be seen in the slide below.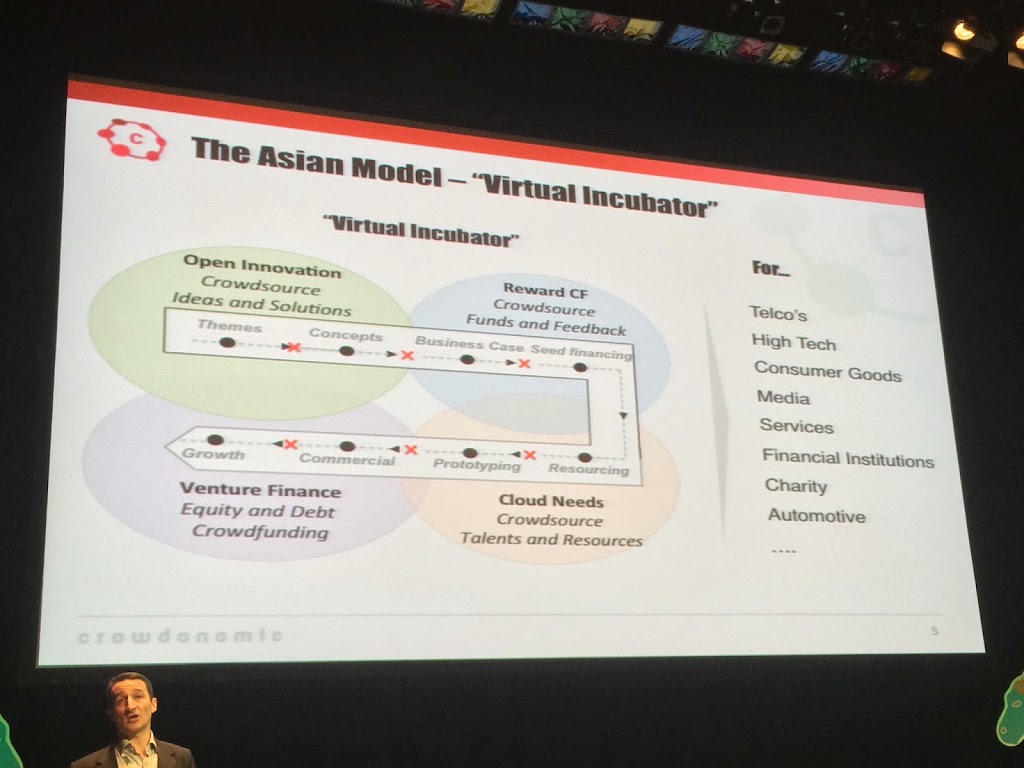 Integrating The Innovation Ecosystem
Taking the above idea further, the opportunity then arises for crowd-solution providers to help connect an enterprise across the entire innovation ecosystem. These providers link start-ups, SMEs and fast growing companies to crowd resources like universities (ideas and concepts), research labs (business cases), accelerators and incubators (seed funding), venture capital funds (prototyping), corporate partners (commercialisation), and financial institutions (growth funding) as shown below.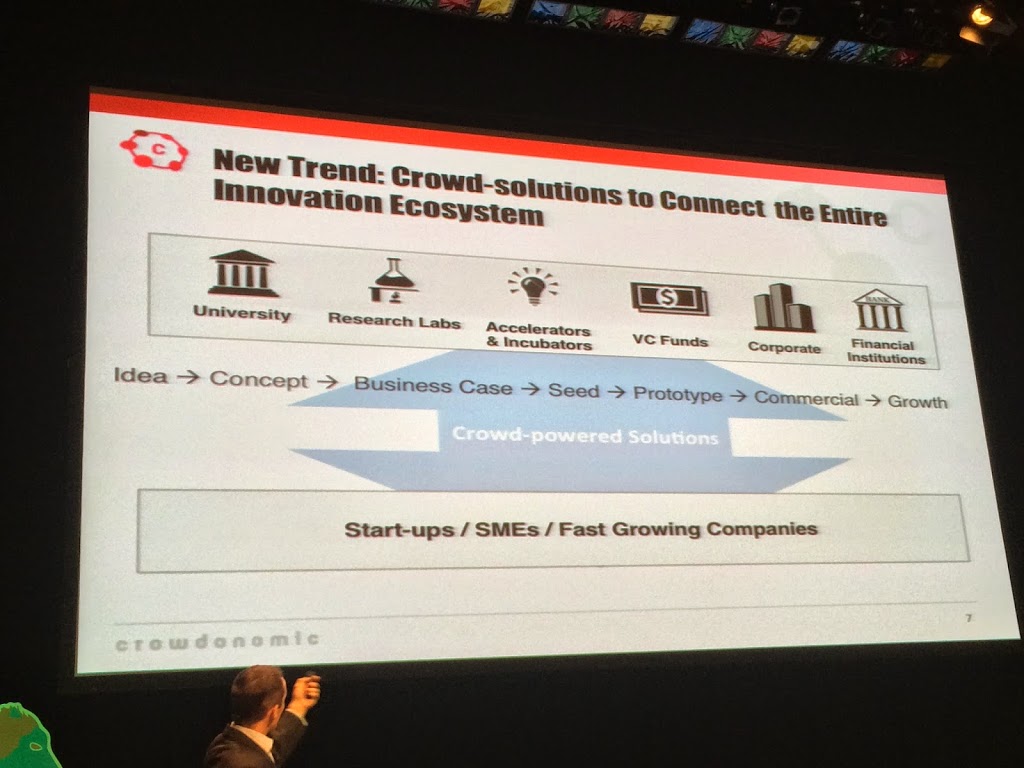 How Key Players Benefit
With the ecosystem, processes and solution providers in play, what benefits do participants enjoy? According to Nicola, this can be summarised as follows:
1) Start-ups/SMEs – Access to funds, marketing/PR expertise and resources, product feedback, customer acquisition;
2) Enterprise – Broad stimulus of innovation, earlier prediction of market, community outreach, access to upcoming stars; and
3) Investors/Funders – Radar to sourcing of new deals, reduction of risks as they can "top-up" via the crowd, ability to partner with promising businesses, and internationalise.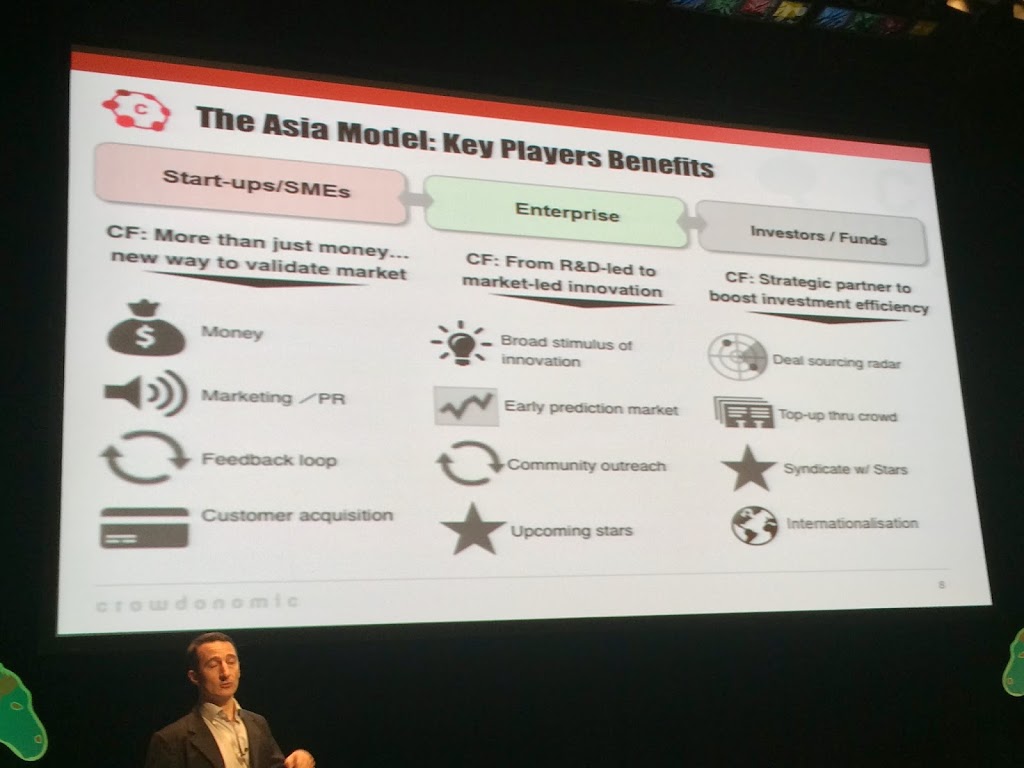 Equity Crowdfunding – The Next Wave

Looking ahead, Nicola views crowdfunding to move beyond individual projects or products to include taking a financial stake in companies. For equity crowdfunding to succeed, however, there is a need for the industry to have players with deeper skillsets in appraising businesses while conducting the necessary due-diligence. Companies seeking such funds need not just be start-ups but could include established companies with SBUs or portfolios which could benefit from the capital injection and rigour of venture finance.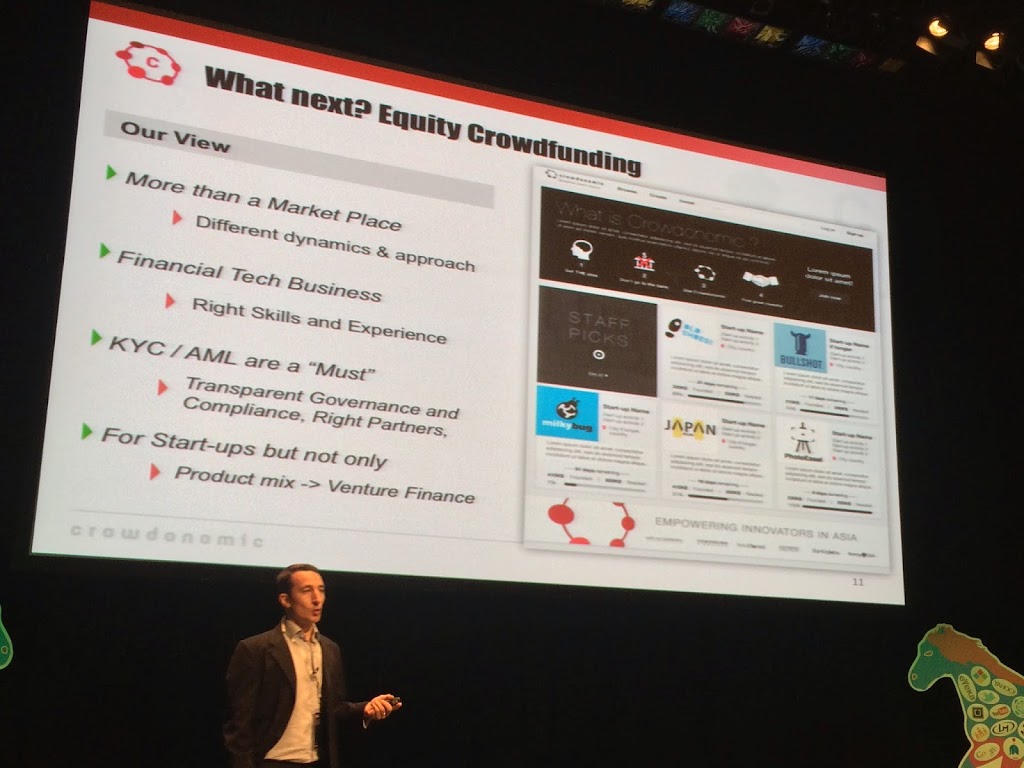 The Vision for Singapore
Reiterating his bullish holistic approach to the crowdsourcing ecosystem, Nicola shares his vision of how players like Crowdonomic can link the disparate components and players, and help investors to gain access to this burgeoning market as shareholders. This can cover the entire chain from crowdfunding (equity or debt), venture finance (grants, venture loans), crowdsourcing (ideas, resources, partners, talents), to information services (company profiles, communications, connections, mentors).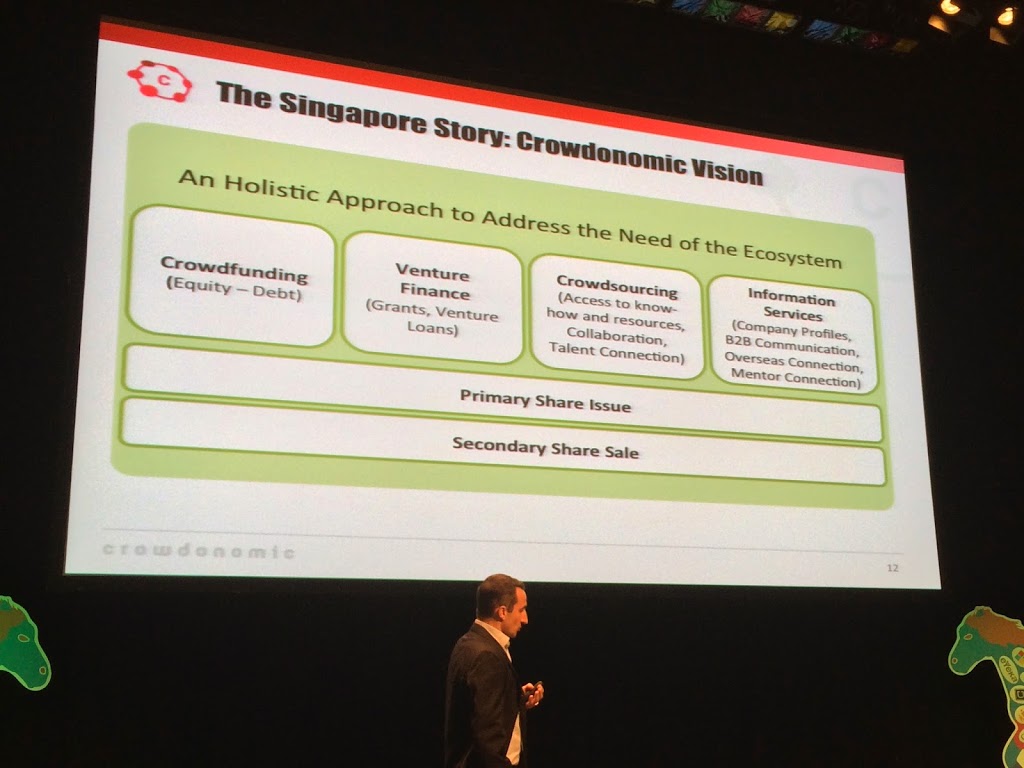 While I am excited about the possibilities for crowdfunding in Singapore and the region, much work is needed to convince incumbents of the emerging opportunities. As Nicola has alluded to, the Asian business culture is still rather conservative when it comes to funding relatively untested businesses through an online platform. Hopefully, this will all change as more success stories such as Pirate 3D appear in the landscape.