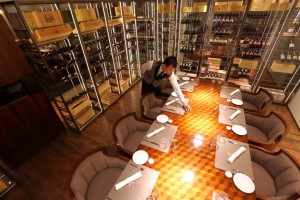 What do you get when you combine exquisitely prepared Italian cuisine with nature-inspired imagination?
Inspired by the ancient Greek word Gaea which means "Mother Earth", Gaia Ristorante and Bar is located at the Goodwood Park Hotel. Infusing natural elements in the aesthetics of its decor and food, the venue houses a martini bar, dining rooms of various configurations and an inner courtyard dining room decked to resemble a garden. Lush and luxuriant, Gaia features plush leather booth seats, elegantly comfortable arm chairs and a glass-enclosed wine cellar cum private room that seats 10.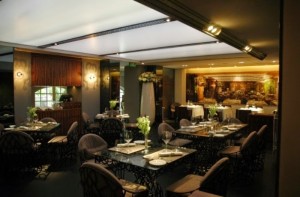 The contemporary Italian restaurant is helmed by General Manager Paolo Colzani and Executive Chef Emanuele Faggi, both of whom are veterans in the fine dining culinary scene. Former operations manager of the Les Amis Group, Prego, Iggy's and Garibaldi, Paolo has many years of experience in the F&B field while Chef Emanuele used to work in Italy's Tuscany region – renowned for its food and wine – before working here in Singapore.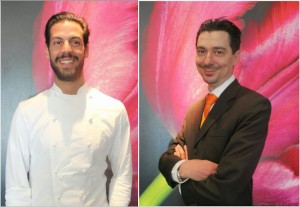 Executive Chef Emanuele Faggi (left) and General Manager Paolo Colzani
The menu (grand carte, degustazione, and brunch) feature cuisines from across Italy. Embracing the philosophy of "Gaia", Chef Emanuele's culinary approach focuses on designing an innovative contemporary Italian menu to suit both the adventurous palate and more conventional tastebuds. Complimenting its cuisines is a comprehensive wine list consisting mainly of Italian wines which guests can choose from or be guided by the restaurant's staff.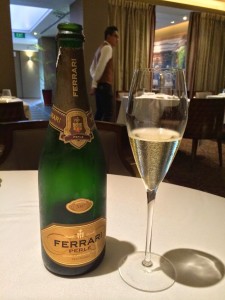 Our food tasting began with some sparkling Ferrari champagne, which tasted as good as its namesake suggested.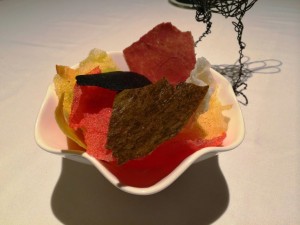 Next, we sampled a colourful assortment of chips made with different flours like tapioca, sweet potato, wheat, rice, and others. I can't help thinking of "keropok" – albeit the more fanciful varieties of course!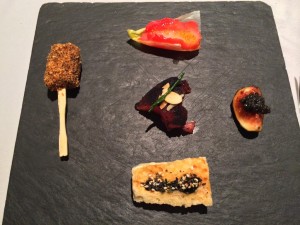 The next dish, called an amuse-bouche (similar but not quite the same as hors d'œuvre) came with a watermelon black squid ink almonds and sea asparagus (middle), Endive salad with scallop marinated with Campari (top), orange caramelised fig with Oscietra caviar (right), Parmesan biscuit with balsamic reduction (bottom), and asian spices foie gras lolly coated with dark chocolate and nuts (left). While I relished them all, the sweet and saltish blend of the fig dish satisfied me the most.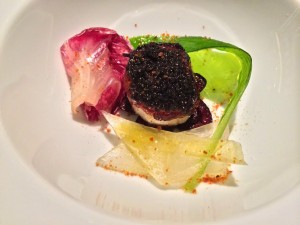 Our first appetizer was the Hokkaido scallops with crunchy vegetables, marinated cherry and an 180-day old Finland caviar kept in salt. I loved how the marine flavours coalesced and burst in my mouth.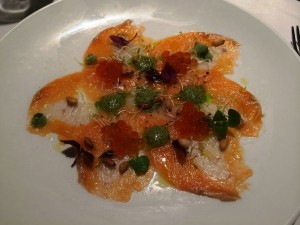 Our next appetizer was the Branzino Salmon – a carpaccio of sea bass and salmon with salmon roe, pine nuts, micro cress and Shiso in a green salsa verde sauce. I loved the textural and taste sensations of this dish, and the way the slivers of fish are finely plated with the different toppings.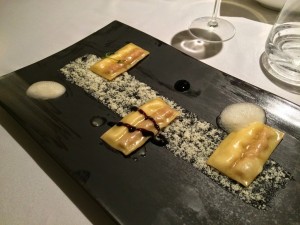 Up next were two pasta dishes. First was the Doppio Raviolo, which is a double-filled ravioli with Parma ham and Parmesan cheese, served with aged balsamic reduction and white balsamic foam. The tangy and piquant flavours of the vinegar went well with the savoury umami taste of the ravioli.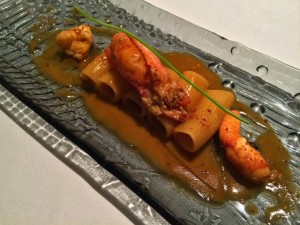 Thereafter, we were served the Rigatoni Astice, which is a rigatoni pasta with Boston lobster and bisque. This was easily my favourite dish, and I was amazed at how rich and flavourful the lobster broth was. It went really well with the firmness of the al dente pasta and the succulent flesh of the prized crustacean.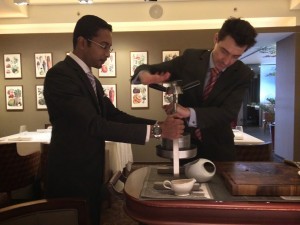 For our main course of Luigi Scavino roasted pigeon with shiitake, campignon and prune sauce, we were treated to a little "performance art" by Paulo himself assisted by his colleague. Apparently, the torture device looking contraption above is used to squeeze the juices in the flesh and marrow of the pigeon (think "essence of pigeon) so that the bird can be cooked and flavoured with them.
Surprisingly, the flesh of the pigeon wasn't "gamey". Bathed in its juices, the meat was quite flavourful and moist. The mushrooms also blended quite well with the mains.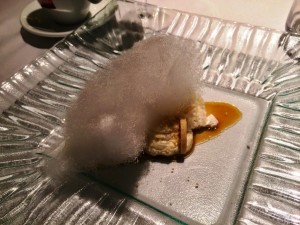 Towards the end, we had two desserts (yes, it was quite a tummy busting feast). The first was Latte Vaniglia Zucchero Filato Maculan, ie vanilla cream, meringue, milk ice cream, and candy floss. I enjoyed the way the candy floss melted in my mouth and how it contrasted with the dairy goodness of the ice cream.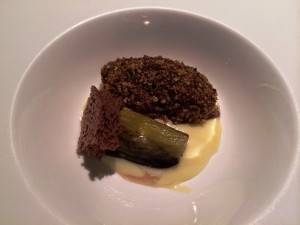 The final dessert comprised a white chocolate cream, chocolate ice cream, egg plant and hazelnut sprinkles. While the combination of egg plant with ice cream was quite imaginative, I thought that the flavours didn't go down that well in this dish.
Special thanks to Super Fine Feline for this invitation and Gaia Ristorante and Bar for hosting us in the tasting session.