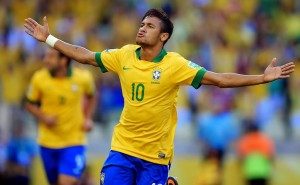 All eyes will be on Neymar tonight (courtesy of Happy Holidays 2014)
Tonight (or tomorrow afternoon), soccer fans around the world will be eagerly catching two monumental World Cup 2014 quarter final matches: France vs Germany and Brazil vs Colombia. While many would catch it on TV, I bet that their fingers will be actively updating their Facebook pages, Twitter and Google+ accounts while watching the "beautiful game".
Indeed, sports and social media is a match made in heaven. The instantaneous, intimate and interactive nature of social and mobile technologies make them perfect platforms to fuel our sporting desires.

In February this year, the Winter Olympics in Sochi was hailed as a "social media Olympics" after it drew over two billion online hits with feeds from more than 6,000 athletes across Instagram, Facebook and Twitter. During the Games, more than two million new fans joined the Olympic Facebook page, while its Twitter account attracted 168,101 new followers and its Instagram account a further 150,000.
More recently, the sacking of Manchester United's manager David Moyes drew lots of responses across social media, with English Premier League soccer fans going wild on Twitter. Football fans in Singapore have weighed in with their displeasure over how he fumbled the management of his club, leading to its lacklustre performance.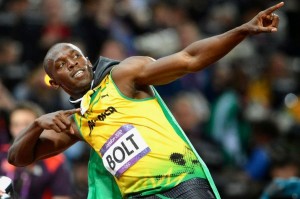 Usain Bolt – one of the most tweeted sports hero in the world (courtesy of Fox43)
Still don't believe me? Just look at the most tweeted sporting moments in recent years (infographic below). Usain Bolt's 80,000 tweets a minute was probably faster than his lightning speed over 200 m!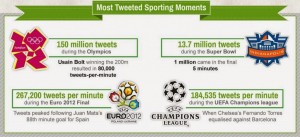 Courtesy of Sports Networker
In a report on Mashable last year, it was highlighted that nearly twice as many sport fans use Facebook compared to Twitter (73% versus 37%). On game day, however, they check Twitter 1.5 times more than Facebook. Google+ and YouTube are on the rise, with a respective growth of 94% and 35% in platform use to share or acquire sports information. Meanwhile, 7 out of 10 sports fans who like or follow a brand online are open to sharing content, buying goods or engaging with social posts.
Do check out the excellent infographic below to understand how sports fans are behaving on social networks.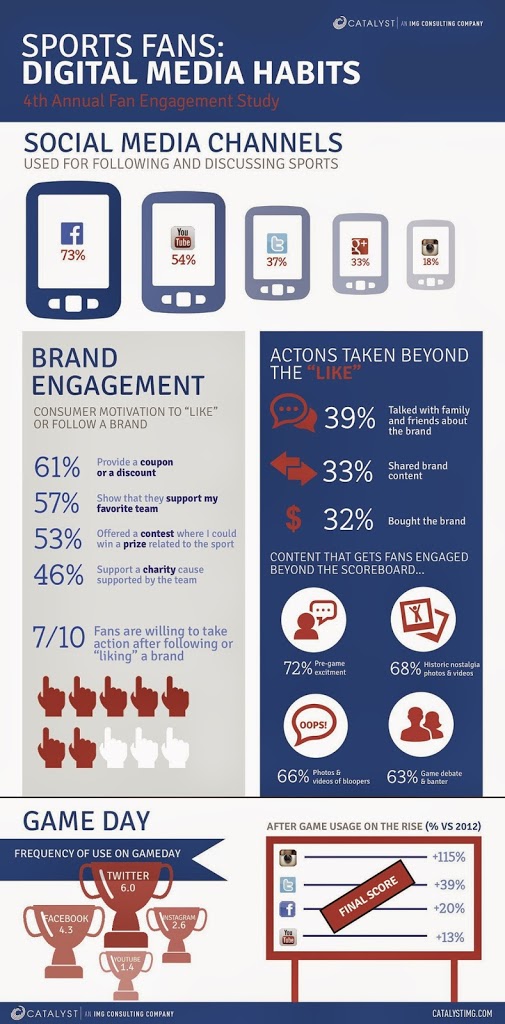 Image courtesy of Catalyst PR (via Mashable)
What can we learn about the success of professional sports on social media? How can we apply these principles to our business?
Let me kick off the discussion with four key themes.
Memorable Memes
Since time immemorial, sporting pursuits have captured the human imagination. Beyond the live physical action on the pitch or track, we are motivated and encouraged by our favourite sporting heroes. Who can forget track legend Jesse Owens, who won 4 gold medals at the 1936 Summer Olympics in Berlin, defying Hitler's theory of Aryan supremacy.
The world of sports are full of universal themes such as "overcoming the odds", "blood, sweat and tears", "comedy of errors", "the joy of victory", and "the agony of defeat". Nothing beats an adrenaline churning nail biting final between your favourite player or team against an arch rival.
Catalysed by social media tools and platforms, such themes may be "mashed-up" as memes that spread through social networks as parody videos, gif files, fan art, and other forms of content. As these "larger than life" sports related ideas and ideals resonate with many, they are often organically and virally shared through social networks.
The question is this: what universal ideal or cause does your business represent? Are there milestone moments that you can create and spread amongst your communities?
Fanatic Focus on Fans
While we celebrate the individual triumphs and physical prowess of world class athletes, the phenomenal growth in spectators and audiences is the key reason behind the success of the sporting business. Without the support of ardent fans behind virtually every sport on the planet, the world of professional sports would be far less illustrious.
As fans, we root for our favourite sportsmen or women, and are ardent believers in our favourite teams. Our emotions run high and we curse (with varying shades of colour) if our star basketball player misses a throw. The stakes get even higher when financial stakes (i.e. money) becomes part and parcel of the game.
To manage the wide diversity of fans, professional sports groups set up or encourage fan clubs, websites and blogs, online forums, Facebook pages, YouTube channels, and various other platforms. These "virtual homes" for fans provide game news, expert insights, player and team statistics, photo galleries, videos, discussion boards, and numerous other resources to fuel fan love. They also allow fans to participate in the action.
Have you started to engage or build a fan base for your business? If so, what information and resources can you provide to help your fans to grow their interest in your products or services?
Action, Drama and Spectacle
With the rocket fuel captured by hundreds of cameras and shared via millions of online platforms, every sporting action (and inaction) is magnified a thousand-fold. To ensure that every moment is memorably immortalised by the ubiquitous web, sport empires invest billions in ensuring that everything looks good. This includes the design of stadiums and swimming pools, sportswear, podiums, trophies, and so on.
Beyond physical aesthetics, the field of sports journalism – professional or amateur – is also finely honed to focus on the dramatic and spectacular. Notice how much attention Formula One car crashes generate relative to just winning the race. A tumbling cyclist, cursing tennis player, grimacing gymnast or beauteous beach volleyball player attracts more eyeballs than a run-of-the-mill winner.
In similar fashion, consider how you can choreograph and curate "dramatic moments" in your business. Find ways to create photo and video opportunities at your workplace, and share them with your fans.
Human and Emotional Appeal
Finally, the world of sports is one filled with seemingly raw emotion. Feelings like joy, happiness, anger, disappointment, sadness, relief, shock, awe, resilience, and grit are par for the course. Notice how athletes and audiences alike are groomed to produce optimal soundbites which capture the gamut of emotions produced after a match or competition.
Beyond the action on the turf, ice or track, journalists also love to probe deeply into the personal lives of athletes. Who were their childhood heroes? What was a turning point in their sporting career? How do they overcome the challenges that beset them? These stories help to add colour and depth to the personalities of our sport heroes.
While we enjoy viewing the athleticism and physical prowess of sportsmen and sportswomen, it is their humanity which resonates most deeply with us. Their willingness to reveal feelings of inadequacy and nervousness allows them to connect with us on an emotional level.
Likewise, consider how you can build emotional empathy into your business. Are there ways to demonstrate how passionately you feel about what you do? Can you imbue more "emotional language" into your communications, reaching your customers and fans in a direct and heartfelt manner?
What other lessons can we distil from the world of sports in social media?