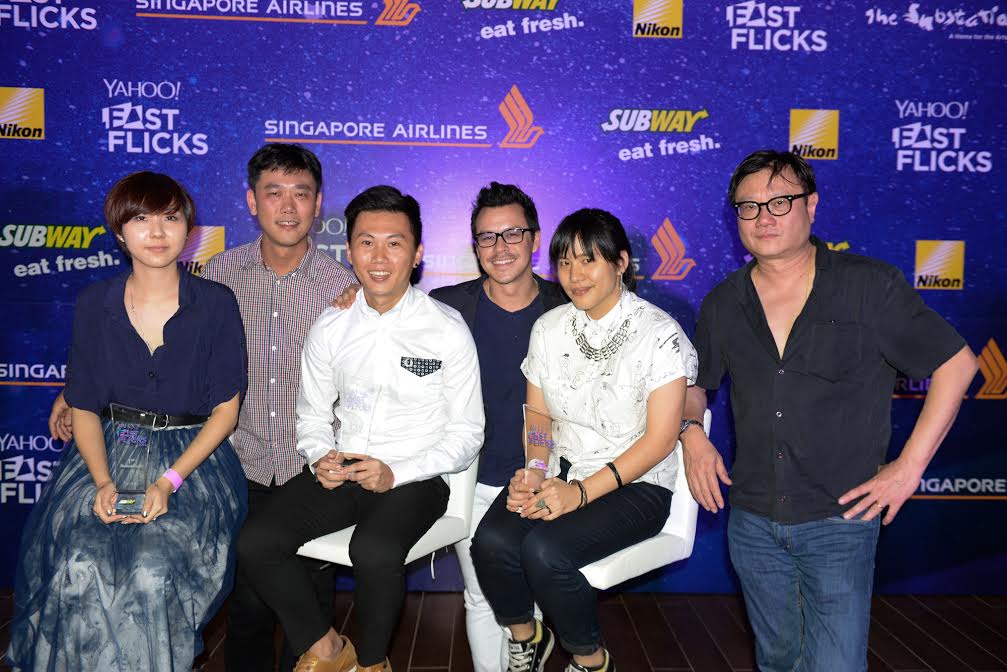 Internet giant Yahoo! is quite a different company these days.
Anchored on its four pillars of growth – mobile, social, native advertising, and videos – the California based company focuses more of its energies these days on creating and curating digital content offered through its multiple online and social platforms. By doing so, it seeks to attract more audiences and advertisers.
Just last week, Yahoo Singapore announced the winner of Yahoo Fast Flicks – its inaugural made-for-web two minute video competition held over a month from mid October to November 2014. Centred on the theme YOLO (You Only Live Once), the short film contest was judged by acclaimed filmmaker Eric Khoo, Singapore International Film Festival (SGIFF) director Zhang Wenjie and CEO of Infinite Studios and SGIFF Chairman Mike Wiluan.
A total of 127 entries participated in the cinematic contest pitting amateur and professional filmmakers against each other. 11 of the film entries were shortlisted for screening and further judging at the grand finale held at Great World City's Golden Village Grand.
Out of the 11, five were selected to be the finalists. Filmmakers of these five films answered a series of questions by the judges and pitched their ideas to them.
After the multiple rounds of judging, "Forbidden Love", a film by trailer producer Terence Lee, clinched the first prize in the competition. Inspired by auteur Wong Kar Wai, the short film narrates in Cantonese the story of forbidden love between two girls. Through cinematic effects such as depicting the slow passage of time by the burning of a cigarette, it convincingly conveys the emotional angst faced by its protagonists.
Animated short film "Rain" by Tiffany Zhang clinched second place. Through the metaphor of a girl spontaneously dancing in the rain, the film reveled in how the littlest things in life can give one great pleasure. I loved how Tiffany filmed herself dancing and painstakingly drew movements like the swish of a dress based on her own real life actions. Her solo effort was highly commendable.
Third place winner "Your Order is Nearly Complete" by Vicki Yang and Chris Yeo is a comical film with an interesting twist at the end. A rather disheveled looking guy tries to order a pizza by calling a somewhat antique looking phone with hilarious results.
Speaking on Yahoo's vision for Fast Flicks, Mr Jeffrey Oon, Yahoo's Head of Audience for Singapore and Malaysia, shared that that in a world where everybody consumes video via smartphones, "3 minute is a documentary". Through Fast Flicks, Yahoo hopes to better connect to a younger audience (late teens to early 20s) through premium curated content that rides on its strength in editorial and creativity.
Yahoo's interest in original short-form video content is also in sync with its corporate focus on mobile, social, and video. By introducing curated "snackable" content that is shareable on mobile, it hoped to carve a unique niche which differentiates it from its competitors.
Personally, I found it encouraging to see how Yahoo! partners the creative industries in Singapore to showcase upcoming young talents in the artistic and creative industries. Hopefully, this trend will continue beyond Yahoo Fast Flicks to cover other digital and mobile friendly storytelling formats like photography (Flickr?), text (short stories?), visual art, audio, and other media formats.
To view the top 21 videos submitted for the contest, do visit the Yahoo Fast Flicks website.