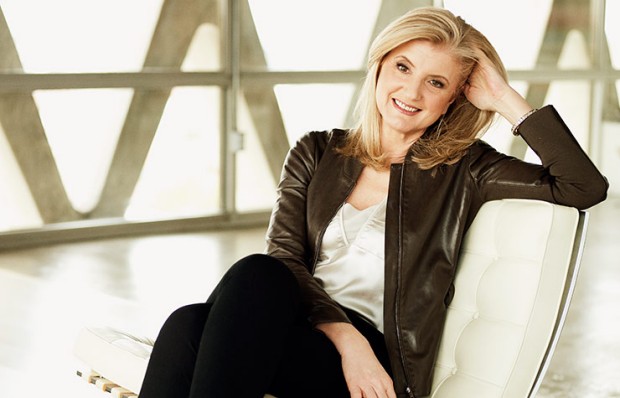 Courtesy of AARP
How do you define success? Can it be measured by wealth or power alone?
Apparently no. Not least according to Arianna Huffington, founder and editor of Huffington Post Media Group – one of the world's most influential news and information brands. In her latest book Thrive, Huffington proposes that there is a "third metric" which quantifies success by one's well-being, wisdom, sense of wonder, and ability to give.
A wonderful storyteller par excellence, Huffington writes with her heart on her sleeve. Deftly weaving personal anecdotes with Greek philosophy and cutting edge ideas from psychology, sociology and management, Thrive is a delightful read. Delicately seasoned with memorable quotes from literary giants like T.S. Eliot, Rubin, and William Wordsworth, Thrive is part artistry, part autobiography and part self-help guide.
Let me highlight some of the more memorable lessons from the personal leadership book.
Well-Being
"People look for retreats for themselves, in the country, by the coast, or in the hills… There is nowhere that a person can find a more peaceful and trouble-free retreat than in his own mind… So constantly give yourself this retreat, and renew yourself." – Marcus Aurelius (a Roman emperor)
Comprising the chunkiest section of the book, Well-Being outlines how we can regain our health and sanity against the maddening rush of our hectic modern world. Describing burnout as "our civilisation's disease", Huffington surmises that we should "renovate the architecture of our lives" through simplifying our lives and embracing healthful practices.
These include meditation, getting sufficient sleep, exercising (especially walking), and adopting a pet.
Surprisingly, the most consistent advice given by Huffington (founder of one of social media's biggest brands) revolves around how we should limit technology's role in our lives. Encouraging readers to go on digital detoxes and to beware of overconnectivity – "the snake in our digital Garden of Eden" – Huffington convincingly demonstrates how going off the grid does wonders for our health, mental wellness, and relationships. This theme is carried throughout the rest of the book on personal leadership.
Wisdom
"On a day when the wind is perfect, the sail just needs to open and the world is full of beauty. Today is such a day." – Rumi
Contrary to popular belief, more isn't necessarily better. Wisdom is often attained when we learn how to quieten our restless spirits and tune in to the transcendent nudges of God. Quoting the Bible, Greek mythology, Malcolm Gladwell, and other inspired sources, Huffington surmises that wisdom can be found through four simple steps:
Treating the world as our classroom;
Listening to our inner voice;
Escaping from "hurry sickness"; and
Evicting the negative voices in our heads.
To achieve greater wisdom, we should take a leaf from the Stoics. Founded in Athens in third century BC, Stoicism taught that the most secure kind of happiness can be found in the "only thing that we are in control of – our inner world". This philosophy is best summarised by the serenity prayer:
God, grant me the serenity to accept the things I cannot change, the courage to change the things I can, and the wisdom to know the difference.
Wonder
"Ten thousand flowers in spring, the moon in autumn,
a cool breeze in summer, snow in winter.
If your mind isn't clouded by unnecessary things,
this is the best season of your life." – Wu Men
My favourite section of the book, Wonder is not just about marvelling at the spectacular beauty of mother nature but our own journey into inner space. Once again, Huffington nudges us to disconnect from our "hyperconnected lives" in order to experience wonder in all its glory, and to look out for uncanny coincidences as signs of higher forces at work.
As a former marcoms director of the National Heritage Board, I can certainly vouch for her description of museums as places full of "mystery, wonder, surprise and self-forgetfulness".
The most memorable part of the book – one which resonated most deeply with me – was Huffington's depiction of her mother's death. Her hair in little pigtails, Huffington's mother played beautiful Greek music on the day of her death and chose not to be helped up when she fell from a standing position. Requesting for lavender oil to be rubbed on her feet and for red wine to be poured out for everybody, her demise was a celebration – the epitome of mindful dying.
Giving
"I slept and dreamt that life was joy. I awoke and saw that life was service. I acted and behold, service was joy." – Rabindranath Tagore
Extending beyond our selves to care for others contributes to the well-being of others while nurturing our spirit. This philosophy of giving and serving not only binds us to others as part of a greater community – it is also the essence of all great religions. Rather than wait for natural disasters to showcase our humanity, Huffington espouses that we should give to those around us each and every day.
By being "go-givers" instead of "go-getters", we actually reduce our stress levels. Oxytocin, also known as the "love hormone", is released whenever we perform acts of good. Volunteering also helps people not just feel better but perform better at work.
The Quintessence of Life
Thrive is a personal leadership book which arrived at a very special time of my life. Having left full-time employment after working close to 19 years for "The Man", I found its advice on well-being, wisdom, wonder and giving highly relevant for me. Written with the experienced flourish of an accomplished author and journalist, the book was an inspiring read, spurring me to put in place much-needed changes in my life habits and behaviours.
Capturing the essential qualities of what life truly is about, Thrive challenges us to give of ourselves. This applies not just to our professional pursuits, but to our families, friends, communities and ourselves. Indeed, as Huffington puts it, life is certainly more than a huge paycheck or lofty titles.