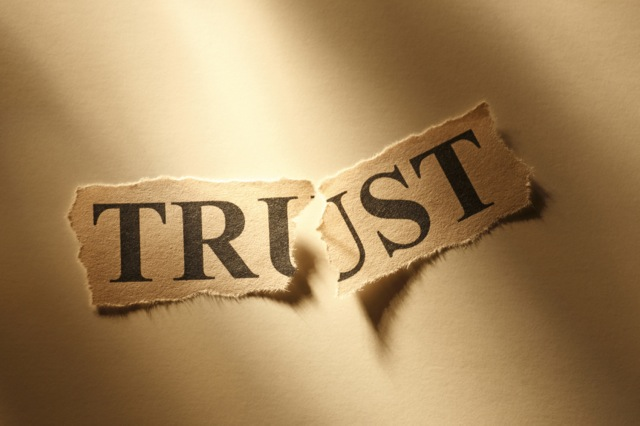 Courtesy of Leading With Trust
Do you know what the most important asset in the digital age is?
Nope, it's not having a million fans or followers. Neither is it having the world's greatest product.
The answer is TRUST.
Without trust, your enchanting copy would fail to attract. Without trust, your tear jerking commercial would fail to move hearts. Without trust, your slick and well-oiled pitch would flounder.
Once broken, trust can be extremely difficult to restore. It is the most important currency of customer relationships in the digital age.
Seth Godin's "Trust-O-Meter"
Trust is such an important ingredient that marketing maven Seth Godin shared 12 great pointers on what your potential customers would look for as part of their inbuilt "trust-o-meter".
What are these pointers? Let me go through each in turn, with some paraphrasing of my own.
1) Word of mouth: If people I trust talk about you favourably, I'm more likely to trust you.
2) Direct interaction: Nothing beats a personal and human connection that goes beyond spamming. Yes, automated robotic replies destroy trust.
3) Tone of voice: Rushing me to make a decision yesterday wouldn't build trust. It would only frustrate me and make me want to leave.
4) Scarcity: Are you really Really REALLY offering me (and ONLY me) that limited exclusive offer? I can smell insincerity from a mile away.
5) Offer: What's in it for me? How do I know its genuine?
6) Size of leap: Are you really worth my credit card number? How do I believe that you are not a scammer?
7) Fear: Related to size of leap. What do I have to lose if I trust you?
8) Social ranking/metric: Those scoring higher on Google, Alexa, Klout, and other social media and digital indices tend to be better trusted.
9) Tribal affiliation: Are you one of us? How do you show your affiliation?
10) Perception of transparency: Its not what you say you are, but what I perceive you to be which counts.
11) Longevity: How long are you in this business? How long do you intend to be?
12) Mass acceptance: Familiarity breeds trust.
After considering these factors, the million dollar question is this – how can you build trust online? What can we do to grow our trust quotient in an ocean of ever growing spam, link-baits, and fake websites?
8 Ways To Build Online Trust
Here are some ideas to begin with:
1) Build a Professional Shopfront
This can be an e-commerce website or a blog shop. Ensure that it is responsive, loads quickly, and is easily navigable.
Please don't sting by getting the cheapest intern you can find to build it for you.
2) Be Consistent
Ensure that you are consistent in the way you project your values, wherever and whenever you are. Be who you say you are. Don't conceal your true intentions.
Don't forget that Google, Facebook and Apple knows more about you than your father/mother/wife/husband!
3) Be Helpful
Do so to the point of solving a problem for a consumer BEFORE the purchase. And make it a no-strings-attached action with minimal cues or obligation for him to buy. This actually works better than spamming them continually.
4) Know Your Customers & Fans
Take great pains to know who your customers and fans are. If possible, relate to at least a few of them on an individual one-to-one basis.
While its not possible to befriend the entire world of Coke drinkers/ iPhone users, getting to know at least a few of your regulars helps you to know their needs better. It also builds trust.
5) Be Transparent with Policies
Customers don't like to be surprised with hidden clauses and microscopic Ts and Cs. Ensure that your service standards and warranties are clearly laid out.
Don't leave anything in the fine print that could possibly trip up (and enrage) a customer. It isn't worth it.
6) Give Pleasant Surprises
In fact, the only thing you should be sneaky about are nice unexpected gifts. Seek always to delight – not trap – thy customer.
7) Under-Promise and Over-Deliver
The age-old saying of under-promising and over-delivering still works in this day and age. If you don't believe me, just look at Zappos and Nordstrom.
8) Reveal Yourself Online
Yak about yourself online so that others know you better. I'm not talking about being boastful or perpetually promoting. Those behaviours are highly irksome.
Instead, reveal behind-the-scene stories, and little nuggets of what you do to provide the best experience possible for your customers.
How else should we behave to engender trust in an online world? I'd love to hear your ideas.