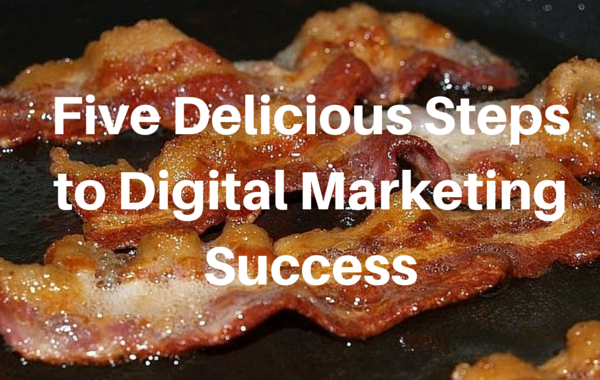 Why do some brands sizzle while others fizzle online? What is the secret recipe to digital marketing success?
The answer lies in BACON. Or more precisely, Digital Bacon, a tantalizingly titled book packed with yummy tips to help your company navigate the online world.
Authored by trilingual digital marketing consultant Alex Rodriguez, Digital Bacon is targeted at marketers and brand owners who need to "go digital" to survive and thrive in an increasingly competitive landscape.
Like its namesake suggests, the book hopes to make your online presence "irresistibly attractive" through a digital strategy with BACON as its acronym:
Based on reality – Discovery Phase;
Aimed towards results – Strategy Phase;
Creatively developed – Production Phase;
Organized in propagation – Distribution Phase; and
Numerically measured – Analysis Phase.
Now that I've whetted your appetite, let us go through each of these phases in turn.
#1 Based on Reality (Discovery)
The first step in BACON analyses the current state of one's digital assets and prevailing market considerations. As part of the Discovery Phase, we should undertake the following:
Do a

site discovery audit

of one's website. This involves indicators like Page Rank, Alexa ranking, back links, average visits per month, organic traffic (via Google Analytics), referral sites, as well as conversion rates.
Assess one's

social media presence

on various social networks. This covers the date of profiles created, text posts and photos loaded, follower counts, engagement, paid traffic (if any) and referrers.
Evaluate one's

media publicity and reviews

(ie earned media).
Determine one's

value proposition/offer

and key

drivers of purchase

.
Develop

keywords

which customers would use to search for your product. These should be relevant, commercial (ie related to a buyer's intention), have sufficient volume, and have minimal competition.
Conduct an analysis of one's

competitors

and

target audiences

.
#2 Aimed towards Results (Strategy)
From the information gleaned in step 1, we need to optimise our offer, determine measurable goals and take exact steps needed to achieve those goals.
A key part of strategy involves selecting Key Performance Indicators (KPIs). Examples include sales per period (units sold), revenue per period (dollar value), average customer value, visitors per period, customer retention rate, marketing ROI, shopping cart abandonment rate, subscriber value and so on.
One should also exploit chinks in our competitor's armour. These can be anything from brand weaknesses, web traffic volume, backlink weaknesses, customer dissatisfactions (discerned through social listening), unexplored audiences and so on.
Finally, one should develop a strategic scheme encompassing various tactics to bring one's strategy to fruition. Here are examples of both schemes and tactics (note that a strategic scheme could have multiple tactics to support it):
Strategic Schemes: original content, user-generated content, gamification, remarketing, contests, affiliates, PR, email, events, coupons/discounts, sampling, Drip (a series of messages to an audience, see How to Launch a Product through Content), trials, mobile, and sales funnel (read Inbound Marketing 101).
Sales Tactics: direct sales, upsell, downsell (when customers declines original offer), cross-sell, bundling, coupons and trials.
Audience-building Tactics: Pay-per-click (PPC) advertising, CPM (Cost per 1,000 Impressions), retargeting ads (ie remarketing), mobile ads, sponsored content, squeeze pages (to capture email addresses), free content, email newsletters, etc.
Awareness Tactics: hashtag movements, blogger outreach, videos, visual assets (infographics, galleries, graphs), and cost per view (CPV) ads.
Engagement Tactics: participation in forums, Facebook/Google +/LinkedIn groups, Reddit, blog commenting, Twitter engagement, games, contests, and live videos.
Loyalty Tactics: rewards, tiered offers, subscription perks (including VIP subscriptions), etc.
Mobile Tactics: check-in incentives, SMS marketing, mobile apps, geo-fencing (ie activation when a user enters a physical area), and mobile search advertising.
#3 Creatively Developed (Production)
Execution is the next phase, and this involves creating all the assets needed for a digital marketing strategy.
To achieve creative excellence, we should try to "glue" two or more concepts together in an unforgettable manner. The association should be outrageous, hilarious and exaggerated or even scary. A good example is the title of the book itself Digital Bacon. Beyond this Jedi mind trick, we should embrace mindmapping to link concepts together, observe the world to pick up any positive ideas, be unpredictable, and tap on "cross-media" ideas from the worlds of music, literature or food.
Once our creative ideas are ready, we need to put in place the entire production and pre-production machinery. This covers anything from the design of websites (sitemap, content architecture, mood boards), flow diagrams for applications, draft versions of copy, scratch tracks for audio narrations, scripts for videos, to visual branding elements (logos, design sketches etc).
After our digital assets are ready, we should pair them up with headlines that hook (the book has a whole series of them), and consider visual aesthetic elements like colour, contrast and form.
#4 Organised in Propagation (Distribution)
Now that we've got all the assets ready, it is time for us to distribute them according to an organised plan. There are several key points to be considered here:
Organise assets

in a systematic fashion using directories and sub-directories, and use

file name conventions

that are web friendly.
Consider using the three different forms of digital media:

Earned, Owned and Paid

(read more about them here).
Distribute your content sequentially while considering the 3 dimensions of

Time

(distribute content at different periods),

Space

(spread over different channels), and

Particularity

(segmented according to audience).
Some of the distribution frameworks here include:

Drip

, where it is slowly released over time;

Experience

, where a message is given a higher level of relevancy depending on its audience's familiarity (from Know –> Like –> Trust –> Try –> Purchase –> Refer); and Response, where it is developed based on the actions taken (eg Awareness –> Interest –> Engagement –> Expectation –> Action).
Decide if messages should be distributed

manually or automatically

.
Ensure that content can be

tracked

via links, landing pages, and events (ie actions by users), and that it all leads of a

goal

(ie a destination or measure that you desire).
Notify the world through the five Ps:

Ping,

where you alert search engines;

Post,

where you share a link via social media;

Promote

, where you boost your content visibility through advertising;

Partner

, where you reach out to bloggers, affiliates, and fans; and

Publish

, where you adopt content marketing practices to drive traffic.
Put it all together in the form of a

distribution plan/calendar

and schedule it accordingly.
#5 Numerically Measured (Analysis)
Last, but certainly not least, we need to account for the successes – or failures – of all the previous steps. From there, we can determine the appropriate corrective and optimization measures.
When analysing our digital marketing efforts, we should review our KPIs, compare data gathered with targets, and interpret the data to determine what worked and what didn't. With that information, we should optimize our offer based on the following dimensions:
User experience

: Can we test this with real live human beings at an affordable price?

Performance

: Have we met our targets? If not, what can we do to improve?

Content

: If our offer expressed clearly and convincingly?

Offer

: Is our offer compelling enough to encourage visitors to take action?
Finally, we should find ways to test our digital marketing through methods like A/B testing (one variable at a time), or multivariate testing (more than one variable).
A Recipe for Digital Marketing Success
Slim in size but fat with useful tips, Digital Bacon provides a systematic and thorough guide to digital marketing newbies. Unlike what its name seem to suggest, this book isn't light-weight in content. On the contrary, it is dripping with lots of juicy and meaty advice that can be instantly applied straight from the oven.
Now, please excuse me while I go and fix myself some real bacon for breakfast. Bon appetit!