How can you hack your mind to harness the full potential of your brain? What is the first thing you need to do?
Thanks to Eran Katz, I now know the answer, and shortly so will you.
Guiness Book of Records holder for Best Memory Stunt (he recited 500 numbers forward and backwards after hearing them once), Eran Katz is the international best-selling author of books like "Secrets of a Super Memory" and "Where did Noah Park the Ark". The latter was listed in the best-selling non-fiction book list in Kinokuniya, Times and Popular when it was launched in 2011.
Five Gifts for the Mind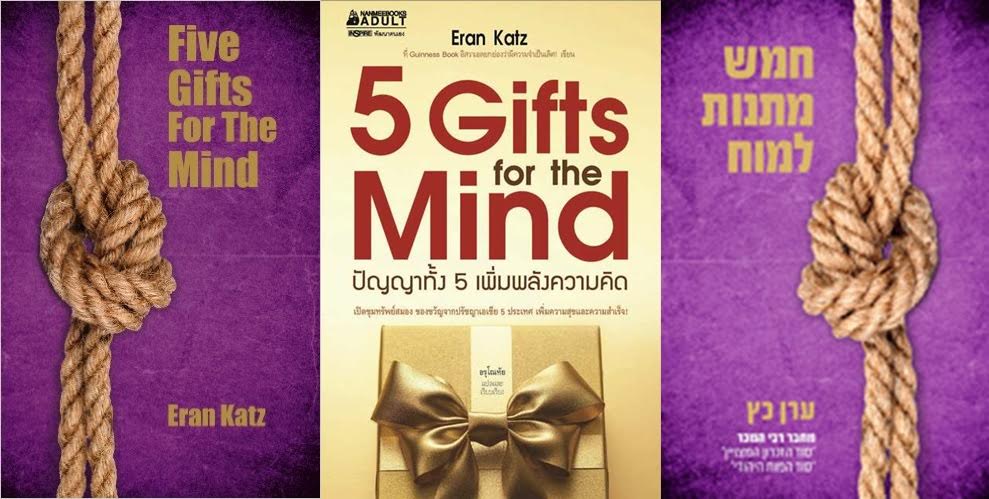 In his latest book "Five Gifts for the Mind", Eran unveiled various techniques one can use to boost one's brain and achieve greater personal success.
Taking the form of a "whodunnit" style mystery involving a middle-aged male Jewish Professor accompanied by a young female Korean student and a mysterious Chinese femme fatale, the book uses the art of narrative to impart its lessons. This takes the form of five "gifts", namely:
The Gift of Forgetting: A Guide to Deleting Undesirable Memories
The Gift of the Safe Mind: Preventing errors and improving decision making
The Gift of Craving Management: How to exhibit self-control, liberate yourself from regrets, and live a guilt-free life
The Gift of Persuasion: How to sell your ideas or products to anyone – The five step Chinese program…and a few Jewish tricks
The Gift of Beauty: The Japanese neuro-esthetics rules of beauty to create the perfect 'WOW'
As you can see from the list above, the first step in hacking your mind is to learn how to forget.
So how can you delete those unhappy memories that are holding you back in your work and your life?
The Gift of Forgetting
Using Boston as his backdrop (the other Gifts take place in various Asian cities), Eran's protagonists uncovers what it took to free one's mind from negative memories. Like them, you can learn how to do so to erase information you don't need and memories you don't want.
Here are the seven steps you need to take.
#1 Stop the train of emotion
The first thing you need to do is to reduce the swell of feelings associated with the memory. To mute and diminish its potency, learn to forgive the persons or organisations involved in giving you that bad memory.
As the saying goes, "To err is human. To forgive, divine." Learn from the Bible and seek to grant forgiveness 77 times, both to yourself and to others. Only by doing so can we let go of the emotions linked to the painful past.
#2 Focus on the memory for a short time
Next, concentrate on the memory but give it a unique twist. Rather than attempt to bury it, talk to friends, family members or professionals.
By making the memory a matter of public discussion rather than a personal problem, you help to reduce your burden. When doing so, you can also come up with a "solution" to that problem and visualise a different outcome to it.
#3 Give your brain a delete command
Once the memory is given the spotlight, you need to extinguish it with a "delete" command to your brain.
This is a clear and deliberate command, akin to the "10 Commandments" in the Bible. A good way to do so is perhaps to recite that the memory is deleted out loud for at least three days in succession.
#4 Replace old information with new
The law of substitution is one which many of us are familiar with. How many of us are able to get over an incident when we have new things to occupy us?
To replace old information with new ones, consider learning a new subject, picking up a fresh interest or meeting new people. By occupying our time, energies and mind with something novel, we help to push the old memory away.
#5 Edit and distorted the unwanted memory
If the bad memory is persistent, you need to rewrite the script in your head. Edit and distort the unwanted memory by using your imagination to change its outcome.
Plant new positive memories to overwrite the original memory. Visualise how the negative scenario ended up being positive for your life. Do it as much as five times a day over 21 days!
For example, you could tell yourself that being skipped for promotion was actually a blessing by your former boss to grant you a new life. You didn't really like that job anyway. By doing so, he helped you to discover new and better opportunities elsewhere.
#6 Prevent re-entry into consciousness
Inevitably, there will be certain memories that are so negative that a slight trigger could re-ignite it. The thing here is to avoid these situations wherever possible.
Don't look at car accident victims; avert your gaze from violent and appalling movies; quit reading negative news. Stay away from people and places which can rake up the painful past.
If, however, you can't avoid adverse situation, take the lemons and make lemonade. Store the event in a way that can be recalled positively.
#7 Create good memories for others
In tandem with replacing bad memories with good ones, consider spreading the joy around by creating good memories for others.
Schedule yourself to do good for at least two people every day. Call two people every morning and tell them something good. This will boost your mood as well as theirs.
BONUS: Make a folder of positive memories
Beyond the above, Eran shared that we should make a folder of positive memories. In the digital age, this can be easily done by creating a folder of nice photographs of holidays, or capturing little positive emails or messages from friends.
You can also create a physical version of this by including little knicks knacks from the people who mattered in your life and storing them as treasured mementos.
Now that you have learned how to forget, consider getting a kindle copy of Eran's book to learn the other four Gifts. You can do so for only US$5.99 by following the link here.
Keen to learn more? Catch Eran Katz in Singapore!
Enjoy what you learned about releasing those painful memories? Why not fill your cranium with good stuff by attending Eran Katz's "Mind Hacking Mini Marathon for Executives".
Happening 5 December here in Singapore, this intense 3 hour lecture will cover the following topics:
Develop a Super Memory

– Learn the 3 principals that will improve your memory by 50% and instantly remember everything you read or hear: facts, data, articles and even jokes.

Make the Right Decision in only 2 minutes

– Why do rational people believe that they can beat the casino? Can we create a mental mechanism to avoid making fatal mistakes in the future? You will learn the technique here.

Erase bad memories and failures and move on to success

– Learn how to move from failure to success with renewed enthusiasm and motivation.

Learn the Art of Getting Lucky

– Is luck related to destiny? What is the difference between lucky people and unlucky ones?

Nobel Prize Mind

– Why do many Jews win the Nobel prize? What is their unique way of studying and thinking? How can we use their secrets to out smart our competitors and achieve remarkable success?

Develop a Super Memory for Names and Faces

– What's the name of that guy you just met? Avoid embarrassing situations to generate rapport and better relations.

Language Hacking

– Learn any language fast with unique brain skills which will save time, reduce unnecessary stress.
Check out the details of Eran's Mind Hacking Mini Marathon in the e-brochure below: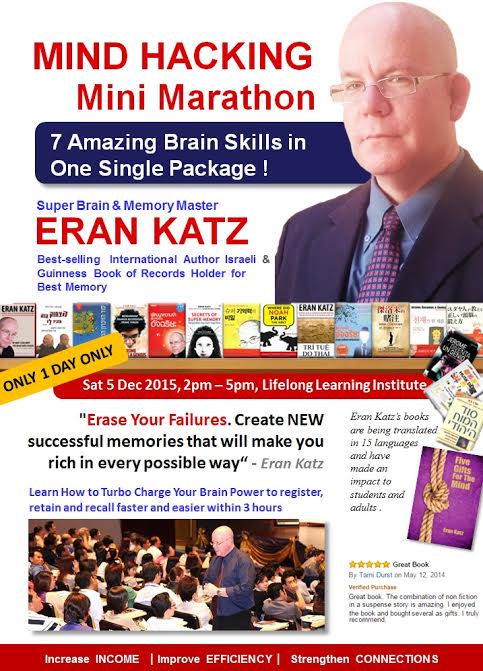 Here are the details of the programme for your reference. Make a date with the programme now!
Date: Saturday 5 Dec 2015
Time: 2pm -5pm
Venue: Lifelong Learning Institute, Event Hall 2-1, 11 Eunos Road 8, Singapore 408601 (next to Paya Lebar MRT Station)
You may download the eBrochure for more information.
The usual price for a ticket is S$188 (free seating). As a special gift to Singapore, however, Eran Katz and event organisers Versa Creations are offering an early bird special of only $128 for a single ticket! Sign up with a friend and pay only $196 for two tickets – that's only $98 per person!
To register for the Mind Hacking Mini Marathon 2015, check out this website for details or email [email protected].