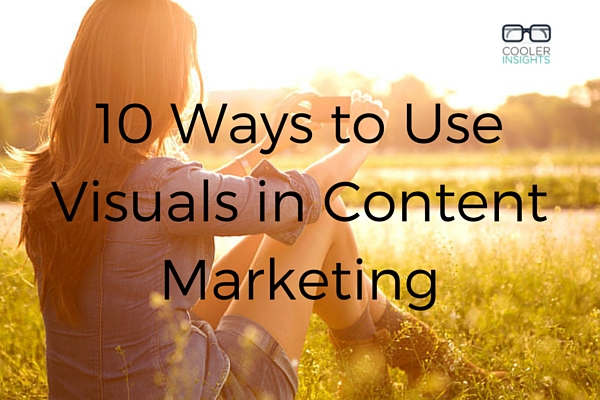 Courtesy of Business 2 Community
Do you know that 90% of the information transmitted to the brain is visual? Or that visuals are processed 60,000 times faster than text?
In the age of high definition screens of all sizes – from 2 inch smart watches to 50 inch television monitors – visual content rules. This fact is further cemented by the meteoric rise of the image-based threesome in social media – Instagram, Pinterest and Tumblr.
Gone are the days where captivating copy alone can do the trick. These days, content marketers know the importance of pairing compelling images with the right text deliver the knockout punches for brand storytelling and content marketing.
What are the ways in which content marketers can use visuals to boost their marketing effectiveness?
#1 Photographs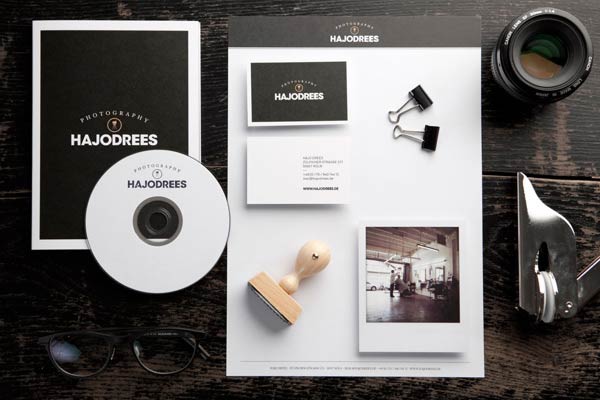 Courtesy of WATC
Photos are the reason why many people spend hours on their mobile devices. We love to scroll through image after image on social media platforms like Facebook, Instagram, and Pinterest.
We love to snap and share photos as little visual memoirs of our lives. The advent of amazing smartphone cameras and idiot-proof photo sharing apps further fuels the popularity of photos.
A well-composed on-brand photo is a beautiful work of art which captivates us. Here, it is important to bear in mind pointers such as image size and dimensions, layout (portrait, landscape or square), lighting, filters, composition, angles and the unique characteristics of each social media platform.
#2 Graphs and Charts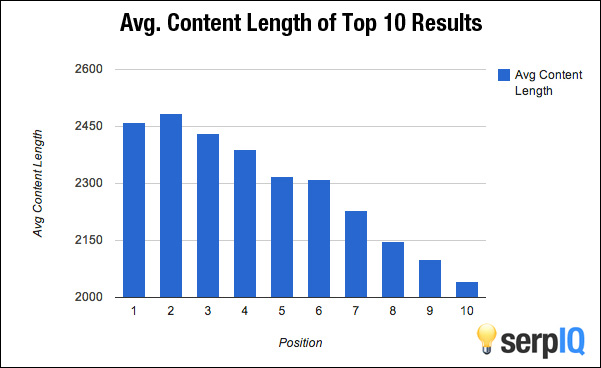 Courtesy of serpIQ
Nothing beats a well drawn graph in conveying numerical information. The human brain processes visual information a lot faster than a wall of text and numbers, and graphs work very well here in conveying trends and movements.
Research findings and statistical reports are best presented using a combination of line graphs, histograms, pie charts and their ilk.
In a similar fashion, charts help to simplify multi-step processes. By doing so, they make it easier for the mind to fathom how one action correlates with another.
#3 Drawings and Illustrations
Courtesy of Sad Animal Facts
All text and no drawings makes Jack a bored reader. Often, a nicely drawn comic, cartoon or manga catches the eye and conveys entertaining and educational information more quickly than lines of text. I guess this is why cartoonists like Hugh MacLeod can be so successful in promoting himself through content marketing.
Note here that illustrations are best used in situations where real life photos do not do justice or are too costly/complicated to create. They also have the advantage of being highly imaginative, creative and evocative.
Drawings also work well in campaigns where the subject (eg victims of violence) may be too sensitive for real life photography.
#4 Montage and Collages
Courtesy of Tori Triffitt
If a picture paints a thousand words, what about four or five of them in a collage?
These days, creating a beautiful collage or montage of images is a breeze. With photo editing apps on our mobile phones, we can simply resize, drag and drop images to create a mini-storyboard.
On a desktop, we can expand this further and create a pictorial spread comprising related photographs or illustrations chronicling a sequence of events. Seal it all with a logo to affirm your brand identity.
#5 Captions, Quotations and Factoids
Do you know what beats a photo or a catchy headline? You got it! The answer lies in overlaying images with captivatingly written text.
By adding a catchy one-liner, memorable tag line, dates and names of places, content marketers can make our images more compelling and relevant. Once again, there are lots of smartphone apps available to accomplish this purpose – both on mobile devices and laptops.
Here, it is important to ensure that the text you use is in sync with your brand, while gelling with the visual.
#6 Customer and Fan Images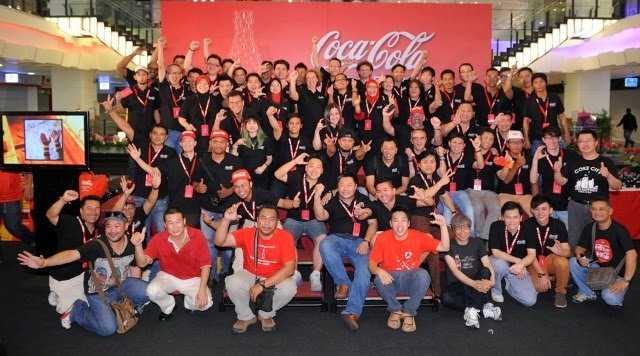 Courtesy of Sunshine Kelly
What is the one thing which customers like to see better than your company's product or service images? That's right – see their own photos showcased on your online platforms.
Rather than just collect any old image from your fans, consider curating them based on themes. One way to do so efficiently is to introduce hashtags. Encourage your customers to hashtag relevant photos of them doing a specific action, using your product, or enjoying your service.
Once they have done so, encourage them to submit these images to you either via email or on the comments box of your social media platforms.
To nudge your customers to do so, incentives like prizes for the best photos submitted may work wonders. Make it a fun contest which they can participate in.
PS – Photo collages work extremely well for such images.
#7 Memes
Courtesy of DIY LOL
Invented by Richard Dawkins in 1976, memes are usually humour-laced ideas and concepts which are highly viral. Spreading easily from person to person, they are normally used to spread popular cultural information. Think of cats and puppies on Facebook, the "Keep Calm-o-matic" and the troll-face memes as examples.
In the context of visual content marketing, consider incorporating some of these memes in your content so as to ride on a popular idea. By doing so, you are able to capture the attention of consumers and hopefully bring a smile to their faces. Once again, ensure that these memes are aligned to your brand values.
#8 Cartoons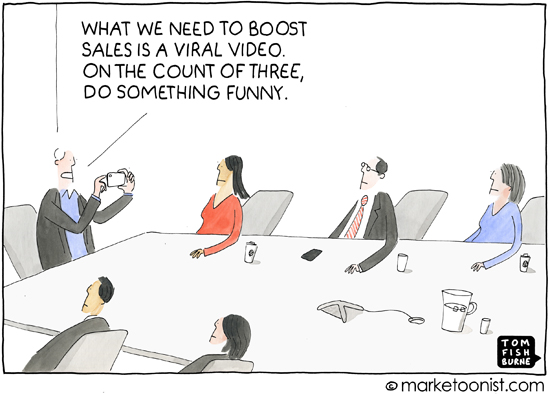 Courtesy of Tom Fishburne
Continuing along the trend of tickling our funny bones, cartoons and comic strips work magnificently in the context of visual marketing. Combining art, storytelling and wit, they engage and captivate your audiences in a unique manner.
Here, it is important to consider introducing cartoons that are specific to your industry and your brand. Create or curate cartoons that help to reinforce a value proposition that you provide, while taking care not to tread on sensitive areas like religion, sexuality, or politics. Your job here is to entertain – not enrage!
#9 Infographics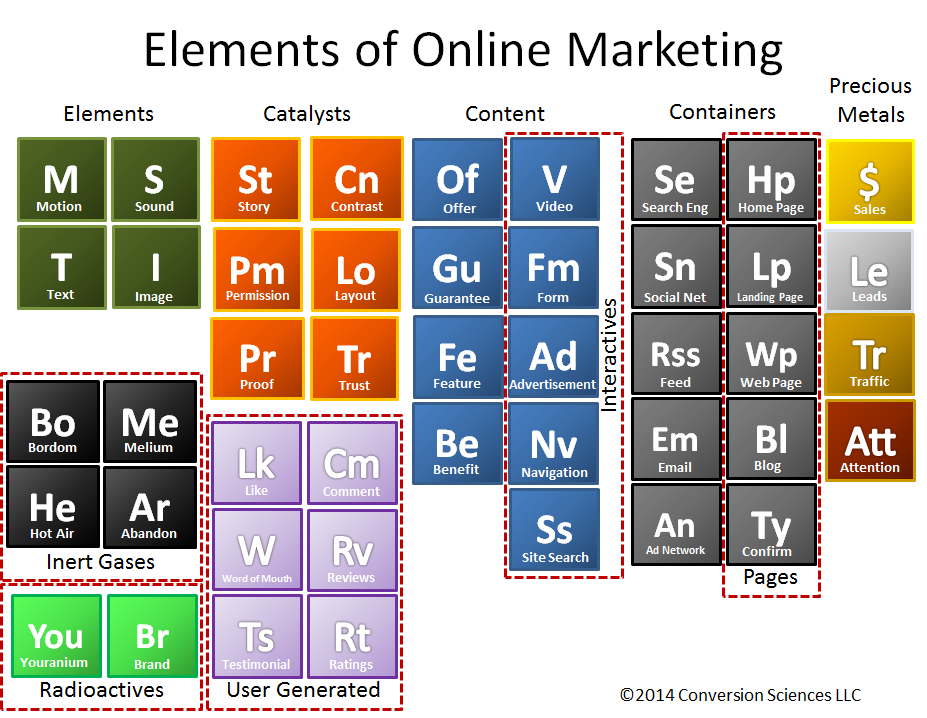 Courtesy of Conversion Sciences
Infographics are the rocket fuel of social sharing. They help to blend text, images, and information in a compelling and easy to digest manner. By presenting facts and figures with cartoons, flow charts, word art and other images, they enliven your content marketing efforts.
Here, it is useful to consider the size of your content platforms and whether the data points you have selected are relevant and enriching to your audience.
On social channels like Pinterest and Tumblr, vertical format infographics are a boon. On these social networks, it is useful to include a short description with a link back to your website.
For smaller visual formats on Facebook, Twitter and Instagram, consider truncating your long infographics into a rectangular or square-shaped "preview infographic" and share that image along with a short text description and link back to your website.
#10 Videos
[youtube id="M7FIvfx5J10″]
Courtesy of Volvo Trucks
Last, but certainly not least, videos are probably the "nuclear missiles" in your visual content marketing arsenal. While they are certainly great in generating virality – like the epic one by Volvo Trucks featuring Jean Claude van Damme above – video content is the most expensive and risky for any organisation to undertake.
There are various ways to use videos – from longer-form "How to Do it" videos on YouTube, emotion-dripping "reality dramas" shared on Facebook to shorter 15 second trailers on Instagram. The key here is to use videos that can help to reinforce your brand positioning while providing content variety to your customers.
Are there other ways you can use visual content for storytelling and marketing?
Courtesy of Virginia Creative Group