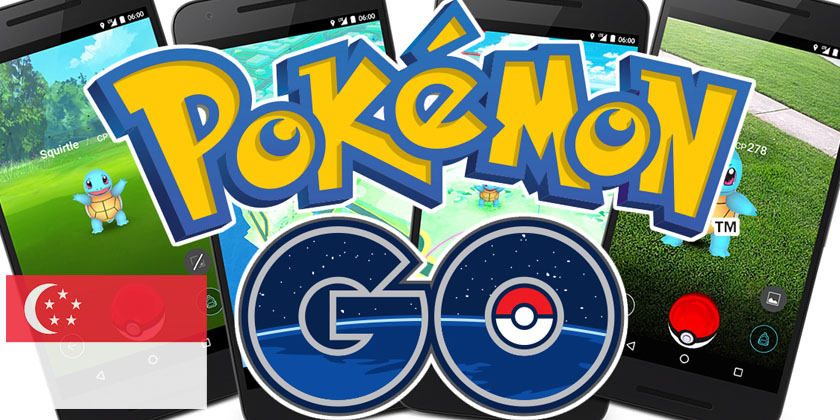 Courtesy of Damn Worth It
Caught a Bulbasaur? Picked up some free "incense"? Or trained and evolved a lowly Machop to become a Machamp?
If you have absolutely no idea what I'm talking about, I guess you must be sleeping under a rock while Pokémon GO sweeps the world.
Created by Niantic in partnership with Nintendo and the Pokemon Company, Pokémon GO is a mobile only augmented reality game available for iOS and Android devices. First released on 6 July 2016, it has taken the world by storm.
Modeled after the game play of the original Pokémon card games and animation series, players use their smartphones to locate, capture, train and evolve virtual "monsters" called Pokémons. These appear on the screen like they would in the same real-world location tends to augmented reality and GPS technology.
Pokémon GO: One Game To Catch 'Em All
Pokémon GO is probably the largest mobile game in history, beating Candy Crush Saga, Draw Something and Clash Royale. When it was first launched, the game added US$7.5 billion to Nintendo's market value in just 2 days (Nintendo's share price has dropped significantly since after the games behemoth admitted that they'll benefit little from the game).
That's not all. With more daily users than Twitter, Pokémon GO has grown to become the most used app on the mobile platform – beating heavyweights like Whatsapp, Instagram and SnapChat!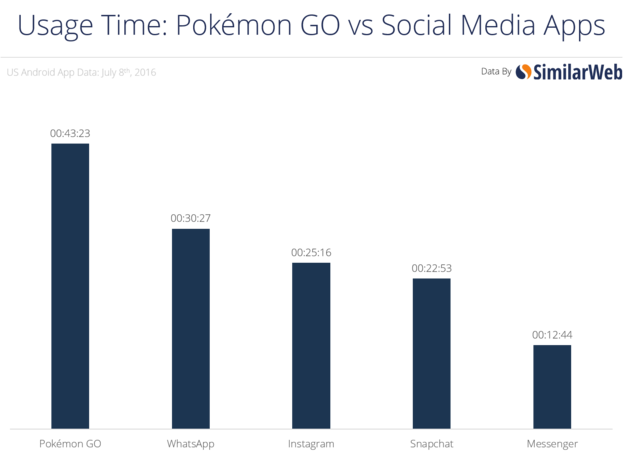 Courtesy of Huffington Post
Hugely addictive and viral, Pokémon GO on average attracts some 4 to 5 million downloads a day, and attracts 21 million users. Users spend on average 45 minutes a day playing Pokémon GO.
Courtesy of BGR
Pokémon GO is the king of augmented reality gaming. It has succeeded where many others have failed.
The augmented-reality (AR) game has attracted millions of users and has been praised for promoting exercise, facilitating social interactions, sparking new interest in local landmarks, and more. Educators have also weighed in on its implications for teaching kids everything from social skills to geography.
But Pokémon GO is more than just a game. It is also the first widely accepted and free platform to use augmented reality – a real "game changer" for AR.
Pundits have predicted that the game "opens the door for a new wave of augmented reality apps to flourish", hence giving us a "brief insight into the technology of the future". With Pokémon GO as the standard, mobile developers will launch both new and re-introduced gaming titles incorporating AR in the future.
Pokémon GO At A Glance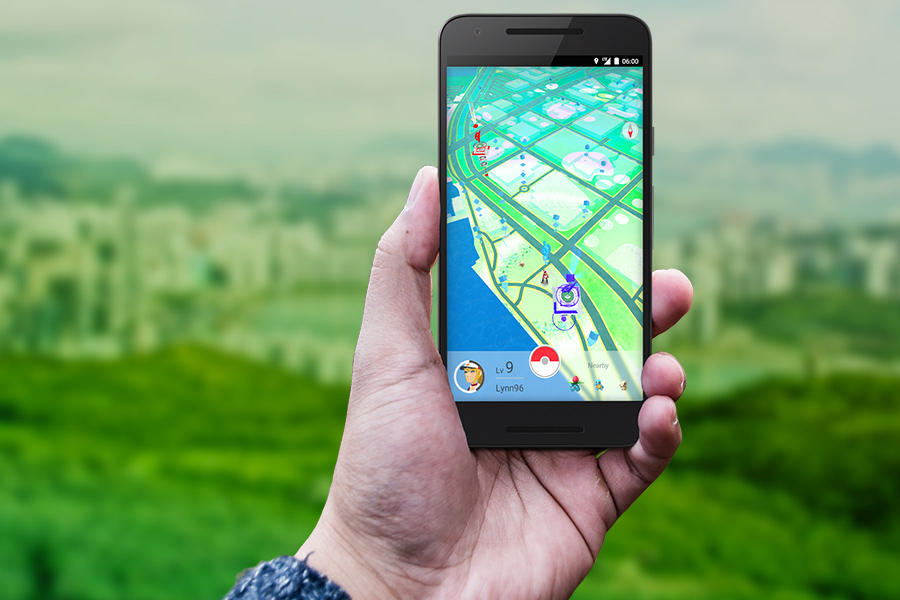 So how does the game itself work? Thanks to my son who is a fan of Pokémon (though only lukewarm about Pokémon GO), I learned that the game involves a couple of things.
First, you need to create an avatar of yourself as a Pokémon trainer. This involves selecting your hair, skin and eye colour, as well as the style of your outfit. You also need to give yourself a funky name (like Pokesaurus or Bulbasotong). Once your avatar is created, it will be displayed on a map that is created using your current geographical location. This would be the spot where you are standing or sitting in right now, tracked by GPS technology.
After a brief introduction to the Pokémon researcher Professor Willow, you'll get your starting Poké Balls which you'll use to do your first Pokémon capture.
To power up your game and get freebies like eggs (these hatch cutesy Pokémons), Poké Balls, Lure Modules, Incense, Candy, and Potions (which add Hit Points to your Pokémons), you should visit PokéStops. These are highly popular places and attract players (or trainers) like bees to honey.
You can also use your real cash to buy Pokécoins in Pokémon GO, in exchange for highly prized items like Lure Modules, Master Balls, Pokemon Eggs and other items.
Then, there are the Pokémon gyms. These are typically located at places of interest like museums, zoos, shopping malls, churches, and other places. This is where you'll summon your Pokémons to battle other Pokémons from opposing teams (you can choose red, blue or yellow) so that you can rule that location.
Different Pokémons thrive in different habitats. Apparently, parks are popular places for them to gather in. Water-type Pokémon (like Horsea) are found near water, while tree-based Pokémon like Pidgey may be found near trees.
As Pokémon trainers move around their real world settings, their avatars will navigate the game's map (which looks like a Garmin GPS map). Using AR technology, the camera and the gyroscope on the player's smartphone would display a Pokémon superimposed on the real world. Like any smartphone games, players often take screenshots of their Pokémon captures and share them with the world.
Here's a super comprehensive guide on Pokémon GO from The Smart Local for you hardcore fans, as well as some tips on how you can level fast without money from Cnet. You may also wish to view a glossary of all the different terms, just in case you are Pokélost.
Pokémon Gold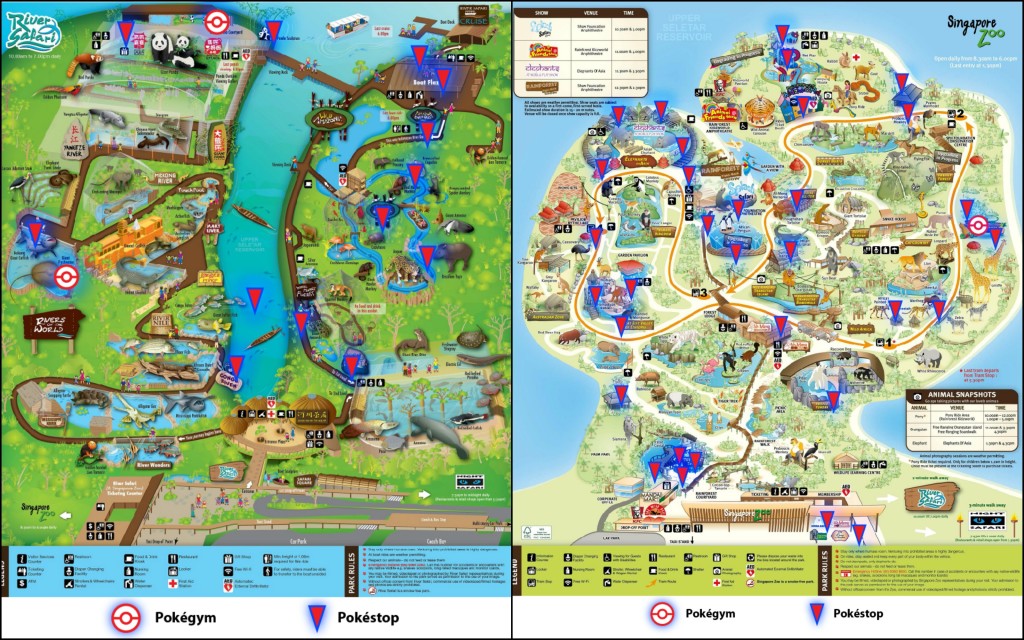 River Safari and Zoo are both Pokémon hotspots! (Image from Mothership.sg)
As you'd imagine, any gaming phenomena that can over shadow the ongoing Rio Olympics (does anybody even care about that?) is serious business. And Pokémon GO is rolling in the digital (and real) dough for some.
Here in Singapore, we have read that many firms are using lures to draw customers in. A Straits Times story reported that "at least three companies here – local book retailer Times Publishing Group, ViewQwest and MyRepublic – are planning to buy Pokemon Go "lures" to attract players to their shops and events…"
More recently, we have witnessed how otherwise sleepy Orchard Road mall Ion Orchard has transformed into a Pokémon hotspot. Besides releasing hundreds of Pokémon GO lures, the mall is also giving away complimentary pearl bubble milk tea for players who show a screenshot of a Pokémon caught at it's location.
Perhaps the biggest player in the Pokémon GO stakes is the purveyor of real life birds and beasts Wild Reserves Singapore. You can find a total of "eight Pokémon Gyms and 78 Pokéstops" at Jurong Bird Park, Night Safari, River Safari and Singapore Zoo from today.
Beyond these locations, there are several other places where Pokémon GO trainers can go wild at. They include playgrounds, MRT Stations, the Chinese Gardens, Sentosa, Marina Bay Sands and even Pulau Ubin. Apparently, these locations have found a fresh wave of visitors intent on catching that rare Pokémon while hopefully enjoying what these locations have to offer.
NEWS FLASH: The latest news on Pokémon GO entrepreneurship comes from this story about car drivers offering car hire and limousine services! I wonder though if such chaffeuring services actually defeats the purpose of getting some exercise from the game?
Pokémon No Go Zones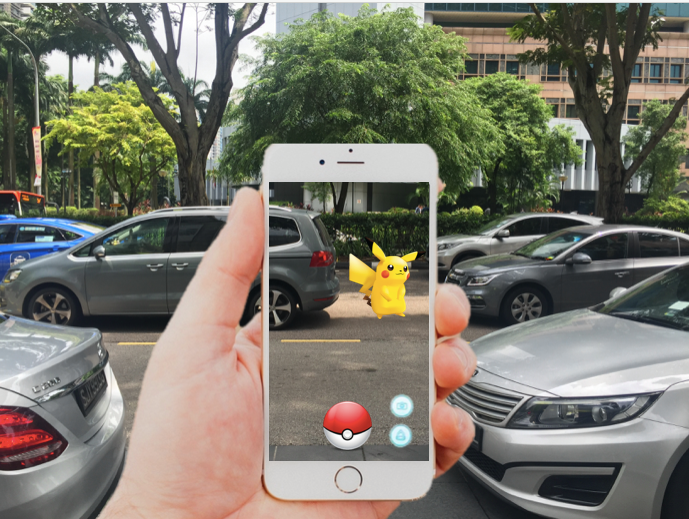 A Pokémon No Go Zone (image from Singapore Police Force Facebook)
While you merrily go forth to capture wild Pokémons or collect fresh Lures, do be mindful of your safety and security as well as that of others around you.
To date, the abuse of Pokémon GO has been responsible for multiple incidents of crime and accidents around the world. These horrific incidents have included falling off a cliff, parental neglect, murder, theft to vandalism, rape to assault.
Thankfully, various Singapore authorities have issued advisories (albeit friendly ones) to warn players about the DOs and DON'Ts of catching virtual monsters. They include the Singapore Police Force, the Army, Public Utilities Board, and the Republic of Singapore Air Force.
Here are some useful guidelines from SPF's Facebook Page that you may wish to take note of:
Be aware of your personal safety when out looking for Pokémon. You should play in pairs or as a group to ensure your personal safety.
Watch where you are walking, be aware of your surroundings and do not walk out into roads without looking.
Do not play the game and drive any vehicle or ride any personal mobility device at the same time. You cannot do both safely.
Do not trespass onto restricted areas and private properties. Do not take pictures of restricted areas.
Be aware that you are potentially sharing data with others; there could be potential criminals who may seek the opportunity to lure victims to their fake "Pokéstops".
Educate your children to stranger-danger at "Pokéstops".
Never reveal your personal information and watch out for fake apps or cheat tools. Cyber criminals can access your personal data to commit fraud or hack into your phone with viruses and malware.
Beyond caring for our personal safety and security, we should also not be so enamoured by the game that we fail to respect religious or other cultural institutions. A case in point were the Pokémon players who raised the ire of the visitors to the Holocaust Museum.
An unhealthy obsession with Pokémon GO and other screen addictions could also propel us to embrace an escapist fantasy world. Quoting from Crisis Magazine:
"We have lost touch of reality, and ordinary is a dirty word. It means dull, lifeless, empty. What we want is the extra-ordinary! We want dynamism, excitement, and adventure."

Courtesy of Forbes
Points on Pokémon Parenting
Now that you've learned what the hype over Pokémon GO is all about, as well as both its pros and cons, how should parents or guardians behave?
Thanks to this wonderful guide from Parent Zone, beleaguered Pokémon parents now have a set of guidelines to abide by.
Here are the useful points from the website:
Give it a try yourself, or walk around with your child while they play it and ask them questions. If you are both playing together it could be fun! If they want to venture out without you, make sure they do so with a friend or friends.
Let them know that you don't have to visit a Pokémon's exact location to capture it – you can stop at a nearby area where it's safe (ie not in the middle of a busy junction). So long as it appears on their game map, they can capture it.
As with online gaming aliases, remind your child to choose a username that won't identify either them or where they live.
Apply real world caution when visiting Pokéstops and gyms. Your child might make some new friends at these places. Make sure you know where your child is going who they will be accompanied by or, even better, offer to take them there yourself.
Be wary of 'lures'. There is the potential to capture lots of Pokémon, but this feature basically gives people the power to lure a group of kids to a certain spot for 30 minutes, so you'll need to use your judgement and set rules with your child about how to handle this situation if it occurs.
Remind them to save some phone battery for the journey home. The game uses a lot of a phone's power and will run out of battery faster than normal.
Do also check on their data usage – Pokémon GO is a huge user of data. This could be a useful way to limit their daily playing.
Beyond the points above, my friend and fellow MLC member Ee Jay has also penned down some useful pointers on Pokémon GO parenting here. Go check it out!
To GO or not to GO?
As a parent of a Pokémon fan (have a look at my son's collection below), it is inevitable that the question could arise whether I should join in the fray.

Having thought through the pros and cons of the game, I've decided not to download it on my aging iPhone 5S. However, we have relented with allowing our son to have it on his mobile provided he observe certain rules on game play. This includes asking for permission when playing, and making sure that he does not wander to unknown locations while catching new Pokémons.
My wife has also decided to show him how much data playing the game could cause. As he shares a data plan with her that is capped every month, being mindful of data and battery consumption makes him more aware of the limits.
Although I do not play with the game myself, I have taken an active interest in discussing Pokémon matters with my son. This helps us to develop a common interest and bond over a common topic.
Interestingly, he has decided to play basketball (the real bouncy version) instead of catch Pokémons even though I gave him permission to. 🙂
What has your experience with Pokémon GO been like?