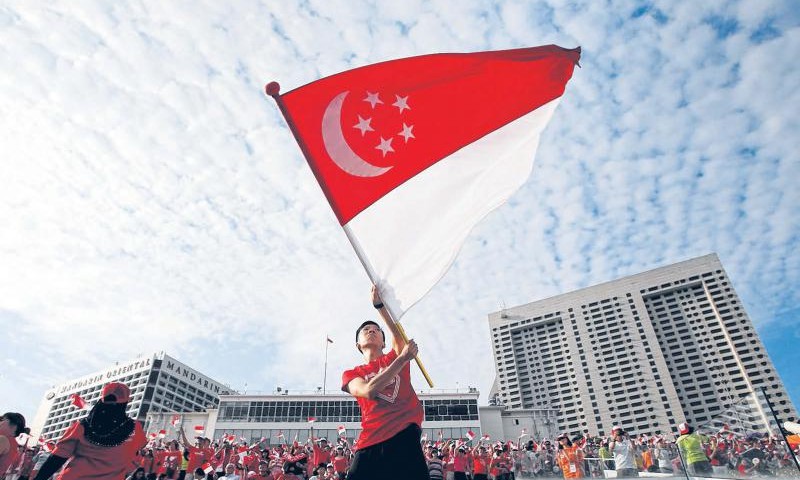 Courtesy of Martial House
Congratulations and welcome to Singapore!
If you are somebody who traveled thousands of miles to arrive on our sunny tropical shores, you may have hundreds of random thoughts in your head right now.
Questions like these…
Will I fit into this compact new environment?
Are there any cultural taboos that I should avoid?
Where can I go to find help?
How can I fit in?
Never fear, help is here!
Sit back, put on your singlet and shorts (you don't want to die of heat in that pullover of yours), and relax on your comfortable sofa as we walk you through the 7 things you need to know to make yourself feel right at home in Singapore.
#1 Food Glorious Food!
The first thing you need to know is that we Singaporeans love our food. In fact, we are almost obsessive-compulsive about what we put into our mouths.
From spicy hot laksa, aromatic barbecued satays, to fragrant chicken rice and satisfying roti pratas, our unique hawker centres and coffee shops offer an eye-popping (and drool-inducing) variety of local dishes that are cheap and yummy.
Don't worry if you miss home. With an international spread of restaurants, cafes and food stalls, you'll never have a lack of options. Go ahead and bite into that juicy 100% US beef burger – here in our foodie paradise!
Bamboozled by the bewildering food and beverage options? Just check out these handy online food guides and blogs:
(PS – we love our food so much that we've named a food court Gluttons Square. And no, we don't think gluttony is one of the deadly sins…)
#2 Singlish Anyone?
Once you finally manage to find a seat at the hawker centre that has not been "choped" (booked) by a packet of tissue, a strange cacophony of voices fills your ears. It sounds like a blend of English, Mandarin, Malay, and other un-intelligible languages, punctuated by weird sounds like "lah", "lor", "one" and "aiyah."
Well, you've just been introduced to Singlish, the Lingua Franca of Singaporeans and residents alike.
With its newfound fame (or notoriety) in the international press – BBC found much amusement with the term "Chinese Helicopter" – Singlish has hogged the linguistics limelight as this strange cultural concoction that is uniquely Singapore.
To converse like a native Singaporean, check out the Essential Guide to Singlish, Aussie Pete's super comprehensive guide for foreigners, or the delectable SinGweesh series by renowned poet Gwee Li Sui on current affairs website The Middle Ground.
Better yet, find some Singaporean friends and get them to give you tuition. Now wouldn't that be "shiok!" (sheer happiness)
#3 Mingle With Muhammad, Meng, And Muthu
Contrary to popular belief, we Singaporeans are not cold and frosty. We are extremely warm and hospitable once you get to know us. In fact, most of our new friends find that Singaporeans are generally helpful and friendly.
Now, what can you do to worm your way into the heart of your Singaporean neighbours?
Well, food is a good start (see what I told you!)
Prepare a simple dish from your country of origin, and share it with your neighbours. During the process, you can enquire about the different cultural traditions, rituals and customs here in Singapore, as well as all our peculiar quirks.
Another great way to get to know us better is to join us for a hot and sweaty game of badminton, soccer, or basketball. I'm sure your neighbourhood "kakis" (buddies) would welcome you to their game.
And once you get to know us better, I'm sure they will be delighted to share all the good "lobangs" (secrets) with you.
Which leads us to our next vital topic – how to get around this island.
#4 Hopping Around Our Little Red Dot
Barely occupying 700 odd square kilometres, Singapore is a country, state and city all rolled into one. Owing to our extremely limited space, we also have strict vehicle control measures. This means that cars are going to cost you an arm and a leg on this island.
How then can you get around? Well, you can take the "BMW" – Bus, MRT and Walk!
From industrial Boon Lay to coastal Pasir Ris, rustic Sembawang to bustling Marina South, many of our major towns are connected by extensive public transport networks. Most of our buses and trains are fairly regular, and you can even predict the times when they will arrive with apps like SG BusLeh.
To comfortably traverse your way around the island, you can check out resources like Singapore train and MRT map, Singapore Bus Route Planner, and GoThere.sg to plan your travelling route.
In a hurry? Not to worry, you can travel in air-conditioned chauffeured comfort by dialing a cab from Comfort (65521111) or download an app like Uber or Grab to whizz you off to your destination in double-quick time.
#5 Educating Junior
After you've cured your wanderlust by visiting the Singapore Zoo the 10th time in 2 months, you realise that you've neglected the most important question for parents: schooling options for your kids!
As an expatriate or new immigrant, you have a choice of enrolling your child in a public local school or an international school.
Being a world class educational hub, Singapore is a learners' paradise.
(Well, we are also known as a shopper's paradise and a fried rice paradise, but I digress.)
Visit this website by MOE to learn more about the different educational paths your little prince or princess can take. If you need a second or third opinion on which educational track your little one should consider, you can even check out the indispensable Kiasu Parents website and forum!
PS – it can get quite feverish hot in Kiasu Parents. You've been warned!
#6 When Murphy's Law Strikes…
Although we pride ourselves on being one of the world's safest and most efficient cities, there may be times when things go awry. You may have accidentally dropped your wallet, left the gas stove open, or spotted an accident on your way to work.
Should such situations occur, where should you find help?
Well, here are some useful phone numbers and websites you should save in your emergency contacts list:
#7 Getting Off The Beaten Track
Tired of the usual tourist haunts and wish to experience something more authentic?
Well, why not check out our local wet markets or "pasar".
Catch a glimpse of how we buy our groceries, and learn to haggle like a HDB flat dwelling auntie or uncle (that's how we greet our seniors here).
If you still need your dose of caffeine or alcohol, you can check out our riverine hangouts, or pop by the latest hipster cafés. Here are some of our most happening cafés and trendy bars and pubs on our island.
Now that you have learned how to settle in and make the most out of your time in Singapore, share with us how your experience is like!
PS – Special thanks to June Yong of Mama Wear Papa Shirt for her help in editing this article and Jab Design for the pitch idea.