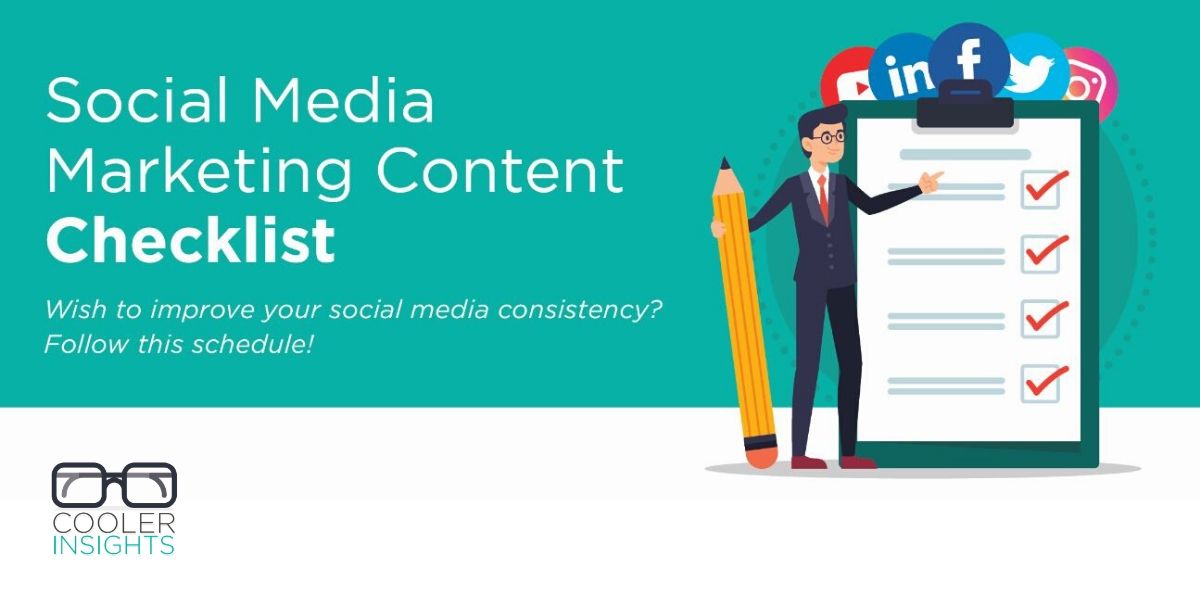 Social media marketing isn't a 100-metre dash. Nor can you pump-prime it with a sudden burst of creativity.
No amount of boosting with Facebook or Google Ads can elevate your influence from zero to 100 if you slacked an entire year without creating any fresh content.
How then can you produce quality social media content that is searchable, snackable and shareable?
Well, the secret lies in establishing a system for reading, writing and publishing frequently. And making it a part of your daily schedule.
In this article, you will learn how to create a social media marketing content schedule as well as a checklist of items that you should do.
Before you can cultivate positive habits in social media content creation, however, you need to develop a calendar.
Start with a Social Media Content Calendar
The age-old saying that whatever gets written gets done. Similarly, whatever gets scheduled gets done too.
Like any endeavour, your key to creating regular and quality content is to put it on a calendar. Schedule specific times of the day, week, fortnight, month, quarter and even year to complete key tasks.
Break it down into individual pieces, and sort them out by social channels – blog, Facebook, Twitter, Instagram, LinkedIn, and others. An example of how such a calendar looks like is shown below (you can download the template from Small Business Trends here):
Courtesy of Small Business Trends
Initially, creating a calendar like the one above can be intimidating. However, once you've got the initial building blocks in place, it'll become a lot easier to maintain.
Now that you've got your editorial calendar established (well, at least the first week or month), your ongoing task is to keep it filled. Consider these practices and habits to continually churn out quality content.
Daily Social Networking Practices
Scan your favourite industry-related blogs for inspiration. If possible, read a few pages of a good book on your specific business areas, be it in finance, fashion, logistics or food.
Share via Facebook or Twitter two or three useful articles that your followers may find interesting. Be sure to include and acknowledge the author of the content if you do so.
Spend at least 10 to 15 minutes checking your LinkedIn newsfeeds for interesting content, messages and likes. Reciprocate by liking, commenting and resharing insightful or engaging content from your LinkedIn connections. Curate and share an interesting piece of content on LinkedIn.
Jot down any ideas you may have. Refer to them later when you put together a blog post, infographic, video, or other longer pieces of premium content.
Weekly Social Media Habits
Publish a blog post at least once a week. Yes, I know that it can be a challenge if you haven't started.
Remember all those draft ideas which you've jotted down during the course of the week? Now's the time to flesh these out in detail and transform them into an article.
Whenever you publish a blog post, remember to save an hour or so to promote it online. Share your content widely through your social media channels, emails, Whatsapp and other networks.
Leave a couple of thoughtful comments on a few of your favourite blogs and LinkedIn posts. Doing so helps you to connect with other people, build relationships, and generate potential business leads. Pay special attention to influencers.
Connect with at least five new people whom you got to know on LinkedIn. Send them a personal message.
Fortnightly Social Content Tasks
Write to influencers in your trade and offer to provide a guest blog post. Find fellow bloggers or websites whose audience may be interested in what you can contribute.
This becomes a win-win arrangement: they get fresh and valuable content that works for their readers, and you get in front of a new group of people, plus gain a valuable backlink.
Craft an email newsletter that keeps your community up to date with your latest news, useful articles, and any other valuable content you can share with them. The golden rule is always to deliver lots of value.
Monthly Content Creation Jobs
Upload a Facebook photo album from an event that you've been to or from a company get-together. These photos help to personalise your business so potential clients and partners can get a better feel of who you are like.
Pitch an article to a high authority website. This could be an online magazine, an influencer's blog, or a portal which specialises in aggregating news on your industry. If successful, start writing! (Guest articles are useful in building backlinks to your website, plus improve your credibility.)
Write a LinkedIn recommendation for someone. Also, try to request a recommendation from a client whom you've worked with. A LinkedIn profile with genuine recommendations is a lot more powerful than testimonials published on your website.
You may also wish to create an infographic and pin it on Pinterest. If you can't do the design yourself, hire a design house or freelancer to help you develop it.
Quarterly Content Assignments
Send a sales email to your readers to purchase a product, service or training from you. Possible examples include the following:
Invitation to a paid event
An hour's consultation
A digital or physical product
Film a YouTube video and share with your followers on social media.
If you are shy (like me), you can consider interviewing an expert or get a video testimonial from a customer. Record it on your phone or laptop camera and edit it yourself if you wish to save costs.
Run a webinar or an actual seminar. You can consider charging for this or making it free, depending on what your business model is. This event could be a useful opportunity to generate sales leads through opt-ins.
Create a landing page embedded with an opt-in form for your event. Invest some time, effort and money in social media ads (Facebook works best) to amplify it to your target audience.
Annual Content Projects
Consider publishing an e-book or maybe even a physical book. If you can write at least one new e-book every year, you will not only improve the way you write, but help to clarify the way you think into a condensed and concise form.
Use the e-book or physical book as a lead magnet. You may wish to create a landing page where this resource can be downloaded – either for free or a small amount of money.
Conduct a major research exercise for your area of expertise, using a survey form like Survey Monkey or Google Forms. This can be re-purposed into a survey report that can be published and distributed as a form of gated content.
Release a premium piece of content. This can be a template, tool, research report, interviews with thought leaders, or other metrics reports or survey data. These can also be used as a "bait" or "hook" to generate leads for your business.
[NEW] Social Media Marketing Content Checklist
To help you better manage your social media marketing tasks, we've created a handy checklist that you can download and print out.
Use it to improve how you craft content for your social media channels!

Over To You!
Now that you've learned how you can make social media content creation an essential part of your day, week, month, quarter, and year, the ball is in your court.
Go ahead! Create regular social media content, and use it to fuel your social media marketing efforts.
(PS – If all this sounds too exhausting for you, I've got the perfect solution. Just drop me an email and I'll be happy to meet you for a coffee chat.)