Do you know that customer experience still rules in 2017? Or that companies are putting more of their money behind content and social media marketing?
Published in conjunction with Adobe, Econsultancy's latest APAC Digital Trends report for 2017 revealed that 23% of companies placed the highest emphasis on creating 'valuable' customer experiences.
The report is based on a global survey of more than 14,000 digital marketing and ecommerce professionals across EMEA, North American and Asia Pacific markets.
According to the report, customer experience was regarded as the primary way for organisations to differentiate themselves from competitors in 2017. Unfortunately, data capabilities in most firms were not developing fast enough.
Quoting Marta DeBellis, VP of Marketing, APAC of Adobe:
"This digital trends report shows that this era of experience is definitely here, but it also highlights some key challenges for businesses making the change. For example, the respondents overwhelmingly claim that customer experience is their most exciting opportunity. Many of them are investing in content and design, looking to create those experiences that will feel personal, compelling and memorable. At the same time, the report shows that investment in analytics is lagging. It seems that many businesses are so excited to get into the experience game that they overextend, neglecting to take care of the basics." – Marta DeBellis, VP of Marketing, APAC (Adobe)
Let us look at some of the key findings from the report, and what it means for marketers like you. All charts and graphs are courtesy of Adobe and Econsultancy.
More Digital Integration, Fewer "Digital-First" Organisations
While more companies are integrating digital into their other marketing activities, fewer are claiming to be "digital-first". This could be attributed to companies realising how challenging it could be to weave all dimensions of digital into their organisations, while appreciating the importance of digital marketing.
This can be seen in the chart below comparing respondents across 2015, 2016 and 2017.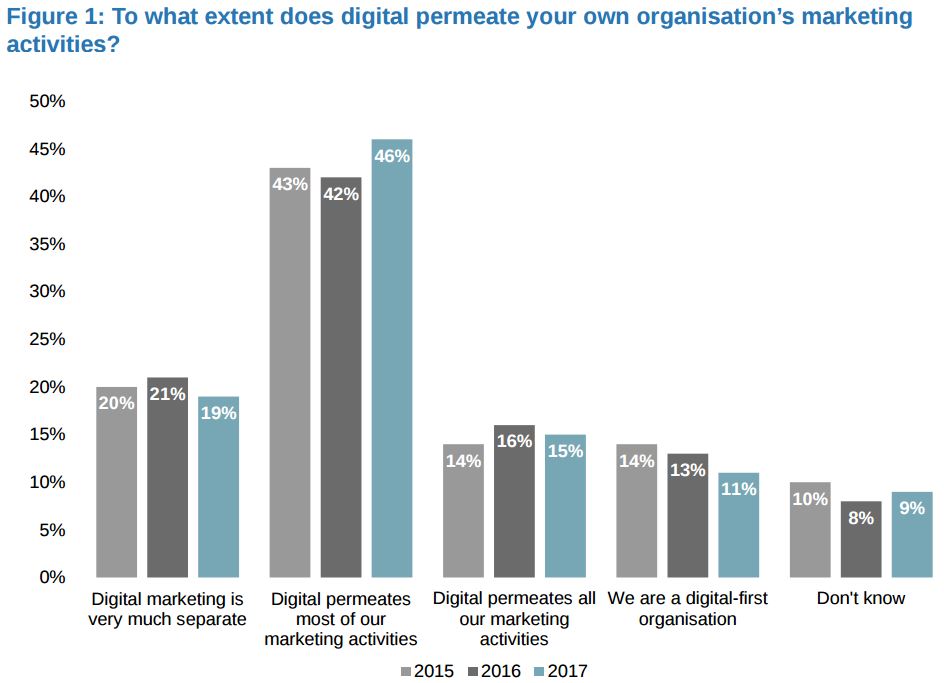 Courtesy of Adobe-Econsultancy
Customer Experience Continues to Take Centre Stage
According to the report, customer experience continued to be an important driver of competitive advantage in 2017. This was similar to earlier findings in 2015 and 2016.
To weave customer experience into their organisations, respondents preferred the following strategies:
Optimise customer journey across touchpoints
Ensure consistency of message across channels
Train teams in new techniques, channels, and disciplines
This can be seen in the chart below: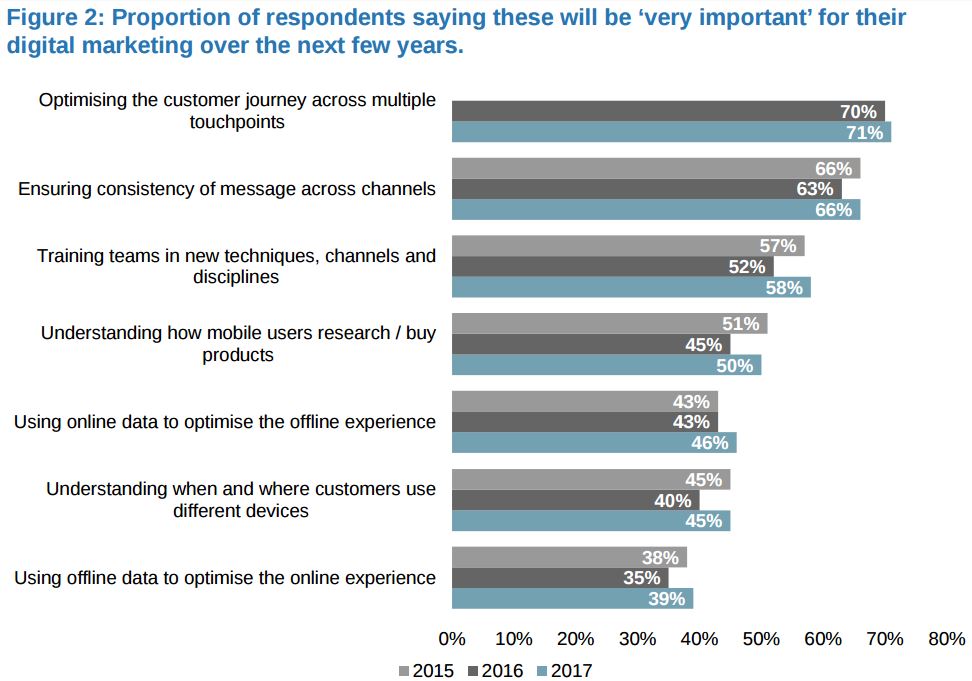 Courtesy of Adobe-Econsultancy
To differentiate themselves from the competition, respondents voted to make the experience on their online (and offline) channels easy, fun and valuable. This took priority over product and service innovation, or traditional customer service.
Courtesy of Adobe-Econsultancy
2016 Opportunities – Experience, Social and Content
What do companies encountered as the single best opportunity when they looked back in 2016?
Unsurprisingly, customer experience was cited as the greatest opportunity. Interestingly, social media marketing and content creation came in second and third. Both data-driven marketing and marketing automation (the "science" aspect of digital marketing) were rated relatively low.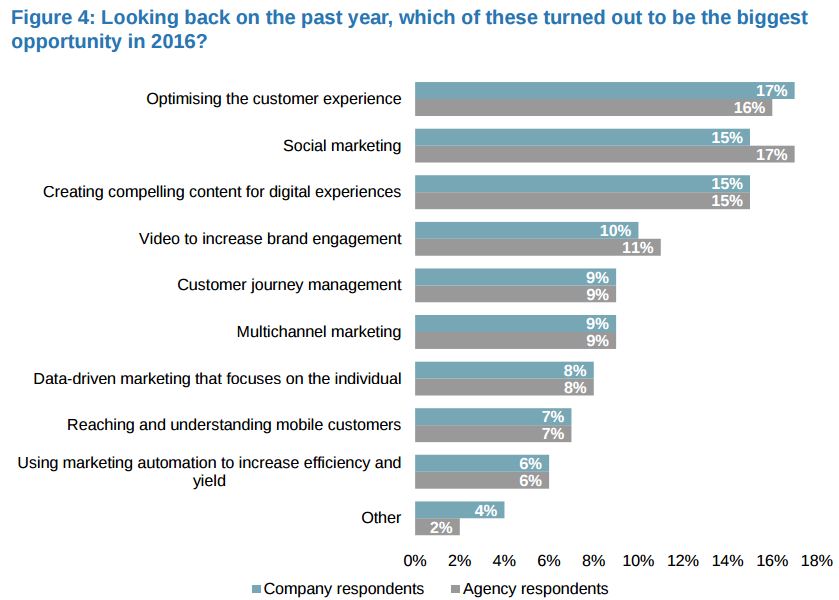 Courtesy of Adobe-Econsultancy
2017 Opportunities – Experience, Content, and Data
However, things took a slight turn in 2017.
While customer experience continued to dominate as the single most important opportunity, it was followed by creating compelling content and data-driven marketing as shown below.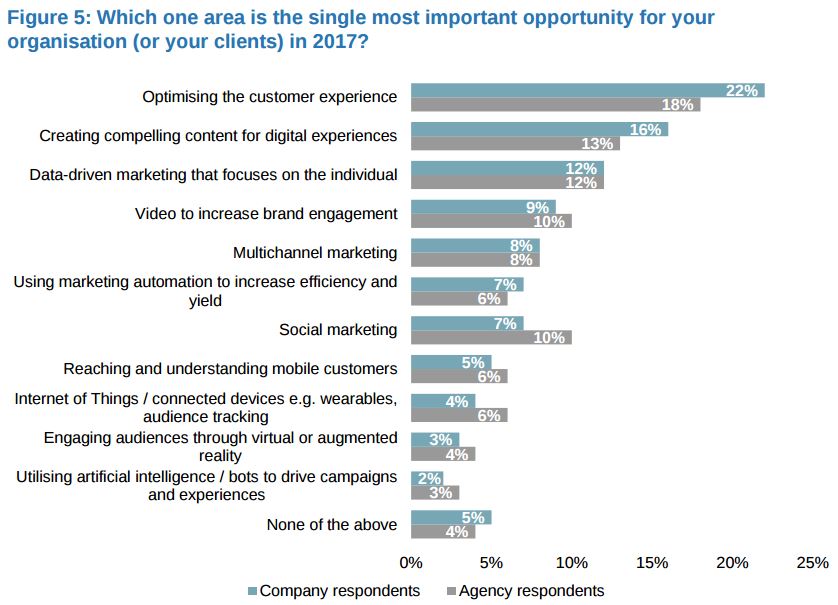 Courtesy of Adobe-Econsultancy
What's interesting about the findings above was that social marketing (ie social media marketing) dropped quite a few notches in terms of opportunity. I wonder if this could be attributed to the anticipated competition on social channels like Facebook, Twitter, Instagram and LinkedIn?
This emphasis on customer experience and data-driven marketing was corroborated by the results of a ranking exercise by respondents across five different areas – customer experience, data-driven marketing, cross-channel marketing, mobile, and programmatic buying/optimisation.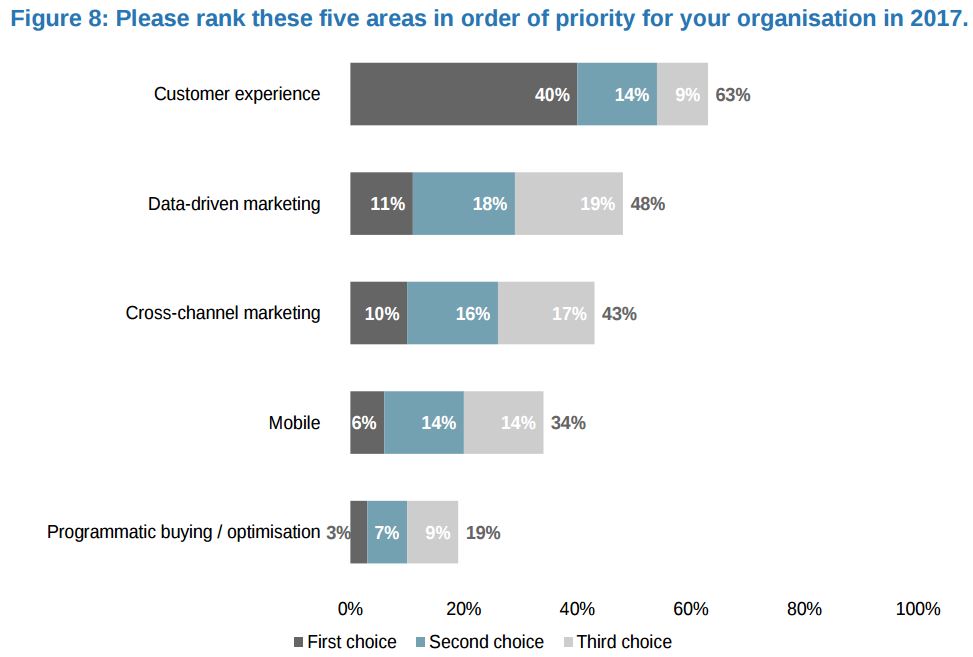 Courtesy of Adobe-Econsultancy
Companies to Spend More on Social Media and Content Marketing in 2017
Ironically, while customer experience, content and data analytics were cited as opportunities, companies preferred to spend more on social media and content marketing in 2017.
These were the top two digital marketing channels that respondents would increase their budgets on.
Courtesy of Adobe-Econsultancy
Interestingly, personalisation also emerged as the third area of spending increase for companies. This would probably go hand-in-hand with online advertising technologies such as re-targeting and re-marketing by Google and Facebook.
Mirroring these results, respondents answered that the three digital-related areas that they would focus on were content marketing, social media engagement and targeting and personalisation.
While data-driven marketing was perceived to be an opportunity (as shown above), it ranked poorly as a priority for companies relative to other strategies.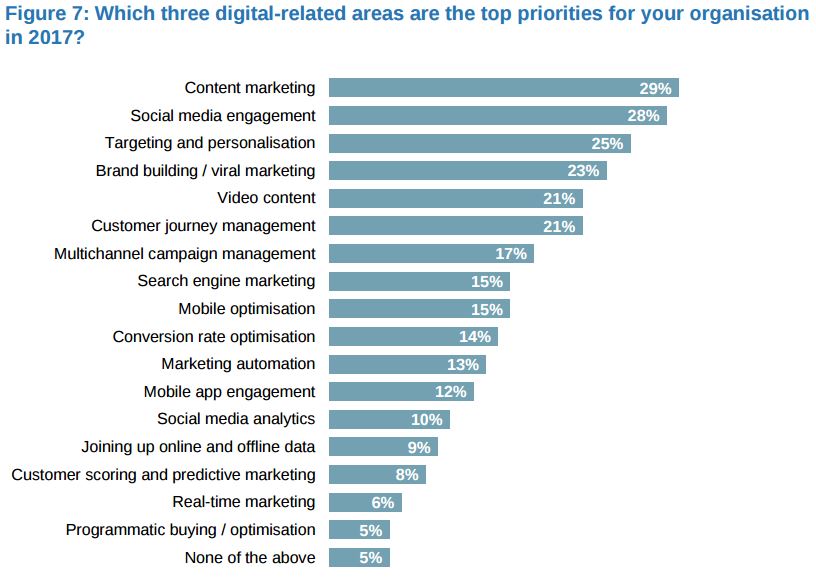 Courtesy of Adobe-Econsultancy
Ways to Heighten Customer Experience in 2017
Since customer experience is such a valuable thing, what should organisations do to improve them?
According to Adobe-Econsultancy's survey, respondents felt that the following three factors were most vital:
Make customer experience valuable (ie deliver quantitative benefits)
Make customer experience personalised and relevant
Make customer experience easy
This can be shown in the chart below: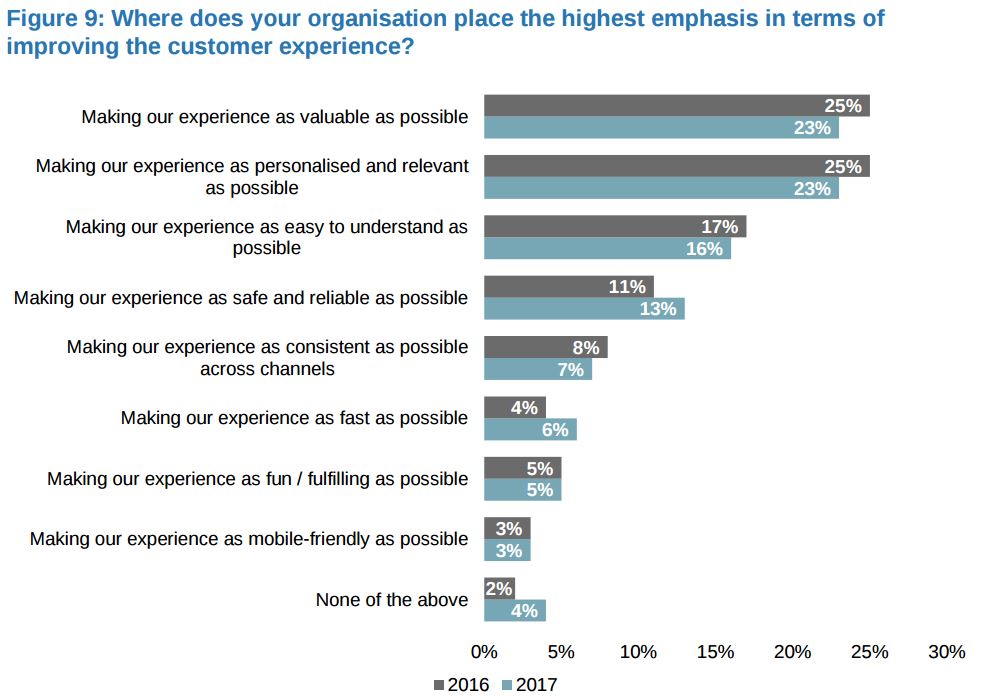 Courtesy of Adobe-Econsultancy
While creating greater customer value and personalising experience are worthy pursuits, delivering it through customer channels may prove to be challenging when you do not have or understand your data.
This is reflected in the next finding highlighting the gaps in delivering a great customer experience.
Courtesy of Adobe-Econsultancy
Getting internal teams to collaborate and improving work flows are also seen as important areas of improvement.
Gazing into the Digital Crystal Ball for 2020
While I've blogged about some of the exciting future possibilities, Adobe-Econsultancy's report showed that augmented reality and connected devices took precedence over other future technologies as reflected in the chart below.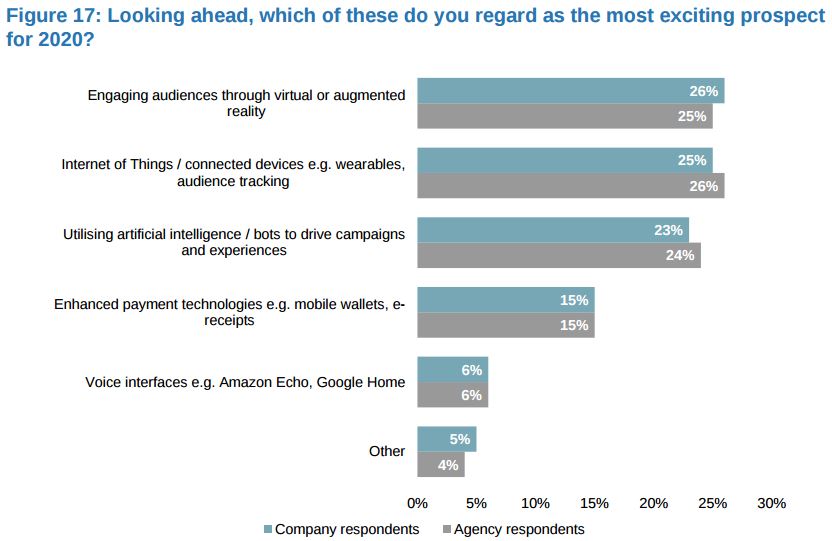 Courtesy of Adobe-Econsultancy
Key Takeaways for Marketers in 2017
So what can we are marketers takeaway from the report findings above?
Content and social media marketing would continue to play vital roles in a marketer's digital arsenal. Used in unison, they can help marketers to better reach and influence their prospective customers.
While customer experience is perceived to be of key importance, it could be hampered by shortfalls in capabilities such as data analysis, internal collaboration and work flows.
Companies are putting a greater focus on targeting and personalisation in 2017. What this means is that strategies such as remarketing and retargeting using tools like Google Tag Manager and Facebook Pixels will grow in prominence.
Although data-driven marketing was cited as a priority, companies are not putting their money where their mouth is where it comes to data analytics. This could be due to the difficulty in interpreting data and translating it into tangible and concrete actions.
(Do also read my previous article highlighting digital marketing trends in 2015 to see what has changed then. You can also learn more about digital marketing strategy here.)