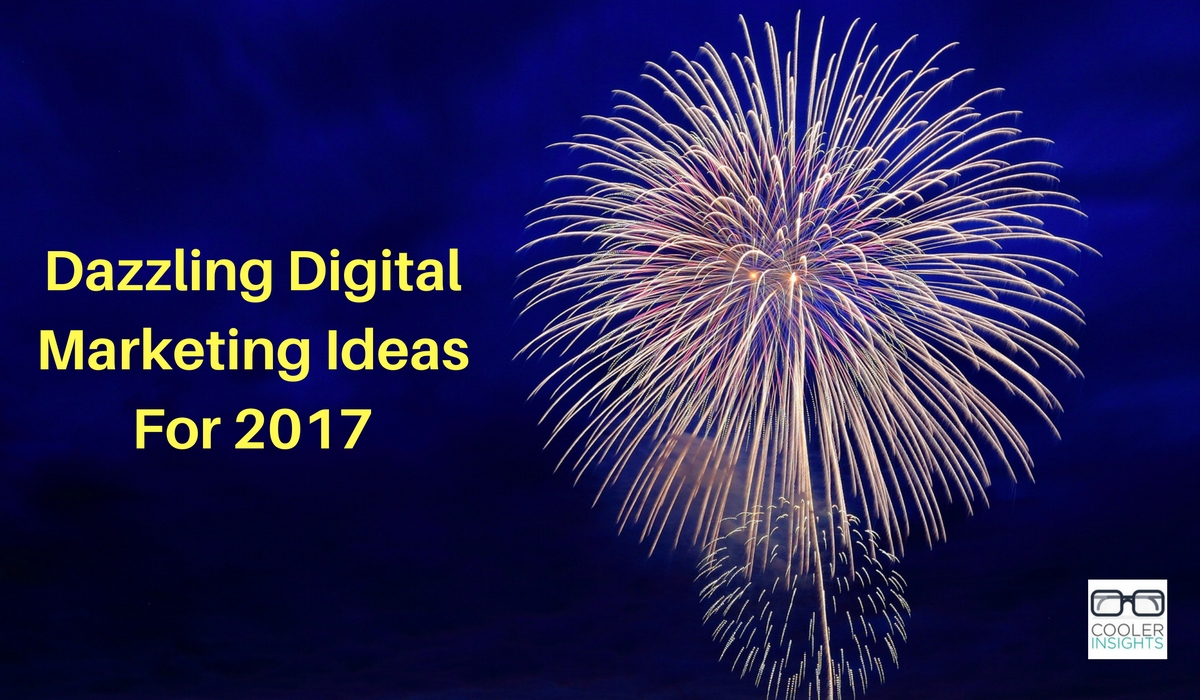 2016 has come to an end. And thankfully so too.
Economically speaking, the year has been a pretty "meh" one for many. Reduction in global demand has led to a slowing of economic growth, increased retrenchments and an uncertain outlook for 2017.
Politically, the world witnessed the rise of a new generation of "strong-arm" leaders unafraid to impose protectionist measures to safeguard their economies. Meanwhile, terrorism continues to rear its ugly head in cities around the world.
Fortunately, things are brighter in the online world.
As consumers migrate to mobile phones, tablets and laptops, digital marketing continues to leapfrog traditional channels. By offering better marketing ROI to both large and small businesses, strategies like content marketing, social media marketing, Search Engine Optimization (SEO), and Pay Per Click (PPC) advertising are fast becoming the preferred way of reaching your customers.
However, digital marketing itself is evolving.
Constant updates in search and social media algorithms and the rise of online videos have led to changes in consumer behaviours and consumption. Customer experience have also taken on greater prominence, aided by the reach and immediacy of social media channels and online chat.
What then should you do to ride these new waves in digital marketing? Here are 7.5 ideas which you can use.
#1 Nuke Em with Native Advertising
Native ad placements on Buzzfeed (courtesy of Buzzfeed)
Native advertising has been around for years. It is also growing fast, and is predicted to drive 74 percent of all ad revenue by 2021.
Unfortunately, many brands are still ignoring the power of native ads, preferring instead to stick to traditional display and banner ads.
For 2017, do your brand a favour by investing some time, energy and money in native ads. You can start by following these 7 ways to succeed in native advertising:
Create a "newsroom" with brand journalists and other content producers
Invest in creative content talent
Study your targeted customer personas
Choose the right media and influencer channels
Synchronise your creatives with the right media
Experiment and diversify your native ads
Monitor and optimize
(Read more in my article 7 Ways to Succeed in Native Advertising.)
#2 Reach Better with Retargeting
It can be creepy, but it sure is effective.
I'm talking about retargeting (or remarketing) – the phenomenon whereby an ad "follows you online" wherever you go after you've visited a particular website. Here's an infographic showing how it works (courtesy of eConsultancy):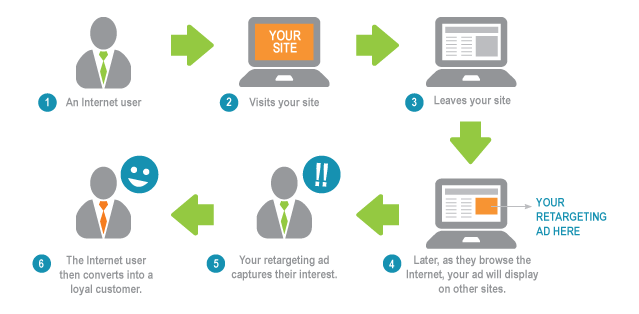 Although some may feel that their privacy is intruded upon, retargeting is effective. Here are some facts and figures (taken from this infographic) for you to consider:
Website visitors retargeted with display ads are 70 percent more likely to convert on your website.
Average click-through rates for retargeted ads are 10 times that of normal display ads (ie 0.7 percent instead of 0.07 percent)
72 percent of online shoppers are likely to abandon their shopping carts. Without retargeting, only 8 percent return to complete their transactions.
Retargeting works by placing a cookie on a user's browser. This cookie will then anonymously 'follow' your audience around the web.
To get started on your retargeting/ remarketing journey, do check out this wonderful resource from PPC Mode on how you can implement it for Google AdWords, Facebook, Twitter and other platforms.
#3 Organise for Omni-Channel Experiences
These days, consumers don't just buy online or offline. Rather, they are engaging with brands across all channels.
According to SearchCIO, an omni-channel approach can be defined as follows:
"Omnichannel (also spelled omni-channel) is a multichannel approach to sales that seeks to provide the customer with a seamless shopping experience whether the customer is shopping online from a desktop or mobile device, by telephone or in a store."
Wow, that does seem to be quite a mouthful! But how does that translate into what you're doing for your business?
The key thing here is to provide the right message and the right experience at the right time in the right places to the right customers. To do so, you'll need to gain the right insights into what your customer encounters, moving beyond messaging alone to experiences.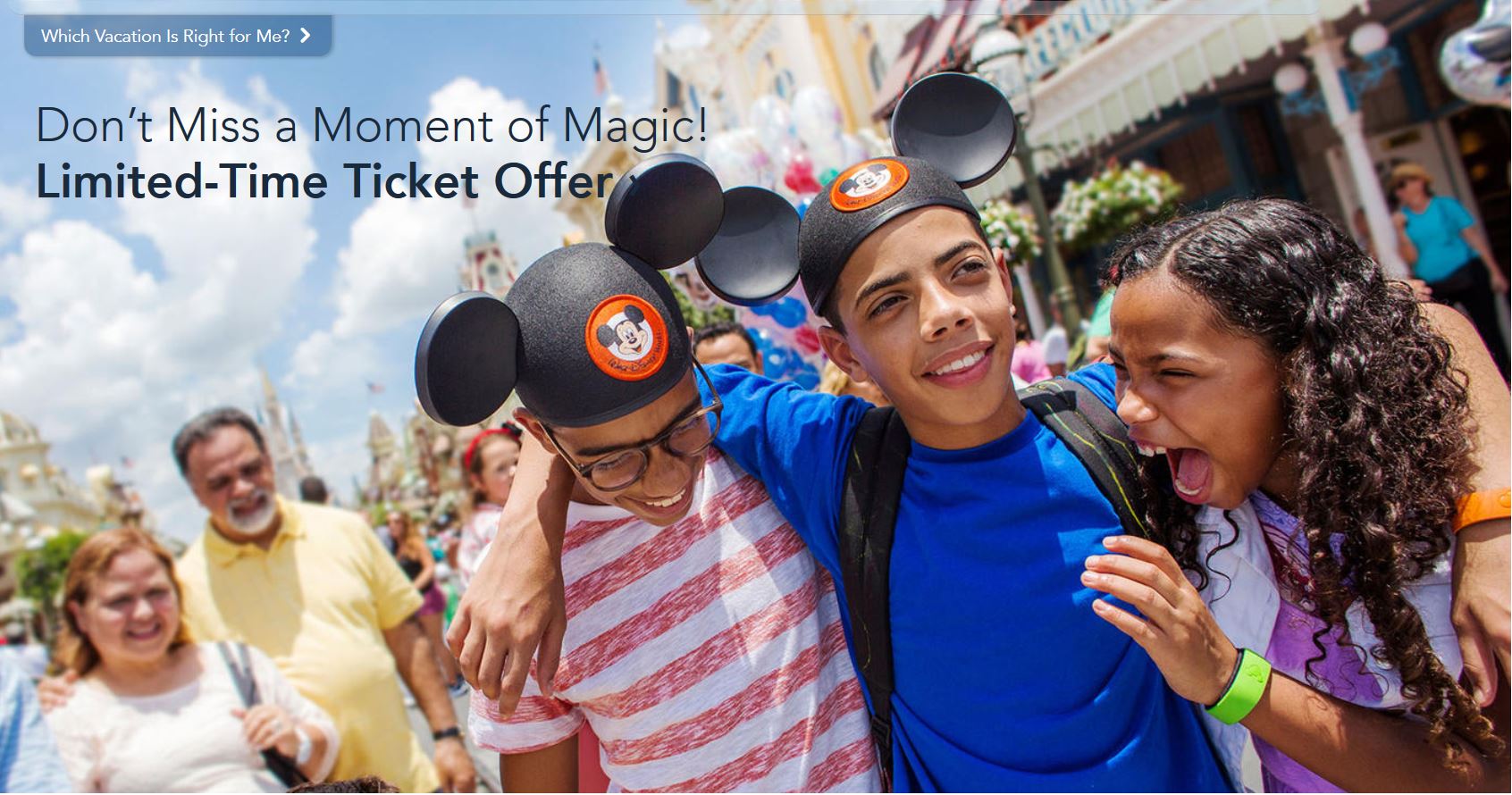 Disney World has mastered omni-channel like no other (source of image)
Here's an example from Disney World (taken from Conversion Advantage):
User experience begins with accessing Disney World's mobile responsive website.
They book a trip using the My Disney Experience tool to help plan the whole trip from booking hotels, obtaining passes, to places to eat etc.
Upon arrival at Disney World, the app helps them locate attractions and informs them of the waiting times.
That's not all. User experience scales a few notches with their Magic Band which not only acts as a hotel room key but functions as a photo storage device for pictures and a food ordering tool. How cool is that!
(Learn more about managing omni-channel customer experiences by reading my article here.)
#4 Shoot and Share Online Videos
In case you don't already know, digital video is killing it online.
According to Cisco (source from Mediakix), traffic from online videos will constitute over 80% of all consumer internet traffic by 2020. eMarketer estimates that by 2019, total US digital video advertising spend is projected to eclipse US$14 billion!
But how can you begin doing videos? You're not a television station!
Here's a great beginner's guide from HubSpot that you can read. In a nutshell, you need to…
Decide on the type of video you want to create ("how-to", creative or "viral", interviews, etc)
Establish video goals (direct traffic to website, grow fans, build inbound links, etc)
Storyboard your video (brainstorm on topic, write a script, determine Call-To-Action or CTA)
Record your video (choose right scene, camera shots and film techniques, high quality audio recording, lighting)
Edit your footage (video editing tools like Windows Movie Maker, Final Cut Express, etc)
Choose the right footages and splice them together. Incorporate the right effects (eg fade-in/fade-out)
Incorporate the right audio (narration and music)
Upload and share on YouTube, Facebook and other video sharing sites
Promote your video and measure views, reach, leads and other KPIs
If you want to create really short Instagram videos, do check out this guide. Apps like iMovie make it simple and easy to edit your videos on the fly using your smartphone. You may wish to also check out these cool tips from James Wedmore below:
#5 Go "Live" With Video Streaming and Storytelling
The advent of SnapChat, Instagram Stories, and Facebook Live have made real-time (or almost real-time) video storytelling a growing trend.
Increasingly, social media users will crave for more in-the-moment content. This allows them to live vicariously in a world (or event) which they were previously unable to experience.
To take advantage of live video and streaming, here are some tips to consider (adapted from Forbes):
Let your fans or followers know in advance that you're doing a live-streaming experience.
Ensure that your connection isn't shoddy – use Wi-Fi if possible.
Use a strong caption to pre-publicise the "live" event.
Engage with your viewers by offering to answer their questions "live"
Have a steady hand when you're shooting!
If you're using SnapChat, don't be afraid of experimenting with their cute filters – only if it suits your brand image.
#6 Dive into Big Data with These Fabulous FREE Tools
If you haven't already heard of Big Data, you must've been living under a rock. Unfortunately, the problem with Big Data is this: How the heck can you use it?
Here are some easy ways to begin your analysing your digital marketing big data:
If you have a website, you need to know how you can track your web visitors, pageviews, conversion rates, and other statistics. Google Analytics is not only FREE – its extremely powerful and fully customisable. Here's a wonderful guide from Moz which leads you through the process step by baby step.
b) Find Out What's Trending on Google
Another fabulous FREE tool from Google, Google Trends allows you to analyse what's trending on Google search engines around the world and in your own country. You can also compare related search terms to see which perform better relative to the other.
c) Learn What's Buzzing on Social Media
Knowing what's popular in search isn't enough. You need to also see what content performs well on social media in terms of likes, shares, and comments (aka engagement), as well as who the influencers in your space are.
Here's where tools like BuzzSumo and Socialbakers come in. The former lets you see what's hot and trending globally or in your country, and who the influencers for your topics are, while the latter helps you to monitor the performance of your social media channels as well as those of your competitors.
#7 Improve ROI through Conversion Rate Optimization (CRO)
If you're comfortable with data, your next step involves using that data to improve your digital marketing performance. That's where Conversion Rate Optimization (CRO) comes in.
First you need to learn what a conversion is.
According to the beginner's guide to CRO from Qualaroo, conversion is defined as whatever you want your visitors to do. This may be anything from signing up for an email newsletter, creating an account with a login and password, downloading your app, to making a purchase.
To optimize your conversion rate, you need a structured and systematic way to measure the performance of your website (eg Google Analytics), establish clear objectives and KPIs, and strengthen the various elements in your customer journey. Some of the KPIs here may include:
Total Conversions: total number of people who performed that activity (eg sign up for newsletter)
Conversion Rate: Total number of conversions/ number of site visitors (eg a site with 1000 visitors and 20 conversions have a conversion rate of 2%)
Bounce Rate: This is the percentage of people who leave after viewing a single page. The lower the better (in most cases) unless you're a media channel
Exit Rate: This is the percentage of people who leave after viewing a specific page. A high exit rate on a specific page may be a red flag.
Average Time on Site: Generally, you want people to stick around for at least a minute or two (or longer).
Average Page Views: This is an engagement metric which tells you how many pages your average visitor is looking at before leaving.
Once you've monitored these indicators on your different pages, you should look at using techniques like A/B Testing (different versions of ads, landing pages, and promotions) to see which works better.
Learn more about CRO in Qualaroo's guide here.
#7.5 Do Try These Tech Tools Too
OK, I lied. I've included more than half an idea here.
Beyond the 7 digital marketing ideas above, you may wish to also experiment with one or two of the following new technologies. As these are pretty hefty in costs to implement, it may be useful to proceed cautiously.
a) Augmented Reality (AR)
2016 has been lauded as the year Pokémon GO showcased the almighty prowess of augmented reality gaming. While the hype around those cute digital monsters is declining, industry pundits have predicted that AR could change the face of retail by offering shoppers a chance to experience how products (eg a dress or shirt) could be like before buying them.
b) Internet of Things (IoT) and Wearables
Empowered by Artificial Intelligence (AI) and machine-learning, the Internet of Things (IoT) is this phenomena describing how billions of devices are connected through wireless networks which are remote controlled. This allows data to be shared and streamed seamlessly across numerous networks, improving customer intelligence and data mining.
While the applications sound exciting, however, IoT has limited utility from the marketing perspective.
c) Chatbots
Have you watched the movie Her?
In the movie, a lonely male (played by Joaquim Phoenix) built a relationship with a virtual assistant (voiced by the lovely Scarlett Johansson) who assisted him with everything he needed to do. Well, that is an advanced example of a chatbot.
Courtesy of Her Movie
According to the Chatbots magazine, a chatbot is a "service, powered by rules and sometimes artificial intelligence, that you interact with via a chat interface." It can range from functional to fun, and take place live in any major chat product like Facebook Messenger, Slack, Text Messages, and others.
From a marketing perspective, chatbots can be very powerful if they are applied correctly. However, like any form of automation, they do need to be programmed correctly with the right algorithms.
Now that you've learned some of the exciting ideas for 2017, the ball is in your court. Go ahead and try some of these out.
(PS – To learn more about digital marketing strategy, do download the free eBook here.)