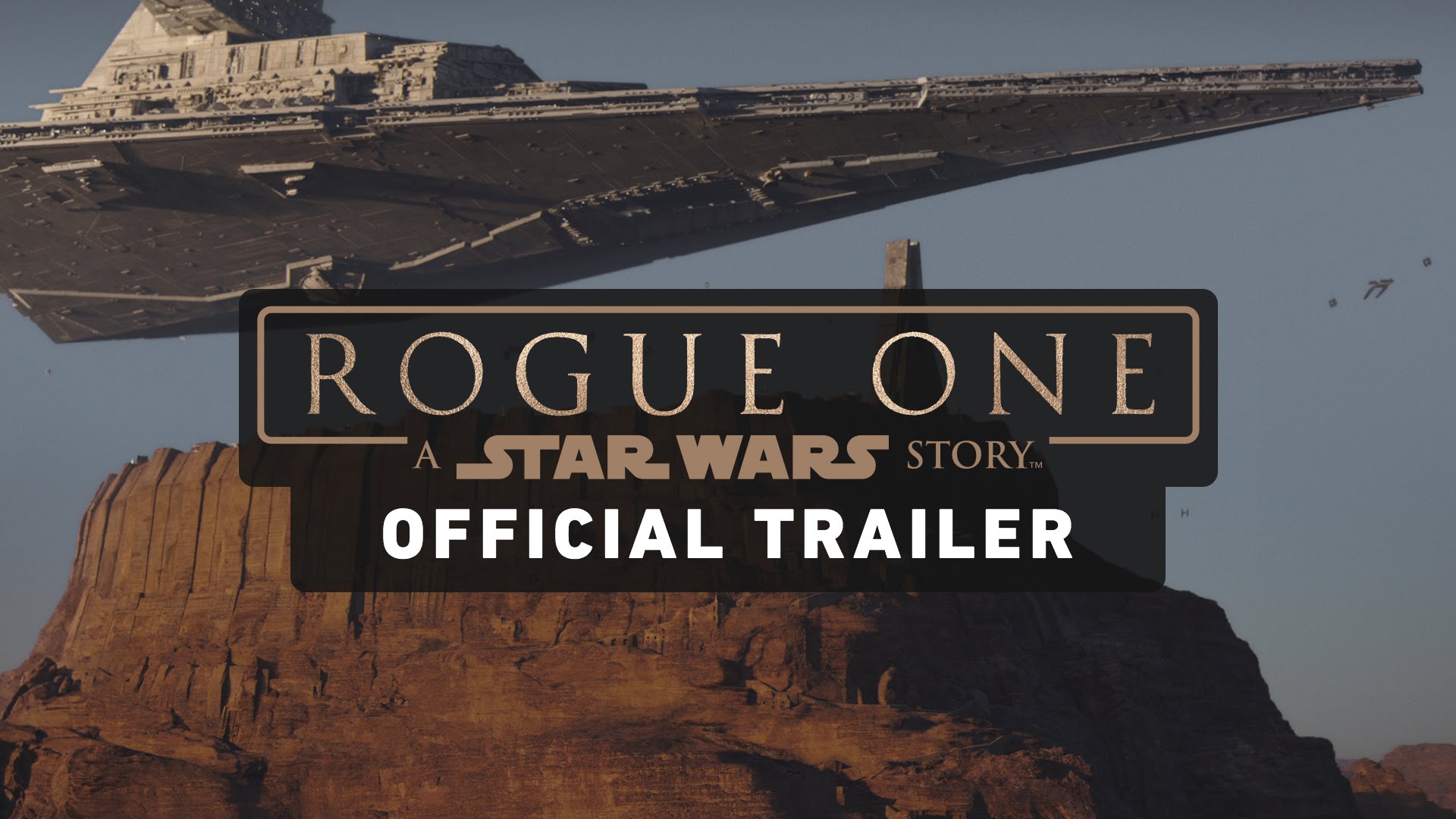 What do the movie trailer for Rogue One and marketing content have in common? (courtesy of Star Wars YouTube)
Do you enjoy watching movies? I certainly do.
What about the trailers, teaser ads, and other pre-publicity marketing materials which Hollywood Studios roll out? I'm sure many of them grip your attention like a vice – especially huge blockbusters like the Marvel and Star War series!
Thanks to master copywriter Ray Edwards in his book How To Write Copy That Sells, I learned that you can "produce" mesmerising sales copy and marketing content just by copying what Hollywood does with a movie trailer.
And we all know how impactful those movie trailers and teasers can be. In fact, many of them are so well produced that they surpass the movie itself. Like the amazing trailers for the recent Star Wars movies like The Force Awakens and Rogue One.
But I digress.
So what nuggets of content creating wisdom can we pick up from Ray?
De-constructing Movie Trailers
First, we need to understand what goes into a movie trailer.
According to Ray, the best and most successful movie trailers comprise three main components. They…
Provide a Dominant Story Idea (DSI);
Showcase a sample of the feelings and emotional payoffs from the movie itself; and
Offer proof that the movie "works".
Here's an example which Ray wrote about in his book, taken from the movie The Firm which was based on John Grisham's bestselling book.
Dominant Story Idea: Young lawyer passes the bar and gets a dream job – with great pay and even a free BMW. Seems too good to be true? In fact, it is: he's working for the Mob. And if he wants out, they're going to kill him. (Gulp!)
Sample Feeling: We see Mitch McDeer in his innocent phase… we see him winning the new job, the car, and the status he so desperately wants… we see him getting seduced by money, power, and very hot women… and then we see him getting into some really scary trouble. Will he prevail?
Proof the movie "works:" Overtly, we're shown Tom Cruise, Gene Hackman, and Hal Holbrook (proven actors we love)… some very compelling scenes (tightly edited)… and in the background we're anchored by the sound of the suspenseful and ominous music (which hints that bad things may happen to dear Mitch McDeer).
Watch the trailer below to see this in moving action:
https://www.youtube.com/watch?v=D-FldpeZmlc
Applying Movie Trailers to Sales Content
OK, so you're now convinced that movie trailers work. Especially if they are churned out by a huge franchise (like the amazing Star Wars: The Force Awakens series of trailers.)
How can you apply it for your business offering accounting services for small businesses? Or perhaps a restaurant focused on exotic Peruvian cuisine?
Let us use the two examples above as we weave through each stage.
#1 Showcase Your Dominant Story Idea
If you've got the millions of dollars to produce a Hollywood Movie Trailer, how would you summarize what your DSI is?
The trick here is to use your imagination. Visualise what movie headline you would use and plonk that into your sales copy.
For example, perhaps the accounting firm could be:
"Small business owners saved from hours of slavery by ingenious accounting firm,"
while the restaurateur could write:
"Experience how jaded taste-buds are tantalised by Peruvian cuisine inspired by the gods."
#2 Create Sample Feelings
Next, look at your proposed "storyboard" and think about some scenes from your business movie. Ask yourself the following questions:
What are the feelings that you hope to accomplish in your customer?
Can you tell them a true but amazing story?
What end state does your product or service provide to him or her? Perhaps it could be being more productive, having financial freedom, gaining the admiration of their peers, enjoying peaceful nights of sleep – whatever your product does for them.
How can this desired end-state be associated with your product?
To do so, you can create bullet points which help to convey these narrative highlights quickly and effectively to your prospect. Let us use the earlier two examples I've suggested, and craft copy for them:
Small Business Accounting Firm
By signing up for our professional accounting services, you'll be able to discover the following:
How Mr Sam reduced his monthly expenses by 15%, resulting in he and his family being able to afford a holiday every year.
The 3 ways in which we help small businesses save, and why it leads them coming back to us for long-term engagements.
Why so many small businesses fail each year, and how you can avoid making that same mistake by managing your cash flow better.
Peruvian Restaurant in Town
Come savour the newest taste sensation in town, and delight in the secret taste sensations of the Incans!
The freshest ingredients used in cooking, harvested direct from the fertile plains of Patagonia.
Experience how ancient kings used to dine in South America, when they weren't fighting against warring tribes.
Exclusively prepared by our Peruvian trained chef, so that every bite bursts with the wholesome and authentic taste of a bygone era.
#3 Show Proof Your Product "Works"
For this final section of your content, you could build up an arsenal of what are called "click triggers". These are the bits of content which nudges your customer to press the "Buy" or "I'd like to learn more" button.
They include the following:
Testimonials and case studies
Before-and-after photos and videos
Awards and accolades
Media mentions
Endorsements by the right authorities in your field
Celebrity endorsements
Looping back to our examples, both the accounting firm and Peruvian restaurant could start collecting positive customer feedback and testimonials, clip all media mentions, and see if they can craft positive customer stories garnered from their years of experience.
If your establishments are new, the track records of the entrepreneurs or business founders in their previous jobs could be used.
Similarly, any awards or endorsements – both local and overseas – could be garnered to show proof that your products or services work.
Ready to Write Your Blockbuster Content?
Naturally, writing sales and marketing copy that could rival Hollywood movie trailers isn't going to be easy. After all, they've got some of the greatest creative brains in the planet – a resource which we woefully lack.
However, I believe that applying Ray Edwards' principles above could definitely yield better results than our usual plain vanilla versions of sales letters, emails, or landing pages.
To learn more, do get a copy of "How To Write Copy That Sells – The Step-by-Step System For More Sales, to More Customers, More Often" by Ray Edwards. It is an amazing resource.
You may also wish to check out his website or subscribe to his podcast to become a master at the art of textual persuasion.
PS – This post is neither sponsored nor paid for. I just felt that Ray Edwards' book was a good thing and decided to share some goodies I've learned there.