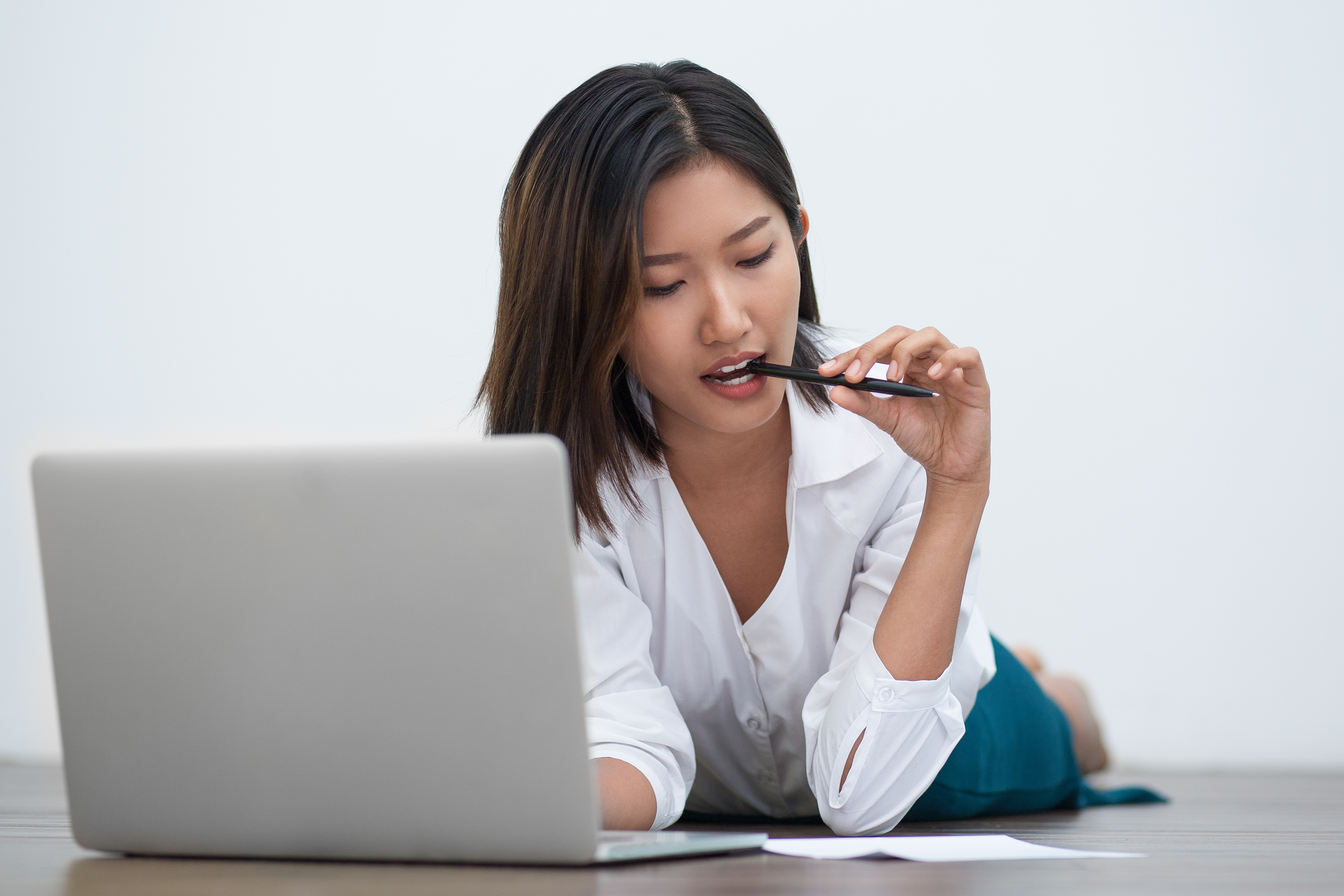 Do you know that adopters of content marketing experience six times as many conversion as non adopters?
Or that content marketing not only costs 62% less than outbound marketing, but brings in more than three times as many leads?
Regarded as the number one digital marketing strategy for 2017 according to a widely held survey by Smart Insights, content marketing is must-do if you wish to thrive in the digital age. Although the technique isn't new, it continued to hold its ground against other techniques like Big Data, Marketing Automation, and Social Media Marketing.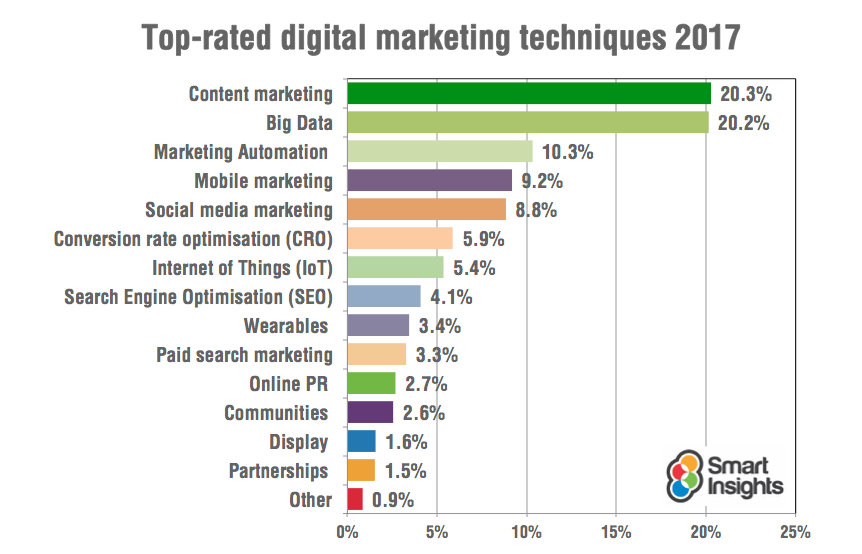 Courtesy of Smart Insights
If you're new to content marketing, however, it can seem bewildering. Where do you even start?
Here's where the 5 Ws and 1 H of content marketing comes in. Namely:
Why are you embarking on content marketing?
What do you need to know about content marketing?
Who are your key stakeholders?
Where should you distribute your content?
When are the best times for doing so?
How should you go about doing it?
As we go through each of these stages, I'd like you to take out a pen and a notepad (physical or digital). Answer each of these questions as truthfully and honestly as you can.
Why Content Marketing?
First and most importantly, you need to consider why you're considering content marketing in the first place.
There are four main areas where content marketing could help you out with:
Improve Awareness: Content marketing can help you cut through the clutter and reach your target audiences
Improve Engagement: Content marketing can help to deepen your relationships with fans and members
Improve Conversions: Content marketing can help you to increase your customer conversion rate
Improve Loyalty: Content marketing can help you to reduce customer churn and increase long-term sales
Beyond the four objectives above, you need to also consider how you can sustain your content marketing efforts.
Like other digital marketing strategies, content marketing is a long-term commitment. Minimally, you'll need to give it a period of 3 to 6 months before you can see fruit. You'll also need the help of a team of experts in different disciplines, be they inhouse or outsourced.
What Do You Need To Know?
OK, now you've established that your business does need content marketing. Your next step involves deep diving into what content marketing is, how companies are using it, and examples of how industry leaders are using it.
These are some of the topics which are useful for you to learn:
Latest trends in content marketing
Research studies in content marketing
Best practices in content marketing
Examples of content marketing campaigns
Technologies and tools used in content marketing
To keep your "Why" flame burning on your content marketing journey, you may wish to stay plugged into what leading content marketers are doing around the world, how they've achieved success, and what they do to overcome challenges.
Check out quality resources from websites like the Content Marketing Institute, Convince and Convert, Top Rank Marketing Blog, Copyblogger, and Neil Patel to keep yourself enlightened, inspired and motivated.
Who Are Your Stakeholders?
Like any marketing technique, content marketing requires you to work with and manage a pool of different stakeholders. In this case, they may include the following people:
Your web visitors, fans, members, email subscribers, and customers
Your team of content marketers – writers, designers, video producers, data analysts, PPC specialists, community managers, and so on
Your community members, ie Facebook fans, email subscribers, Instagram followers
Your influencers, ie bloggers, instagrammers, YouTubers, LinkedIn influencers and others
Beyond these folks, you should also consider who your content marketing mentors and coaches are. They could be people whom you engage with in real life, or thought leaders whom you could try to emulate online.
Where Should You Distribute Your Content?
Channel selection is one of the most important tasks of a content marketer.
In doing so, it helps to consider the role which content plays in your digital marketing funnel, and the roles which different pieces play in attracting your audiences, engaging fans, converting prospects to become paying customers, and fostering loyalty and advocacy.
Generally speaking, channels like social media (Facebook, LinkedIn, Instagram) work better at the top of your funnel (TOFU), landing pages and websites work better in the middle (aka MOFU), while emails and e-commerce style product pages work better at the bottom of your funnel (BOFU).
(Read more about the digital marketing funnel here.)
When Should You Create, Curate, or Circulate?
Now that you've determined the best channels for your content, you'll need to work out the following operational workflows to keep your content marketing engine humming along.
Consider the following:
Ratio of created vs curated content: What proportion of your content should be original vs filtered from other sources?
Frequency and timing of content updates: How often should you publish content? Which times of the day or week should you publish them?
Content calendar: What is your content rhythm like? Are there specific campaign periods to consider?
Workflows and processes: Who is responsible for drafting, approving, scheduling and publishing content? What purpose does each of these content pieces accomplish?
How Should You Go About Doing It?
Finally, you'll need to learn the craft of creating content itself. This may cover the different techniques, tips and tactics used to create compelling online content.
They include the following:
Storytelling and storyboarding
Editorial writing
Design and copywriting of online ads
Use of images and videos
Infographics
Landing page design and development
Like any other growth hacking marketing technique, the creation of content can be quickly and easily done if you learn how others have done it and apply their techniques to your specific business. A good way to do so is to sign up for a training course like the one I conduct here.
You should also set aside time from your calendar to practice the creation and sharing of relevant and useful content.
Now that you've learned the 5 Ws and 1 H of Content Marketing, the ball is in your court. Start embarking on your content marketing journey today!