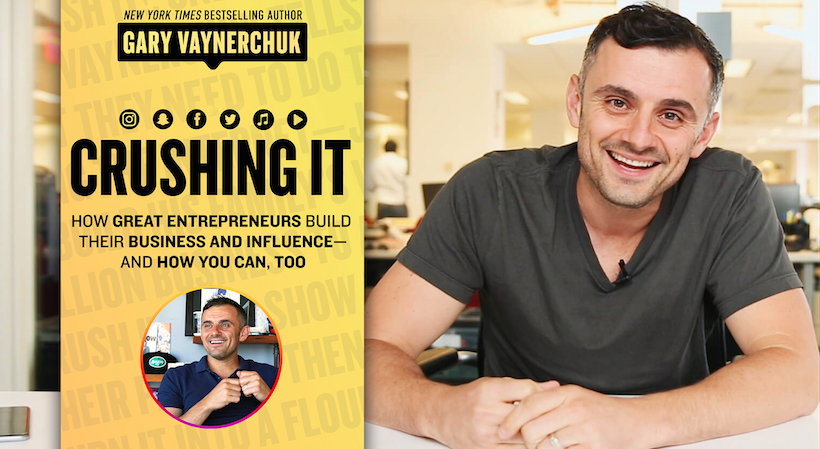 Gary Vaynerchuk is a phenomenal social media brand. And he wants you to become one too.
Also known as Gary Vee, he has a huge following of tens of millions on virtually every social media channel you can think of – from Facebook, Twitter, LinkedIn and Instagram to YouTube and SnapChat.
Beyond being known as the author of numerous bestselling books like Crush It, Jab, Jab, Jab, Right Hook and The Thank You Economy, Gary Vee also runs North America's largest digital marketing agencies.
In his bestselling book Crushing It, he revisits the theme of personal branding, providing numerous success stories of individuals who used social media to build strong personal brands and become great entrepreneurs.
By doing so, they've become influencers in their respective domains, leading comfortable lives while doing what they love.
From Facebook, Twitter, and Instagram, to YouTube, Musical.ly, SnapChat, and podcasts, Vaynerchuk describes the unique characteristics of each social platform and dropped hints on how they can be mastered.
Before we go into each of these channels (I'll write about them in a future article), let us look at the eight foundations of "Crushing It" as prescribed by Gary Vee.
#1 Start With The Right Intent
"Why do you want to be an entrepreneur?"
That is the million dollar question you need to first ask yourself. According to Gary Vee, the most success entrepreneurs share three characteristics:
A commitment to service
A desire to provide value
A love of teaching
In some cases, your trigger to create a product could come after you've unsuccessfully searched for a product yourself. Or you just care about sharing your knowledge, helping others, building a legacy, or making a good income to give yourself financial security.
Once you've homed in on your goals, you can then begin to build your influence in that space.
#2 Be Authentic
"You will be a thousand times more successful if you wake up eager to share and create something because you believe the world will enjoy it rather than because you have calculated that this is what you need to do to become an Instagram celebrity."
To be authentic on social media, you should look at how you can give away your knowledge, and figure out the best platforms to do so. Look at what the top business or lifestyle influencers in your space do, and emulate their content strategies.
Use social media to showcase your true self, your unique craft, your joy, and your love for what you do. Be consistent in your message, stamp out hypocrisy, and never exploit consumers because you think they're dumb.
#3 Pursue Your Passion
"Your business can't be a just a job; it has to be a calling."
You can't live rewarding, productive and enjoyable lives without passion. And you certainly can't be an entrepreneur without passion.
When passion drives your life's work, you are more likely to produce the quality and standard which the market desires.
Passion is also protective. It keeps you from becoming overwhelmed by the stress and frustrations of running a business. It is your "backup generator when all your other energy sources start to sputter."
#4 Practice Patience
"Take my advice: eat sh*t for as long as you have to."
Ah, this is such an important attribute, yet so lacking amongst 'wannapreneurs' of all stripes. According to Gary, many entrepreneurs who get rich quickly sacrifice their chances for long term wealth.
Gary shared how he "lived in a one-bedroom apartment, drove a Jeep Grand Cherokee, had no watches, no suits, and no flash" when he built the business. By doing so, he grew his family's wine business into a US$60 million empire, and now had everything which he wanted.
The key here is to be patient and methodical in your work, live humbly and pay off your debts first.
#5 Speed Up In The Short Term
"I will always gravitate toward the thing that allows me to live my life more efficiently and do my work faster."
While practicing patience is for the long-term, speed should be how we work so that we can achieve more with less in the short-term.
(I guess this is why productivity and life hacks are so vital for entrepreneurs like me.)
Follow these words of advice:
Use productivity and technology tools to optimise your time
Be constantly in the 'do' mode
Don't overthink your content or agonize over your decisions
Love losing because failures can help you learn more quickly
Do not worry about what other people think (read this article)
#6 Work Hard; Really Hard
"When you first start out, there is no time for leisure – if you want to crush it. There is no time for YouTube videos or shooting the sh*t in the breakroom or an hour-and-a-half lunch."
I totally resonated with this point.
When I started Cooler Insights as a personal blog way back in 2005, I spent my evenings and weekends writing blog articles. I read tonnes of business books on my commutes, and write book reviews. I listen to podcasts on social media and content marketing. I followed the top influencers and thought leaders in my domain.
According to Gary Vee, there is really no excuse to take it easy. It takes a lot of stamina to build a personal brand and to launch a business.
So how should you do it? Let me quote from the book:
"Start by blocking off the hours you must spend on your obligations – your job, your kids, your spouse, your aging mother. If you're serious about crushing it, every minute not spent on those obligations should be spent producing content, distributing content, engaging with your community, or engaging in business development."
#7 Focus On Their Attention
"Where are the eyeballs going? What are your customers talking about? What are the newest trends in your field? What are the biggest controversies?"
The key message here is not to be too comfortable on one platform such that you do not develop the skills to master another.
Keep experimenting even when you're sure you are doing something right. Or even when it may be uncomfortable to venture into a content format.
(Like video for instance, which is something I'm still trying to get my head around. But I'll do it. Soon.)
#8 Create Lots of Content
"… use every platform available to document your actual life and speak your truth. Let people learn who you are, then let them watch you develop into who you want to become."
Now content is the lifeblood of the Internet. But it can be a drag to keep creating all that content.
(I know, because even a prolific writer like me can experience my 'off' days.)
To develop what Gary calls "high quality native microcontent" for each of your social channels – Facebook, Instagram, Twitter, SnapChat, YouTube, etc – you need to consider the unique psyche of your audiences when they're visiting one platform compared to another.
Here are some useful content tips to consider:
Create a Pillar Piece of Content: Focus on creating one big piece of pillar content that can be splintered into other smaller bits of content. This could be an eBook or a video or a long blog article, for instance.
Document, Don't Create: Capture little snippets of your thoughts and insights.
Share Frequently: Use SnapChat, Instagram Stories, YouTube video, and Facebook Live three, four, five times per day to share the world through your eyes.
Be Honest: Share content that is real and authentic; avoid the fluff and hyperbole.
Do It Regularly: Work at it every day if you must
Study Your Stats: Analyse your content and see what resonates with your audiences and what doesn't.
PS – Bookmark Cooler Insights as your go-to resource for content creation too.
Conclusion – Crushing It is a Lifestyle
You can't crush it if you aren't fully immersed in your craft. And social media is a very competitive space.
Given the tremendous speed at which algorithms are changing and competitors are encroaching, the only way you can crush it and build your personal brand is to make it a habit.
Let me end with this inspiring excerpt from the book.
"Your natural gifts can take you only so far. If you want to be the best, you'll have to work at it, but avoid being a perfectionist. Perfection doesn't exist; it's totally subjective. We earn people's respect and loyalty when we let them see us up close and dirty." – Gary Vee
And watch this speech which Gary Vee gave for people in my age. It may just change your life.