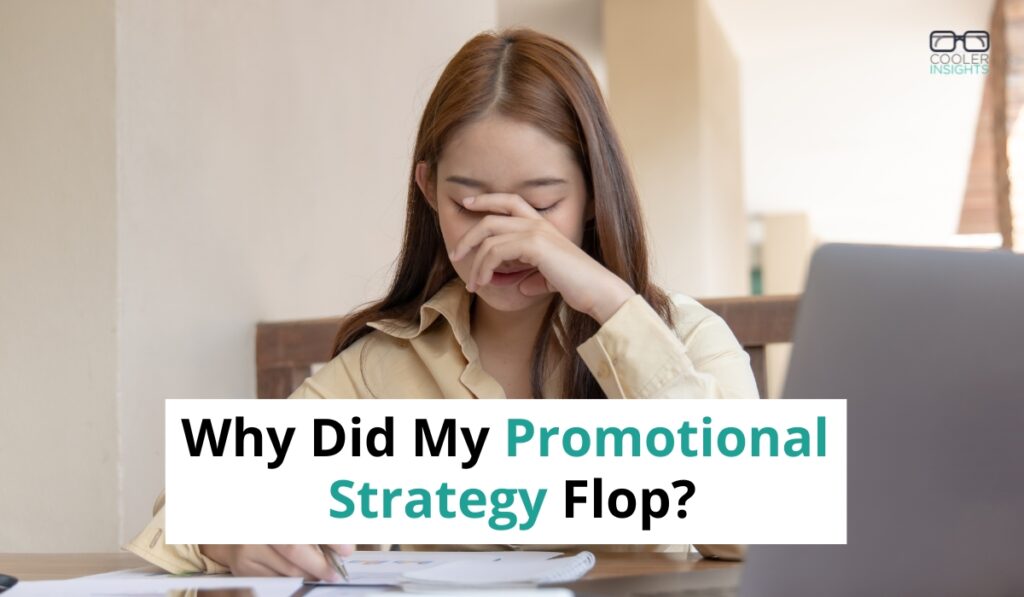 Businesses put a lot of time, energy and money into promotional strategies. Unfortunately, despite best efforts, they sometimes fail to provide results.
If a recently implemented promotional strategy flopped, revisiting the data behind the campaign can help a brand improve for future marketing efforts.
In this article, you will learn some of the most common reasons behind the failure of your promotions to take off, as well as strategies to rectify them.
Why Do Some Promotional Strategies Fail?
According to statisticians in the field, the digital media marketing sphere is worth an estimated $536.90 billion, with projected growth to over $720.50 billion by 2027. Just because brands throw money at online marketing efforts doesn't equal success, however.
The only way to know if a marketing strategy helps with your business growth is to run it, track results and make changes on the fly. Pay attention to which campaigns fail, analyze why and repeat the ones that work.
Here are the top reasons a promotional strategy might flop:
1. Unsegmented Audience
One of the best ways to ensure a marketing campaign is successful is by creating a highly targeted audience. Make sure to segment users based on interests, past purchases, pain points and other targeting variables like demographics and location.
It's better to have several audience segments and campaigns tweaked to fit the needs of each. Track how successful each promotional strategy is with each group and keep what works, while replacing what doesn't.
2. Unrealistic Expectations
Most retail businesses expect to see a 15% to 20% increase in sales when running a promotion. However, the reality may be considerably different from what one expects.
One of the most common reasons a promotional strategy might seem to flop are unrealistic expectations for revenue or responses.
Pay attention to how much new business past campaigns of a similar nature brought in. Is 20% a reasonable figure or can the brand expect something a bit lower. Once expectations match reality, promoters can begin tweaking elements such as the target audience or language of the ads to get better results.
3. Incorrect Budget
Did the brand allocate enough to reach all potential customers? Coming up with a budget that falls a bit flat may result in lackluster results.
It would be better to hone in on a single audience and promote an ad heavily than to try to expand too far and not get the results the company would like.
4. Missing Geotargeting Parameters
More than half of smartphone users spend six hours a day on their mobile devices, not including working hours. Knowing who the target audience is allows promoters to send out the marketing campaign messages to the right people, at the best time in the correct location.
One example might be when someone who has downloaded the store's app comes within a few hundred feet of the front door. The app might send out a ping to try to get the person into the building by letting them know about the current promotion and how they can save money or snag the most recent product release.
5. Poor Calls to Action (CTAs)
Ineffective CTAs fall flat and fail to drive the user to take action. Within any ad, content piece, social media post or email message should be a strong CTA commanding the user to make the next move.
Pay attention to the colours of the CTA and if they pop against the background. What is the wording? Is it effective to pull the target audience in? Does moving the CTA make a difference? Run some split tests and see when people become most responsive.
6. Substandard Creatives
When creative materials fail to resonate with the target audience or communicate the intended message effectively, they may not generate the desired engagement or conversion rates. Poor creative can lead to a lack of interest, confusion, or even negative perceptions of the brand.
In today's highly competitive market, subpar creative content can easily be overshadowed by competitors' more compelling and innovative campaigns. As a result, it is essential to invest in high-quality creative work that captivates audiences, builds brand recognition, and drives the desired outcomes.
Don't Be Too Similar to Others
An excellent promotional strategy brings in some unique elements. It isn't like anything a competitor has done.
If a business wants to stand out and make an impact, they have to think through what's been done, what people respond best to and add something unique to the industry.
Look for ways to reach customers without repeating efforts or offering boring content.


Eleanor Hecks is editor-in-chief at Designerly Magazine. She was the creative director at a digital marketing agency before becoming a full-time freelance designer. Eleanor lives in Philly with her husband and pup, Bear.