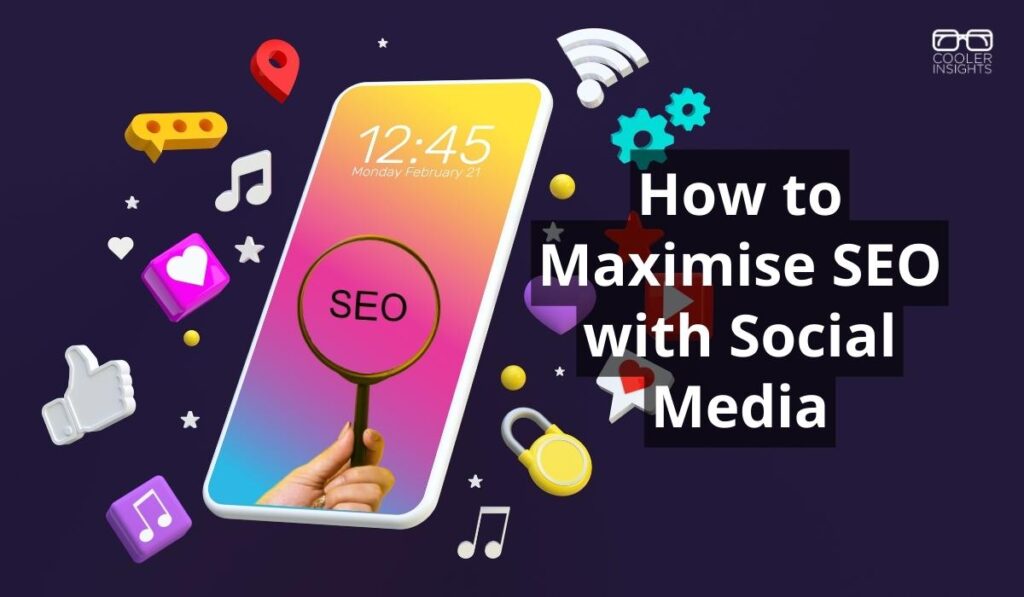 According to G2, 53.3% of all web traffic begins with an organic search. However, only 0.63% of Google searches get to the second page in results.
These stats indicate the huge value of Search Engine Optimization (SEO) in the modern business landscape. But what about other marketing channels?
While many marketers prefer to focus solely on SEO, the truth is that SEO, content marketing, and Social Media Marketing (SMM) are closely related. Rather than think of them as separate digital marketing strategies, consider ways to combine your efforts.
Making these channels work together allows you to drive more traffic to your website while enhancing your SEO rankings. Thus, if you want to streamline your SEO efforts, you must first integrate the right SMM tactics and tricks into your existing strategy.
Let's discover how social media impacts SEO, and what you can do to maximize SEO with the help of channels like Facebook, Instagram, YouTube, TikTok, LinkedIn, and Twitter.
The link between SEO and social media
No one doubts the power of social networks for business. Out of the 8 billion people in the world, 4.9 billion are actively using these channels in 2023. That is because social media gives businesses access to large audiences and offers plenty of opportunities to target those with specific interests.
Having a presence on Facebook, Instagram, Twitter or other social networks can boost your brand awareness and recognition. Additionally, such channels can help you expand your content outreach significantly and increase backlinks (albeit in an indirect fashion).
Most importantly of all, social networks can help you to drive plenty of traffic to your website.
All these benefits brought by social networks inevitably affect your SEO. While search engines still don't consider social signals as a factor for rankings, they do consider the traffic you get.
Thus, by growing your brand awareness and traffic, you can increase your visibility in SERPs.
Younger users use social media for search — particularly Instagram and TikTok
There is also another side to the connection between SEO and social media. According to data from TechCrunch, social networks are about to change the way users discover brands and products. Research shows that around 40% of young users don't open Search or Google Maps when looking for a place to eat out. They go to Instagram or TikTok instead.
Young people now tend to trust recommendations from social networks more than anything else. This means social networks have the potential to compete for traffic.
Using social networks gives you the chance to get in front of your target audience and encourage them to visit your website. This is another reason why SMM and SEO go hand in hand now. Leveraging both of these strategies together is a surefire way to make the most out of your efforts.
Tips and strategies for maximizing SEO results with social media
First, before we get to actionable tips, it is important to note that social media signals aren't really considered as a ranking factor. That is, Google won't place you higher in SERPS based on likes on your social media profiles. However, there are other ways in which SMM helps SEO.
Social media visibility boosts searches
When you grow social media visibility, you build your brand and create awareness. With a wise SMM strategy, you can not only boost engagement rates on your profiles but also drive relevant traffic to the website. This can boost your website's behavioral metrics when done right, which in turn, is likely to increase your credibility in the eyes of search engines and improve ranking positions.
Due to this reason, whenever you run an SMM or SEO campaign, you should pay special attention to your ranking performance before, during, and after the campaign to see how your efforts affect it. You can easily track your search performance with the help of specialized tools like the Rank Tracker by SE Ranking. It allows you to monitor your site's SERP positions for any location, quickly spot changes in your ranking, and see if your SEO and social media SEO tactics are working for you or not.
Now, let's move on to the specific strategies and tricks you can use to maximize SEO with the help of social media channels.
Publish relevant content on social media
Discovery is the very first stage in the customer journey. However, while 48% of users report using search engines for brand discovery, another 43% already use social networks for this purpose. This means that social networks are changing the way consumers discover brands, which is why optimizing your content on such channels can make a huge difference in your strategy.
To make your publications on social sites more visible and easily searched, use these simple tactics:
Research your target audience well and share content that's relevant and useful to them.
Focus on the quality of your publications to make them worthy of backlinks and encourage users to make social shares.
Headers. Craft attention-grabbing and optimized headlines and captions to drive more activity and make your publications more visible.
Use media. Leverage the right visuals to boost your engagement and social signals.
Maximise video watch time if you're using videos on social networks like Instagram, TikTok, and YouTube as these figure largely in social searches.
Pro Tip: There is one more tip that can help. In order to maximize your success in social networks, take the time to research and analyze the specs of each particular channel. Using this knowledge, you can tailor your posts and message for each particular channel to increase engagement and strengthen your SEO strategies.
Optimize social media profiles
Your accounts on social media platforms give you a unique chance to give customers and prospects a good picture of what your business does. Most prospects will want to know who you are and study your profile details before reaching out to you. Besides, optimization of your accounts helps users find your brand through a web search.
Thus, it's crucial that your profile information is well-optimized.
Provide up-to-date information
To use this strategy to your benefit, you must first ensure that all basic information on your profile is up-to-date. Depending on the specific channel that you use, you can either have plenty of space to provide information about your business (like on Facebook and YouTube) or just a small space to share the most important details (like on Instagram and TikTok).
In any case, your goal is not to let that space go to waste. Focus on your unique selling point, mission, vision, and goals to help users get to know your brand better. Also, ensure that your account info and bio align with your overall brand message.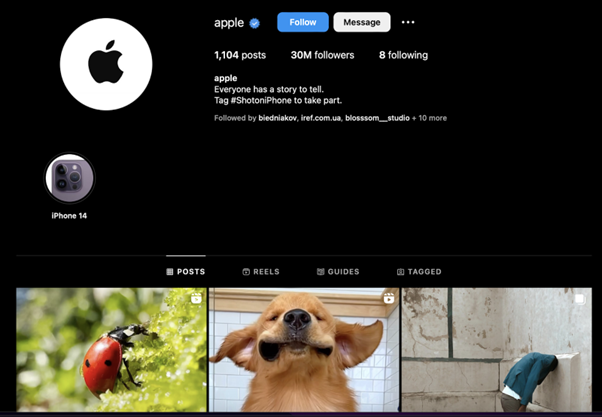 (Here's how Apple used the small bio space on Instagram, promoting their viral motto and hashtag)
Add keywords
In addition, optimize your profiles with keywords. Perform thorough keyword research to find strong keywords that will increase your visibility and help prospects find you easily both on social networks and the web. Be sure to incorporate keywords in both your account description and posts too.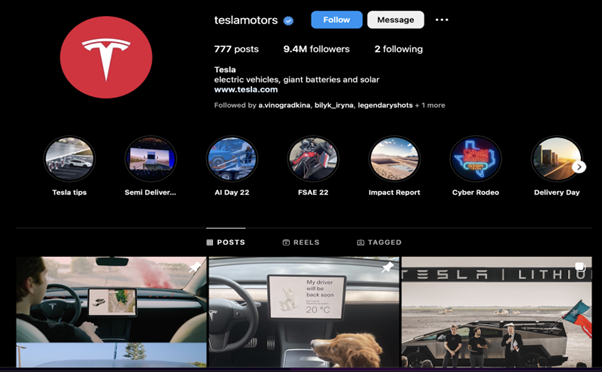 (Tesla Motors used its Instagram bio to list the top keywords that associated with the brand)
Link to your website
One more thing you can do to optimize your accounts is to link back to your website. Remember that things like likes and shares don't bring you higher in SERPs, but a larger amount of traffic on your site does. Thus, you want people who engage with you on social networks to visit your site and interact with it too.
To make this possible, you must incorporate links to your site in your account details and link back to your website and blog content in your publications as well.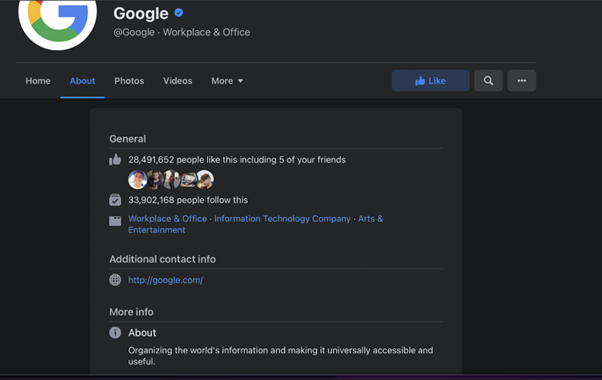 (Google didn't say much in its Facebook profile details; still, a link to its site is included)
Leverage user-generated content
In 2023, user-generated content (or simply UGC) is a powerful tool for marketing and SEO. Therefore, if you want to improve your social SEO game, you should start using it too.
First of all, this tactic lets you acquire lots of authentic and unfiltered content that can improve your strategy. However, that's not the primary goal.
If you dig deeper, using UGC is a way to establish two-way communication with your audience. Thus, it gives you an opportunity to build deeper relationships with your customers and prospects and acquire real brand advocates.
On top of this, UGC helps boost customer confidence and loyalty. Most importantly, UGC is proven to influence users' buying decisions.
A 2023 Local Consumer Review Survey by BrightLocal revealed that, in 2022, 46% of users reported they trust online reviews as much as personal recommendations. When prospects see other people like them using your products or services, it makes them more relatable and stimulates purchase decisions.
In order to start using UGC in your strategy, first, encourage your audience to mention your brand on social networks and other channels. Next, leverage social listening to track what consumers say about your business. Finally, focus on growing your audience to let more people see your publications.
Maximize your SEO results with social media
Now that you know about the connection between social networks and SEO, it is time to act. Regardless of your business type and goals, these two tools complement each other well and can help you achieve greater results.
Use the tips and strategies from this guide to streamline your social marketing efforts and maximize SEO at the same time.
Contributed by Alyse Falk
Alyse Falk is a freelance writer with experience in digital marketing, technologies, content marketing, marketing trends, and branding strategies. Alyse also writes for several reputable sites where she shares her hints for creating content.