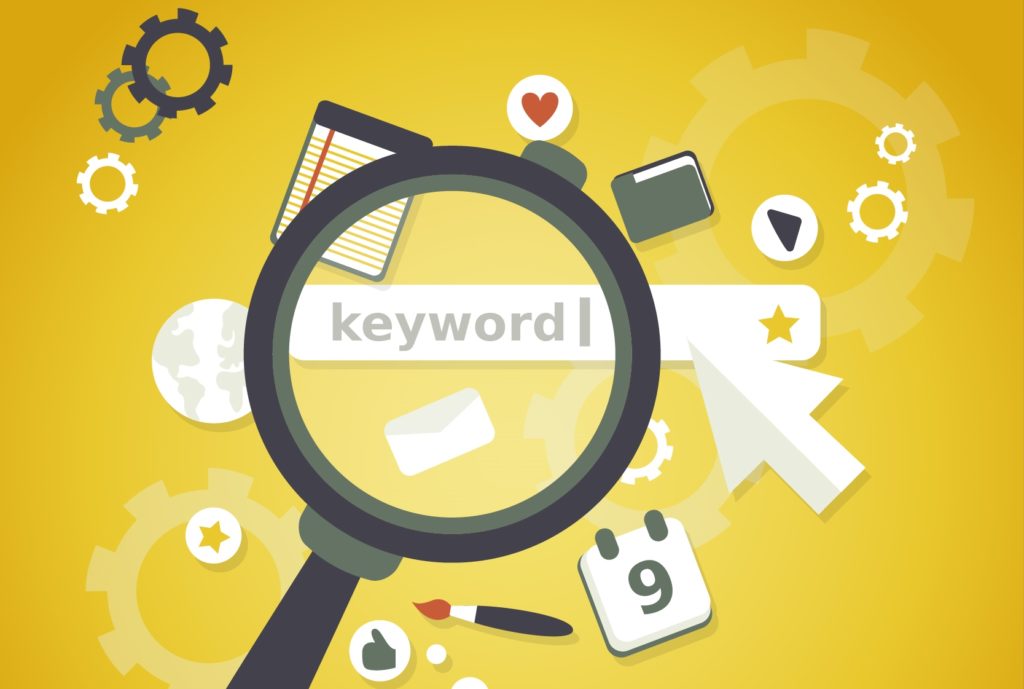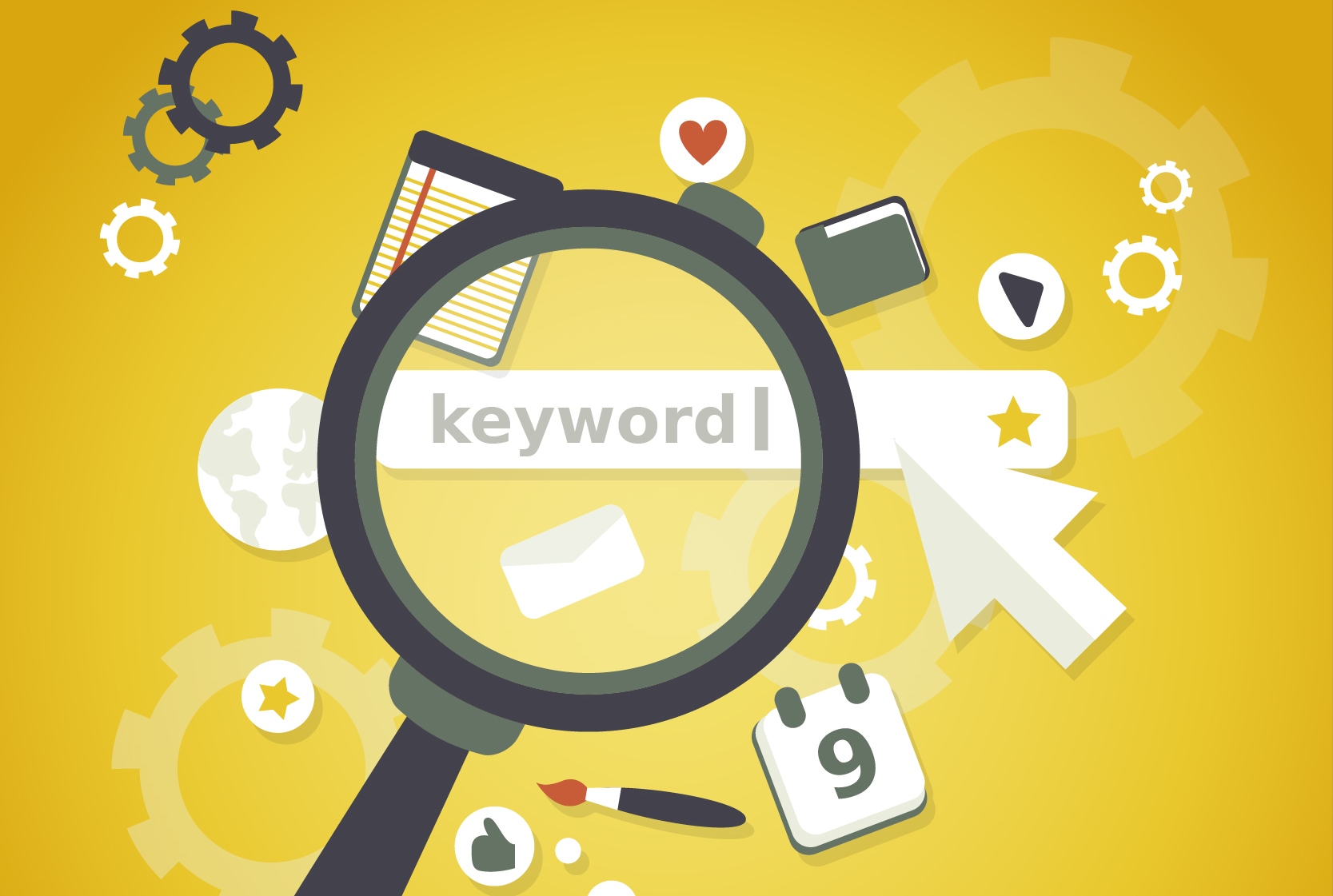 For a long time, I thought I knew what Search Engine Optimization (SEO) was all about.
I mean, isn't it about stuffing keywords in your website content? That is, incorporating them in the headlines, sub-headlines and body copy of your blog posts ad nauseum. And perhaps one should also stuff one's web pages with numerous meta tags and descriptions?
Sadly, I was quite wrong.
Thanks to the awesome book WordPress SEO Success by Jacob Aull of Zen Fires Digital Marketing, I learned that SEO is such a comprehensive and deep discipline that it cannot be easily mastered in just one day. It is also an essential part of content marketing.
Let me highlight key lessons I've learned from the book peppered with my own observations in the past 8 months or so since switching over to a WordPress website.
So What Exactly is SEO?
According to Search Engine Land, SEO is the process of "getting traffic from free, organic, editorial or natural search results on search engines."
Put another way, SEO involves designing and managing your website or blog in such a way that it gains a prime position on the Search Engine Result Pages (SERPs) of search engines like Good, Bing or Yahoo! without spending on advertising.
The philosophy behind SEO is tied to Chris Anderson's "Long-Tail Theory" for digital businesses.
When you first start your website or blog, you should focus on extremely niche "long-tail" keywords to your SEO practices (eg gourmet Italian coffee). Avoid gunning for hyper-competitive broad keywords (eg cafes) covering broad market segments at the onset. Rather, slowly move towards these keywords as you gain ground on the SERP.
See diagram below to understand the value of the digital long tail in SEO.

Courtesy of WordPress SEO Success
The goal thus is to start by working with long-tail keyword phrases to industry niche optimisation, and work upwards towards broader short-tail keywords.
Maximizing Your Presence on the SERP
Like air and water, the Search Engine Results Page or SERP is so familiar to us that we barely give it a second glimpse. A sample SERP for a Google search for shopping centres on my browser turned out the following results:
Look closer though and you will realise a few things:
There is a Google Adsense advertisement on the top from Robinsons (I bet they paid quite a lot to get that listing).
There is a prominent Google Map of shopping centres close to my home in the Southern part of Singapore. This is a combination of Google+Local and Google Maps.
The first item on Google is a directory type page, ie STB's Your Singapore website. Kudos to the Board for doing their SEO right!
Google News items also feature prominently. Interestingly, an Australian news website came out first for a shopping centre news item.
Below that, you also see a few shopping centres with ratings below them (Google Reviews).
If we scroll further down the fold (sorry you can't see in this screenshot), you will see "Images" of shopping centres below.
Let us look at another example, this time featuring Singapore's former Prime Minister Lee Kuan Yew.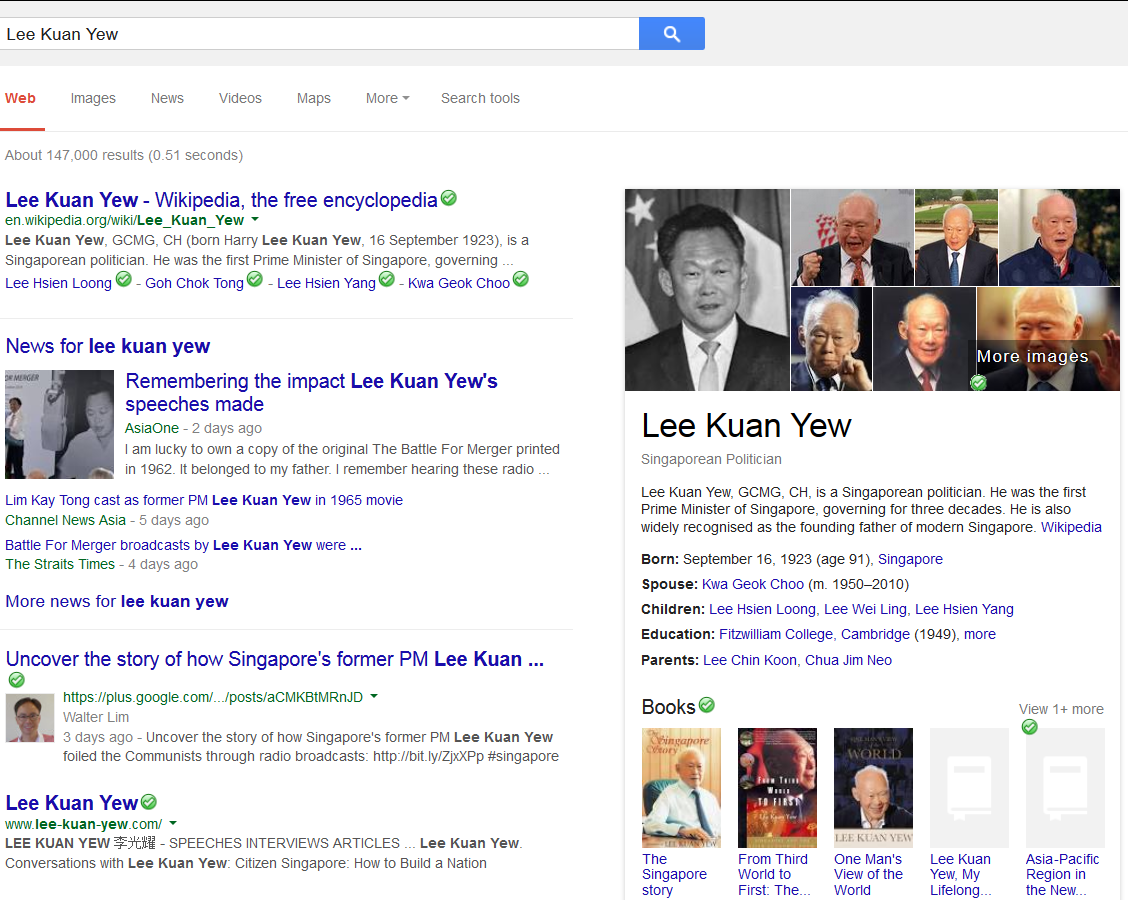 Notice now how different the SERP looks?
The first items on the right and left come from Wikipedia entries for our former Minister Mentor, there is a listing of books written by or about him, plus there are news items on him.
What I'd like to draw your attention to, however, is that my Google Plus posting on a blog post I did on a reprint of his book "Battle For Merger" is also featured, together with my name (Google Author) and photo! (I should feel so honoured)
Both these listings show the power of Semantic Search. You can learn more about this in my blog post on Google's new Hummingbird algorithm here.
The key thing here is to maximise your presence on the SERP. You can do so by incorporating the following strategies:
Opening a Google account and going deep into all things Google: Google+, Google+Places (location), Google Maps, Google Analytics (to measure web traffic and their sources), etc…
Submitting your website to relevant directories;
Generating regular content on your website and blog, and linking this to your Google+ account (with author information). Google loves blogs that generate genuine content;
Ensure that you've got a Wikipedia entry written – especially if your organisation has reached a certain size;
Incorporating appropriately named images (preferably same descriptions, tags or keywords) and YouTube videos (also a Google platform) in your content;
WordPress and SEO
Accounting for some 23% of the world's websites and blogs, the WordPress platform is not just SEO-friendly – it often makes SEO execution easier than other platforms. If you've got a WordPress website or blog, there are a couple of steps which the author encourages you to take.
#1 Use SEO Tools and Plug-ins
There are all manner of plug-ins and tools on the WordPress platform, but the key ones are probably:
Akismet – An antispam plug-in to stand strong against hacks and crashes;
JetPack – A version of WordPress analytics that you can use, over and above your Google Analytics account;
RSS Feed/Twitter Feed/Facebook widgets – Great for showing social dynamism on your site;
Social Sharing widgets – Examples include AddToAny, ShareThis, Sociable etc;
SEO plug-ins – These are

very important

! Key ones to consider are All-In-One SEO, Yoast WordPress SEO, and SEO Ultimate; and
MailChimp or other emailing software so that you can reach your subscribers. This is vital for lead-generation.
#2 Conduct SEO Research
It is vital to understand what the context for your content is going to be like. Conduct a comprehensive competitive audit on the following:
Canonicalization

– Ensure that your URLs are not conflicting and that search engines can differentiate http://example.com from http://www.example.com;

Social and keyword monitoring

– Check both your own brand and competitors' social reputation online.

Rank and authority

– Search engines and analytics tools examine websites for SEO quality.

Search engine traffic

– How are people searching for you? Ditto for your competitors. There are various spy tools that you can use.

Primary keywords

– What is the most relevant keyword for your business? Finding the "sweet spot" between short and long-tail keywords is key (see my earlier para on this).

Inbound links

– Where are these backlinks coming from? You can find these from Google Analytics and Webmaster tools.
You can consult the WordPress Codex for detailed explanations of the above, if you're lost!
#3 SEO Strategy, Content and Site Architecture
There are several steps here and I'll go through them one by one:
Write Your Strategy Brief

– This should cover objective (achieve sales leads? brand awareness?), marketing plan, drivers/problems, target audiences (personas, search behaviours), brand positioning, unique selling points, Integrated Marketing Comms (IMC) campaigns, suggested keywords, and social media integration.

Identify and Research Keywords

– This would follow on from the strategy brief above, using tools like Google's Keyword Planner.

Develop and Plan Your Network Architecture

– Identify the web of links and backlinks and where they are connected to. From the diagram below, you can see that your WordPress website or blog could either be a primary or secondary "hub".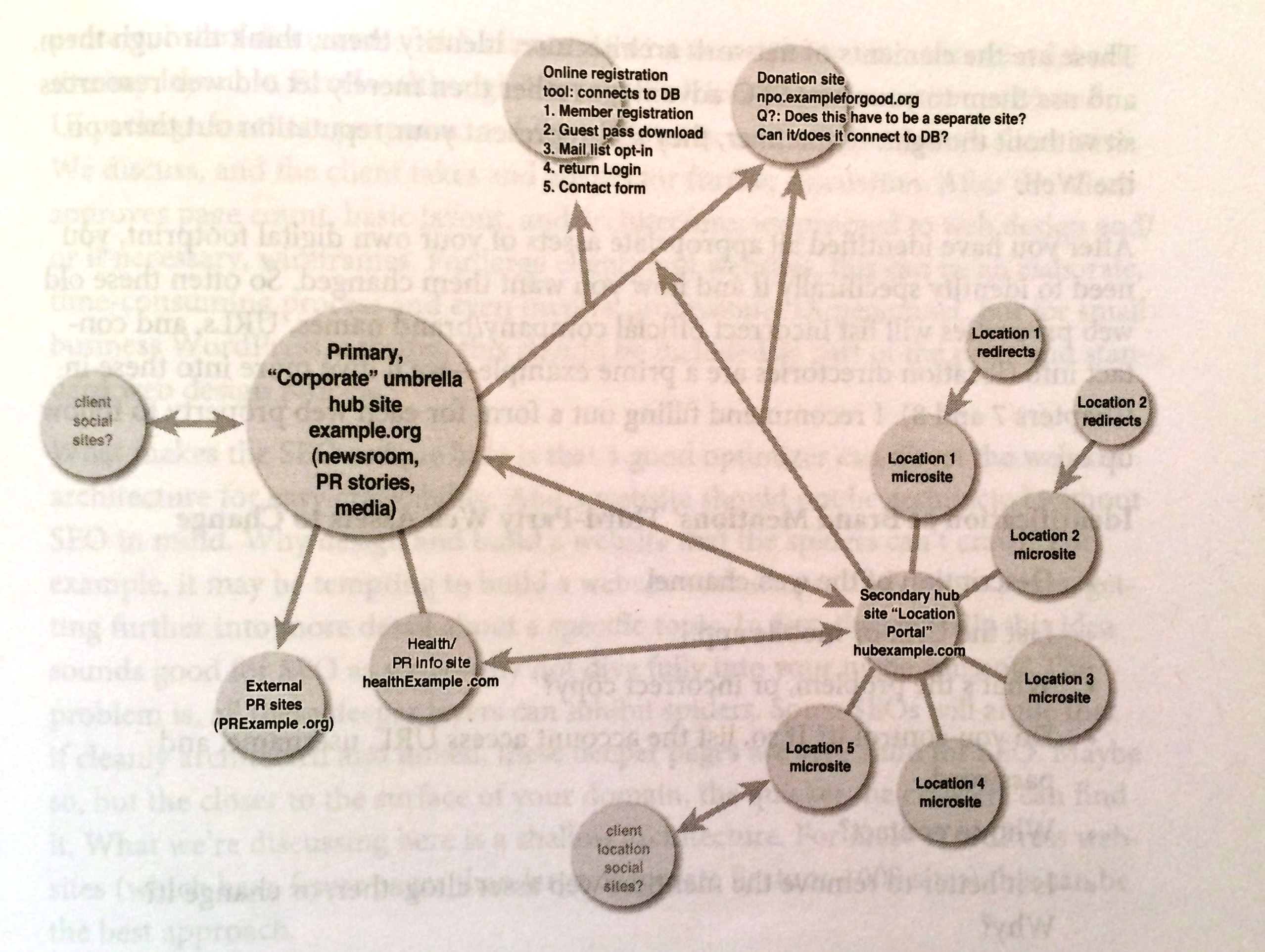 Courtesy of WordPress SEO Success
Do a Sitemap and Content Architecture

– This essentially spells out the navigational pathways for customers (see below).

Courtesy of WordPress SEO Success
Assess Content and Keyword Relationships

– Determine what to do, and what not to do for the content while associating the best keywords to your web pages or blog posts.
An 11-Step SEO Checklist
This is probably the "crown SEO jewel" in the book, figuratively speaking, so I thought I should elaborate on this a little more. As you would imagine, it is impossible to try to include everything about SEO on one page, but this is probably closest to it.
So here goes.
Ensure Google Accounts are synced – Google+, YouTube and Google Maps on contact page
Page text – Identify major keywords and populate on page and heads. To also include meta descriptions and meta tags (most SEO plug-ins allow you to do this easily).
Optimize images – This includes image filenames, descriptions, and placement on Google+ pages, plus Alt tags.
Set up your blogs for SEO – Tags and categories, auto tags, Permalinks (ensure that the URLs are optimised with keywords for crawlability), set Akismet (to deter spammer bots), set author information (valuable for the SERP)
Migrate site from test, check all pages and links. 404s are not good (note that primary pages and subfolders are preferred over subdomains).
Create search engine accounts and submit site to search engines.
Setup analytics – Google analytics, Google, Bing and Yahoo! Webmaster tools integrated.
Technology and coding implementations – noFollows (ie don't give Google juice for outward links), noIndex (for static pages), Redirects (301s or 302s are best), sitemap.xml (file generated and submitted), robots.txt (see Robots exclusion standards), and *.htaccess.
Ask a third party to submit the site to social search and bookmarking sites like Delicious, Reddit, StumbleUpon, Digg, and Technorati.
Check and capture SERP results.
Set up location-based directories if relevant.
Social Media and SEO
As you'd imagine social media is a key part of SEO. Beyond the fact that search engines loves blogs with frequently updated organic and relevant content, backlinks from sources like Tweets/RTs, Facebook posts, Wiki posts, Forums and other social media platforms may also contribute to better search rankings – either directly or indirectly.
This "Hub and Spoke" model can best be represented by the diagram from the book below:

Courtesy of WordPress SEO Success
Once again, let me list down some of the "best practices" that you can consider applying here:
Incorporate blogging into your SEO strategy. Where possible, link your blog to Google+ and Google Places, research on Google Trends for trending keywords, embed your YouTube video, and set up Google Alerts.
Share your latest blog posts on social platforms like Twitter, Facebook, LinkedIn, and Google+ (of course).
Participate in relevant community forums and groups. Share your links there now and then but remember not to spam. Give first and then receive!
Submit your website to review websites like Google+Local, Yelp, Yabber, HungryGoWhere, TripAdvisor, Expedia, Amazon and others (depending on your trade).
Encourage customers to write a review on the same forums.
Create photos, tag them properly, and submit to social networks/communities like Flickr, Instagram, and Pinterest.
SEO, Inbound and Digital Marketing Funnel
Finally, the book usefully integrates everything that the author teaches into a useful Inbound Marketing strategy that we can adopt.
A subset of content marketing, the best definition I can find on Inbound Marketing is from Wikipedia:
"Inbound marketing is promoting a company through blogs, podcasts, video, eBooks, enewsletters, whitepapers, SEO, social media marketing, and other forms of content marketing which serve to bring customers in closer to the brand."
Search Marketing and SEO Funnel Analytics
My favourite diagram from the book is probably the one below.
Here, you can learn how to calculate your yield from SEO or Search Engine Marketing (using ads and SEO) based on the number of sales conversions that you can generate after a prospect has searched a keyword, clicked through to your website, stayed (or left quickly, ie "bounced"), read its content, filled up a form (usually an email list or a contact form), and made a purchase.
Email, Search Engine and Social Media Marketing
Finally, it is useful to consider how all the disparate elements are tied together.
After a careful search through Google, I found a nice marketing funnel below which kind of brings it all together.
Note that Search Engine Marketing is a broader term which includes SEO and other elements like Pay Per Click (PPC) advertising on Google (eg the Adsense ads you saw earlier by Robinsons). The discipline used for search advertising is similar to that of SEO – both seek to maximise your brand's presence on the SERP.

Courtesy of Rare IO
A Great Resource for SEO Newbies and Veterans!
Phew! That was quite a lot to go through wasn't it?
Naturally, it is impossible for me to do justice to the invaluable content contained in Jacob Aull's noteworthy book. What I hope to do is to give you a summary and flavour of the key SEO lessons contained within.
I strongly encourage you to pick up a copy if you are on a WordPress website or blog, or migrating to one (like me!). It is definitely worth every dollar that you have spent and much more!
PS – Do watch the SEO Movie if you wish to learn more about the history of SEO, where its currently at, and where its moving towards in the future.