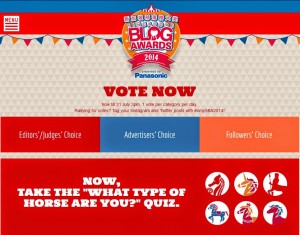 Have you voted for your favourite blogger yet? (from Singapore Blog Awards 2014)
Yes, it is time yet again for the Singapore Blog Awards. Organised by Omy.sg, this annual competition cum celebration of what's new, hot and happening in the blogging scene is in its 7th year running, with over $30,000 worth of prizes to be won.
This year's awards has a total of nine Editors'/Judges' Choice categories and three new Followers categories. Other than the old favourites like Best Family blog, Best Food blog, and Best Photography blog, a Best New Blog award category has been created to acknowledge newbie bloggers who started their blogs in the past year.