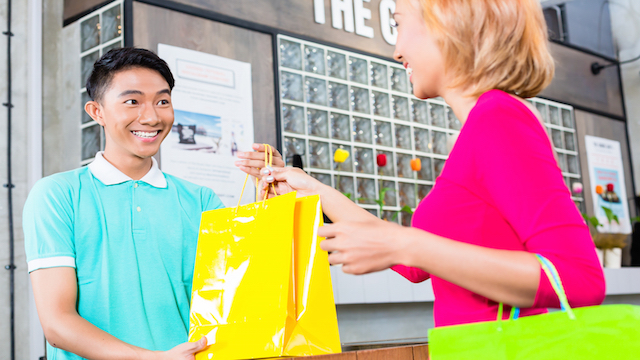 Courtesy of Inside Retail HK
How can retail and service businesses differentiate themselves through service?
That is the age-old problem faced by numerous consumer-facing businesses here in Singapore and everywhere around the world.
At the kind invitation of the Singapore Tourism Board, I recently attended a seminar by Dr Lynda Wee of Bootstrap which spoke about creating memorable and delightful customer experiences.
Targeted specifically at senior managers in the tourism and lifestyle sectors, the session was full of memorable quotable quotes and smart one-liners. Beyond that, it provided a brief overview of the significance of delighting customers through engineering exceptional customer experiences.
Why Customer Experience?
According to Lynda, satisfied customers would buy more, spread the word around, and provide positive feedback. This helps to increase sales turnover and reduce marketing and selling expenses for retail businesses.
Loyal customers were also more likely to stay with a company in good and bad times, and they move along the following continuum from browsers –> buyers –> brand loyals.
From Customer Service to Customer Experience
In the traditional mode of lifestyle businesses, customer service was key. This revolved around the acronym GST which meant:
Citing Hertzberg's two factors – satisfaction and motivation – Lynda highlighted the close and intimate relationship between the degree of customer happiness and the degree in which they are satisfied and motivated.
However, in the new consumer space, customer experience which relates to how they feel takes precedence over service. Customers trust their experience more than what they hear the service providers say, and this is nicely captured by the following quotes:
"Companies spend millions creating and advertising their brands, yet the customer's experience is what drives customer perception." – John R Dijulius III
"Well done is better than well said" – Benjamin Franklin
Four Steps to Exceptional Experiences
How then can retailers and service businesses provide remarkable customer experiences?
There are four steps which you can consider:
Think like your customer and create value.
Begin with your end in mind. Consider your outcomes, and visualise and actualise them through deeds and not just words alone.
Go over and above what is required or anticipated at every customer touch point. We are talking about total brand immersion here.
Work on the power of one, ie teamwork where all hands work together in a seamless manner.
Blending Function with Emotion
Exceptional experiences also comes from the interplay of functional and emotional factors. Here Lynda cited the following considerations.
Head

– for sensing and observing what the best approach should be. Information should also be given readily.

Heart

– to embrace a "will do" spirit and look at how everybody is treated humanely and warmly.

Hands

– to ensure that employees "can do" the task that they are assigned through training, mentorship and guidance.
Four C Framework for Customer Experience
Lynda also created a 4 C Framework that helped to encapsulate the main points in choreographing and creating memorable experiences. These work as follows:
#1 Crew Excellence
This has to start from the top, with the chief executives and senior managers setting the trail for others to follow. They should walk the talk, focus on the internal customer before moving on to the external customer, and act as role models for their crew to follow.
An example was Jonathan Larsen, CEO of Citibank in Singapore, who served on the shopfloor every Thursday and has computer screens that monitor phone calls and how long individuals take to respond to them.
To achieve crew excellence, you should start with getting the right people on the bus, wrong people off the bus, and the right people in the right seats in the organisation.
#2 Culture Excellence
An example of this was Starbucks (well at least in Singapore), who were in the "people business serving coffee". At Starbucks, some of the knowledge and skills needed to engender culture excellence include coffee knowledge, skills needed to brew a great cuppa, the showmanship involved in handling food, and interaction with customers.
Two other well known examples were Ritz Carlton ("We are Ladies and Gentlemen serving Ladies and Gentlemen") and Singapore Airlines ("A Great Way to Fly").
#3 Contact Excellence
This would look at the interaction points between an organisation and its customers. It should be clearly mapped out and defined every single step of the way.
For example, at Disneyland, experience standards covered key areas like safety, courtesy, showmanship and efficiency. Achieving Contact Excellence was illustrated in Disneyland's rules of behaviour:
Make eye contact and smile!
Greet and welcome each and every guest
Seek out guest contact
Provide immediate service recovery
Display appropriate body language at all times
Preserve the "magical" guest experience
Thank each and every guest
Even a park cleaner at Disneyland would be required not just to clean, but to learn how to take camera pictures and read maps.
#4 Customer Metrics Excellence
Finally, you needs to have a way of measuring the impact of your customer experience efforts.
This could take the form of feedback forms that measure Customer Satisfaction Index or CSI, mystery audits, focus group sessions, repeat patronage figures as well as bottomline indicators.
Crafting Your Customer Experience Process
To conclude, a process map for a company's customer experience journey was shared by Lynda. It comprised the following series of steps:
Identify sense of purpose –> Define customer experience vision statement –> Define customer experience standards –> Pilot-test customer experience standards –> Revise customer experience standards –> Train/coach and communicate on customer experience standards –> Conduct mystery audit –> Plan & implement Reward & Recognition system (which loops back to the beginning).
Do you have any tips on achieving customer experience excellence? Do share them with me!