Ritz Carlton is the epitome of superior customer experience (source)
Have you pampered yourself with a Ritz-Carlton experience? If you did, I'm sure the experience was unforgettable.
How did the world's premiere hotel brand manage to achieve such lofty heights in customer service and experience? What is its secret formula?
Thanks to the kind invitation of the Singapore Tourism Board, I had the privilege of learning all about Ritz-Carlton's famed service strategies from Diana Oreck, its Vice President of Global Learning & Leadership Centre.
A two-time winner of the Malcolm Baldrige Quality Award, Ritz-Carlton managed 77 hotels in 24 countries, employed some 35,000 staff, and generated about US$3.2 billion in annual sales.
Ladies and Gentlemen Serving Ladies and Gentlemen
In the words of Oreck, Ritz-Carlton's business practices are not rocket science. What's difficult though is staying the course and ensuring that its service is consistent.
Embracing the notion of customers for life, the hotel chain considers its 'Ladies and Gentlemen' to be the most important resource in its commitment to guests.
Its strong emphasis and dedication to staff development has led to a low employee turnover rate. This began with a mid 50% of staff turnover in 1991 to a low 20% in 2009.
With its legendary Gold Standards of service, Ritz-Carlton provides all employees with a credo card emblazoned with its world famous motto:
"We are Ladies and Gentlemen serving Ladies and Gentlemen" – Ritz-Carlton's motto
In Oreck's words, "You cannot control how a customer behaves, but you can teach your employees how a lady and gentlemen behaves".
Ritz-Carlton's Employee Promise
This emphasis on its employees can also be seen in the hotel chain's Employee Promise which goes like this:
"At The Ritz-Carlton, our Ladies and Gentlemen are the most important resource in our service commitment to our guests. By applying the principles of trust, honesty, respect, integrity and commitment, we nurture and maximize talent to the benefit of each individual and the company. The Ritz-Carlton fosters a work environment where diversity is valued, quality of life is enhanced, individual aspirations are fulfilled, and The Ritz-Carlton Mystique is strengthened."
This emphasis on valuing their staff and treating them like "ladies and gentlemen" undergirds everything which the Ritz does to differentiate itself from its competitors.
Ritz-Carlton's Three Steps of Service
With a near obsession to understand both the expressed and unexpressed needs of guests, Ritz Carlton has Three Universal Steps of Service. These are enscribed in its Gold Standard of service, and are as follows:
A warm and sincere greeting. Use the guest's names.
Anticipation and fulfillment of each guests' needs.
Fond farewell. Give a warm good-bye and use the guest's name.
These basic behaviours are critical to guest satisfaction and delight. This is because a person only has 7 seconds to make a good impression in person, and only 2 seconds on the phone. If you miss those critical periods, your ability to make an impression suffers.
Ritz-Carlton's 12 Service Values
Ritz-Carlton also has a set of 12 Service Values (which are pretty self explanatory). These are grouped according to three categories:
Mystique
1) I build strong relationships and create Ritz-Carlton guests for life.
2) I am always responsive to the expressed and unexpressed wishes and needs of our guests.
3) I am empowered to create unique, memorable and personal experiences for our guests.
Emotional Engagement
4) I understand my role in achieving the Key Success Factors, embracing Community Footprints and creating The Ritz-Carlton Mystique.
5) I continuously seek opportunities to innovate and improve The Ritz-Carlton experience.
6) I own and immediately resolve guest problems.
7) I create a work environment of teamwork and lateral service so that the needs of our guests and each other are met.
8) I have the opportunity to continuously learn and grow.
9) I am involved in the planning of the work that affects me.
Functional Values
10) I am proud of my professional appearance, language and behavior.
11) I protect the privacy and security of our guests, my fellow employees and the company's confidential information and assets.
12) I am responsible for uncompromising levels of cleanliness and creating a safe and accident-free environment.
$2,000 for staff to make it right
According to Oreck, the golden nugget in personal service is to ensure that one doesn't overshadow the customer (its theatrical and performative in a way).
She also shared about how each staff is empowered with a budget of $2,000 to make it right for guests. They have complete discretion to how they can use it, provided of course they are bona fide (they have ways to tell scammers from genuine ones).
Ritz-Carlton's Daily Line-up
Other than its array of measuring tools like mystery shopping and customer surveys, Ritz-Carlton's famed Daily Line-up has been much cited by service gurus around the world.
The Daily Line-up is like a team huddle which takes place every morning for 15 minutes amongst employees in each department. This process provides a "teachable moment" for supervisors to train their team members.
Effective Implementation – The Key to Ritz-Carlton's Success
Finally, it became evident that Ritz Carlton's success lies in implementation.
Any hotel, airline, retail, or F&B outlet could copy wholesale what Ritz-Carlton has publicly shared as its Gold Standard in service. However, few could ever match this on the ground.
My two most important takeaways from the session?
That the "flawless execution of the basics" is key to any service endeavour coupled with the need to ensure that the strong belief that culture is not just part of the game, but the game itself.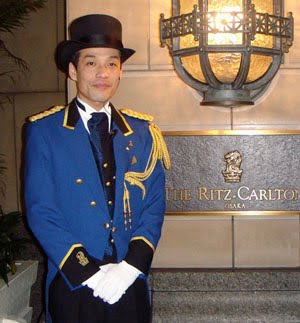 The Right People and Processes makes Ritz Carlton the epitome of guest luxury and experience (source)