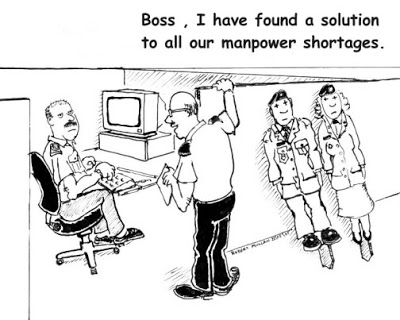 Source:
RootsWeb.com
One of the most common cries in management – especially in a fast growing economy – is this:"Help! I need more manpower! Without additional staff to do this and that and that, I'll be unable to deliver my project/targets/sales figures/etc!"
"
Time and again, the same impassioned requests have resonated in the chambers of many a HR or Finance Director's office. Staff are needed to grow new business areas, expand into wider markets, boost production output, or strengthen quality control. When push comes to shove, the common clarion call is to increase the headcount of a particular department.
While there will be situations where additional staff are needed – for example, when insourcing a function that has traditionally been outsourced – more often than not, creating additional posts isn't always the solution. It is often said that "easy" manpower may result in unproductive processes being propagated should the harsh sting of accountability be avoided.
Before agreeing to hire more team members, ask yourself these difficult questions:
1) Can this task be done more efficiently by an external service provider? Are suppliers and partners adequately educated and trained to provide seamless service to your organisation?
2) Are we providing sufficient leadership, management and guidance to staff? Do they have the right skills for the tasks at hand?
3) Is the current "peak period" which we are experiencing a seasonal or temporary effect? What will happen after the busy period is over?
4) Do we have a clear idea how the new hires will be groomed, nurtured, and developed to realise their potential? Is there a career development path and succession plan for them?
5) Are there ways to more optimally mobilise existing staff (without killing them or overstretching them of course)? Are existing employees being wrongly deployed in areas that do not maximise their potential in the first place?
6) Finally, are we juggling too many balls and doing too much? Can we prioritise the tasks at hand to focus on those that truly matter?
Having more hands on deck is often seen as the de facto solution in growing businesses and organisations, especially when existing staff are overworked and facing fatigue. Adequate staffing is certainly necessary to achieve the right balance of work-life balance and high productivity.
However, it may sometimes be useful to consider carefully if there are other ways to resolve an issue beyond increasing headcount. Intelligent organisations know that focusing on the few areas that yield the most benefit may not only result in a lower burden on one's staff, but improve overall corporate efficiency, effectiveness and morale.
Furthermore, sometimes it might be the case that you might not need more staff, and what you actually need is proper staff management to optimize productivity. This is when it might be smart to outsource, your HR services.
This is particularly relevant when you're internationally expanding.
If you're expanding to Singapore, for instance, you can partner with a reputable Professional Employer Organization (PEO) to help you recruit, hire, and manage your foreign workforce.
A PEO will help you hire in Singapore without a legal entity, which means that your staff is adequately managed for optimal productivity, you will not need to hire extra headcount and be able to focus on the areas that are yielding the most benefit for your business.