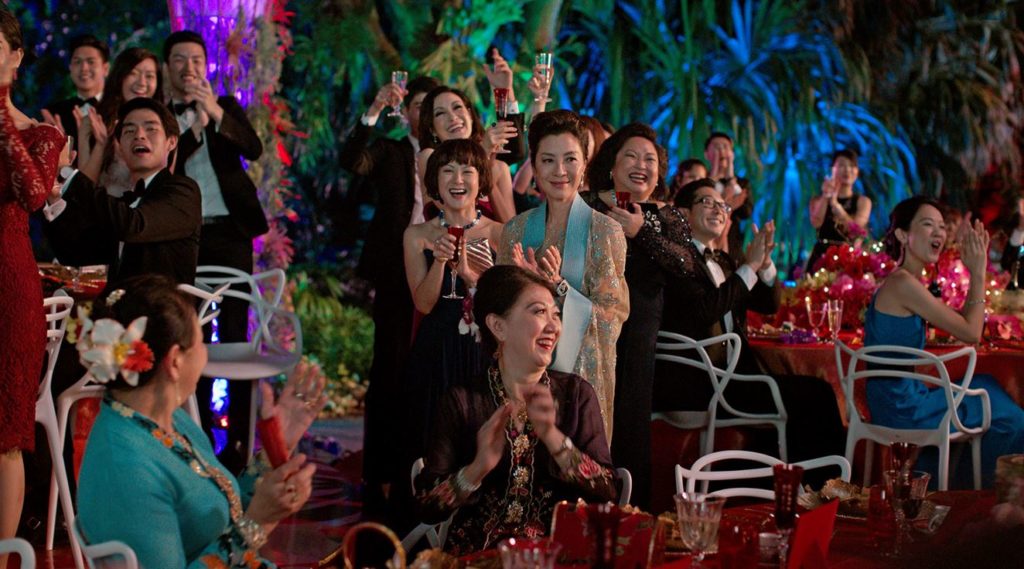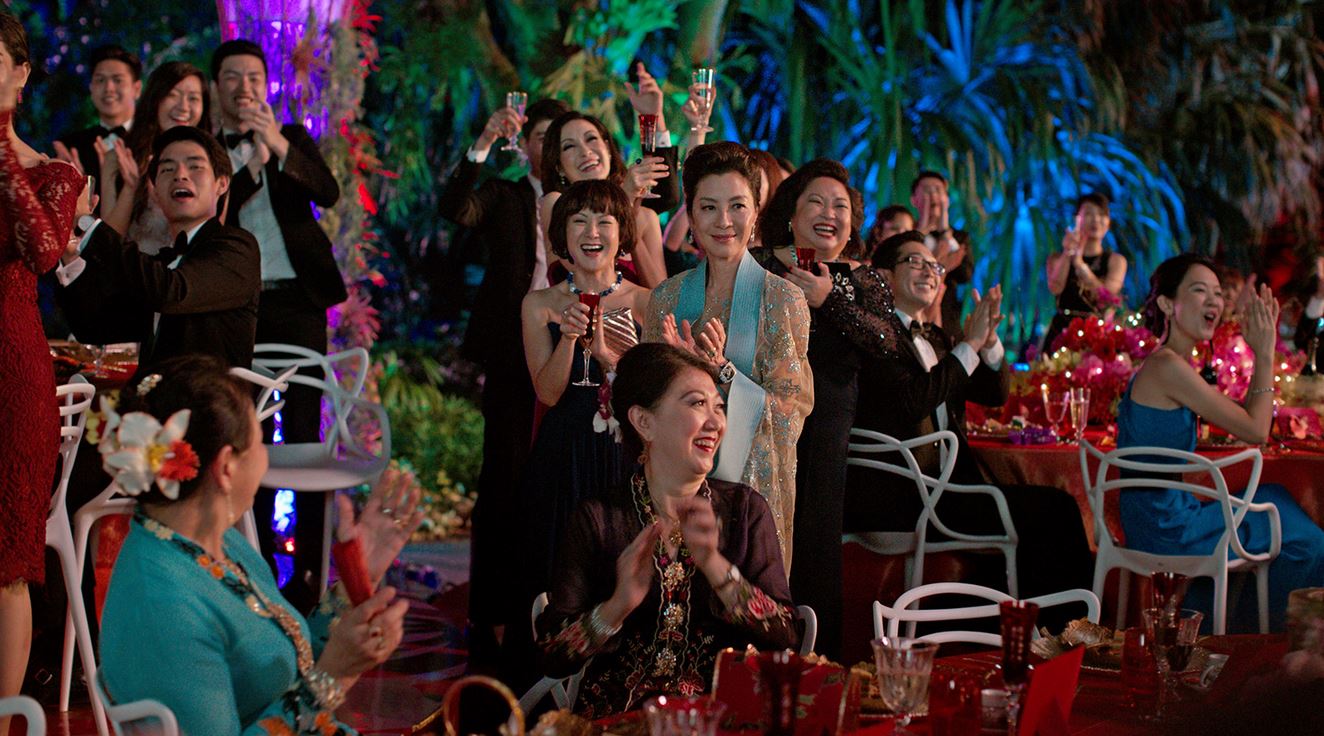 Does Crazy Rich Asian help to promote Singapore? (courtesy of Crazy Rich Asians movie)
Everybody's talking about Crazy Rich Asians, the blockbuster Hollywood movie based on Singapore-born author Kevin Kwan's book of the same name.
While the movie was celebrated for giving Asians a major role in a Hollywood movie, it garnered its fair share of brickbats by those who felt that it did not fairly represent Singapore in its portrayal.
(Besides, there is also the controversy of Kevin Kwan himself being an NS defaulter!)
Whatever your views may be, however, you got to admit that the movie has done a fine job of marketing Singapore as a tourism destination.
What are the drivers needed to transform any place – country, city, neighbourhood, leisure attraction, heck, even a garden or building – into a well-loved destination?
How does one shape a location into the "happiest place on Earth" (borrowing from Disney)?
As a seasoned professional who spent many years branding and marketing cultural institutions, I've always been fascinated by this challenge.
Unlike promoting a product or service, a destination is an offering which comes with multiple dimensions. It also provides a lot more customer experience 'touch-points' – from publicity and pre-arrival to the actual encounter itself.
What is Destination Marketing?
First, we could perhaps look at the definition of Destination Marketing. According to Karl Albrecht and the Destination Marketing Association, this can be defined as follows:
"Destination Marketing is a proactive, strategic, visitor-centered approach to the economic and cultural development of a location, which balances and integrates the interests of visitors, service providers, and the community."
Destination (or Place) Marketing is a holistic discipline, balancing the needs of various stakeholders while making a place viable and sustainable. There are entire books written about it (including this one by the Destination Marketing International Association), but this model below by Philip Kotler probably best sums up what its key considerations are: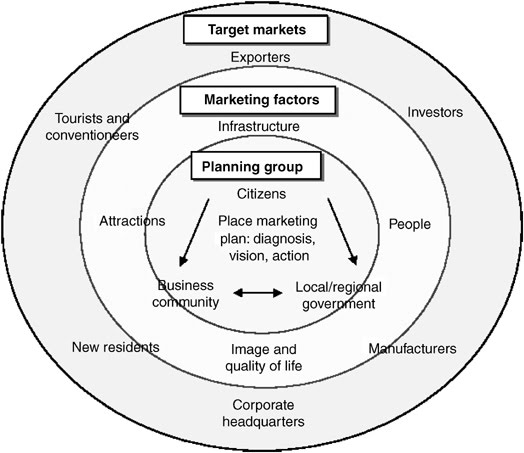 Levels of place marketing by Kotler (source of image)
As seen from the chart above, developing a place into a destination requires one to consider multiple factors.
Planning Group: This would be the core stakeholders in a destination. They comprise residents, businesses and government agencies, and include areas like the diagnosis of a place's current state as well as its long-term vision and plan of action.
Marketing Factors: These are the basket of experience-rich interactions which a visitor may have. They include the location's infrastructure, people, quality of life, and attractions.
Target Markets: These are the wider target markets of a destination: new residents, manufacturers, investors, tourists, conventioneers, and exporters.
How all of these inputs work together is a highly complex process. Often, it requires extensive planning, negotiation and development over a period of years.
Competitive Positioning of Destination
To make the above work, it is critical to position a destination correctly against an entire army of competing places.
What are the unique qualities that can differentiate your place from any other places under the Sun? How does it compare when measured against different variables?
My favourite way to do this is to employ a perceptual map. See if you agree with the example by the Scottish government below placing various locations in the US, Poland, Germany and China.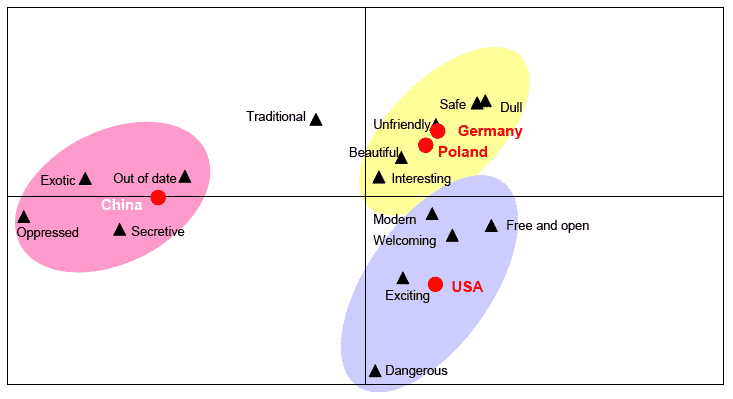 Courtesy of the Scottish Government
What are some of the variables which you can use to map your location against competitive places?
Cost: This is something which we all consider before choosing a place to spend our time.
Quality of Attractions: This would vary from destination to destination. However, a place like Orlando, Florida would probably have better quality attractions than say Seattle, Washington if you are a theme park lover.
Types of Appeal: What is the core differentiator which sets your destination apart from the rest? For example, is nature a big attraction factor? Or shopping and food? Maybe even history and culture?
Intensity of Attractions: How dense are the different activities which a visitor can participate in? Crowded cities like Singapore often have a higher density of activities compared to country-side locations like Kota Kinabalu.
Safety and Security: Increasingly, in a world fraught with terrorism and other challenges, feeling safe and protected has become an important advantage for any destination.
Destination Brand Identity
The next thing to consider is of course a destination's brand identity.
Here, many cities and countries around the world have developed their own distinctive visual identity elements in a bid to differentiate themselves. These are often very painstakingly done, involving numerous consultations with stakeholders and focus groups ad nauseum.
Perhaps the most essential part of a crafting a destination brand comes from identifying the soul and flavour of the location. What is the one or two thing which it is known for? How can this set it apart from the multiple other factors which influence a destination's brand?
There are two dimensions here: the logo and the tagline.
See how many of these you can identify from the example below: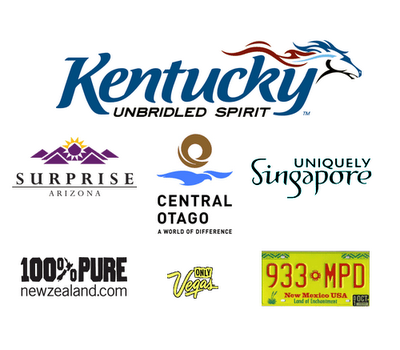 Source of image
Here are more country branding logos for those of you addicted to this stuff. See if you agree with how the logos reflect the place's personality and key attributes.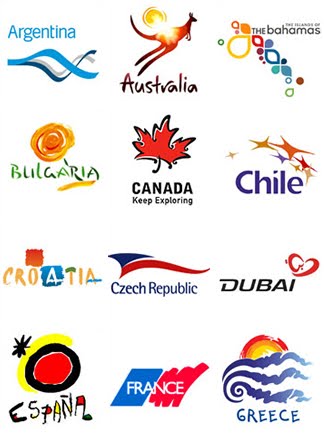 Courtesy of Hospitality Times
Map of Tourism Slogan in Every Country
As tourism dollars take on ever greater importance in the economies of countries, states and cities, many have resorted to developing fancy slogans to differentiate themselves.
Some have made their taglines solid and memorable, like New Zealand's "100% Pure", Malaysia's "Truly Asia", and Incredible !ndia.
Others are a little more quirky, like Colombia's "Colombia is Magical Realism".
Have a look below and let me know what you think. And yes, tourism taglines are probably one of the most generic things in the world.
Click to enlarge (courtesy of Family Break Finder)
Destination Marketing Strategies and Tactics
To draw visitors to a destination, you'll need to invest in a mixture of different destination marketing strategies and tactics. The best destinations choose to focus on highly specific niches that they can dominate in. They also ensure that there is a strong alignment between the soul of its brand, the interests of its visitors and stakeholders, as well as its offerings.
What are some examples of destination marketing strategies?
Making movies or films about a location (for example Australia and Crazy Rich Asians).
Applying for internationally recognised awards, eg UNESCO's World Heritage Site.
Organising world class events (eg Formula One races, Olympics, World Cup).
Developing unique attractions (anything that is the first, largest, highest, or oldest).
Capitalising on natural or cultural landmarks and formations.
Focusing on customer service, experience and hospitality (Thailand and Japan are great at this).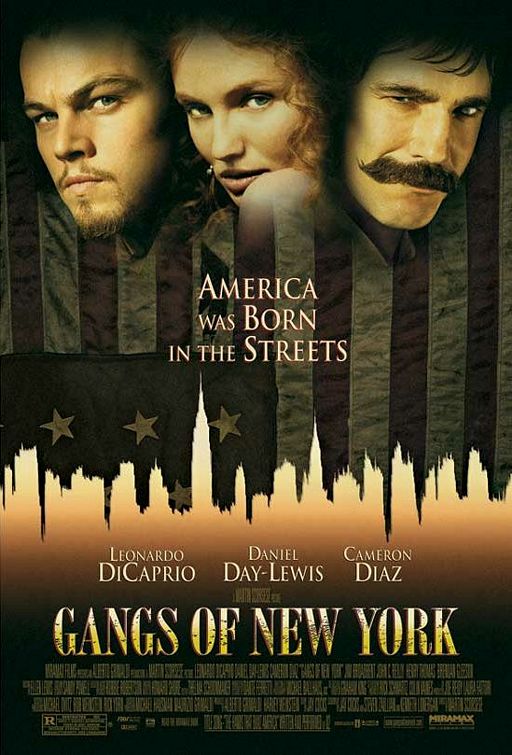 New York is probably the most filmed city in the world (courtesy of IMP Awards)
The most challenging part in determining the right mix of marketing activities is focus. A destination brand is a long-haul thing. You cannot hope to change what a destination is about or what it's for merely by introducing a continuous slew of new attractions while ignoring its cultural legacy and heritage.
Benefits of Destination Brand Marketing
Finally, having a strong destination brand brings forth many benefits to its communities, marketers, visitors and other stakeholders. Bill Baker in Branding Strategy Insider cited the following as examples of successful destination brand benefits:
Provides peace of mind by increasing trust and confidence.
Saves time and effort.
Simplifies choices.
Associations with the place reflects well on them.
Taps into your targeted visitor's needs and desires.
Provides perceived added value and benefits.
Passion Made Possible in Singapore
Singapore's recent experience with "Passion Made Possible" have captured the interest of its people, eliciting both positive and negative reactions. According to the Visit Singapore website, it can be understood as a way to…
"Awaken your passions and live out your dreams when you explore the city and meet the talented locals who call it home."
Personally, I like how this new direction deftly interweaves what Singaporeans do with what visitors can expect. The Passion Ambassadors is a great idea, and I love how they humanize us as a country.
While I appreciate this more "soul-istic" and holistic approach to promoting Singapore, I do wish that we can tone down on some of the hyperbole used in the language though.
The video that came with this effort is certainly worth watching. Have a look.
What are some of your favourite places (big and small) around the world? And do you think that a movie like Crazy Rich Asians is a good way to brand and market Singapore as a travel destination?