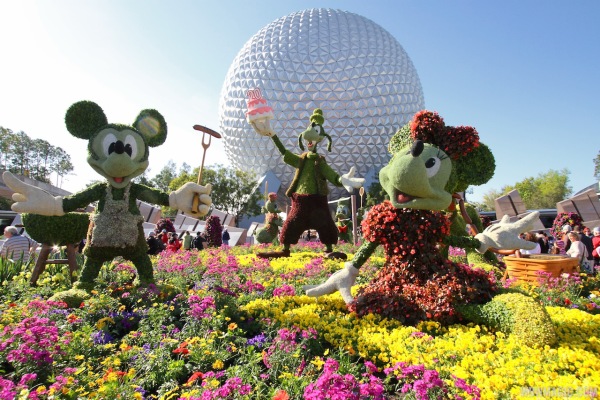 The annual Flower and Garden Festival at Walt Disney World's Epcot is the world's biggest (courtesy of WDW Parkhoppers)
How can you continually engage your guests at a theme park, zoo, museum, or other themed destination?
While building new attractions (rides and exhibits) can add value, showcases innovation and drives attendance, they are rather expensive.
The solution? Organise events and festivals that entertain them.
A 26 year veteran of Walt Disney World and event planner extraordinaire, Tom Bisignano of Meeting Biz revealed at an Association of Singapore Attractions event how special events and entertainment can drive attendance, increase profits, and raise guest satisfaction in a cost effective fashion.
Why Events and Festivals
Speaking at the Association of Singapore Attractions' Tourism Masterclass, Tom gave the example of how Tokyo Disneyland uses 6 themed events a year to encourage repeat local patronage. Festivals and events are useful in the destination business as they provide the following qualities:
Inexpensive relative to building a new attraction
Quick to market and thus, can be designed and developed quickly
Fresh, ie can capitalise on current trends quickly
Nimble – easy to change and adapt
Attractive for partners and sponsors
Opportunity to tap numerous themes depending on what holds people's fancy, including obscure topics (eg garlic festival, pirates festival, balloon hat festival)
In the case of Disney's Epcot International Food and Wine Festival which drew some one million visitors a year, its success formula centred around targeting mass and niche resident and domestic audiences, showcasing the culinary expertise of Disney chefs, providing opportunities for partners, and filling the gap periods before peak holiday seasons.
Recipe for Winning Events
Other than the above, successful events normally…
– start with a winning recipe, eg "the biggest, the longest, the first…";
– utilise special ingredients – diverse offerings, great food, entertainment, educational opportunities etc;
– appeals to everybody;
– adheres to the idea that variety is the spice of life; and
– are held for long durations and are repeated annually/biennially. Minimally 30 days but can be up to 60 days long. The Food and Wine at EPCOT is 45 days in length.
Steps to Organising Events
How does one do it then? Here's the process according to Tom:
1) Establish strategies and objectives. Conduct market research to understand one's audiences and answer the questions of when, why and where.
2) Develop a sound business case. This is where creativity must be balanced with the business needs.
3) Ideation
4) Planning and production
5) Marketing
6) Execution of the event
7) Post event – measuring, feedback, ratings based on guest expectations.
Meeting Guest Expectations
On the all important issue of meeting guest expectations, Tom offered four cardinal rules for guests, namely:
1) Make me feel special
2) Treat me as an individual
3) Respect my children
4) Have knowledgeable cast members
Other ways to surprise and delight guests include rewarding one's best customers and interacting with them. Let them flip the horn, switch on the lights, or drive the bus!
Brand Building for Attractions
Another key strategy in the theme park business is to build one's brand. Once developed, it should guide all product decisions. To do it cheaply, tips include the following:
1) Create an affiliate programme – online or offline
2) Start or contribute to a blog
3) Put your logo on labels, stickers and all communication materials
4) Attach your tagline to emails
5) Put your logo on inexpensive items and premiums that can be given away
6) Start email newsletters for your customers
7) Offer your expertise to local or industry media
8) Visit your clients on holidays or near holidays
9) Have a style guide to implement
On building the event brand through word of mouth, key decisions to consider include:
– which consumers to target,
– who amongst the cast should talk to them,
– when should the conversations occur,
– what products should we talk about, and
– the key messages to be shared.
Marketing and Advertising
Finally on the issue of marketing and advertising, Tom shared that "marketing is more powerful to the consumer when you give them a little something extra". For example, 20% more shampoo, $2 off your when you buy both tickets together, etc.
One should also communicate one's offering in a compelling way. An example can be seen in the Minnesota Twins commercial below:
To conclude events and festivals is a mixture of BIG "WOWs" and small "ah-ha's". Combining large-scale festivals with smallish activities can work towards a theme park, wildlife park or museum's advantage.
What's important is to give the guests what they want, and they'll come back, again and again.