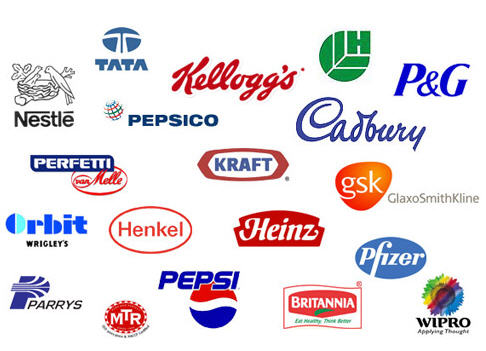 Can you compete with the above brands on scale, distribution and price? (image source)
In the world of consumer businesses, there are probably three main ways to differentiate yourself from the hoi polloi.
These form the basis of virtually all forms of competition in marketing.
The first way is to level your competition by beating them on price, variety, convenience, and distribution. And while you're at it, look at meeting the lowest common denominators in consumer needs and wants.
Huge consumer retailing outfits like Walmart, Target, 7-Eleven, Amazon and Carrefour are examples of companies adhering to this strategy. As are major FMCG manufacturers like P&G, Unilever and Nestle.
Here, access, affordability and range are the trump cards. These conglomerates and businesses flatten everybody else by their sheer "superlative-ness" – having the greatest range of products and services, at the most affordable prices, and making it available whenever and wherever you want it. I term this as the Massively Mass strategy.
The second way is to remove as many elements of pain as you can from the purchase and consumption process.
What are the things that irk your customers in their dealings with your competitors, for instance? How can you take away the grouses commonly heard about your product or service? This requires a deeper and more introspective research into what makes a customer tick, and how one can "massage" away the pain points.
Zappos and Virgin Airlines are great examples of businesses in this arena. The former offers a no questions asked policy for refunds of unsuitable merchandise (even providing a package with postage to do so), while the latter dispenses with the usual dreary experience of riding on commercial airlines. This approach is christened the Positively Painless strategy.
The third and final way is to invent an "insanely great" product or service, borrowing a phrase from Steve Jobs.
This would be your "Purple Cow", a remarkable item that is peerless and stands out from the crowd – so much so that it motivates its customers to talk about it through their own networks. Examples include Hayao Miyazaki's movies like "Spirited Away" and "The Secret World of Arrietty", and Disney or Universal Studios theme parks.
Here, we're looking at transcending the usual barometers of preference like convenience, affordability and features to include stronger measurements like love, trust, belief, and commitment. Where its no longer an expense but an investment – of money, time, and emotional energy – in a relationship between buyer and seller.
Those who succeed in this game could even create "Lovemarks", which are brands that reach deep into the emotional lives of its customers. Really Remarkable is what I would call this final group.
This can perhaps be summarised in a simple diagram below:
Of course, many great companies or businesses are able to weave all three elements into their strategy. Apple, for example, has managed to solve much of the pain involved in navigating PCs and smartphones while creating a "ding in the universe" with products that are attractively designed and easy to use.
However, being all things to all men isn't easy. Start-ups without access to huge pools of funds, talents or networks may be wise to instead focus their attention on one strategy at a time, at least from the onset of their business.