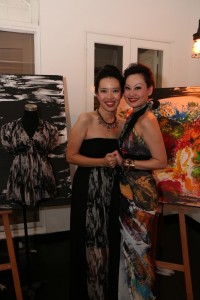 Kay Wong and Adeline Yeo at the launch of their collection
What do you get when you mix women's fashion, finger painting art and motherhood? The answer is Something Beautiful.
Hatched in far away Prague during a Spotlight Singapore business trip led by my friend art administrator Colin Goh, this collaborative effort came about when Singapore fashion designer Kay Wong of online fashion retailer Milky Way teamed up with finger-painting artist Adeline Yeo. Through the partnership, Kay and Adeline combined their creative and entrepreneurial talents in a business venture that infuses the beauty of art into ladies wear targeted at mothers.
Blending art, fashion, and online retail, Something Beautiful is a limited collection of women's wear designed for everyday appeal and wearability. Featuring bold and exuberant prints from Adeline's artistic works, it comprises dresses, co-ordinates and scarves. Launched at a recent cocktail event, the collection distinguishes itself with its versatility, elegance and quality workmanship.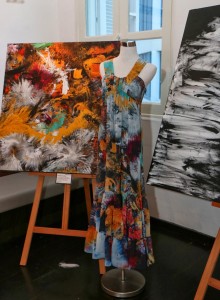 Milky Way is an online fashion business which Kay – a mother of three – started back in 2005 when she sought to balance her passion with her family life. A self-taught designer, Kay found a kindred spirit in Adeline, a former public relations practitioner turned full-time artist.
To find out more about Something Beautiful, I caught with the two ladies via an email interview.
Adeline Yeo
How did the idea of a partnership first come about?
We met in Prague a year ago through Spotlight Singapore. To me, chemistry is highly important; the meeting of minds, hearts and an intuitive sense for possibilities. It was Kay's dream to introduce an art-inspired collection and I'd entertained the thought of translating my art into fashion.
I love colours; I love fashion; I love all things beautiful. Most of all, I love to create. To team up with a professional designer was the best partnership. Making her dream come true was another motivation, and a vision for myself.
What were the inspiration behind the pieces? How do you come up with your artworks?
It was a natural instinct for us to call it Something Beautiful. Originally a working title, it eventually became the collection theme and name.
I pored through many magazines before I came up with my own interpretation of how the collection could evolve. I wanted a balance of colours – from a darker hue but yet vibrant palette like "Feathers", to an explosion of bright colours in "Something Beautiful".
"Running with the Roses" was the only artwork with a border. I chose beige because I thought of babies and protection. I also wanted to draw roses – my favourite flowers.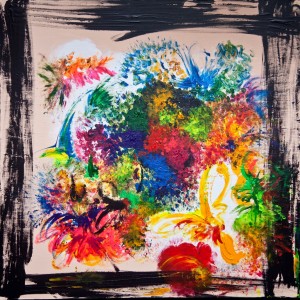 Running with the Roses by Adeline Yeo
I wanted the artwork to tell a story – a baby, a girl, running with the roses, innocent and free, chasing her dreams, romance and the feeling of being filled with joy. I jotted down words, motifs and colours I wanted the collection to be associated with, and crafted poems to match each of them.
"Pizazz", "Desire" and "Vigor" were three pieces that were part of this year's "Verve in Motion" exhibition. Kay liked them so much that she also singled them out for further inspiration. She has since translated her inspiration to dresses and scarves.
There was another art piece – "For The Love of Art" – from which Kay chose a signature heart motif located within the artwork for the collection's hangtag. This painting has been sold to a collector.
What is your Muse?
Muse? I am inspired by journeys, stories, my travels and all things beautiful.
Kay Wong
What motivated you to start an online fashion business? What steps are necessary?
I saw a real need for good quality clothing at affordable prices, and this made me think, "I can do something about it!" My background in e-commerce helped me to set up of the site. What is great is that online shopping has caught on a lot more in recent years, which is a good thing for my business.
Milky Way started out as a home-based business. However, it was inevitable that we had to move out of my home to a proper warehouse cum showroom where customers can visit, and where my inventory can be properly stocked.
For a home-based business, there is one main channel to engage customers – the Internet. So, a good grasp of e-commerce, as well as an appreciation of how to use of social media effectively, is important. However, as with all businesses, the product offering and service are ultimately what will make or break them.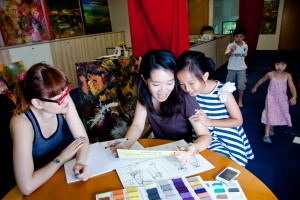 Adeline, Kay and Kay's three kids
What are some of the challenges involved in working on an online fashion business?
Operationally, the fact that customers are unable to try on the clothes presents a challenge, especially those who are unfamiliar with the sizing standards. So, we have to be ready for returns and exchanges. Fortunately, once customers are familiar with the brand's sizing specifications, they become very comfortable with ordering larger quantities.
With more and more online stores selling clothes with similar functions to mine – that is maternity and breastfeeding – the challenge is always to stay relevant and close to our customers, emotionally, so that they will remember our brand when they have a need.
Trends are constantly changing in the fashion business. Our challenge here is to remain modern and relevant without appearing to be aimlessly chasing trends. The Milky Way brand is about timeless designs that make a lady feel happy, confident and comfortable wearing our clothes.
Who are the customers of Milky Way? What are their profiles?
Milky Way customers are expecting and breastfeeding mothers who want ready access to stylish fashion that is comfortable and offers exceptional value. Many of our customers are working mothers. They are typically internet-savvy and already familiar with online shopping and what other companies offer.
In short, they are extremely discerning ladies.
Measured by volume, most of our customers are from Australia and the UK. We also cater to mothers in other parts of the world such as the USA, France and the Netherlands.

What are your future plans after the launch of "Something Beautiful"?
We will definitely be expanding the wholesale arm of our business – that has always been the main thrust of our business. Something Beautiful is a special limited edition collection, and we certainly hope to offer more special collections for our customers and overseas buyers. At the same time, we will continue to expand our basic range of items; it is, after all, where it all began.
________________
To find out more about the businesses run by these ladies, do check out Milky Way's online store as well as Adeline Yeo's website.