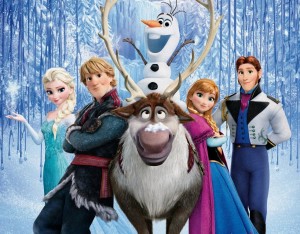 Courtesy of Disney
Disney's latest blockbuster movie Frozen was a blast, freezing the competition in their tracks this winter.
Taking top prize at the 41st Annie Awards for best animated film, the film is nominated for two Oscars, and has heated up box offices worldwide. Costing US$300 million to make, Frozen is anticipated to generated some US$1 billion when it completes its big-screen run. The movie did so well that it helped Disney to report a 33% increase in quarterly profits and has been lauded by Disney's CEO Bob Iger as a "turnaround for animation".
Wow! How did this tale of two Nordic princesses, a wisecracking snowman, and cuddly trolls sweep the world off its feet?
Let me recount the ways from a storytelling angle (PS – beware of spoilers).
Every Underdog Has Her Day
We love to root for underdogs, and Frozen has them in spades. From the onset, we see that naive and trusting Anna always played second fiddle to her icy sister Elsa who was crowned the queen. Similarly, reindeer riding Kristoff was a humble and unwilling hero against the suave and scheming Prince Hans.
In this day and age, the ancient archetype of a knight in shining armour riding a white horse no longer applies. Instead, our heart goes to salt-of-the-Earth heroes who exude the frailty and weaknesses of common folks.
A Plot With a Twist
Great stories are often full of unexpected twists, and Frozen delivers the goods once again. In the first few minutes of the movie, I thought that the story would revolve around Elsa the ice queen. As the movie progressed, it became clear that Princess Anna would play a defining role. Similarly, debonair Prince Hans who almost married Princess Anna later turned out to be anything but charming.
To leave a lasting and memorable impression, challenge your audiences' perception of good and evil. Make them do a double-take. Indeed, great storytelling is as much about engaging your audiences' intellects as it is about connecting with their hearts.
Metaphorical Depth and Richness
I love all the icy allegories and metaphors embedded in Frozen. We can see how the harsh eternal winter in the kingdom of Arendelle mirrored the condition of Queen Elsa's heart. In the beautiful Oscar-nominated song "Let It Go", Elsa's love-hate relationships is poetically conveyed through highly lyrical and visual metaphors. An example is seen in the first 5 lines of the song:
"The snow glows white on the mountain tonight
Not a footprint to be seen
A kingdom of isolation, and it looks like I'm the Queen
The wind is howling like this swirling storm inside
Couldn't keep it in; Heaven knows I've tried"
Contextual Relevance
Unlike the hapless Snow White, Cinderella and Sleeping Beauty of old, modern day princesses are heroines who lead the battle against evil. In this case, we are talking about two kick-ass ladies who are anything but royally regal. Environmental messages also creep in strongly for Frozen, although the warning seems to be more about global cooling than warming.
(Interestingly, such themes were also prevalent in the movies of legendary Studio Ghibli boss Hayao Miyazaki whom Disney Studios head John Lasseter idolizes.)
To resonate with your audience, you need to be sensitive to the zeigeist of the day. What are the socio-cultural trends that are rocking your world? What are the issues which people care about? Weave this into your storytelling and voila! Magic is born.
Conflicts and Contrasts
Nobody wants to listen to or watch a story coated with sugar, spice and everything nice – even if its a Disney movie. While Frozen is definitely very much a "G" rated movie, it does have its fair share of turmoil and dilemmas.
A case in point was Queen Elsa's struggle with wanting to spend time with her beloved sister yet not wanting to hurt her with her icy powers. This "Jekyll and Hyde" syndrome is wondrously contrasted by the huge towering snow monster and the lovable heat-loving Olaf – both of whom are snowy creations of Elsa.
Similarly, consider conveying the two different sides of good and evil in your own story. Were there situations where dilemmas were faced? How did these struggles eventually get resolved? A tale that is all smooth sailing isn't one worth listening to, even if its a fairytale!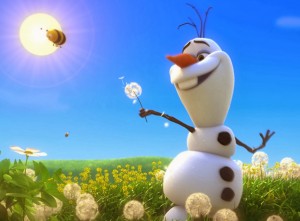 Isn't a sun-loving Snowman such an irony? (courtesy of Disney)
Bonus Reason: Memorable Soundbites
Finally, let me end with a few wonderful quotes from the movie. Wait a minute, that would be another reason why this tale was tantalising. The most memorable and impactful stories have classic lines that are quote-worthy. As such, do consider crafting your stories such that you're able to leave a couple of memorable lines that delight and impress.
Olaf: Some people are worth melting for.

Elsa: [singing] The cold never bothered me anyway.

Hans: Can I say something crazy? Will you marry me?
Anna: Can I say something even crazier? Yes!
Do you love Frozen as much as we do? Tell me why in the comments box below.