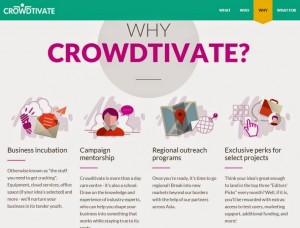 Poster child of the burgeoning crowdsourcing movement, crowdfunding is estimated by Massolution to have raised some US$5.1 billion globally in 2013. Internationally, US-based players like Kickstarter, Indiegogo, and RocketHub have kicked butt, while the Asian scene has been relatively quiet.
Until now.
Launched at Crowdsourcing Week Global in Singapore, StarHub's Crowdtivate is an "online social launchpad" targeted at helping local and Asia-based entrepreneurs and artists to obtain financial support for cutting edge projects. It is one of the first such crowdfunding platform in the region. Providing specific rewards to supporters, the open platform allows funders to discover and back innovative new products and services.
Co-managed by StarHub i3 (Innovation, Investment, Incubation) and crowd solutions specialist Crowdonomic, the telco-backed crowdfunding platform is supported by the Home-Fix Experience Centre, National Book Development Council of Singapore, NUS Design Incubation Centre and Singapore Infocomm Technology Federation.
To find out more about Crowdtivate, join me as I interview Mr Stephen Lee, StarHub's Head of i3 (Innovation, Investment, Incubation).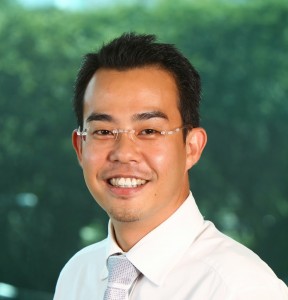 Stephen Lee, StarHub's Head of i3(courtesy of StarHub)
1) What prompted StarHub to venture into the crowdfunding space? Is there a vision or goal for Crowdtivate?
We believe that the crowdfunding space can provide us with a continuous source of innovative and creative ideas from start-up companies, entrepreneurs and even the regular man in the street. Innovation can come from any source. We wanted to create a platform that will curate the best ideas in Asia and alow the general public to express their support for the ones that really stand out.
From StarHub's perspective, we hope to curate great ideas that go beyond the traditional info-communications services. It's a wiser long-term strategy for the company. Who knows? We could incorporate successful ideas into our service platforms or help them grow as future businesses.
2) What would you see as the unique differentiating factor for Crowdtivate relative to other crowdfunding platforms?
We are focused on three categories: Creative/arts/books/films, technology and assistive technology. This focus allows us to concentrate on specific projects rather than a broad-based approach such as Kickstarter or Indiegogo.
Crowdtivate further provides mentorship that allows project owners to create good campaigns, with options for support in business incubation and regional outreach. Campaigns could potentially receive additional assistance, including access to test users, marketing support, start-up funding, free software development, invention development and infrastructure support.
This approach offers project owners a more comprehensive roadmap to shape their ideas into viable businesses beyond pure funding. That said, hats off to the pioneers in the crowdfunding field for making it such a success.
3) How many projects does StarHub hope to attract through this platform? Any targeted numbers per year?
We have our own internal projections and we are realistic in our expectations. Crowdfunding is still a relatively new concept in Asia and we expect it to grow in popularity over the next decade. Without giving numbers, what we can say is that we are looking at the quality rather than quantity of projects.
4) Who do you see as your target entrepreneur/ideator? What are the kinds of projects that you hope to back?
We hope Crowdtivate will appeal to entrepreneurs, start-ups, artists and even to the average man in the street who has an idea at the back of his head that he wants to make real. As mentioned, we are looking at three main categories – creative/arts/books/films, technology and assistive technology
5) I like the idea of focused assistance being provided to entrepreneurs through mentorship, business incubation and product development/testing. However, such efforts are likely to be quite resource or capital intensive. Is there a set of criteria on how projects are earmarked for further grooming?
While crowdfunding is popular, there are also stories of how project owners achieved success on the platform but fail to get their projects off the ground due to a number of reasons. Underestimating the business and financial requirements of rolling out a viable business is perhaps the number one reason for this. That is why we have put in place a process which can give an idea significant legs to succeed in the wider market.
As an operator, we won't be afraid to incubate and help that project owner achieve his/her goals upon success on Crowdtivate. We will evaluate each project on a case-by-case basis and make that call when needed.
6) Who are the mentors and partners whom StarHub will be working with to provide guidance to the start-ups? Will they also have a stake in the projects?
Crowdtivate is co-managed by StarHub i3 and Crowdonomic. We are also working with SiTF, National Book Development Council of Singapore, Home-Fix Experience Centre and other partners who will provide mentorship and counselling in the areas where they have expertise in.
We will work together with these partners to review project submissions before they are accepted for crowdfunding on Crowdtivate. Once project owners have achieved success on Crowdtivate, they could leverage on their mentors' networks and experience to market and promote their idea. Whether they will take a stake in the company will be at their discretion – it's not a must.
8) Will StarHub also be taking a direct stake in the projects that are being crowdfunded? Is there a possibility of them being acquired too?
As mentioned earlier, we may either incorporate the projects into our service platforms or help the project owners grow as a future business. We may even back them by investing in, forming a partnership with or bringing the start-ups to overseas markets through our telco partners in Asia Pacific. It will be taken on a case-by-case basis.
9) As a telco, StarHub already has an existing network of users and subscribers. Would you be marketing this idea to them?
We will be marketing Crowdtivate campaigns through social media, direct to our customer base, as well as through our partners.
10) Finally, what would you say to a potential investor/pledger of funds to Crowdtivate? What would your pitch be like to him or her?
Every success starts with a dream and every single support counts. Take a look around. Look for projects that interest you. If it's something you really want to make happen, please back the project owner generously. Communicate with the creators and be open with your feedback. Ultimately, we hope they can be part of the success of their own home-grown entrepreneur.
Crowdtivate will be open in May 2014. For more information and to register, do visit their website at this link.