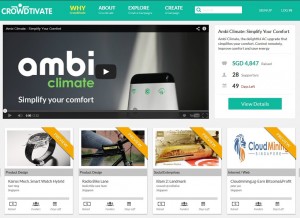 Do you wanna fund a start-up?
If so, good news! StarHub's Crowdtivate – an Asian-focused crowdfunding platform launched in April this year – now has 12 Asia-based projects available for support. As a rewards-based platform, Crowdtivate mandates that listed projects should provide different levels of rewards for funders of differing quantums, with a minimum sum of S$5. Often, funders will enjoy a special "early bird" price for a new product as its backers.
Spanning the three categories of creative works, digital technology and assistive technology, 5 of the projects are world-firsts. They are a mechanical smartwatch hybrid, a standalone device that works with air conditioners to save energy and ensure comfort, an electricity-free bamboo speaker for mobile phones, a mobile app that allows mobile users to use the main camera of their phones for selfies (SaySelfie), and a device which "hijacks" a vehicle driver's FM radio to alert driver that a cyclist/jogger is nearby (Radio Bike Lane).
Three other projects are firsts in Asia. They include a wearable fashionable device that sends out emergency signals with the push of a button, and a smartphone input app for stroke survivors.
Sharing at the launch, StarHub i3 (Innovation, Investment, Incubation) Head Stephen Lee shared that they have received some 400 proposals since the platform's launch in April. Over a three-month period, the StarHub team together with their partners to seive through the projects, curate them and assist participating entrepreneurs in their marketing and promotional campaigns.
To further expand their reach in the Asian market, StarHub inked a deal with Indosat – one of Indonesia's largest telecommunications services provider. Through this partnership, both telcos hope to grow and support the fledgling ecosystem of crowdfunded enterprises in the area of marketing, mentoring and funding.
Let us shine the spotlight on some of the more interesting projects.
WaryBee
Designed to increase the security of your loved ones, WaryBee allows you to call for help at the push of a button. Once activated, the device sends an SMS to your loved ones which provides information such as your location as well as a number to call. This device is available in various colours (see below) and can be embedded into jewellery to make it fashionable and indistinguishable to a potential "attacker".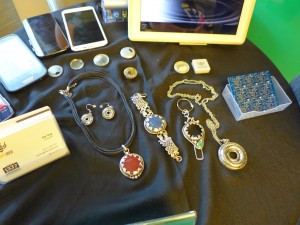 Targeted amount to be raised: S$50,000.
Ambi Climate
Considered the "star" of the crowdfunded projects, Ambi Climate by Hong Kong based entrepreneur Julia Lee is touted to be world's first standalone device which pairs with a home air conditioner unit to deliver predictive and personalised comfort to occupants. Apparently, this helps to save between 10% to 30% of energy!
You can see how the device looks like below.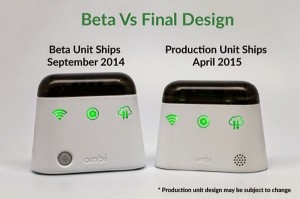 Working with any indoor air conditioner so long as they have an infra-red controlled remote controller, the device helps to adjust the indoor temperature in a graduated manner (like an intelligent thermostat). It also has the ability to monitor ambient room temperature and modify the air flow and temperature accordingly.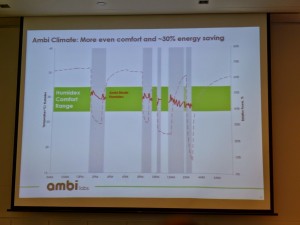 Targeted amount to be raised: S$50,000.
Kairos Watches
Another world's first, Kairos Watches is a mechanical smart watch hybrid. It combines a traditional mechanical watch (complete with "hands" and chronometers) with the smart technologies available in mobile computing. While the technology behind smart watches which are linked to your smartphones isn't particularly new, the novelty in this gadget is probably its "coolness" factor as you can see below.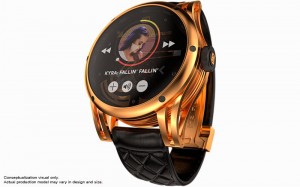 Targeted amount to be raised: S$20,000.
iBam 2 Singapore Edition
My personal favourite, the iBam is yet another world's first. Inspired by the kampongs (villages) in Indonesia and its traditional musical instrument the angklung, the iBam 2 combines ethics, aesthetics and natural engineering. Designed by Muhammed Ibnur Rashad of the Ground Up Initiative, this compact electricity-free bamboo speaker works with any mobile phone.
In the photo below, you can see a slide on how the iBam 2 helps to support disadvantaged families (like single mothers) and village communities in Indonesia.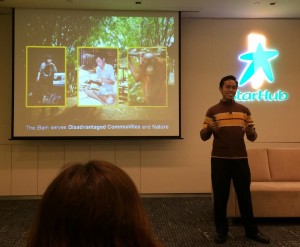 A second photo with Ibnur Rashad showing how a mobile phone can sit snugly in the iBam 2 speaker. Having heard the speaker in action, I must say that it was pretty impressive. I am certainly going to place my dollar in this – especially since it is waterproof and battery-free!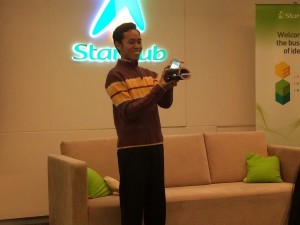 Targeted amount to be raised: to be determined.
Ruby Chen's Album "Life's Precious"
Finally, the lead vocalist of local group Singapore Char Siew Bao Ruby Chen seeks to raise enough funds for her first Mandarin album. Semi-finalist in local talent competition "One Moment of Glory", Singapore Char Siew Bao performs regularly at venues like Hood Bar and Cafe, Jewelbox, Fivebar and Da Paolo. You can check out their music from their YouTube channel here.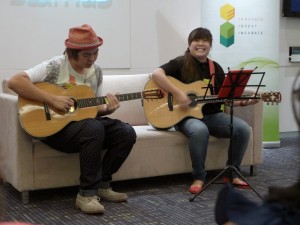 Targeted amount to be raised: S$15,000.
How To Support These Projects
To support these (and other) projects from Crowdtivate, do sign up for a free account or log in with your Facebook or Linkedin user ID and password to browse projects. Contributions are made through PayPal or major credit cards.
To date, over $11,000 has been raised from about 135 funders for 8 of the projects. With between 28 to 58 days left to the end of the campaign periods for the first batch projects, I am sure that these entrepreneurs will do their utmost to raise the estimated S$400,000 or so needed for their projects.
Depending on the response from backers, Crowdtivate may provide additional support in terms of business incubation, access to test users, marketing support, infrastructure support and other areas of development.
For more information, do check out Crowdtivate today!