Do you know that telcos are the most "socially devoted" brands in Singapore? Or that an infant milk powder brand has the greatest engagement rate for its Facebook posts?
These interesting insights and more were revealed by social listening and analytics software as a service provider Social Bakers in their October report charting out Singapore's social media scene. Delivered in the form of a detailed infographic, Social Bakers' report highlighted the top industries and brands engaged in Facebook, Twitter and YouTube.
Let us dig into some of its findings to see what social gems we could unearth!
Top Brands Post Twice Daily on Facebook and Twitter
According to Social Bakers' report, the top 20 brands post 61 times a month for Facebook and 58 times a month for Twitter. This roughly equates to twice a day for the two most popular social networks. On YouTube, top brands upload new videos at the rate of 6 per month or about one every five days!

Food and Retail Dominate Facebook
As anticipated, the most social industries on Facebook based on fan count are F&B businesses – both retail and service. They are followed by e-commerce players followed by general retail and fashion.
Top Five Facebook Brands
Digging deeper into Facebook, we see that 3 out of the top 5 Facebook brands are fast food players, namely McDonald's (which has two different Facebook pages) and KFC. It is interesting to see that Scoot, a relatively new airline brand, has overtaken its parent company Singapore Airlines in terms of fan count with it FlyScoot Facebook page.
Media players wise, it appears that both SPH (The Straits Times and The New Paper) and MediaCorp (Channel News Asia, 987 FM, Channel 8) are jointly ruling the roost.
Telcos and Airlines Most Socially Devoted on Facebook
Interestingly, the telcos and airlines are deemed to be the "most socially devoted". By this definition, Social Bakers measures the average response time these brands take to answer their customer queries. My guess is that these industries also face the greatest numbers of customer issues in view of the huge numbers of customers served with multiple transactions.

High-Touch Brands More Engaged on Facebook
While telcos and airlines are more responsive, the top brands generating fan engagement (ie "likes", comments or shares) on Facebook tend to be more "high-touch" businesses. It will be very interesting for brands to study how these leaders generate so much fan love on their Facebook pages – at 4.56% engagement, Enfagrow A+ Singapore is over 14 times more engaging than the average brand!
While babies, pets and hotels may be naturally more engaging, I am intrigued by how SaSa SG, a mass market beauty, cosmetics and perfume retailer, manage to amass such adoration amongst its fans.

Airlines Rule Twitter in Followers
Similar to their pages on Facebook, airlines appear to be the most followed on Twitter. Intrigued by their unbelievably high number of followers, I went to search for aluminaid Twitter account, and found that they are Singapore based company dealing in first aid dressings and bandages. Hmmm…. I wonder who their followers are?
In terms of interactions, Marina Bay Sands is way above the rest. My guess is that they are using Twitter as a major customer service and enquiry channel.

Toys R Us is the King of YouTube
With the huge number of kids and tweens glued to YouTube on their tablets and smartphones, it isn't any wonder that Toys R Us is the boss on this video sharing platform. They have not only garnered the most views, but are also the most engaging with an amazing 89,072 interactions in one month alone! I wonder how big their social media team is….

Most Engaged Facebook Post – Lactacyd
Beyond the ranking leaderboards for social brands, Social Bakers highlighted 3 of the most popular Facebook posts. While I expected Canon and Starbucks to be there, the appearance of a Facebook campaign from Lactacyd, a leading feminine hygiene brand, was somewhat surprising. You can check out this contest website for more information on their 200 Hour Challenge.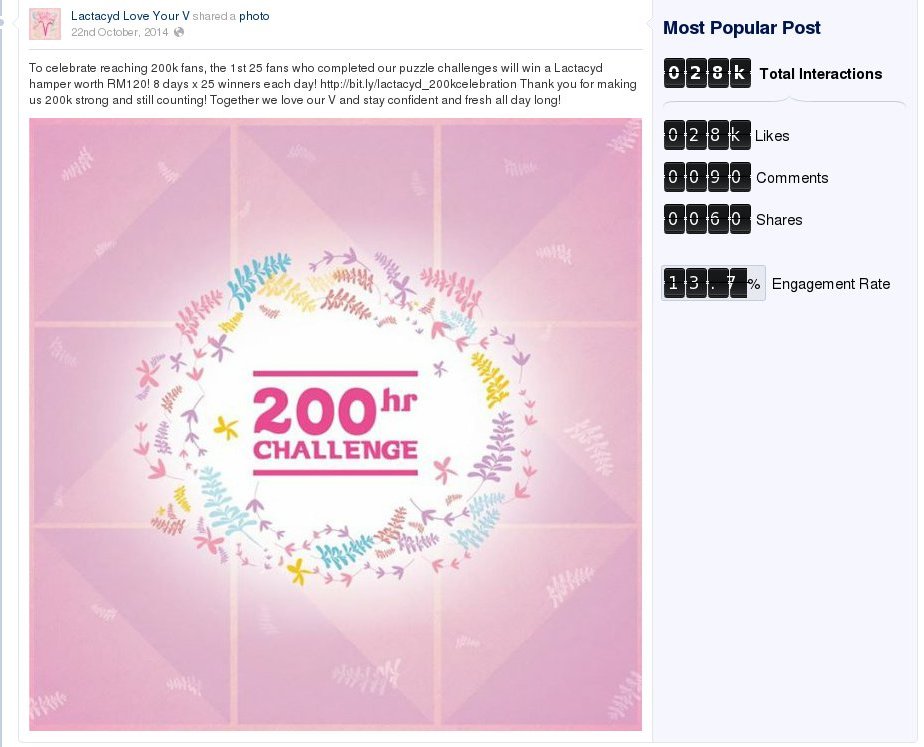 For more information, do check out Social Bakers' website. You may also wish to view the full infographic below (click to view full-sized version).