What or who influences you the most in your buying decisions?
Advertisement in the newspaper;
News report featuring an interview with a CEO;
Consumer review reports on an online forum;
Pop-up display ad on your mobile;
Endorsement by your favourite celebrity; or
A friend or family member's recommendation.
Allow me to guess. Your answer is "F" right?
If you're like most people, your day to day consumption and purchase habits are likely to be influenced by the people you know. Online or offline, these folks play a big role in driving sales, yet are often neglected by big brands.
The question, however, is this: how influential are these micro or everyday influencers?
"People We Know" Most Influential
According to Nielsen's survey on Global Trust in Advertising and Brand Messages (see chart below), respondents cited that the recommendations of people they know (84%) wielded the greatest influence. Also known as earned media in content marketing parlance, these everyday influencers can be virtually anybody whom they know and trust.
Consumer opinions, another form of user generated content, occupied the second spot (70%). This is followed by TV ads at 68%, branded websites (67%), newspaper ads (65%) and editorial content (64%).
Interestingly, most online display and banner ads appeared to fare poorly in eliciting consumer action.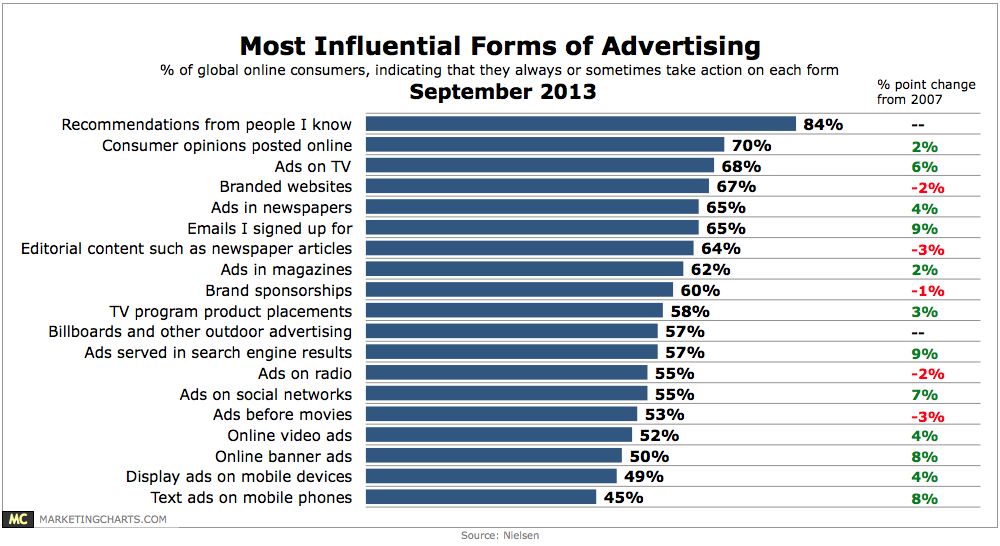 Source of image: Marketing Charts
According to a McKinsey Report, word of mouth is the primary factor behind 20 to 50 percent of all purchasing decisions. Its influence is greatest for first time purchases, or when products are relatively expensive.
McKinsey also reported that word of mouth "is no longer an act of intimate, one-on-one communication". Rather, it operates on a "one-to-many basis: product reviews are posted online and opinions disseminated through social networks".
The Four Levels of Influencers
To understand who everyday influencers are, let us first define who the different types of influencers are.
According to Jason Keath, there are four levels of influencers:
Celebrities (eg Taylor Swift)
Publishers (eg bloggers and YouTubers)
Fans (eg customers and stakeholders)
Friends (eg friends, family and coworkers)
Celebrities like actors and CEOs generally have a very wide reach. However, they have the least influence on our lives.
As we move towards the bottom, the reach of publishers, fans and friends diminishes while their respective influence increases. Thus, your wife or mother may not have as huge a following as say Justin Bieber, but are probably more influential in determining the car you drive, the clothes you wear, or the meals you eat.
This tiering of influencers can be viewed in the chart below:
Image from Influencer Marketing Review
Influencer marketing consultant Kyle Wong shared in Forbes that influencer marketing is considered "more authentic" than a direct brand message. However, as professional influencers increase their branded campaigns, savvy consumers are starting to weed through the sponsored marketing messages.
Quoting from Kyle:
"In the past, brands may have focused on popular bloggers and celebrities but today there is a new wave of "everyday" consumers that can have just as large an impact."
As regular folks, micro influencers are usually perceived to be more believable than top tier influencers. These are the folks who may have between 2,000 to 50,000 fans on Instagram, and a modest (but loyal) following on LinkedIn, Twitter, or Facebook.
Over time, micro influencers are predicted to play an increasingly important role in the marketing and advertising of brands.
Micro-Influencers Deliver Better ROI
A recent article on Adweek reported that Micro-Influencers may be more effective than popular accounts in delivering a better ROI for advertisers.
According to the report, Micro-influencers deliver…
60 percent higher campaign engagement rates than macro-influencers;
Are 6.7 times more efficient per engagement than influencers with larger followings; and
Can drive 22.2 times more weekly conversations than the average consumer.
Check out their infographic below to understand why they may work better for your brand.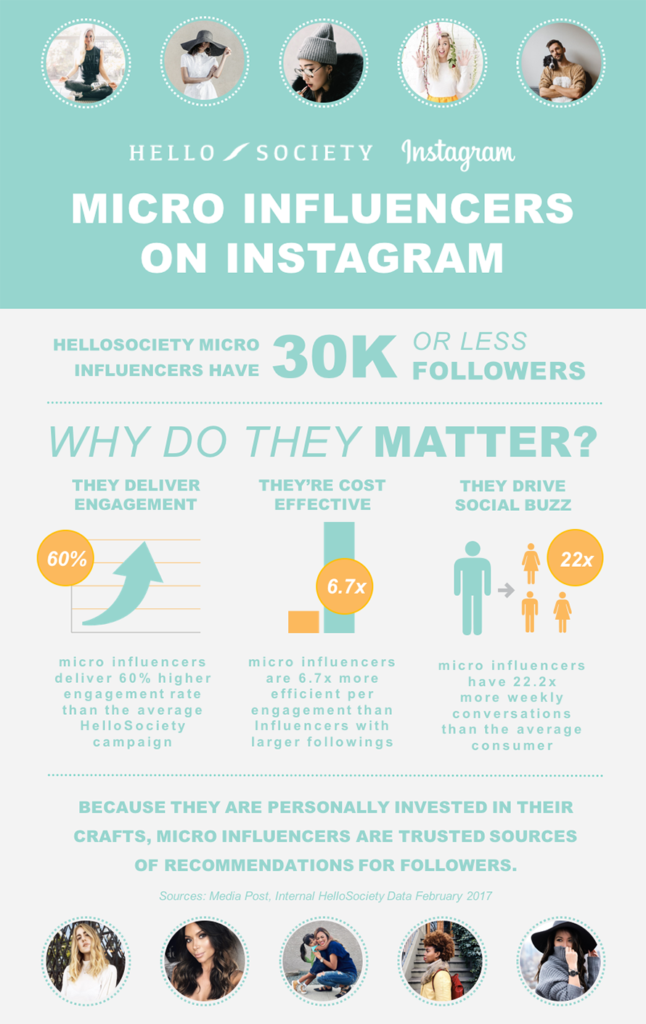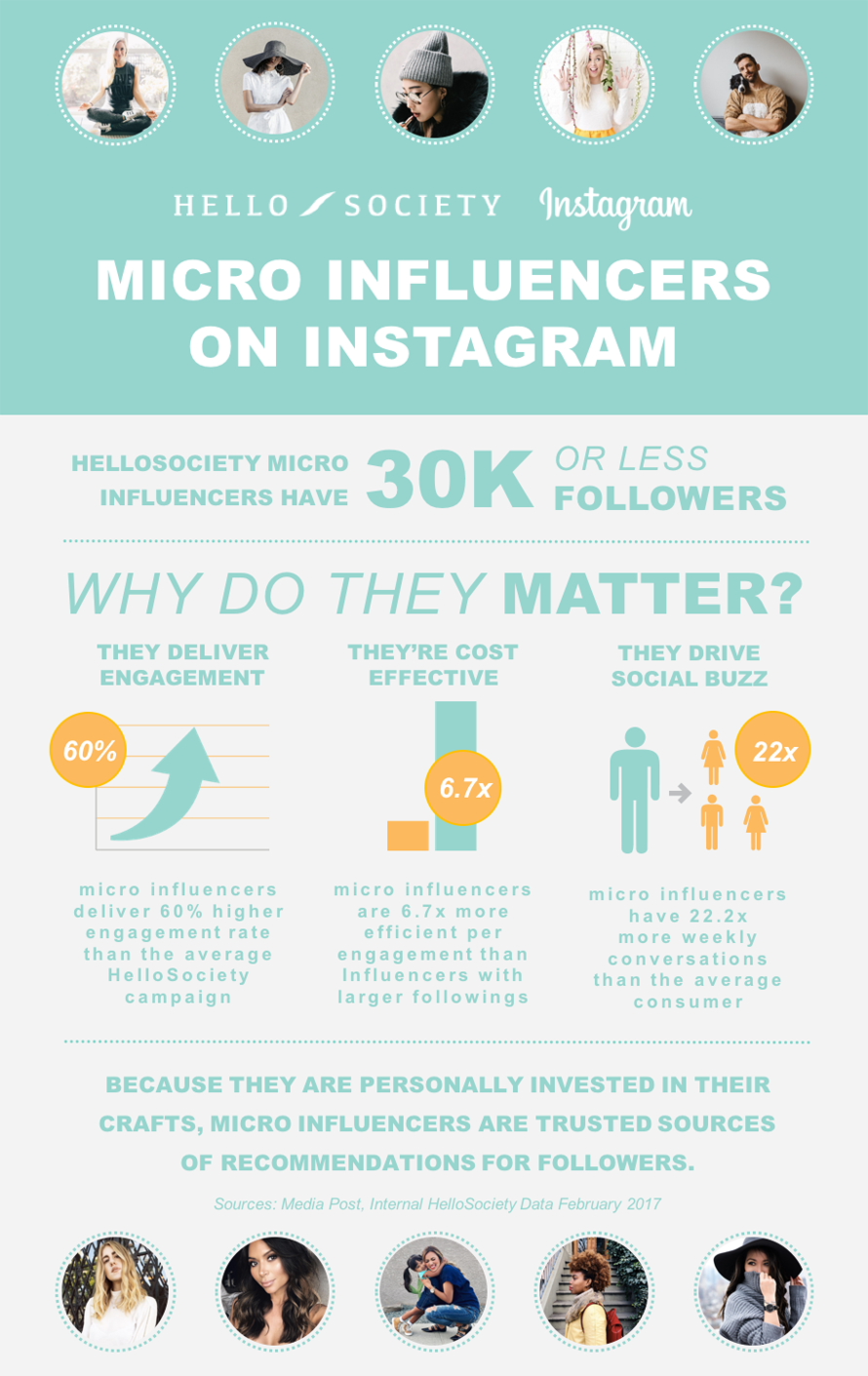 Courtesy of Adweek
…Or Do They?
UPDATE: Apparently, the ROI of Macro-influencer and Micro-Influencer marketing campaigns is still debatable.
According to a recent study by Mediakix, Macro-Influencers could deliver more reach, likes and comments per follower than Micro-Influencers. Here's an example using the brand Sephora, comparing Macro and Micro Influencers.

Unfortunately, their analysis did not include the budgets spent engaging the two different groups of influencers and hence a truly apple to apple comparison may not be possible.
Micro-Influencer Marketing Campaigns
Now that we've identified which influencer we should work with with, let us put together an influencer marketing campaign.
I've previously shared some details of engaging influencers in ABCs of Influencer Marketing. Using that as background knowledge, you may wish to adopt this five step framework from Traackr (see diagram below) to guide your influencer marketing campaigns.
Courtesy of Traackr
Let us go through each of the steps:
Define Online Audience: Identify who your target customers are. Who influences their buying pathways from discovery, evaluation, decision to purchase?
Discover Right Influencers: Match the right micro-influencers to your targeted customers. They could be selected based on interests, behaviours, and similarities (eg geographical location, culture).
Monitor Influencers: Study what the micro-influencers write, photograph, or record on video. Are they relevant to your product? How effective are they in influencing action?
Take Action & Engage: Build a direct and personal relationship with your micro-influencers, discuss working arrangements (see examples here), plan possible iniatives, and implement.
Measure Results: Track the outcomes of the influencer marketing campaign. How effective are your micro-influencers? What are their final deliverables? Are they tangible? (once again, you can find examples of KPIs here)
This brings us to our last step in influencer marketing. One where the rubber meets the road.
Measuring Micro Influencer Results
As the saying goes, you cannot manage what you don't measure. But how should we measure how well our influencers have performed?
First, understand that gross measurements like an influencer's reach (followers, fans and page views) are not good indicators. Experienced digital marketers know that followers, likes and fans can be bought.
What's more important are the engagement levels an influencer has with her network, her fit with your brand, and her ability to trigger the right brand action.
Let us look at two formulas to gauge the effectiveness of influencers.
1) Pixlee's Equation (Reach x Brand Affinity x Relationship)
Rather than just looking at followers alone, Kyle Wong of Pixlee suggested in Forbes that it could be measured as follows:
Influence = Audience Reach (# of followers) x Brand Affinity (expertise and credibility) x Strength of Relationship with Followers (probably refers to engagement)
Looking at the equation above, brand affinity is probably best measured by how well an everyday influencer fits your brand profile. This could perhaps be a multiplier (eg 0.1 for poor brand fit, 0.5 average, and 0.8 strong brand fit). Relationship with followers could perhaps be measured by the engagement rate (see this article for more on engagement).
2) Socialbaker's Post and Daily Engagement Rate
Perhaps a simpler way to measure engagement – especially if your influencers are on social networks like Facebook and Twitter – is to use Socialbakers' metric. This is based on three qualities:
Interactions – Like, Comments, Shares, Replies, Retweets, and so on.
Reach – the percentage of fans that have seen your post from your Page.
Engagement Rates – a formula for quantifying brands' success.
The equation for post and daily engagement looks like this (courtesy of Socialbakers):
A Few Last Words…
At its heart, everyday influence is about the power of Word Of Mouth (WOM). By partnering social media content producers on blogs, Facebook, Twitter, Instagram and other channels, we can reach a more targeted group of niche consumers.
However, working with micro-influencers can be challenging for brands. Unlike other forms of digital marketing, brand marketers will need to manage a large group of individual influencers, coordinate their activities, and measure the outcomes of their efforts. I guess this is where influencer marketing agencies could come in.
What are your thoughts on working with micro-influencers? I'll love to hear your thoughts.