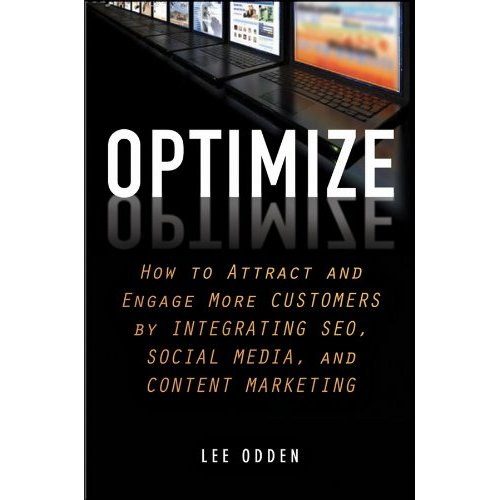 How do you incorporate Search Engine Optimization (SEO), Social Media, and Content Marketing into your marketing efforts?
Answer: Adopt a customer-centric content marketing strategy which incorporates search and social media optimization.
Focused on the science of search, social and content marketing, Lee Odden's book Optimize is a practical guide to understanding, integrating and applying three of the most powerful concepts in digital marketing. Packed with flow charts, check lists, tables and step-by-step guides, Optimize covers a wide scope of content marketing topics.
Here are five big takeaways on developing an optimized content marketing strategy which I've gleaned from the book.
#1 Start with Research & Planning
Unlike many of his peers, Lee Odden doesn't believe in winging it and trusting his gut. Rather, he embraces a methodical and rigorous approach in researching and planning his content marketing efforts. The two key ideas worth mentioning here are:
a) Keyword Research, SEO Audit, and Social Listening
Understanding the social landscape – customers, competitors and influencers – is an important aspect of content marketing. One could use tools like SEMRush, Google Adwords Keyword Planner, and the Search Engine Results Page (SERP) to monitor what competitors are doing and what customers are searching for. Social listening tools like Radian6, Google Alerts, and Trackur may also help you to learn what's buzzing on social networks.
b) Content Marketing Strategy
In creating a content marketing strategy, it is important to consider the following points:
Set the right objectives (are we elevating brand awareness, generating sales leads, or improving customer service?)
Research targeted customer segments
Develop comprehensive content plan
Promote our developed content
Use social networks to engage with community
Measure outcomes of content marketing efforts
Further details of each point are highlighted in the sections below.
#2 Know Your Customer Inside Out
An integral part of content marketing, customer research and understanding can be divided into the following:
a) Map Customer Life Cycle
In developing a content plan, it is useful to consider which stage a customer is at, namely:
Awareness? Content marketing helps people to discover your product service online through search or social media
Consideration? Content educates and engages prospects
Purchase? Long-tail content helps customers with specific purchase intent to transact with you
Service? FAQs, technical support forums, and other platforms assist customers with product issues
Loyalty/Advocacy? Through engaging content, customers are nudged to become advocates and share them online
This can be perceived through the following chart (courtesy of TopRank Blog):
b) Develop Customer Personas
Understanding one's customer also entails developing a detailed profile of who they are. These buyer personas can be fleshed out via a 6-step process:
Identify key customer attributes: What should they care about, and what motivates them?
Collect data: Demographic and psychographic information, role in buying cycle, web behaviours, and so on
Analyse and create segments: Look out for patterns and segment customer groups more precisely
Create profiles: Anywhere from 3 to 10 different personas
Identify keyword groups and content types: Match relevant keywords and topics of interest
Incorporate content creation, optimization and promotion: Integrate customer personas with the content that would interest them
#3 Create + Curate Customer-Centric Content
Now that we have learned who our targeted customers are, it is time to develop content that hits them in the sweet spot. There are two things to consider here:
a) Content Plan to Attract, Engage and Inspire
Build a content plan that is precisely calibrated to what the customers are looking for. Things to consider here include targeting customers at a specific point of their life cycle, identifying current content gaps, coming up with an editorial calendar and publishing schedule, and promoting the content on different channels.
One needs to also determine the appropriate content type (eBook? white paper? blog post? video? infographics?) and to see how the cycle of social media and SEO can be incorporated as part of a hub and spoke model of content publishing and promotion. This can be visualised below (courtesy of Top Rank Blog).
b) Create, Curate and Optimize Content
When creating individual pieces of content, it is useful to ask the following questions:
How does the content benefit your organisation's marketing objectives?
What SEO benefits can you gain?
What is the best mix of created and curated content?
Created content establishes thought leadership, facilitates brand storytelling, and attracts links from websites and blogs. Curated content, on the other hand, grows brand awareness, attracts links from social sources, and keeps prospects engaged.
Content should also be optimized through a whole range of SEO techniques. You can some of these in my blog post How to Master SEO for WordPress.
#4 Socialize Content
Beyond optimizing one's content for search purposes, we need to also build engaged communities on social networks and "electrify" them through promotion and link building. Here are several steps to do so:
a) Build Social Communities
In building communities on social networks like Facebook, Twitter, Google+, LinkedIn, and YouTube, one should consider the role of "brandividuals". These are natural advocates who identify with a company's brand as well as their own (see Citizen Marketers here).
Consider too the unique characteristics of each social network. For example, Facebook allows a rich variety of content types like text, images, videos and applications to be shared. Twitter limits content to 140 character bursts, while the integration of Google+ with Google may give it an added boost to SEO.
b) Content Promotion and Link Building
The main currency for "Google Juice" are back links from authoritative websites to your own.
Here, we are advised to first conduct a link audit, develop a link strategy, evaluate links and their sources for relevance, authority, and trust, and build back links.
Strategies to build links include using social sharing widgets on your blog posts, offering to provide guest posts to reputable websites, or submitting one's website to relevant directories.
#5 Sustain Content Marketing
Last, but not least, Optimize teaches us two important aspects of the content marketing journey: measuring success and adopting optimized and socialized content marketing processes.
a) Measure, Refine, and Adapt
Through identifying content-related objectives for each content type, specific KPIs could be established. These could range from…
Revenue goals: speed of sales, referrals, cost per lead etc
Engagement goals: comments, shares, inbound links etc
Cost saving goals: issue resolution time, employee turnover, etc
Various analytics tools could be used to measure SEO and social media performance. They include Google Analytics, SEOmoz and SEMRush for search, and Sprout Social and Radian6 for social media.
b) Processes and Training
To integrate optimization, social media and content marketing into your organisation, a combination of process, people and technology is required.
Take inventory of current processes in search, social, and content marketing. Identify the right individuals to implement various aspects of search, social media and content marketing. Zoom in on the right skills needed, and develop a training programme to get staff up to speed.
Ensure that your team – or hired consultants – are able to manage the entire spectrum of content marketing. This would cover planning, creating, optimizing, and promoting to measuring the results of content marketing efforts.
A Must Have For Content Marketers
Comprehensive and detailed, Optimize is an invaluable resource for digital marketers trying to understand how the new wave of content marketing rides on to its older predecessors.
Meticulous and exacting, Lee Odden doesn't skimp on the necessary steps needed to weave SEO, social media, and content marketing into a compelling digital trinity for marketers in the new millennium. Highly recommended.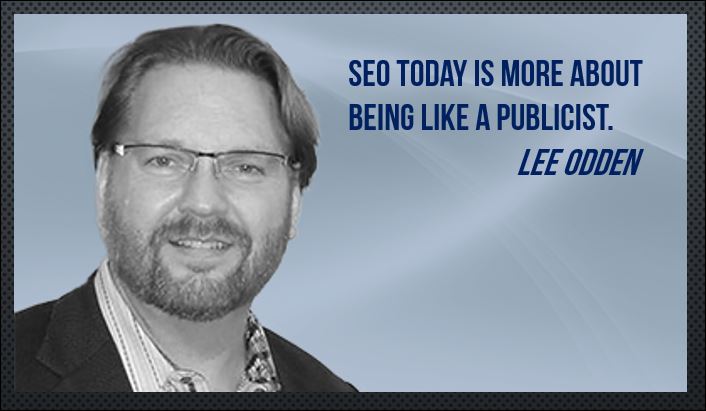 Lee Odden, author of Optimize (courtesy of Businesses Grow)