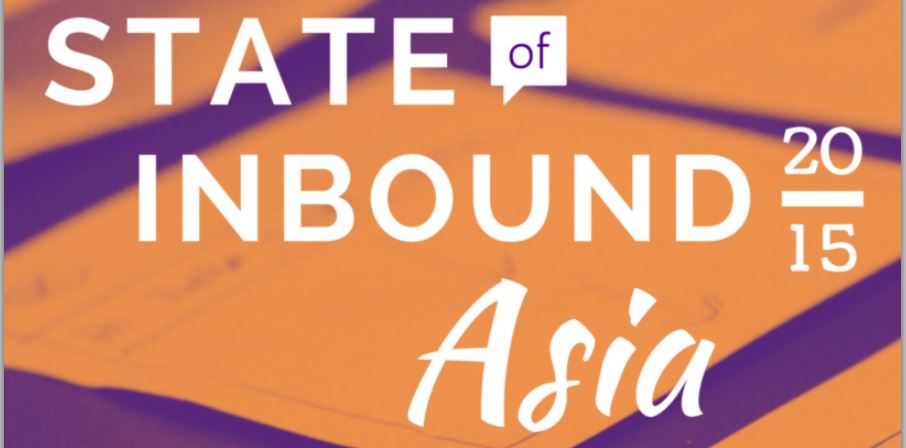 Inbound marketing is rocking the socks of Asian marketers. Well, at least according to HubSpot's latest State of Inbound Survey focusing on Asia.
Apparently, 3 out of 4 marketers in Asia prefer inbound to outbound approaches in marketing. Moreover small and medium sized enterprises (SMEs) prefer inbound over outbound.
So what are the key findings from HubSpot's report and how would they influence our work in digital, content, and social media marketing?
Inbound Marketing Defined
Before we dive into the report findings, let us first revisit what inbound marketing is.
As I've previously shared in my article "Inbound Marketing 1o1", the best definition of inbound marketing comes from Wikipedia, ie:
"Inbound marketing refers to marketing activities that bring visitors in, rather than marketers having to go out to get prospects' attention. Inbound marketing earns the attention of customers, makes the company easy to be found, and draws customers to the website by producing interesting content."
Inbound marketing looks at using targeted and valuable content on the Internet to draw customers in. They could include blog posts, eBooks, videos, infographics, white papers, webinars or other content.
Outbound marketing, on the other hand, relies on techniques like email blasts, telemarketing, direct mail, TV, radio and print advertisements to reach buyers.
Key Findings for Inbound Marketing in Asia
HubSpot's State of Inbound Asia survey highlighted the following key findings (among others):
3 out of 4 marketers in Asia prefer inbound over other approaches in marketing
B2B, B2C and nonprofit marketers alike like inbound over outbound marketing 60-70% of the time
SMEs are the greatest fans of inbound tactics
Most marketers feel that traditional paid ads are the most overrated marketing tactic
Asian marketers top two inbound marketing priorities are improving their SEO/organic traffic and creating blog content
Creating content for international audiences and hiring top talents are the top challenges for Asian marketers
Getting more leads and converting more of them is a top priority for all companies
Proving marketing ROI and securing budget are the leading challenges faced by marketers
From the report, it seemed that inbound marketing has truly gathered momentum here in the Asian subcontinent. While I have little doubt that inbound marketing is an effective strategy (heck I use it all the time for my own work), I feel that it might be useful to look at the survey findings a little more closely.
Let us look at some of the selected findings from the report. All graphs and charts below are courtesy of HubSpot (I encourage you to download the full report here).
Profile of Survey Respondents
Covering a total of 362 respondents, the majority of the respondents to HubSpot's survey came from India (49%), with another 17% from Japan, 12% from Singapore (including yours truly), and 22% from other countries.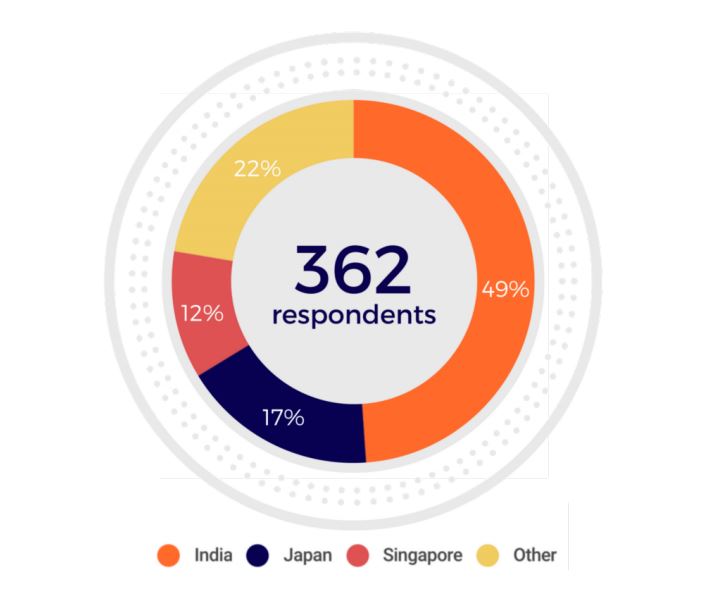 Breaking it down further, we can see that the companies which responded were mostly from the services sector. About one-fifths of them came from IT services and marketing agencies, followed by 10% from nonprofits and education.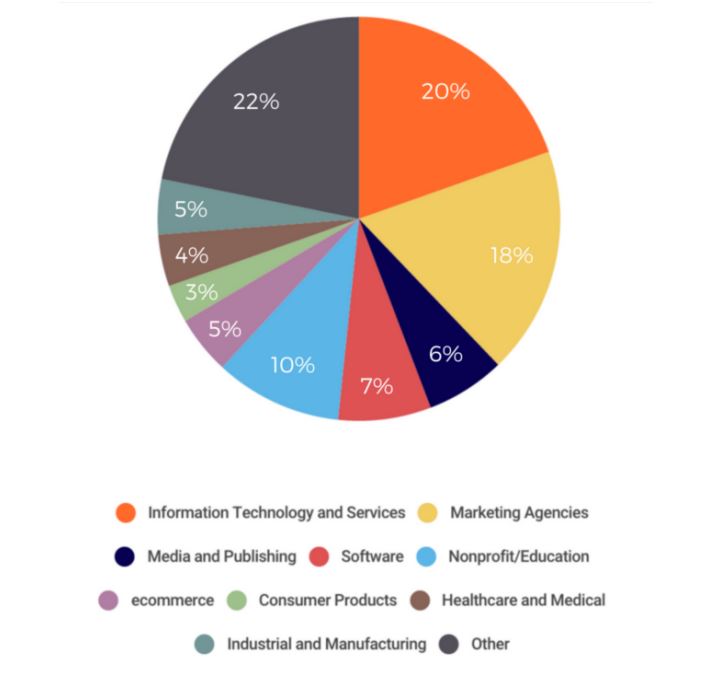 In terms of customers, the bulk of the respondents (70%) were service or professional firms which catered to B2B businesses. This was not surprising, considering that inbound marketing was more traditionally favoured for business clients over consumers.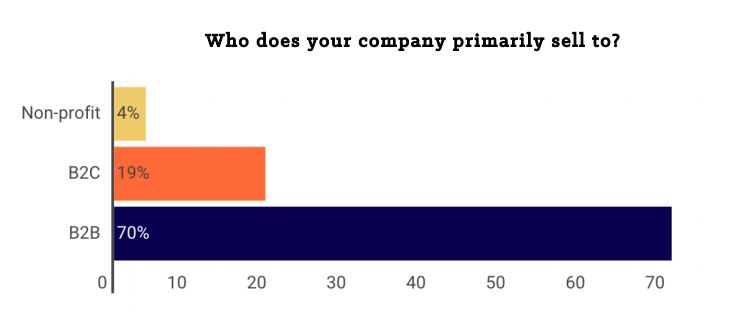 Business Priorities for Companies
From the chart below, we can see that all three categories of organisations – B2B, B2C and Nonprofits – found it important for marketing to generate leads and convert them to customers. It is interesting to note that "reducing the cost of contact/lead/customer acquisition" was not deemed to be a priority.
I suppose many of these companies were looking at using inbound marketing primarily to widen the "net" as opposed to improving the quality of the "catch".
Top Challenges Faced by Marketers in Companies
On the issue of challenges, small, medium and large company marketers all felt that getting a good ROI from marketing was critical. Beyond that, marketers from small companies were more worried about managing their website, medium ones on hiring top talent, while large ones were concerned with securing enough budget.
This can be seen in the chart below.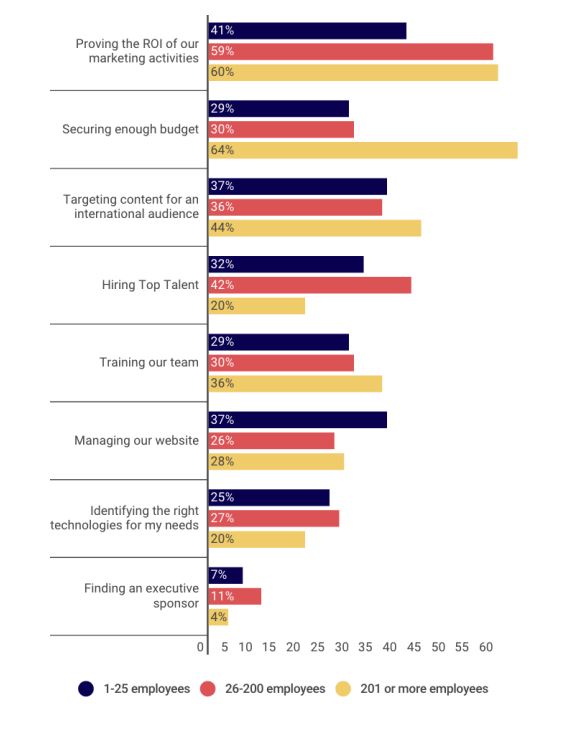 Top Priorities of Marketers in Companies
On the priorities of marketers, it appeared that ROI once again topped the charts for B2B and B2C companies. However, nonprofits were more concerned with finding an executive sponsor and identifying the top technologies for their needs.
Beyond these areas, finding the right content for international audiences was a focus for B2B firms. On the other hand, B2C companies were more concerned about day-to-day operational issues like managing their website.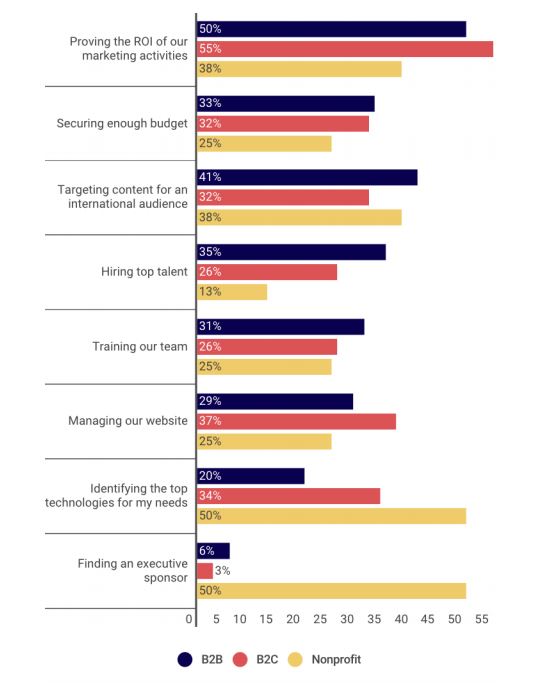 Use of Inbound versus Outbound Marketing by Size
On the use of inbound compared to outbound marketing methods, it appeared that companies irrespective of size preferred inbound marketing. However, more larger companies used outbound marketing compared to smaller ones.
This can be seen below in the graph below.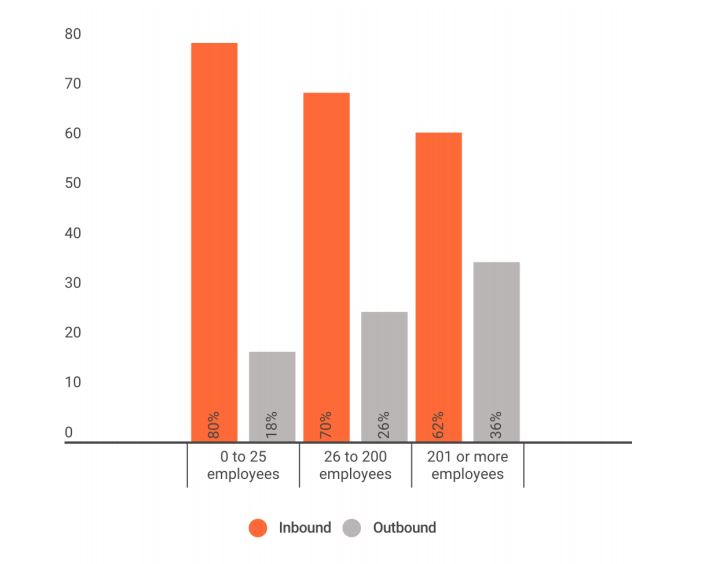 A similar picture was seen when viewed against the annual marketing spend of the companies. Only firms which spend bigger bucks ($500,000 to $1 mil) a year on marketing allocated more funds to outbound marketing.
Personally, I found these results quite revealing. It could very well be that the low marketing budgets of the smaller companies compelled them to focus on content marketing and digital engagement.
Inbound versus Outbound Marketing ROI by Marketing Spend
On the split between inbound and outbound marketing ROI, it appeared that smaller companies with very modest marketing budgets ($25,000 or less a year is really quite miniscule) saw the greatest yield from inbound marketing. This is good news for many of the SMEs in Asia (and I'll be happy to help!).
Conversely, companies with slightly better marketing budgets of $100,000 to $500,000 a year (still not a whole lot though) reported equally high ROI for both inbound and outbound marketing.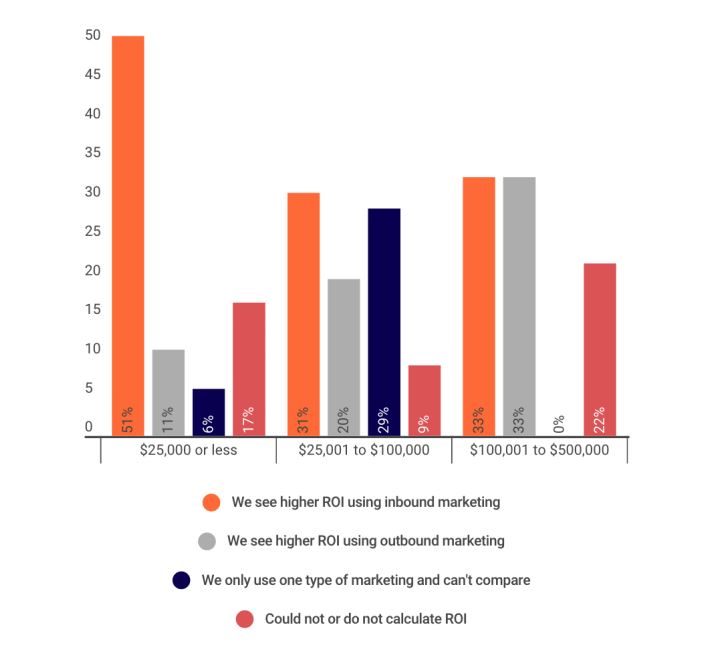 Marketing Budget based on Marketing ROI achieved
From the survey responses, it was quite apparent that marketers who achieve good ROI get more marketing budget to play with. Conversely, those who generated lower ROI than the year before than to get their budget slashed compared to the year before.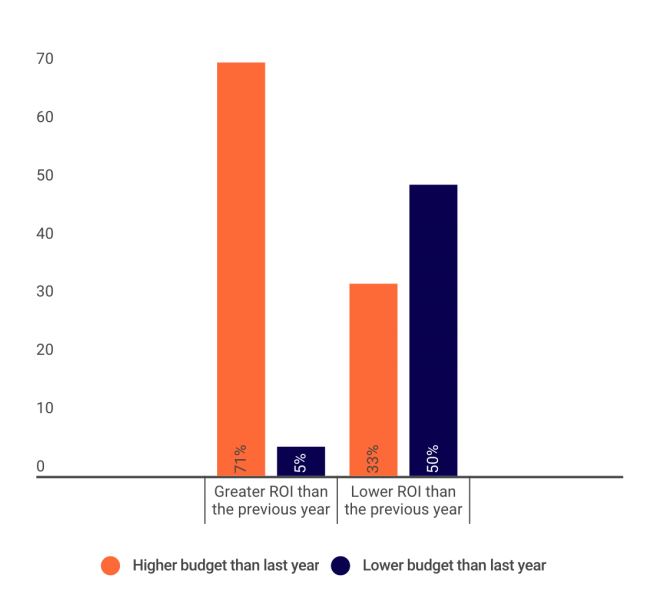 Inbound Marketing Projects of Top Priority
In terms of priority, SEO and organic traffic ties with blog content creation as areas of priority. This was not surprising considering that content marketing and SEO are twin strategies which work hand-in-glove with each other. Both strategies are necessary to generate inbound leads, prospects, and customers.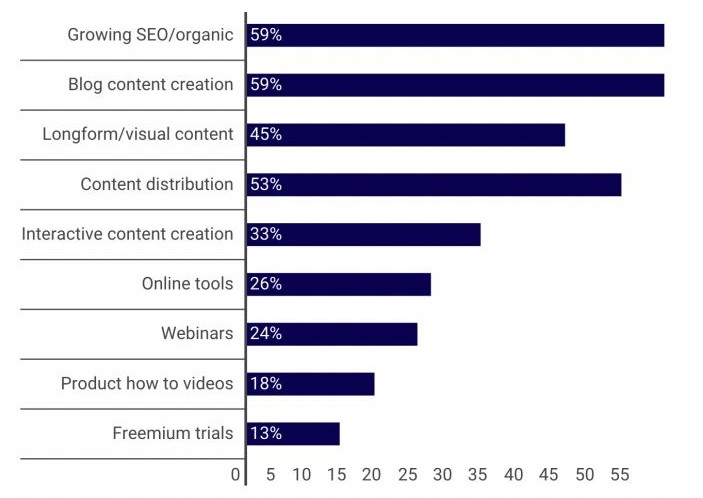 Most Overrated Marketing Tactic
Honestly, I found this result a little difficult to decipher.
While paid advertising (print, outdoor, and broadcast) were viewed as one of the "most overrated", they generated better ROI than the previous year. Comparatively speaking, social media generated a lower ROI than the year before. Ditto for collateral development (below the line stuff like brochures and flyers), and blogging.
Perhaps what could have made this clearer would be a focus on just what marketers thought were "most overrated" and ranking these tactics without bringing in ROI. That would have made these results easier to interpret.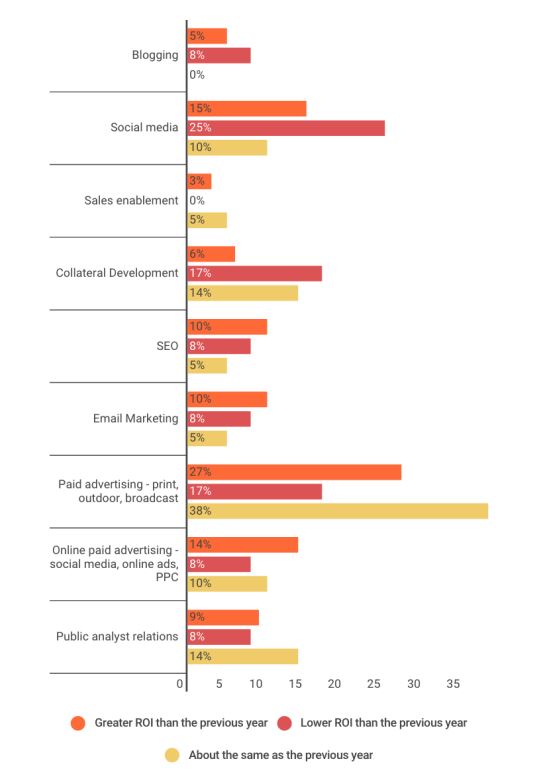 Inbound Marketing the Best Way To Go?
Personally, I felt that HubSpot did a good job in putting this survey together. As an Asian marketer and publicist focused on digital content, I am naturally keen to know where the market is heading.
From the survey results, it seemed that inbound marketing offers much promise for smaller B2B businesses unable to splash big sums to acquire clients. Comparatively speaking, inbound marketing could also be more cost effective in generating leads and prospects per dollar spent relative to outbound marketing techniques.
Having said this, we do need to consider the context of these survey results.
For a start, the sample size of 382 was really small compared to the size of Asia. As the survey was conducted in English, respondents from Chinese and Mandarin speaking countries like China, Taiwan and Hong Kong were likely to be underrepresented.
Finally, the huge skew towards B2B firms (70%) and IT/web development/marketing agencies might have have influenced how the results turned out.
What are your thoughts on inbound marketing in Asia? Do the findings give you greater confidence in embracing inbound marketing here in our part of the world?