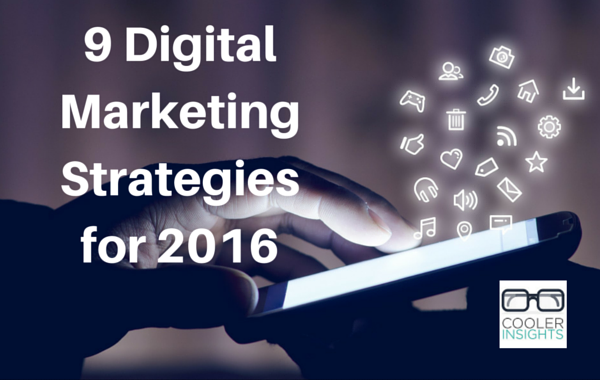 Today is the first day in the year 2016.
As you start to plan your marketing strategies for the year ahead, it would be useful to consider some of the positive moves which you can make to improve how you grow your influence and reach customers online.
Before we gaze into the crystal ball, however, let us first review some of the mistakes made by companies in 2015.
Common Errors in Digital Marketing
First, digital and social media marketing are no longer new by any stretch of the imagination. Many companies large and small have hopped on board the social web. They have launched Facebook pages, started Twitter accounts, created mobile-friendly websites, and offered mobile apps.
Advertising on search engines and Facebook advertising are also commonly used by companies with a web presence. Using commonly searched keywords related to their business, they hope to bring in targeted leads and prospects to their landing pages.
Unfortunately, many companies fail to harness the full potential of their online presences.
Adopting traditional marketing and promotional strategies, they focus on pushing sales through their online channels and fail to make a genuine connection with their communities. This usually results in low visitorship, poor click throughs, and limited engagement.
Enamoured by the latest viral marketing sensation, they place too much emphasis on creating buzz-worthy campaigns without considering the downstream effects of growing and sustaining online interest and engagement over the long haul. Their content looks and feels too much like repackaged advertisements and do not deliver value to their customers.
Many companies also forego the vital step of integrating digital and social media into every aspect of their organisation. While marketing and public relations departments charge ahead with the latest online "flavour of the month", the rest of the company gets left behind. This results in a patchiness of customer experience, or even worst, an "over promise and under deliver" situation.
Beyond these issues, marketers are often unaware of what works and what doesn't. They fail to listen to what their customers are telling them online, ignore the importance of measurement, and are impatient for overnight success.
What then should you do in the coming year to improve your digital marketing game?
1) Transform Stakeholders into Influencers
With everybody becoming an influencer of sorts, it is important to get all members of your team in the act. This is best done by giving all your employees and shareholders a stake in your future success.
Brief all members on your latest social or digital initiative and get them all to participate. Equip your stakeholder influencers with the right tools. Teach them how they can grow and enhance their online influence while helping to spread the word about your brand.
Beyond working with your team, identify alpha customers who are already actively engaging their own communities. Enlist them as key influencers and even ambassadors for your brand.
2) Build a Kickass Content Publishing Function
Content is the new king. In a smart phone saturated world, compelling content is the only way to reach a digital generation. To win in this game, you need to have a strong content publishing capability.
If you haven't already done so, start assembling all the different "super heroes" in your content team. Give them official roles as digital content creators. Train and empower them to create kickass content.
Supplement your core team with an outsourced army of content strategists, writers, photographers, videographers and designers. Often the best ideas come out of people who are further away from the action.
Learn more about building your own media machinery here.
3) Map Out Your Detailed Customer Journeys
Make it a point this year to truly understand who your customers are and what makes them tick. Paint a picture of who they are, and flesh them out in the form of believable customer personas.
Trace the journeys which your customer makes before, during and after they have encountered your brand. What would be the best way to engage them at different points of their journeys? What forms of content would best fit their specific purposes?
Read more about customer journeys and experiences in How to Create Delightful Customer Experiences.
4) Integrate Social Media, Content Marketing, SEO and SEM
Ensure that all online marketing initiatives are coherent and feed into one another. This means looking into your digital influence architecture and adopting a holistic strategy which integrates all initiatives with the way your customer thinks, feels and act.
From your customer journeys, you should determine which strategy would work best. Would a Facebook group be more effective in reaching your customer? Would they be more likely to search for your brand through a search engine like Google?
How about the keywords used for your PPC ads? And the way your landing pages gel with your Facebook ads?
Consider too how your content should be optimized and socialized. What forms would resonate better with your customers? What about frequency and timings?
You can read more about integrating SEO, Social and Content Marketing here. Do also read
5) Deliver Consistently Fabulous Customer Experiences
As various research studies have shown, customer experience is fast becoming the most important priority for digital marketers. This isn't surprising considering how damaging negative customer experiences can be in the social age.
The plus point about delivering great and consistent customer service is the positive knock-on effects of customer advocacy. Positive word-of-mouth works far better in generating customer loyalty and growth than any other marketing strategy – digital or otherwise. In fact, doing so helps you to truly market effectively without marketing!
A tip here is to use your social media channels as customer service channels. Be responsive to online customer feedback and reply to their complaints with genuine offers to help.
6) Distribute Searchable, Snackable and Shareable Content
With attention spans splintered into mere seconds, long-form text alone isn't going to cut it. You need to mix and match your suite of content with bite-sized infographics, tweets, photos, and 15-second videos that are tailor-made for mobile devices.
Study what leading digital brands are doing online. What are the most successful forms of content? How are these conceptualised and created? How do copy and design flow together to achieve maximum reach and impact?
Beyond creating and sharing your own content, you should also disseminate relevant content from other like-minded players. Doing so not only helps you to gain new friends – it also improves the likelihood of them reciprocating your act of kindness.
7) Establish Trust and Likability by being Truly Helpful
As Jay Baer has shared in his wonderful book Youtility, you need to venture above and beyond your company's products and services to provide real value to your prospects.
Be so generous in offering help and utility that your prospects will develop real affection for you. By doing so, you help to vastly increase the credibility of your brand, and improve the likelihood of your prospects rewarding you with a purchase.
8) Adapt and Learn with Data Analytics
With consumer preferences continually shifting at breakneck speed, there is really no silver bullet in digital marketing. What you can do, however, is to adapt and modify your strategies and tactics real time using customer analytics.
Always measure and calibrate your digital marketing tactics. Use A/B and multi-variate testing to determine what the best combination of text, images, channels, timing and frequency is. This is particularly important for advertising online in order to achieve better ROI.
Based on the feedback garnered through performance data such as visitors, click throughs, likes, shares and other actions, you should modify your content, advertisements, and delivery pipeline accordingly.
(Read more about optimizing your digital marketing here)
9) Involve Customers in Social Storytelling
Finally, and perhaps most importantly, you need to include your customers in social storytelling. Devise ways to include them in your brand story. Use your multiple online channels to relate how they have benefited from your product or service.
Remember that the end result of your digital marketing initiative is to make your customers own your story. Better yet, make it their story.
In such an environment, storytelling becomes an asynchronous act with multiple starting points and endings. Using your brand or corporate narrative as a backdrop, individual customers should be encouraged to spin their own yards. By doing so, they add to the richness, interestingness, and authenticity of your brand.