Courtesy of The Future of Us
How will the future of Singapore be like? What can we do to shape our collective destinies as a nation?
Held to bring Singapore's 50th birthday celebration (aka SG50) to a rousing close, The Future of Us exhibition is an immersive multi-sensory experience which encourages Singaporeans to imagine how we can live, work, learn and care in the future.
Running 1st December 2015 to 8th March 2016, the ambitious exhibition hopes to attract some 700,000 visitors over the three month period. Sprawled over 6,000 sq m adjoining Gardens by the Bay, The Future of Us stretches back to Singapore in the 1960s and fast forwards to 2030.
Admission to the exhibition is free. However, tickets must be registered in advance at the exhibition's website here. Up to 8 tickets per booking can be made.
Drawing "inspiration from the values of care and consideration for one another, having faith and confidence in our dreams and values which steered our pioneers to achieve a better Singapore", the exhibition encourages Singaporeans to share their hopes and dreams for themselves, their family and the nation.
"The entire process of setting up The Future of Us exhibition is a culmination of the efforts and inputs of the many partner organisations from both the public and private sector." – Mr Gene Tan, Creative Director of The Future of Us
Divided into six interactive zones and four domes, the exhibition narrative is linked by following the escapades of four main protagonists:
Joseph, an Eurasian social worker;
Yi Xin, a designer of Chinese ethnicity (Yi Xin is also physically challenged);
Faizal, a Malay entrepreneur; and
Ravina, an Indian horticulturist.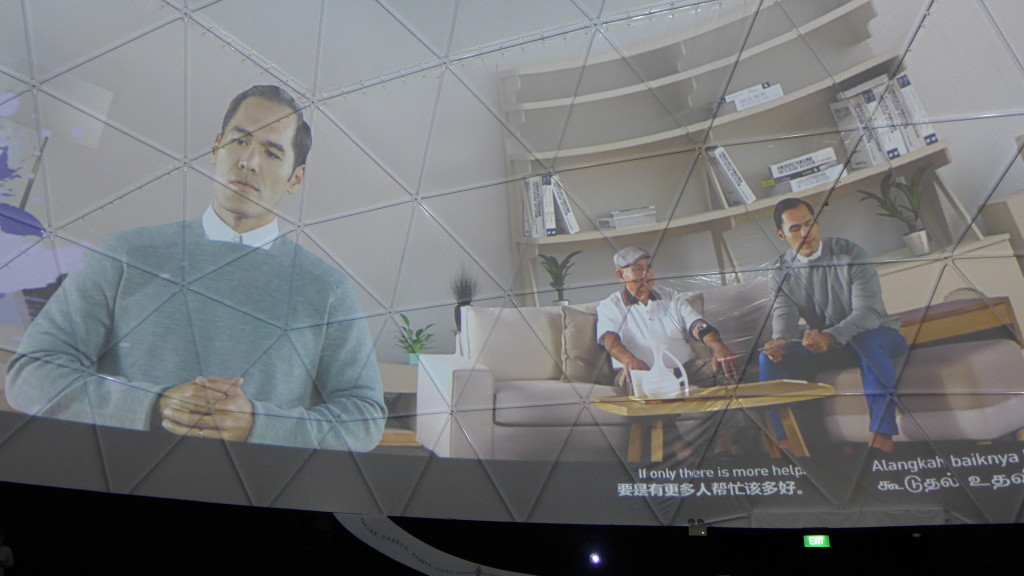 Joseph, the Eurasian social worker
Let us take a closer look at each of the zones.
The Future Express
This first station forms a prologue to the exhibition. It comprises of three small modular units decorated with animated newspaper articles from the past, present and projected future, showcasing Singapore's journey over the last 50 years and beyond to the next 15 years.
Through this mixed-media installation, visitors can fast forward through three pivotal time periods: 1965, 2015 and 2030. While doing so, they could discover the core values that resonate with us Singaporeans throughout the different generations.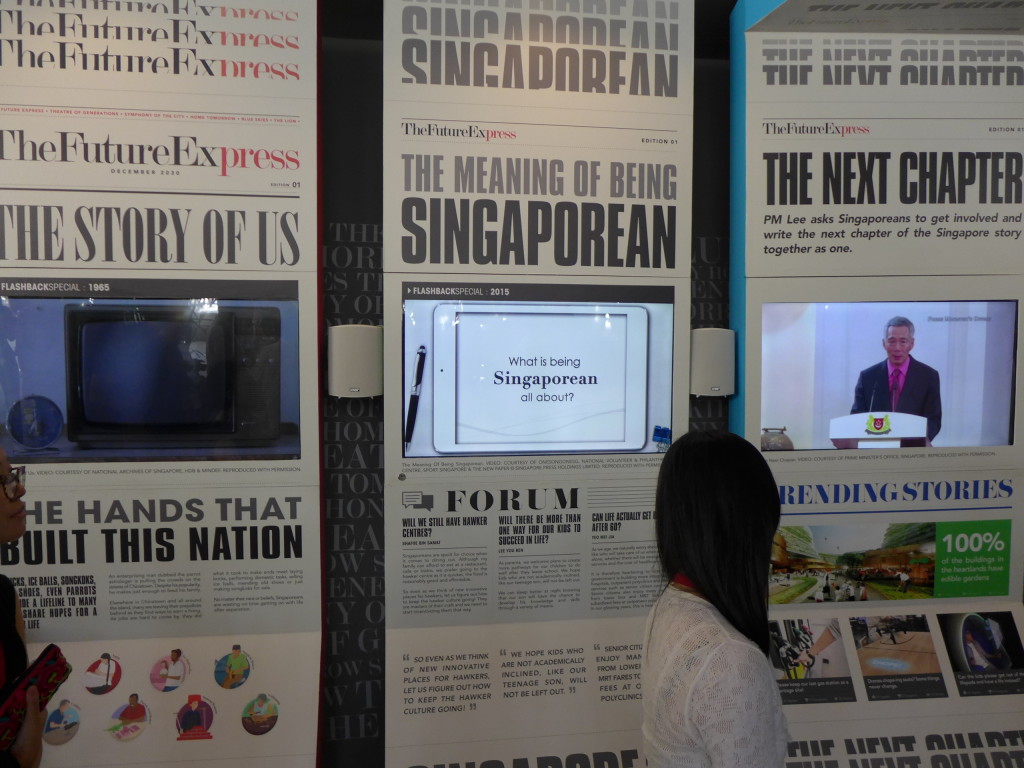 Extra Extra! Read all about our past, present and future here…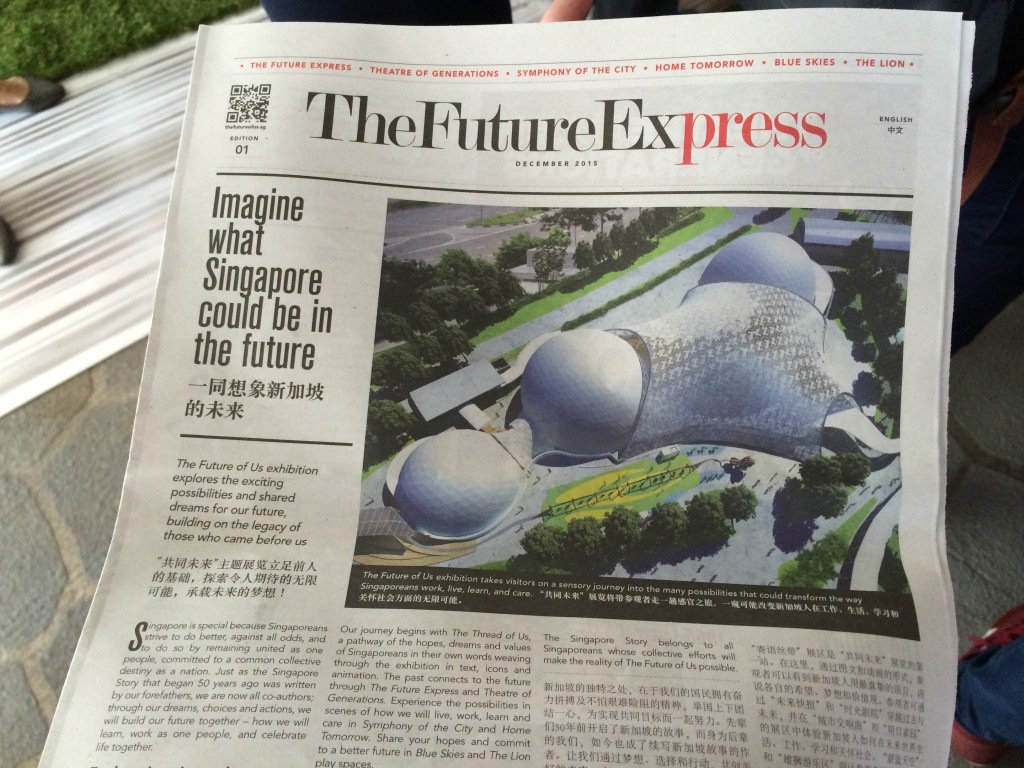 Theatre of Generations
Set in a vast omnitheatre dome, the next section showcases a short film which traces the journeys of Yi Xin, Joseph, Faizal and Ravina from the future.
The plot features a reverse time-lapse sequence which leaps back and forth from the future (2030) to the past (1965). It drew parallels between what our four young Singaporeans sought to achieve in the future with what their grandparents have done in the 1960s.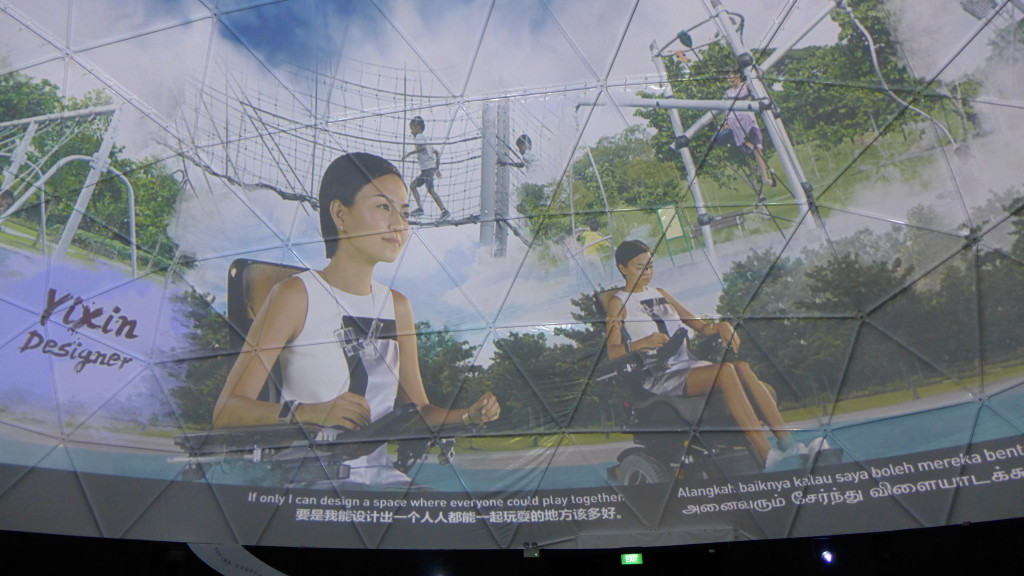 How would universal access playgrounds that suit every demographic look like? Yixin gives you a glance of it here.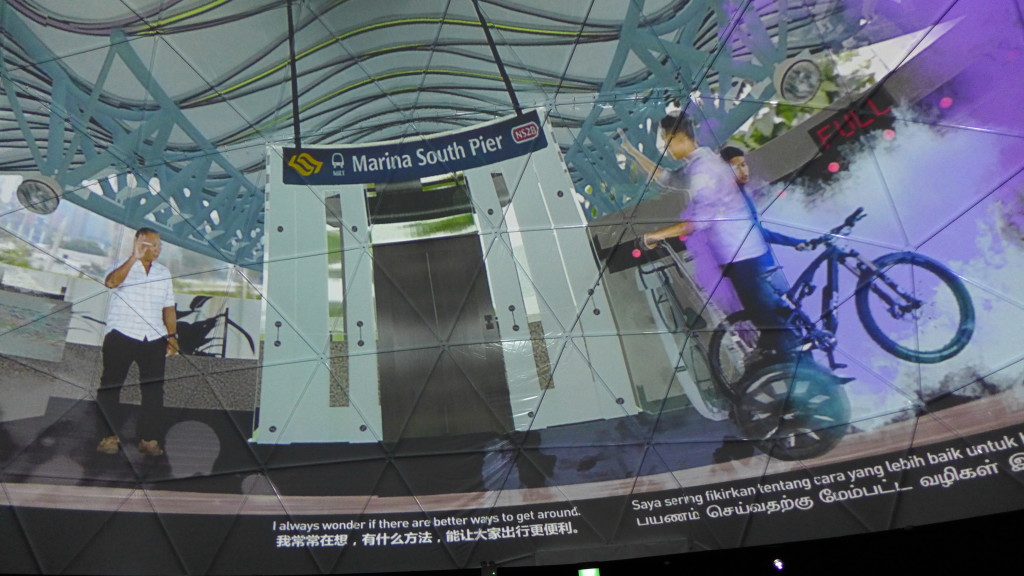 Do foldable bicycles and MRT trains mix well?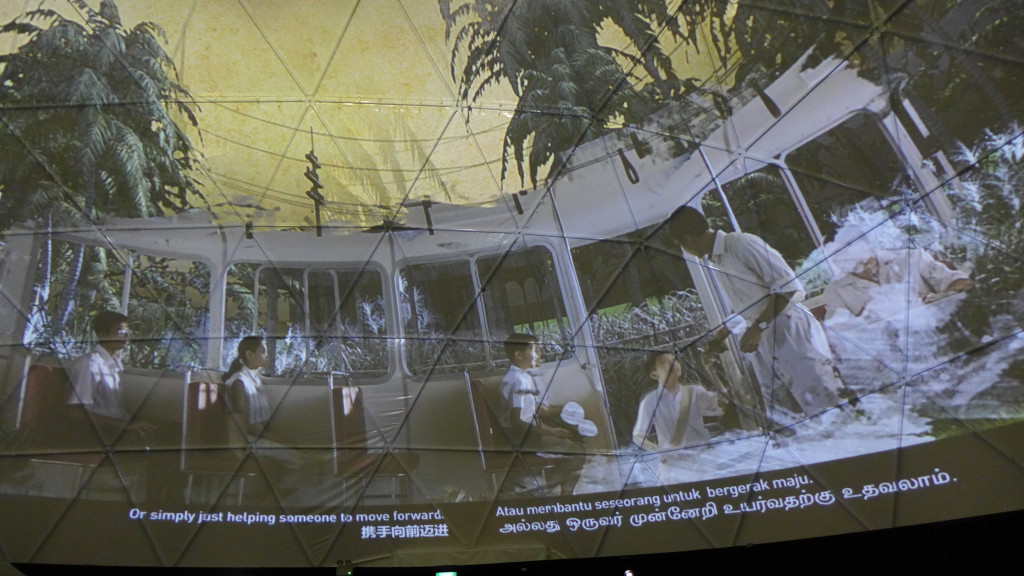 A blast from the past. Or rather, a bus from the past!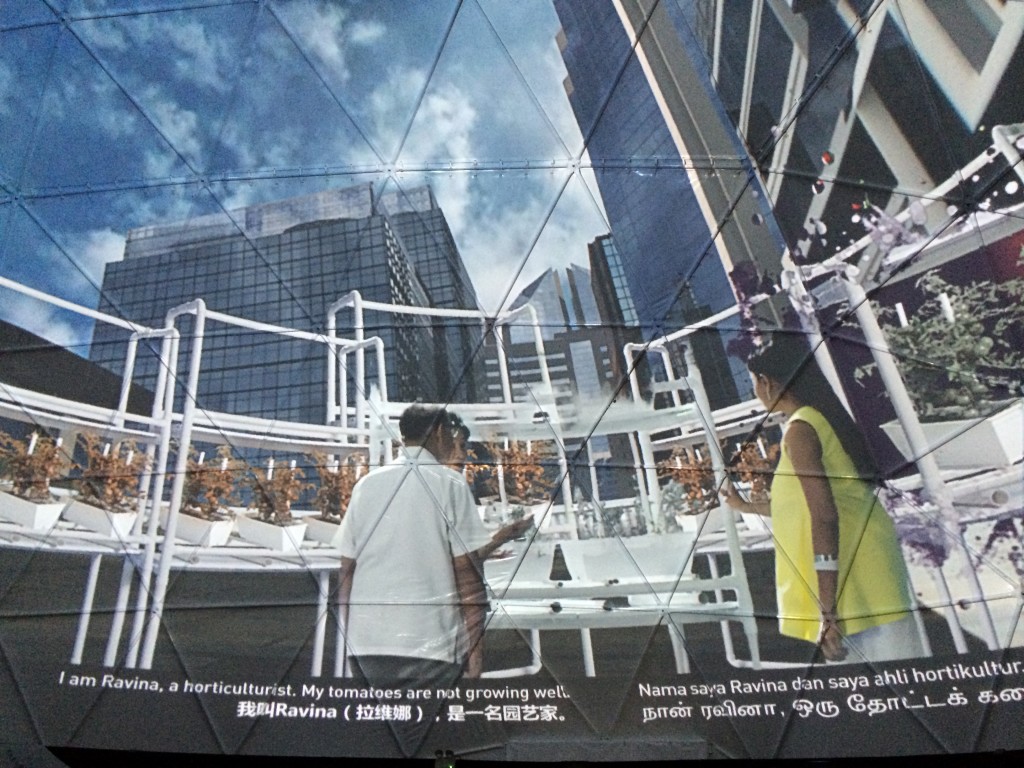 Ravina the horticulturist grows tomatoes on rooftops. You can do so too – in 2030!
Symphony of the City
Imagine how greater flexibility in transport, living and leisure would look like in the future. Thanks to a 270 degree wraparound multimedia screen – one of the largest LED screens ever built here – visitors can experience the immersive cityscape of Singapore in the future.
From underground to aboveground, waterfront and high rise living, viewers are taken through different layers of our futuristic city, and experience novel features like autonomous vehicles (ie driverless), vacuum tube trains, and new blue and green developments like waterfronts and parks. Some of the scenes look like they came right out of an Iron Man movie!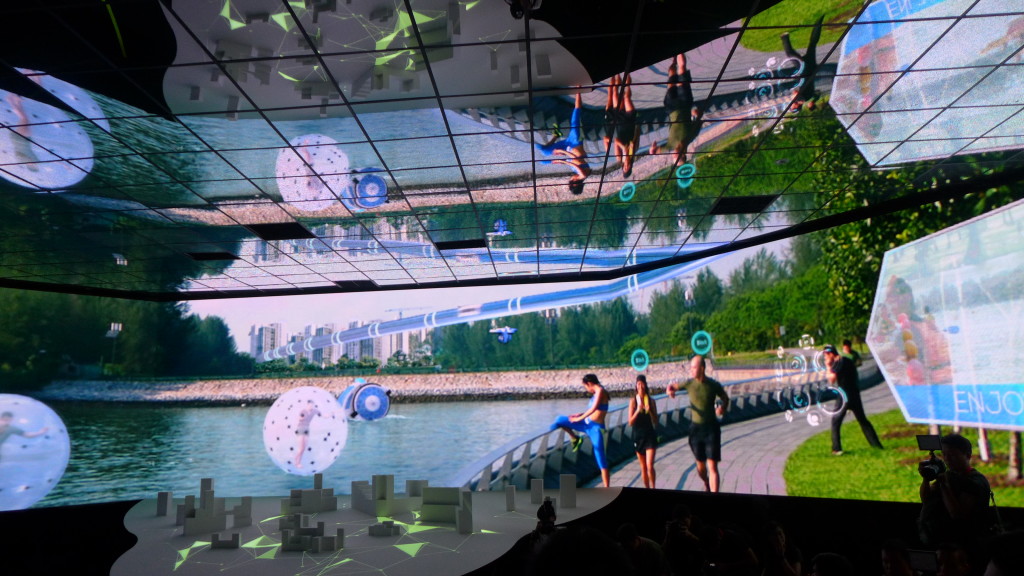 Waterfront parks look different in the future, with zorb balls and other fancy water vehicles. I guess many of us would also be wearing augmented reality glasses then.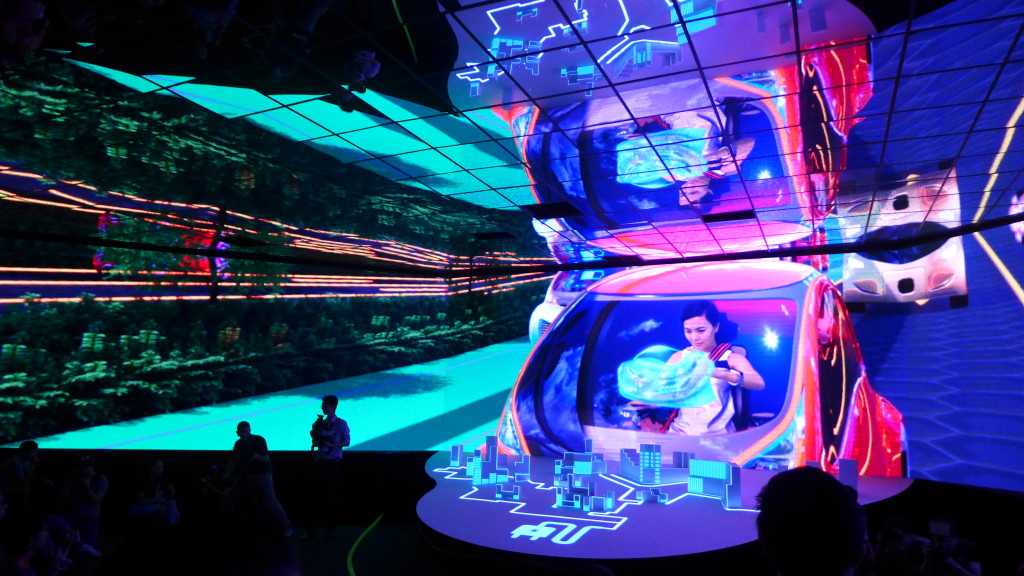 A vehicle specially designed for people with disabilities. Certainly looked much cooler than our current versions, complete with neon lights.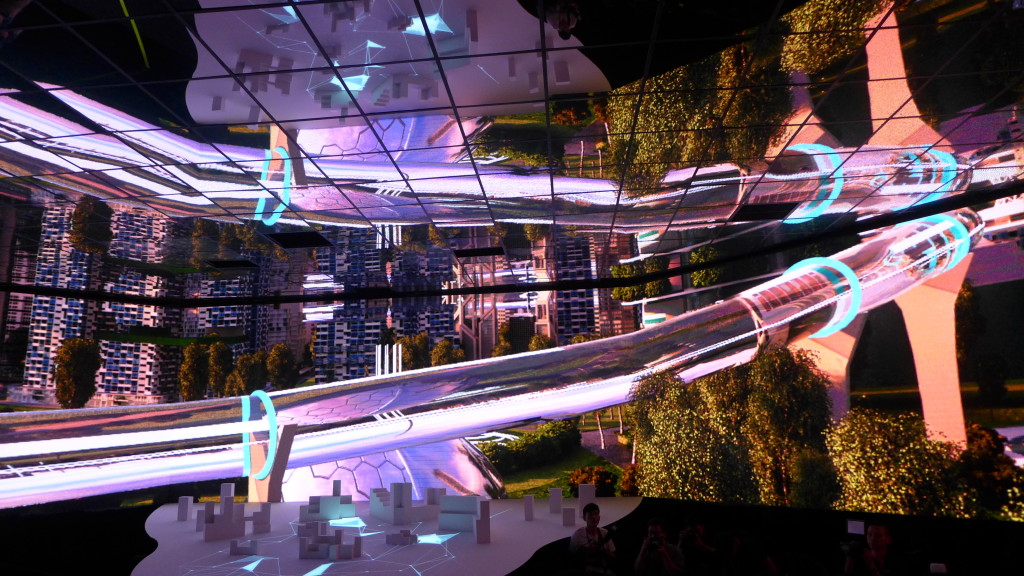 A vacuum tube train that whisks you from Jurong to Changi in record time! I wonder if it would feel like sliding down a tube at the Sentosa Water Cove or Wild Wild Wet?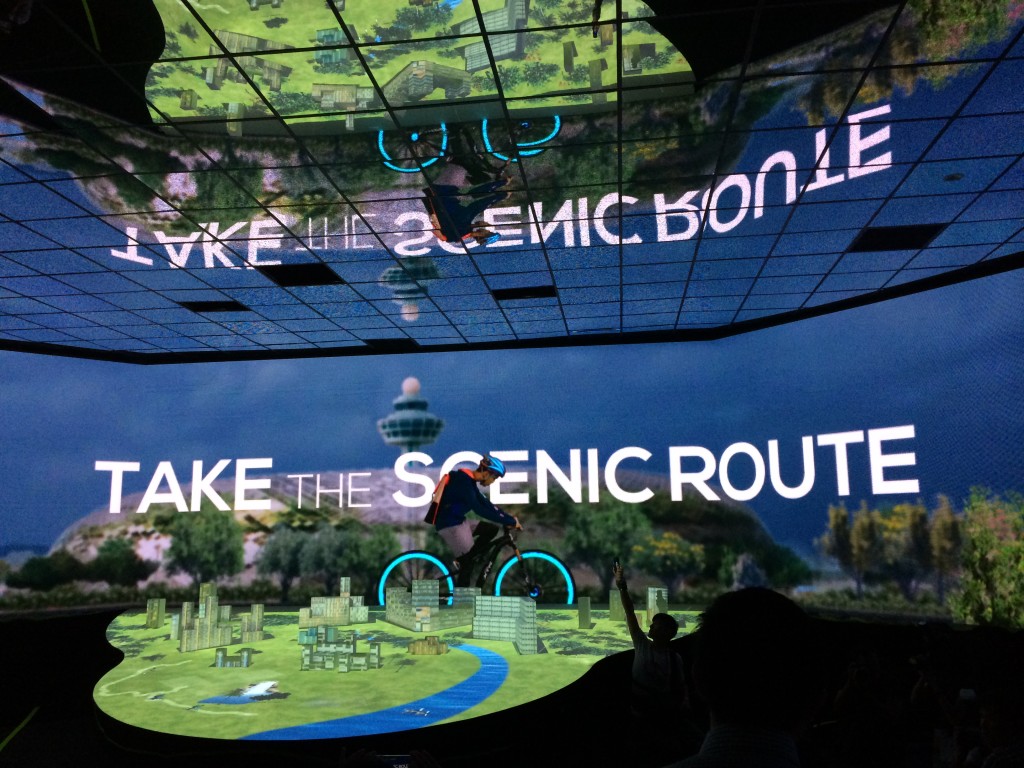 A wonderful reminder for us in the future, amidst the hustle and bustle of life in Singapore.
Home Tomorrow
Have you imagined how Singapore homes will be like in the future? Or how learning, work and life could be in 2030 here in Singapore?
Wonder no more!
Comprising a series of futuristic high-rise living environments, Home Tomorrow is an installation which revolves around four different types of neighbourhoods – Multi-Generational Living, Smart Living, Working City Living, and Mature and Heritage Estate Living. Adorned with "fluffy white clouds" in the "sky", the room showcased possible scenes and hybrid living ecosystems of the future.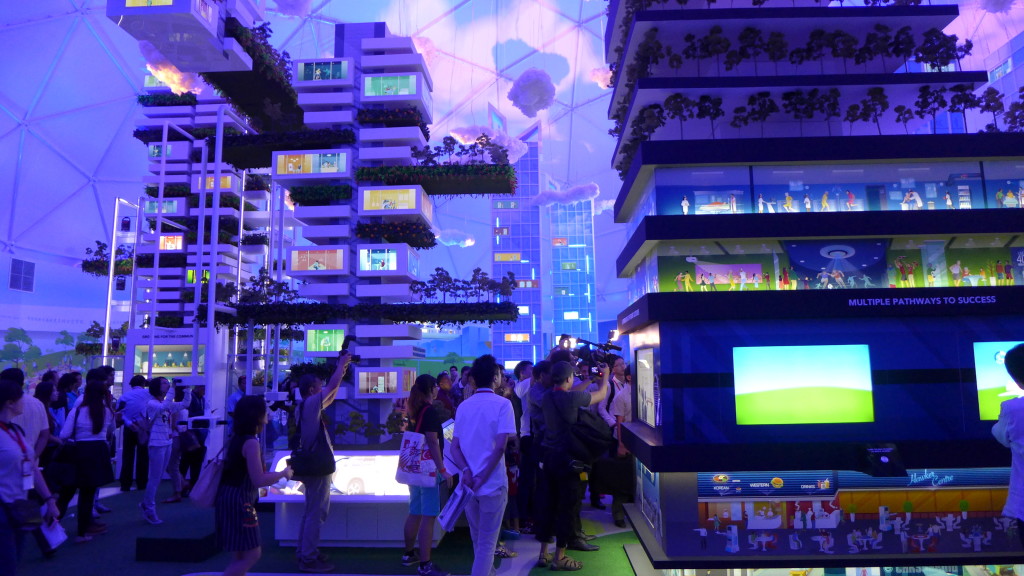 High rise living complete with roof top gardens and technology-assisted living spaces. Hanging gardens of Babylon anybody?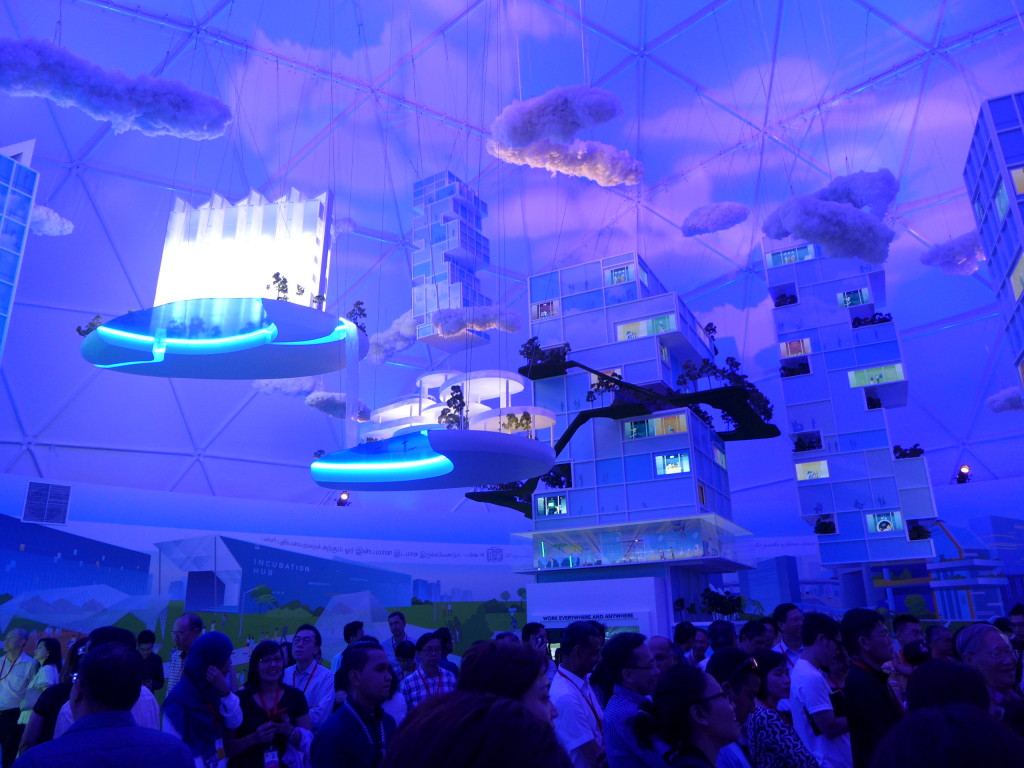 I can't get enough of those moving fluffy clouds!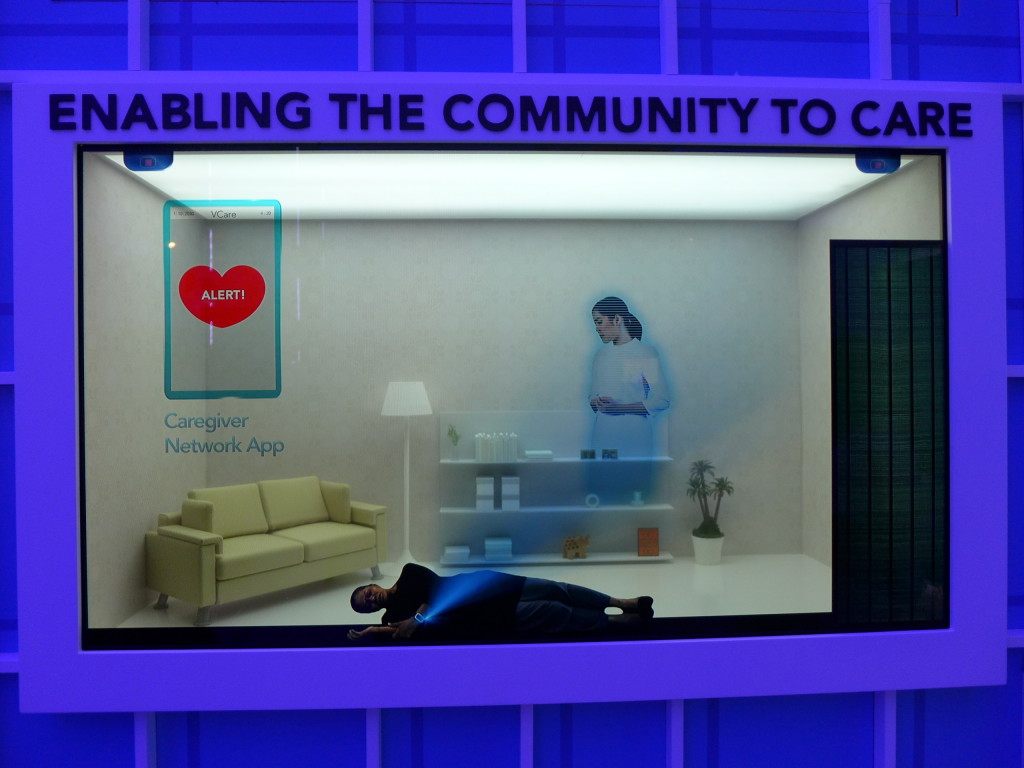 This hologram featuring a Pepper's Ghost effect showed how sensors attached to the bodies of the elderly can help summon healthcare workers in a jiffy. I think this is really neat, considering how Singapore is going to become a greying population in the future.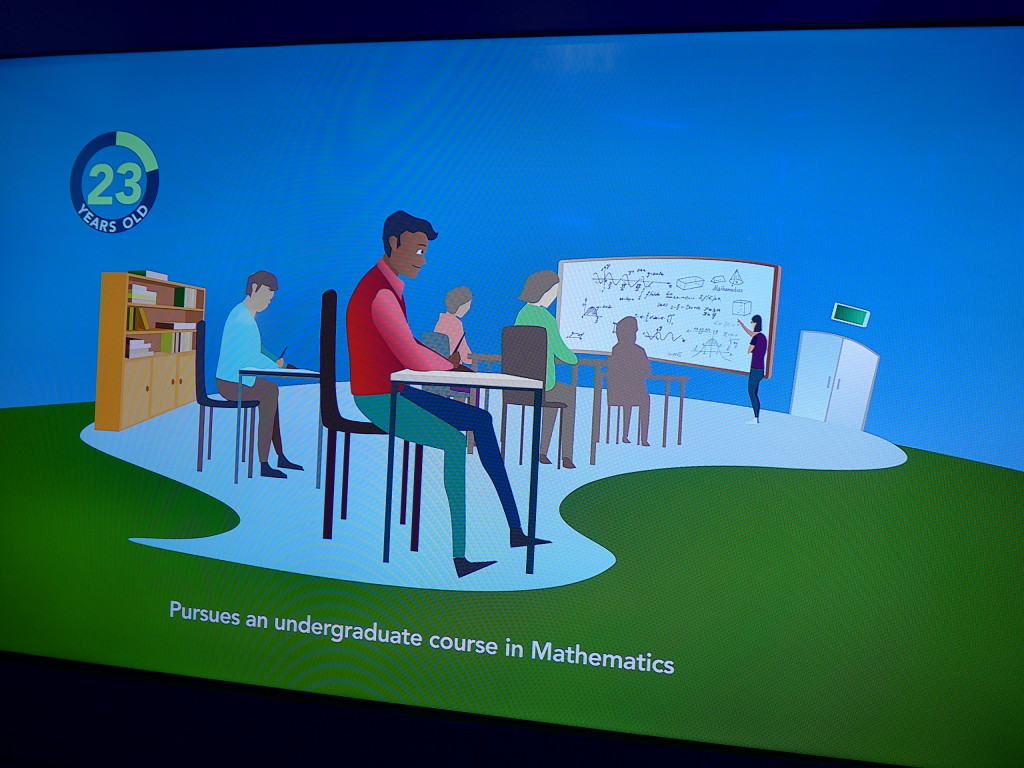 There are many paths to success in our future, regardless of your educational aspirations or qualifications. As a part-time educator, I certainly agree to this aspiration!
Blue Skies
The last dome of the exhibition, Blue Skies is an interactive exhibition which allows visitors to share their hopes, dreams or wishes for Singapore by "casting" them into a "digital wishing well". These wishes would join other wishes and be beamed up into a "digital galaxy" on the top of the installation.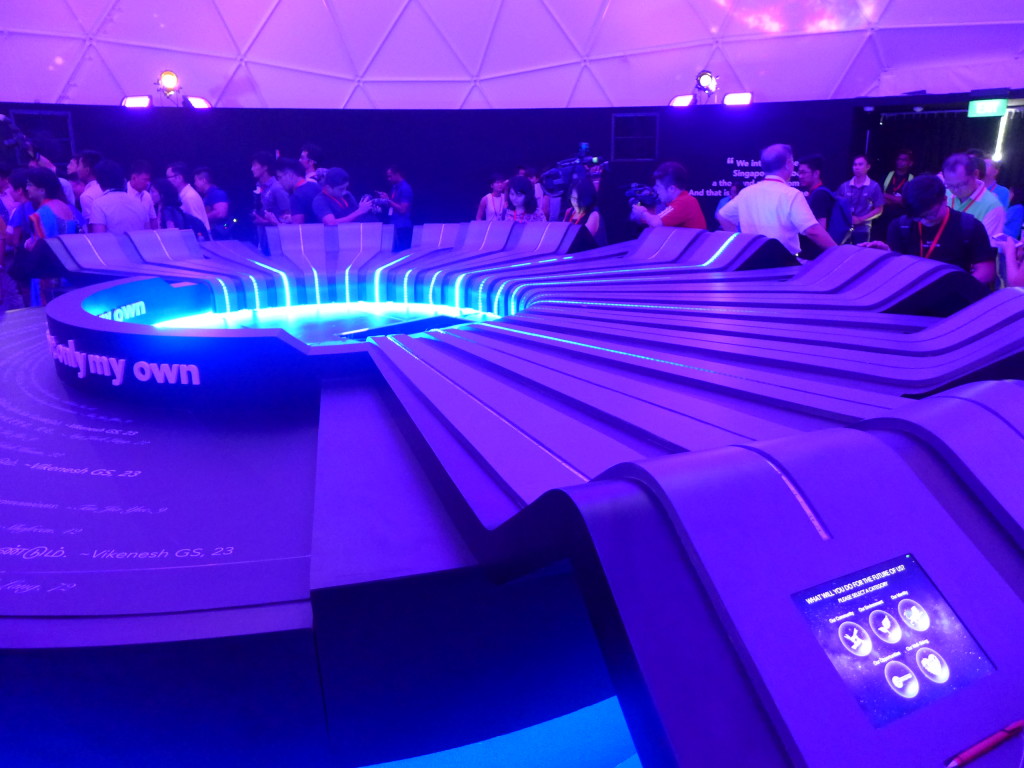 This wishing well doesn't accept pennies or dimes but digital wishes.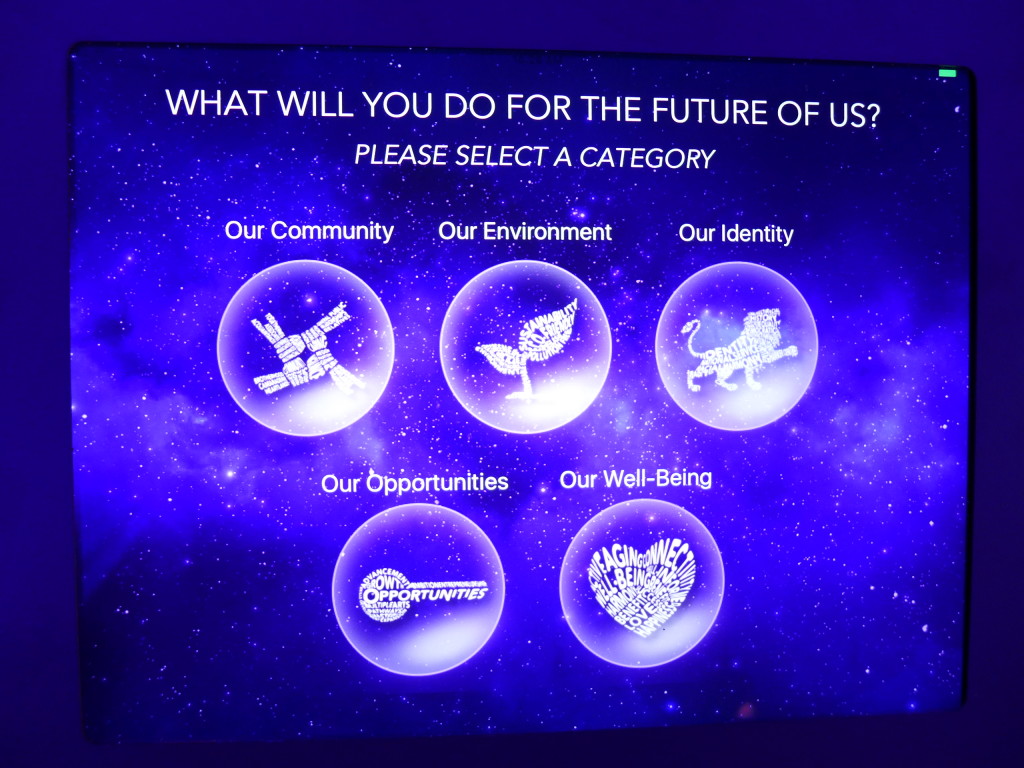 What are your hopes, dreams and wishes for the different aspects of Singapore? Just pen them down on this screen and watch the magic!
The Lion
Comprising a series of swings at an outdoor playground, a specially designed "cloud" dispensing machine, and a "roaring lion", this final point is a playground of letters and characters. Visitors must work together to complete certain tasks in the playground before The Lion will light, roar, and emit clouds of stars and crescents.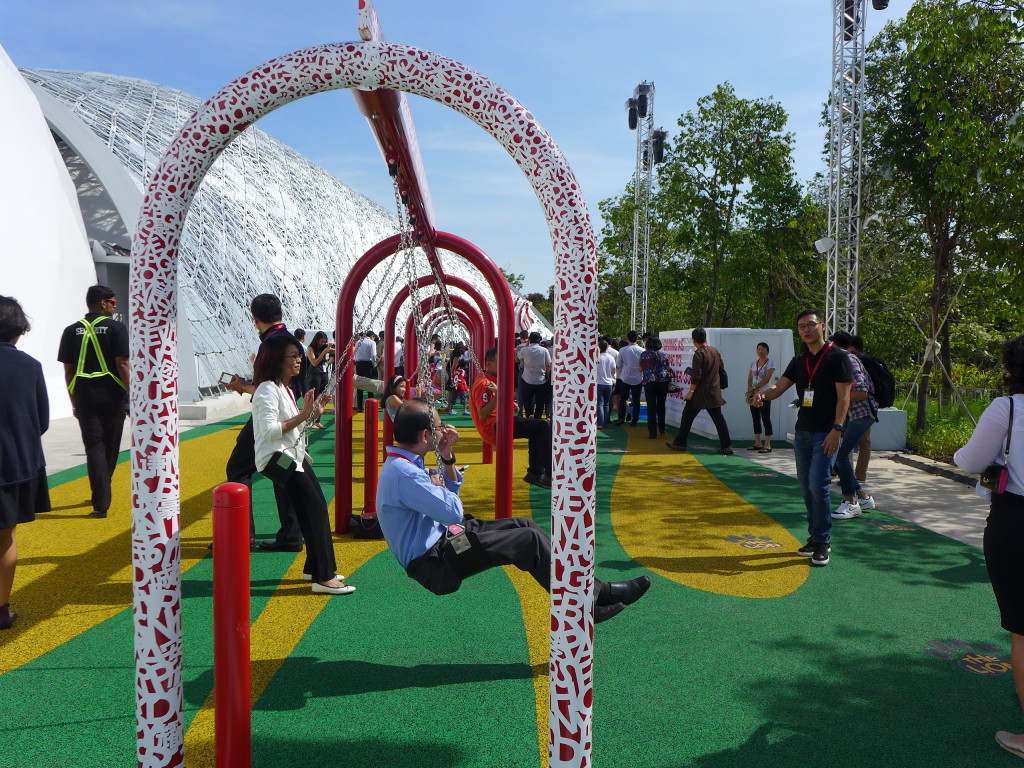 One is never too old to play with swings. In fact, our Prime Minister himself did it himself when he was here for the launch.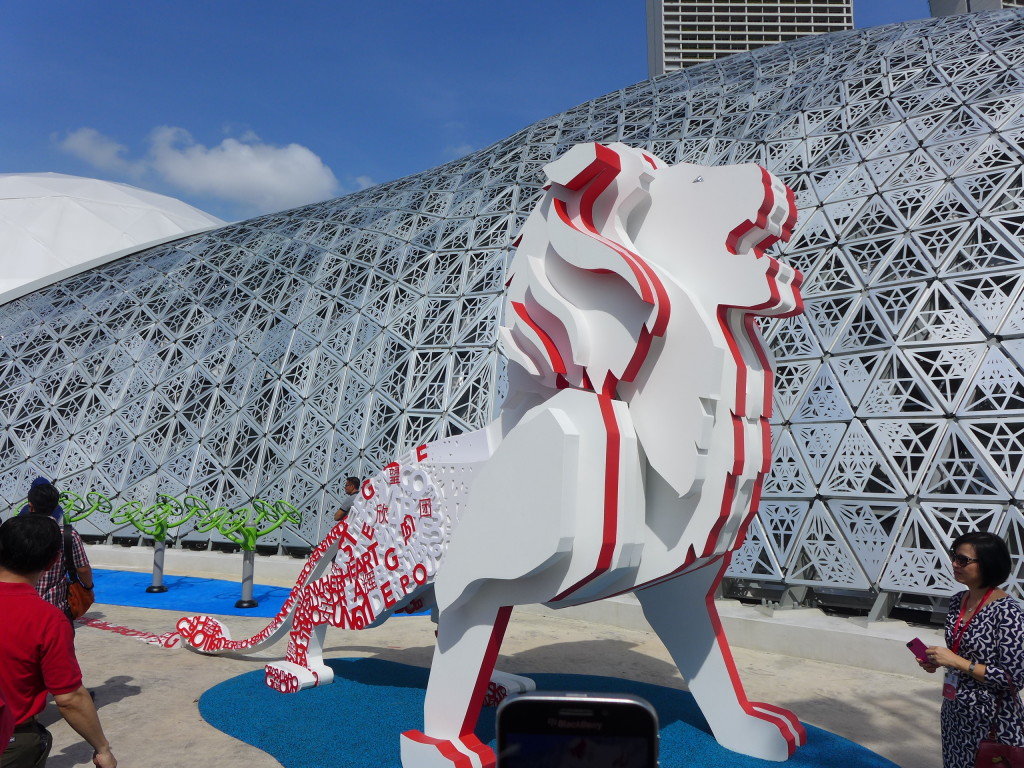 This lion will only roar when visitors "work together" in unison to activate it. Sounds familiar doesn't it?
The Marketplace
As shopaholics, we Singaporeans would love to see what we can "buy" in 2030. Through partnering with various schools and polytechnics, The Marketplace showcased some of the latest innovations in food, healthcare, and designs from the future.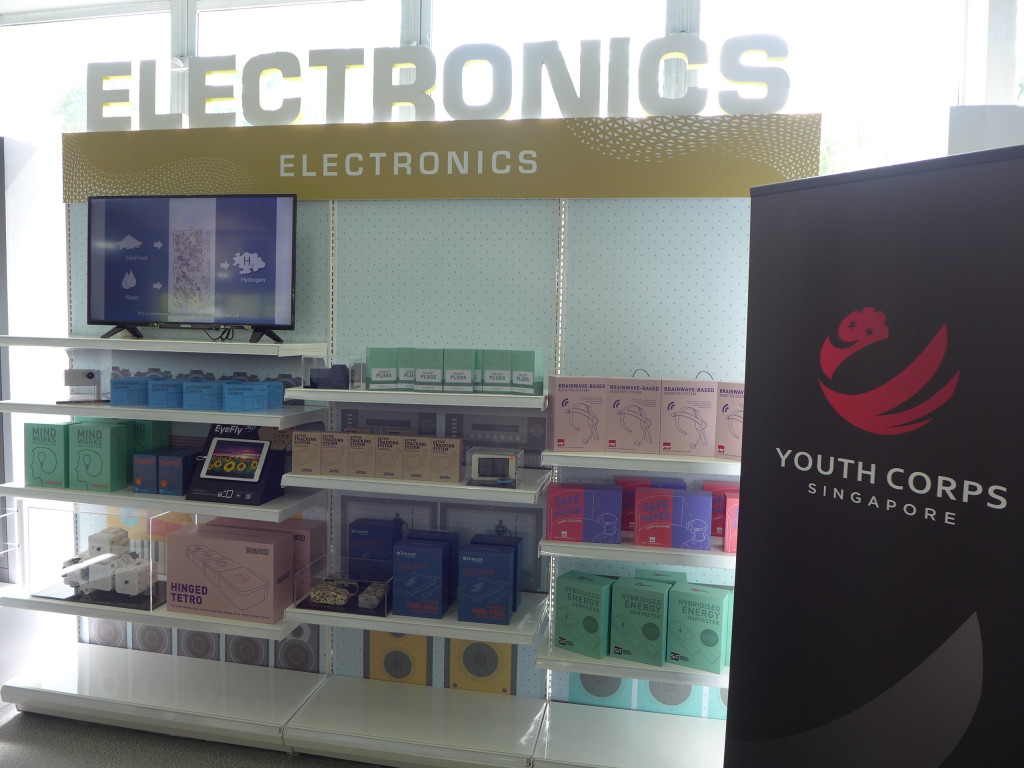 Electronics in the future are designed to help improve lives – not add further to our stress.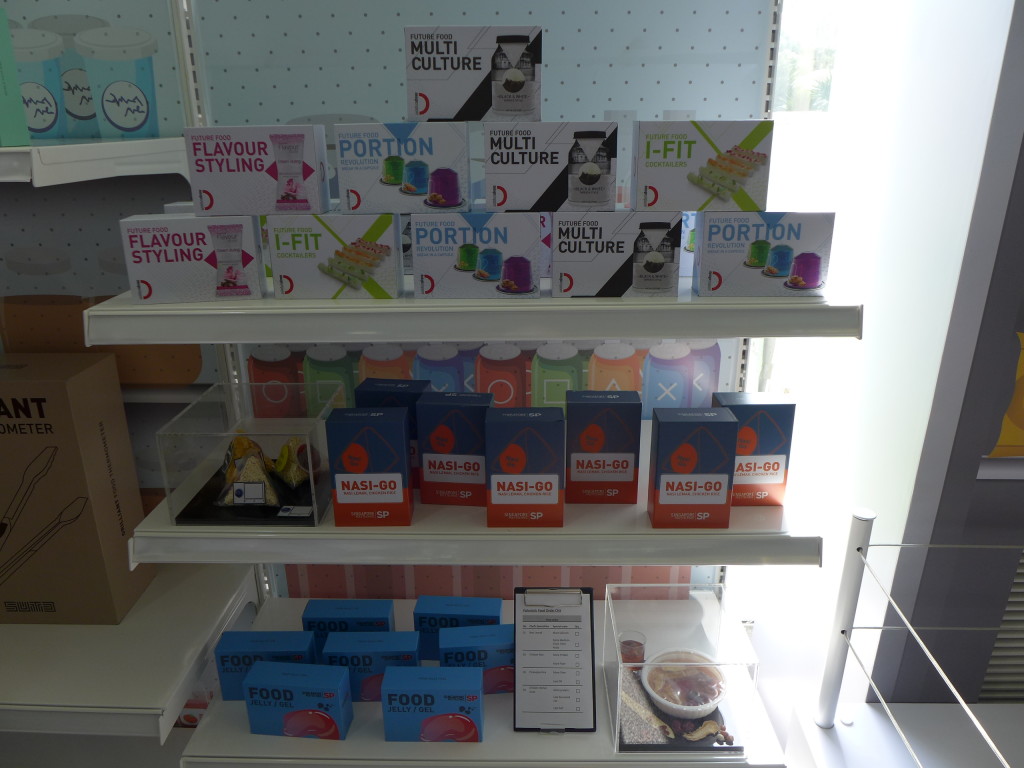 And food packaging takes on a different slant in the future. Anybody keen for Nasi-Go or instant Hor Fun?
A Roaring End to SG50?
Thanks to the pre-publicity surrounding the exhibition, over 85% of the free tickets for December 2015 has already been booked. This is an encouraging sign for the hardworking organisers, who had to work with over 100 organisations in setting up the show.
Personally, I liked the way the storyline focused on the social aspects of Singapore, and how technology and innovations are developed to care for the elderly, disabled, and busy families. The use of enveloping multi-media screens and creation of immersive environments helped to convey a sense of escapism and magic.
I also enjoyed how the narrative unfurls over the six stations, with multiple tracks allowing visitors to create their own interpretations of how our collective future could be shaped.
From the curatorial perspective, it would be better if the journeys of the four main protagonists could be carried through all six zones in the exhibition. The use of stronger storytelling elements (like overcoming challenges, intrigue, conflict, heroes, and villains) could also be incorporated into the plot.
Doing so would help visitors to develop greater feelings and empathy for Joseph, Yi Xin, Faizal and Ravina. This could also help them to be more real and tangible, rather than mere caricatures.
Overall, however, it is certainly a good show and well worth your time and effort to experience. Go grab your tickets now by registering at the Future of Us website here.
"This SG50 year, we have been celebrating what brought us this far, and what bond us as one today. I hope that the exhibition will inspire us to dream, to come together, to share and to commit our aspirations into action for a better Singapore." – Minister Heng Swee Keat, Chairman of the SG50 Steering Committee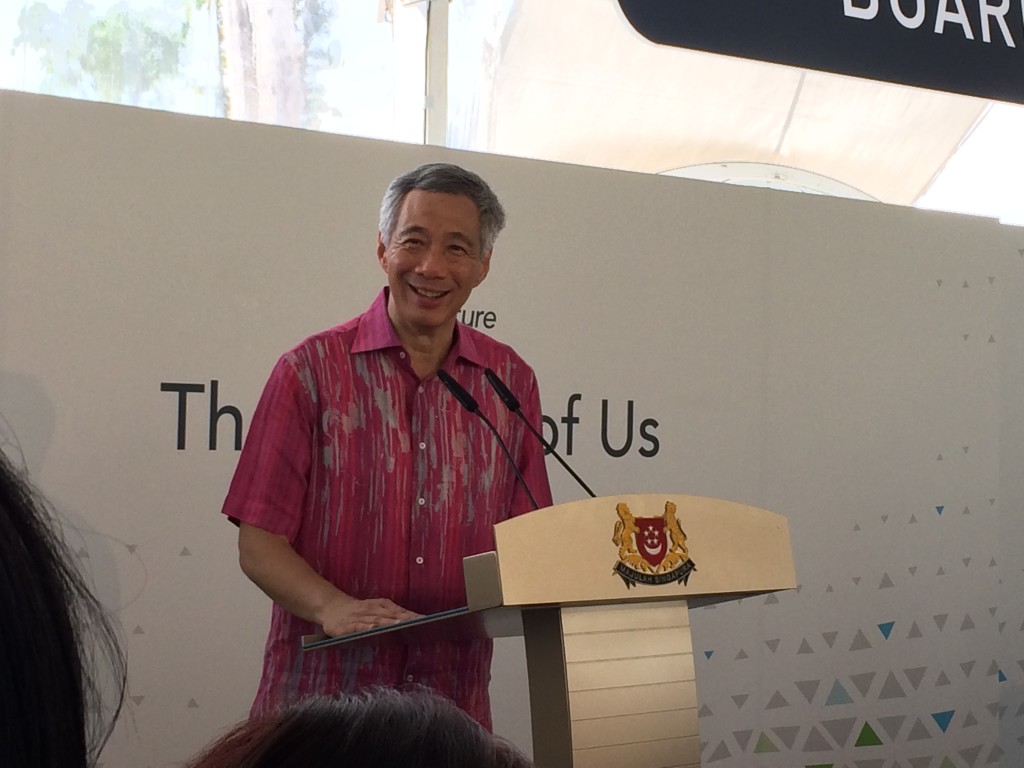 Prime Minister Lee Hsien Loong at the opening of "The Future of Us"
Special thanks to my friend Gene Tan for his invitation to the opening of this exhibition.