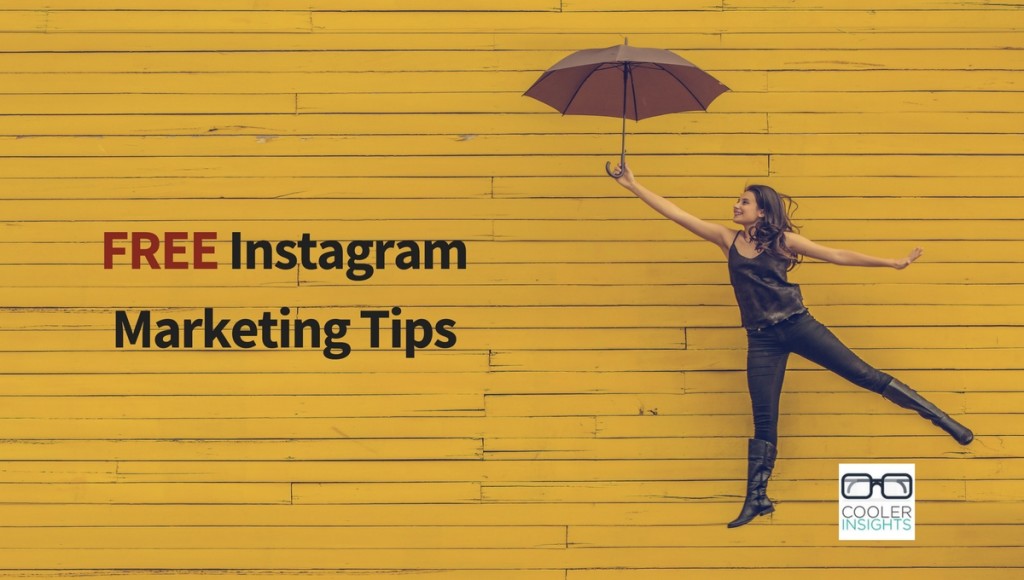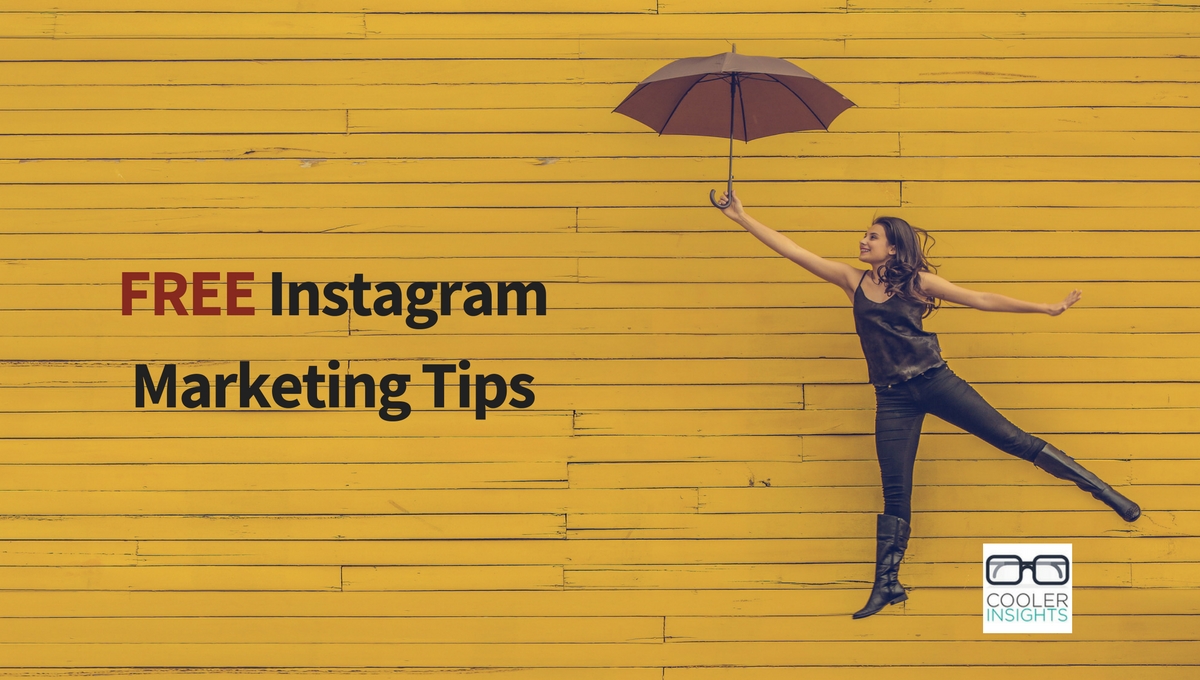 Instagram is the probably fastest growing social network on planet Earth right now.
Touted by marketing mavens to be the most important social media platform for brands, Instagram is native to smartphones and tablets. Which means that it is a boon for any business keen to explore mobile marketing.
Now that you can advertise on Instagram, there are more reasons than ever to embrace this "social lite" visual marketing platform.
That's not all.
Instagram is becoming the preferred primary platform for teens, youths and young adults to consume personal improvement and lifestyle content. If you aren't already on Instagram, you are going to lose the opportunity to reach this hard-to-convince segment of the population. This is especially important if your brands are in the hyper competitive consumer sectors like fashion, beauty, food, hospitality, sports and fitness, or specialty retail.
The challenge, however, lies in this: how can you get your brand on Instagram in the quickest and most pain-free manner?
Consider these 8 ways to kick start your Instagram marketing efforts today.
#1 Create a branded Instagram account
First and foremost, you need to create a branded Instagram profile. Fortunately, this can be quickly and easily done.
To start an Instagram account, you need the following:
A nice profile photo, perhaps a logo of your company or equivalent photo which conveys your brand personality.
A short description for your bio which does not exceed 150 characters. Consider using emoticons if they are appropriate. Write in a personal and friendly way, and keep jargons at bay.
A link to your website. This should be updated regularly depending on what you are promoting.
Here's an example of a well written bio (courtesy of @theblogmillionaire).
#2 Produce fresh yet on-brand content
Now that you are "legit" on Instagram, you need to start producing visual content. You may want to establish a consistent branded look and feel for your content, rather than whatever catches your fancy.
To create branded content that catches the eye, you should consider the following practices:
Consistent use of colours, patterns and designs
Adopt a certain "signature" style in angles, lighting, and composition
Include relevant text now and then. Motivational quotes, offers, and announcements are good ways to use text.
Mix and match between photos, videos, and infographics. See which content format yield better outcomes.
Be mindful of what you write too. While Instagram is a visual marketing platform, people do read your copy. Ensure that whatever is written is in sync with what was posted and make it useful too.
Here's a truly fresh and eye catching Instagram post from Whole Foods (courtesy of Online Marketing Institute):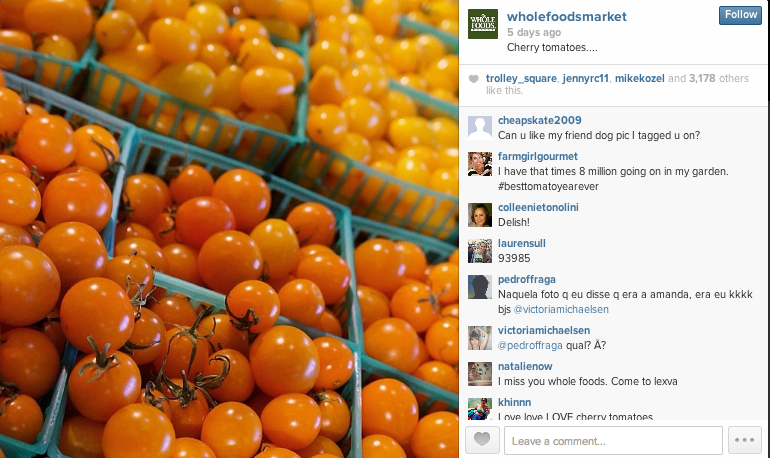 #3 Develop a calendar and publish regularly
Like any other content marketing efforts, Instagram requires you to be fairly regular in creating stunning visual content and publishing it.
Establish a calendar of posts, and try to keep to a routine. This can be daily, once every two days, or even weekly. Start off more strongly with regular daily posts before tapering off to once every two or three days.
Study the best time to post your content. This may vary from industry to industry or category to category.
Avoid bunching up your posts. I know that it is tempting to snap and share 5 to 10 posts in succession when you are a great party, or having a grand dinner. Save those posts for a later time so that you do not spam your followers.
#4 Engage to grow your influence
To grow in both reach and engagement (ie Likes and Comments) on Instagram, you need to participate in the wider Instagram community. There are two things you need to do here:
a) Reach out to like-minded Instagram influencers
Using the right search terms or hashtags on Instagram, locate other folks passionate in what you can offer. Engage with them by liking their posts and commenting on them. The general rule is to give one comment for every five posts liked.
IMPORTANT: Beware of using generic comments like "Cool pic!" or "Great photo!" as those are generally regarded as spammy. Always seek to be sincere and relevant to what was being posted.
b) Engage with your followers
Do not neglect your followers. Reach out to them by responding to their comments to show that you are listening to what they have to say. It is especially critical for you to close the loop when those comments are issues related to customer service.
Beyond responding to them on Instagram, make it a point to visit the posts of your most devoted fans and reciprocate by liking and commenting on their posts.
#5 Use hashtags to heighten your influence
Hashtags are all the rage in Instagram. However, you need to approach it with caution.
While you can technically include up to 30 different hashtags in your comments section, the general rule is that you should try to keep them to 10 to 12 max.
Overloading your comments or posts with hashtags may make you seem desperate and unfocused.
Here are some other points to take note of:
Choose a mixture of popular and long-tail hashtags. An example of a popular hashtag would be #singapore or #foodporn. A long-tail hashtag would be #chocolate or #singaporedesserts.
Try to be consistent in the hashtags which you choose.
Check out what content is being posted using the same hashtags. This would give you a clue to what the Instagram community prefers.
Engage with others who post using the same hashtags. Often these are folks with similar interests to yours.
#6 Show love to your community
Everybody loves to receive gifts, and the same applies to social media platforms like Instagram.
What are the "gifts" that you can provide to your followers and fans?
Showcase your most ardent fans and give them a shoutout on your Instagram posts.
Repost interesting content from both followers and other Instagram accounts. Make sure you tag those accounts in your post.
Organise occasional giveaways and contests to trigger excitement. Use those opportunities to grow your follower base. One way to do so is to include some form of referral bonus which can be tracked by specific campaign hashtags.
Here's an example of a giveaway (courtesy of SL Designs).
#7 Use influencer analytics and metrics
As the saying goes, you cannot manage what you don't measure. Likewise, it pays for you to look at your Instagram analytics to determine what works and what doesn't.
So how do we measure influence in Instagram? Generally, there are three indicators that you should look at:
Number of followers
Number of comments/likes (also known as engagement)
Most popular posts (by engagement)
Average engagement per post
Beyond tracking these KPIs, you should also embrace the following practices:
Track your number of fans and their growth rates on a weekly and monthly basis
Gauge how well different types of visual posts do, be they photos, short videos (Instagram only allows 15 seconds or less), infographics, or posters
Determine which days and timings work best in terms of engagement
Assess how effective different combinations of hashtags are
Here's an example of the Instagram analytics from Iconosquare (courtesy of Dog-Eared Social):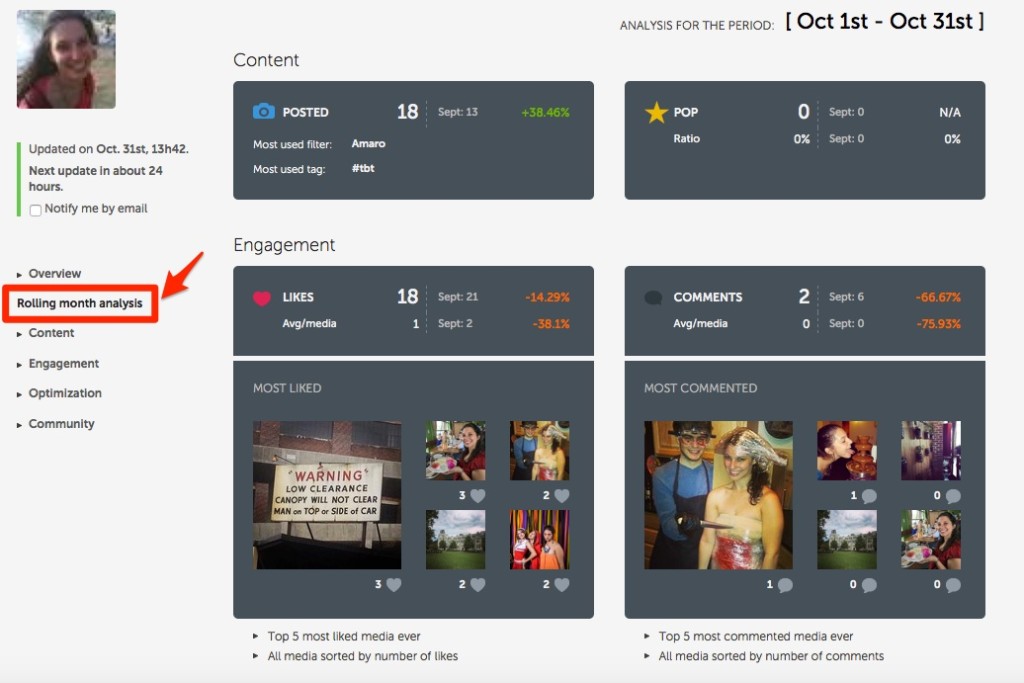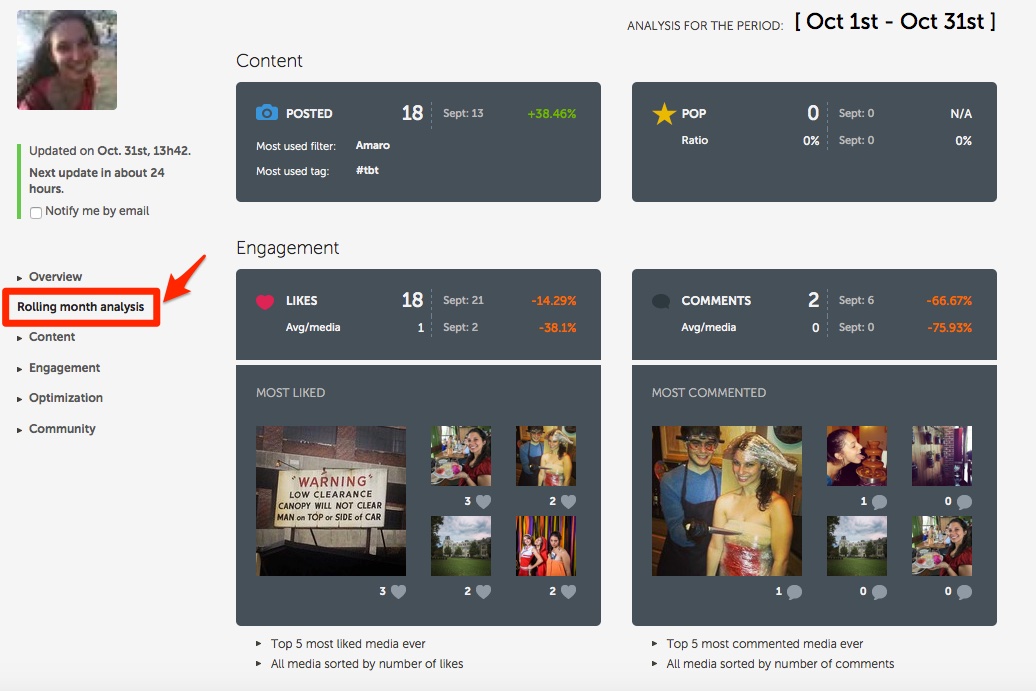 #8 Sign up for an automated platform
Last, but certainly not least, serious Instagram marketers make use of automated platforms to up their Instagram marketing game. There are several available in the market, but the two most popular ones which I use are:
StarNgage: Developed by Hashmeta, this Instagram marketing and tracking platform helps you to manage your Instagram account and launch Instagram marketing campaigns. Go sign up for a free account today and let me know what you think. (Disclosure: I was involved in the development of this platform).
Iconosquare: Previously known as Statigram, Iconosquare allows you to track and monitor your Instagram account along various parameters like fan growth, most engaged fan, best time to post, and so on.
Now that you have learned the basics of Instagram marketing, the time has come to plunge into this exciting new visual marketing platform. Let me know how your journey is.
More in my social media marketing course!
What I've covered above is just the tip of the iceberg. Social media marketing covers many other areas – from understanding how each social channel works, knowing which content format to use, to measuring and managing success.
After almost 10 years in social media marketing, I will share what I know in a comprehensive two day social media marketing training course. The next run of my course is happening in October 2016, so do hurry.
Done in partnership with Equinet Academy, this rigorous two-day course will equip you with practical hands-on experience in social media marketing.
At the workshop, I will use a problem-based step-by-step approach in tackling each aspect of social media marketing. This ensures that trainees will gain practical hands-on skills.
Click on the link here to sign up today.
Oh and let me know too if you've got any thoughts on what you can do to begin your social media marketing journey. I'd love to hear your ideas!